History Of GM's HD Trucks, Part 2: '08-'10
In the world of heavy-duty pickups, no manufacturer sits idle for very long. There is no time to rest on one's laurels here, unless you want to get left behind. Case in point, after GM released its HD line in 2001, it was once again a three-horse race in the ¾-ton and larger pickup segment. Dodge responded first with a brand-new body style and a common-rail 5.9L Cummins for its heavy duty Rams in 2003. Ford made its big move in 2005 with the revamped Super Duty, equipped with a coil spring radius arm front suspension and notably higher towing and payload capacities. Then it was GM's turn to answer its rivals.
The General did it with the '08 model year lineup, trucks that would be based on the new GMT900 platform and feature a fresh body style. A new RPO code Duramax diesel V-8, the LMM, would enter the fray as well. The revamped 6.6L was saddled with new emissions-scrubbing technology while at the same time produced the highest horsepower and torque output in the segment. The Duramax power plant's best supporting cast member, the six-speed Allison 1000 transmission, was beefed up to handle the added twist and GM added an integrated trailer brake controller for the first time. And even though a completely redesigned frame and stronger suspension system was in the works for 2011 (which would challenge Ford's towing and payload superiority), the 2008-2010 HD's held their own and then some.
Contemporary Yet Bold New Look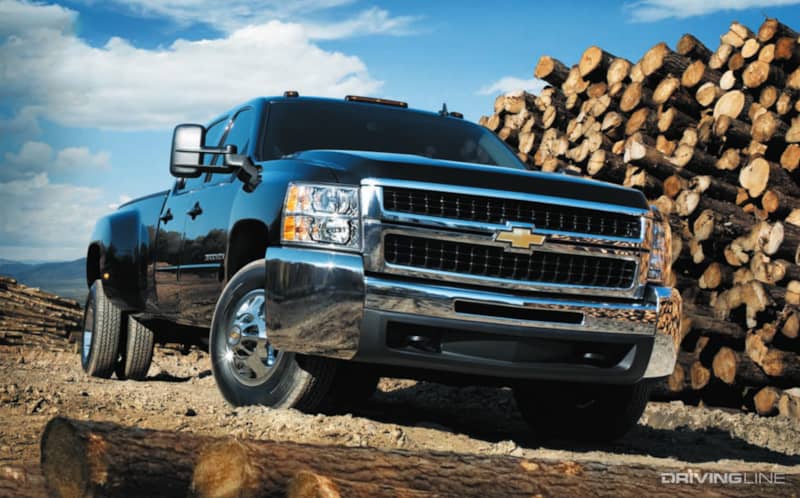 Compared to the outgoing '07 model year HD's, the new look for '08 was night and day different, and it was highlighted by an especially audacious front-end. But its fresh face provided a look that was independent of the 1500 series trucks that had debuted the new body style in '07. In Chevrolet's own words, the HD Silverado had been treated to "bold, muscular designs that are differentiated from their light-duty siblings." This included a wider and taller dual-port grille, large, reflector-optic headlamps, domed hoods and flared front fenders intended to enhance the truck's wide stance—all of which was meant to convey "broad-shouldered, ready-for-anything strength."
GMT900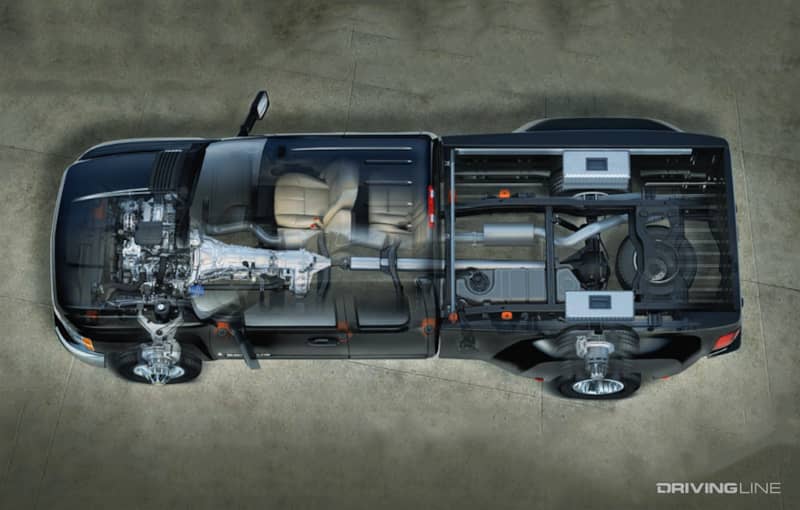 GM's use of the same AAM 9.25 IFS system—an independent short/long arm (SLA) suspension with a torsion bar connecting the long lower control arm to a frame cross member—was retained for '08, but it was bolted to the manufacturer's latest chassis, the GMT900. The frame's mid-section featured lipped C-channel rails made from high-strength steel, which were roll-formed and draw-bent during production for maximum strength. The front section side rails were hydroformed, while the rear section was C-channel. GM's Z85 suspension came standard, with the Z71 Off-Road package adding 36mm diameter high-pressure gas-charged shocks, a 36mm diameter front stabilizer bar, off-road jounce bumpers and skid plates.
LMM Duramax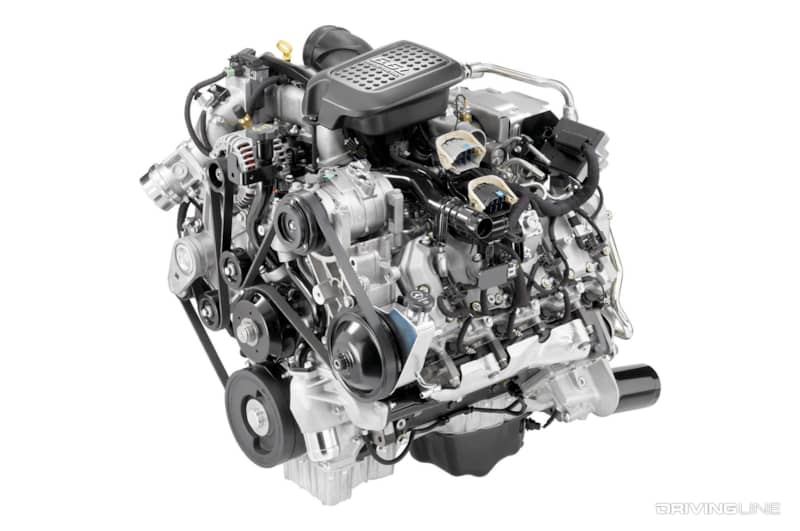 With a new and improved truck, you have to have new and improved power figures. GM delivered on this front by bumping the Duramax diesel V-8 up to 365 hp (at 3,200 rpm) and 660 lb-ft of torque (at 1,600 rpm), good enough for best-in-class numbers. The LMM version of the 6.6L Duramax (which replaced the LBZ) made use of revised injector nozzles, an EDC16 Bosch ECM with new emissions-related internals and revised cylinder head water passages for enhanced cooling. The gasoline offering in the HD line, the VortecMAX 6.0L V-8, saw horsepower increase to 353 hp (at 5,400 rpm) and 373 lb-ft of torque (at 4,400 rpm).
Emissions Equipment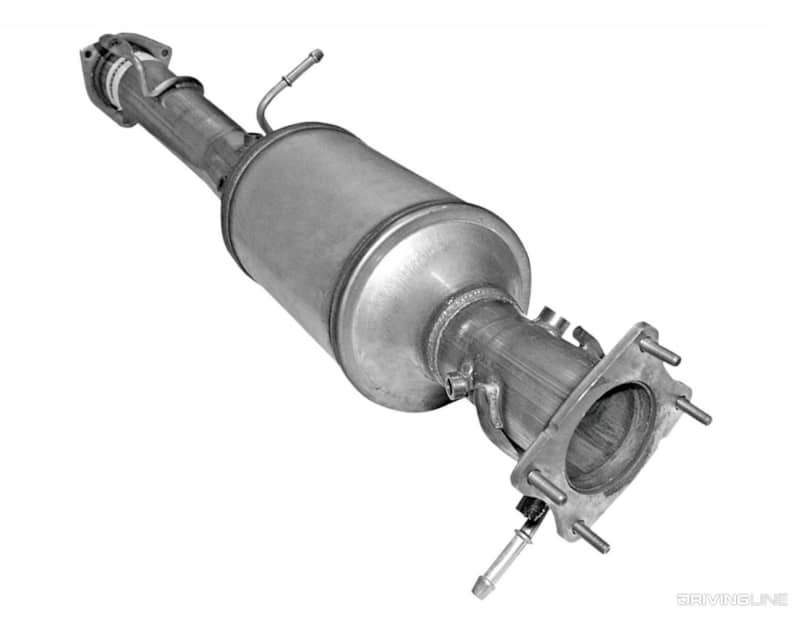 The component pictured above is the reason why the LMM Duramax was able to reduce its particulate matter (PM) emissions by 90-percent over its predecessor (the '06-'07 LBZ). It's called a diesel particulate filter (DPF), designed to trap soot instead of allowing it to exit the tailpipe. Once a before and after pressure differential is reached, a process called regeneration is employed to clean out the DPF. On the LMM, GM injected extra fuel on the engine's exhaust stroke to increase EGT in the exhaust aftertreatment system, effectively incinerating and transforming the built up soot in the DPF into a more storable fine ash. Other emission equipment present on the LMM included an intake airflow valve (or throttle plate) and a larger EGR cooler to help meet the tighter NOx standards that went into effect in 2007.
Allison Retained, New Trailer Tech Debuted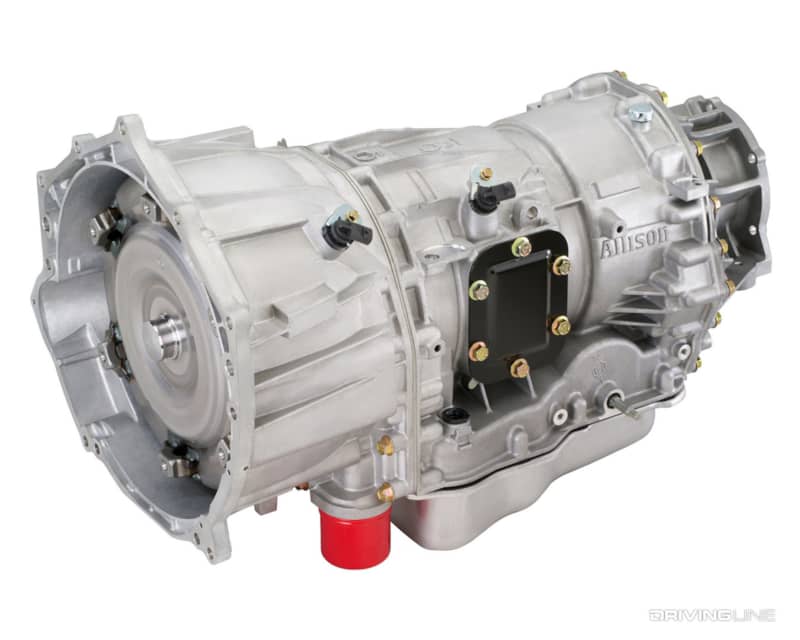 Said to be the best powertrain combination in the truck market, the Duramax/Allison duo continued in '08. Increased torque input capacity was built into the six-speed automatic to cope with the LMM's added twist and the transmission's grade braking and cruise grade braking proved a match made in heaven for those towing at or near their HD's GCWR. The desirable TapShifter, which allowed for manual control over upshifts and downshifts, was carried over from '07 models. And for the first time, GM offered a factory-integrated trailer brake controller, which was directly tied in with each truck's ABS system.
GM: The Torque War Instigator?
After the introduction of the Duramax pushed torque ratings past the 500 lb-ft mark in 2001 (it debuted with 520 lb-ft), an unofficial torque war began to rage in Detroit. Almost immediately, Ford tweaked its aging 7.3L Power Stroke to produce 525 lb-ft. Not even two years later, Dodge introduced the common-rail 5.9L Cummins, with 555 lb-ft, followed by Ford's release of the 6.0L Power Stroke, which debuted with 560 lb-ft of torque on tap. Dodge shot back with 600 lb-ft and then 610 lb-ft versions of its 5.9L Cummins to lead the pack. In early 2006, GM responded with a 605 lb-ft version of the LLY Duramax. Later that same year, the LBZ Duramax was unveiled, packing 650 lb-ft and leading the field. The LMM's 660 lb-ft figure kept GM out front in the torque war until 2011, despite the release of the 6.7L Cummins in mid-year 2007 Rams and the dual turbo 6.4L Power Stroke for 2008 model Super Duty's.
Towing Capacities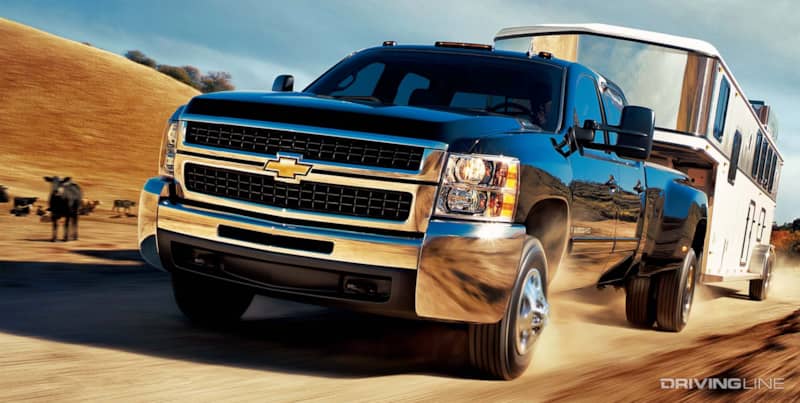 For the heaviest of jobs, GM's '08 HD's were up to the challenge. Maximum fifth-wheel towing checked in at 16,700 pounds for a dual rear wheel, regular cab model 3500 with four-wheel drive. Conventional towing capacity was equally impressive at 13,000 pounds. Neither of those figures were enough to lead the class, but GM's focus on load control, stability and making the towing experience safer and more enjoyable was blatantly apparent on these trucks. For 2011, GM would make the changes necessary to challenge Ford's towing and hauling supremacy in the heavy duty pickup segment.
A Successful Yet Short-Lived Production Run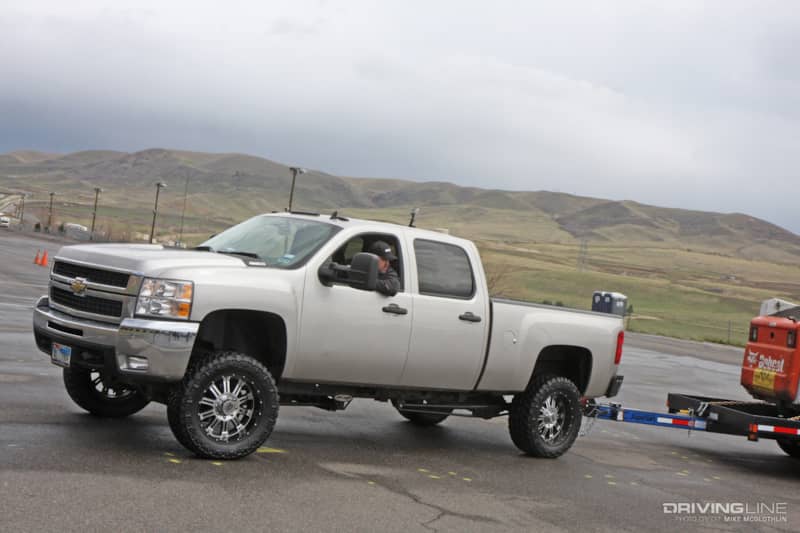 Despite being released during a market downturn, which was followed by the Great Recession and later a 4-month pause in Duramax engine production, GM's '08 to '10 HD trucks did see sales success. HD figures didn't match its light-duty (1500 series) numbers, but on the latest 2500 and 3500 HD's could readily be spotted populating job sites, highways and campgrounds, oftentimes with considerable loads behind them. Had economic circumstances been different, GM would've sold many more HD pickups than it did during this 3-year stretch. The aforementioned 4-month halt in Duramax production was the result of GM preparing the LMM engine's replacement, the LML, to meet even tighter federal emission regulations. The LML would debut on 2011 model HD's, and we'll talk about them (and much more) in Part 3.
More From

Driving Line
GM's initial release of its HD trucks in 2001 was equivalent to an earthquake registering a 7 on the Richter scale…it was a major event in the world of heavy-duty pickups. Find out why right 

here

.