History of the COPO Camaro, Chevrolet's Secret NHRA Warrior
Large companies often make odd, ill-informed decisions that don't always reflect the reality of what their customers are looking for, and the auto biz is no different. A prime example? In the 1960s, General Motors made the sweeping move to withdraw from official motorsports participation, spurred by squabbles between Automobile Manufacturers Association members over factory racing support combined with fears about mounting antitrust sentiment aimed at the giant by the federal government.
It was an unusual choice, to say the least, especially since Ford and Chrysler continued their competitive programs unabated once an earlier AMA resolution tempering their involvement was dissolved. Aside from its impact on racing teams, however, a more widespread side effect was that most production cars were suddenly denied the General's big block engines. GM would eventually declare that only full-size cars (and, of course, the Corvette), would be sold with anything larger than 400 cubic inches under the hood.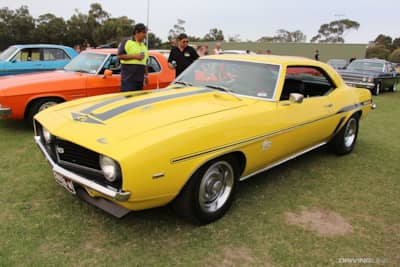 Given that the entire philosophy of the muscle car centered around stuffing a big motor in a small vehicle, Chevrolet, Pontiac and Oldsmobile were suddenly at a serious disadvantage when compared against their FoMoCo, Dodge and Plymouth adversaries. With Super Duty Pontiacs having lost their steady stream of hi-po V8s, and Chevrolet no longer with easy access to its vaunted 427 cubic inch mill, something had to give in order to stay competitive on the boulevards and drag strips where a car's reputation was easily made or unmade among youthful buyers.
Is it any surprise that a number of creative solutions sprang up inside GM's cavernous corporate structure to deal with this sudden shift away from performance? Brand bosses soon got busy with workaround plans so that small numbers of extremely fast automobiles could continue to trickle into showrooms. Of these, one of the most enduring originated independently from a pair of dealers: exploiting Chevrolet's own COPO system to build some of the quickest, rarest Camaros of the classic muscle era.
A Faster Pony
In 1967, the year the Camaro was introduced, a dealer named Don Yenko had begun experimenting with selling his own big block versions of the car by ordering SS 396 models and then dumping their engines for Corvette-sourced L72 V8s. These 427 cubic inch units transformed the pony car into a formidable drag strip warrior, and demand soon outpaced supply. After a year or so, Yenko realized that demand for his surgically-altered Camaros was surging past his ability to keep up, and he approached Chevrolet to see if he could get any kind of factory support for his efforts.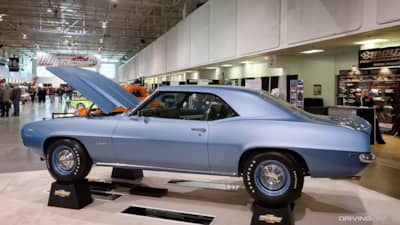 At roughly the same time, an Illinois dealer named Fred Gibbs had also become convinced that big block Camaros could dominate drag racing and help promote the brand. After hearing from both businessmen, and looking at the number of cars they wanted to order (201 for Yenko, 50 for Gibb, the latter being the minimum production examples required for official National Hot Rod Association Super Stock and Stock Eliminator competition), Pete Estes and Vince Piggins at Chevrolet Performance came up with the idea to use the COPO system to do an end-run around GM's displacement denial.
Paperwork Is Key
The Central Office Production Order was offered to Chevrolet dealers who needed to custom-spec vehicles for commercial buyers. Typically, COPO orders originated from fleet sales to law enforcement or logistics companies that required specific equipment across a number of different cars or trucks. They weren't offered to retail customers, and you wouldn't find these options on any of the standard paperwork used to order cars from the mothership.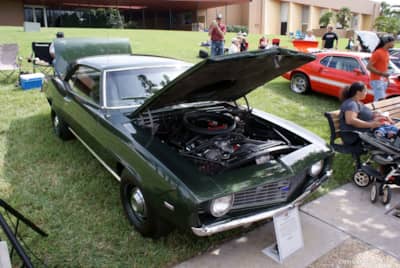 Piggins had a history of getting away with big block murder at GM throughout the decade by couching his orders for larger engines and high performance equipment with terminology like 'off-highway' or describing the components as 'heavy duty.' Estes had helped create the GTO for Pontiac by making its big V8 an 'options package' rather than a trim level on the mid-size Tempest coupe. Yenko had been using COPO to order Camaro-specific gear for his transplant cars, while Gibbs had dipped a toe into racing the year before by way of 50 COPO-sourced, automatic-equipped Nova SS coupes aimed at a specific NHRA drag racing class.
Well-versed in the smoke and mirrors required to make the wheels turn at a recalcitrant General Motors, the four men would each have a part in creating two unique COPO orders. Gibbs' COPO 9560 made use of a 430 horsepower, aluminum block 427 and featured an upgraded rear axle and cooling, an air grabbing hood, and disc brakes up front. It was dubbed the ZL1. Yenko's COPO 9561 included an iron block version of the 427 that was good for between 425 and 425 horsepower (depending on whether manual or automatic transmissions were ordered), paired with a unique front suspension setup.
Echoes Through Time
The COPO Camaros were delivered to Gibbs and Yenko as 1969 models just in time for the start of that year's NHRA season. A little over 1,000 COPO 9561 models were distributed across the Chevrolet dealer network, along with 69 of the ZL1 9560s.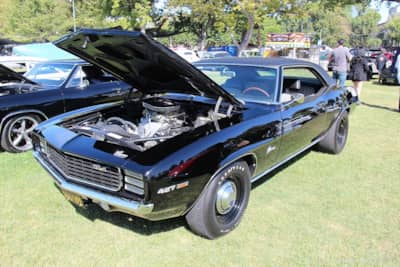 Their drag strip performance was predictably excellent. The extra cost associated with the cars, however, nearly doubled the price of a Camaro SS. As a result, sales were incredibly slow—Gibbs himself only ever sold 13 of the ZL1s he had created before dispersing the rest of his order to other dealers. The cars that survived would become sought-after collector's items due not just to their phenomenal performance, but also their scarcity.
COPO Revival
Such was the mythology built up around the ZL1/COPO legend that in 2012 Chevrolet would revive both nameplates, albeit in very different forms. The new COPO Camaro (also initially limited to 69 units), offered three V8 engines, two of them supercharged, and also featured a host of drag-specific gear for NHRA teams seeking an out-of-the-box solution. COPO production continues to this day. The Camaro ZL1 was a street car churning out 580 supercharged horsepower in its first iteration, and then 650 horsepower when the sixth-generation Camaro appeared for 2017.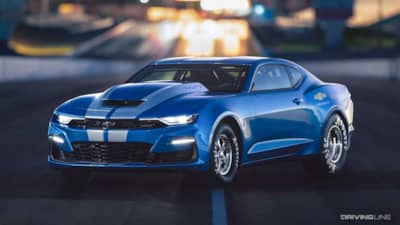 It might seem strange that Chevrolet's own dealers had to go behind the back of their own company in order to service the needs of their speed-hungry fans during the muscle car's heyday. If anything, the fact that the Bowtie's factory-supported performance programs are now completely out in the open is even more evidence that the golden age of muscle isn't in the rearview mirror, but actually alive and well today.

Curious about other factory drag cars? We've got you covered with this list of stock 1320 machines.