How to Gross a $Half Million in a Weekend
If you're one of the millions who spend cold winter evenings in January tuned into the Barrett-Jackson Auctions from sunny Scottsdale, you're only seeing part of the show. Scottsdale plays host to a number of auctions for every budget and specialty car collector - amongst the more "high-brow" companies that set up camp to move collectible iron, are RM Auctions and Gooding and Company.
For Mark Allen, a 38 year old expert Porsche restorer at his business, Vintage Excellence, playing in a sandbox with the mega-rich and providing amazingly high end collectibles is just part of the game. During the course of the weekend, two cars he did high quality restorations on, grossed more than a $Half Million. "It was great to see people acknowledging me for the work I've done. I put a lot of effort into those cars and people seemed to notice."
A 1967 911S at Gooding and a 1969 911S Targa "Soft Window" at RM, that Allen had restored in his Southern California shop, sold for $253,000 and $286,000 respectively—including the buyer's premium and fees.
For people who build, this was undoubtedly a beaming endorsement of a lifelong passion of working with his hands. "I always loved taking stuff apart and putting it back together." I played with erector sets as a kid. When I turned 16, My mom gave me her '66 mustang that had been sitting on the side of the house for about 8 years... it didn't run. So I had to figure it out. I got it running—and had to do and learn a lot of tricks to keep it running."
Porsches were far from his mind when he restored that first Mustang. "I was hoping my friends would all get early Mustangs like me, but they were all into Volkswagens. So I gave up and joined them by buying a '63 Bug. Once I started playing around with it, I fell in love with German cars." So began a fascination that would restore life to so many classic 911s. "One of my earliest jobs was tearing down early Porsches for parts. I realized they sold for a lot more money than VW parts…and they were just cooler—so I started finding (4-cylinder Porsche) 912's, which were everywhere back then."
"In the mid-90's when the internet was still new, I would go out and buy 912's for $500 and tear them down and sell the parts." He put himself through Cal State San Marcos with his enterprise and earned a B.S. in Business Administration. In the meantime, he learned the inner workings of the Stuttgart marque. He says he got his B.S. at the college but his "Masters Degree" came from working at a specialty high-line car dealership as the General Manager, right out of school.
"Hunting and finding the right car to build, and acquiring it, was easier when you could just go around San Diego and Los Angeles." But these cars have gotten a holy grail status and competition to get cars is far more fierce. "Now I am flying around everywhere to pick up cars. New York, Florida, Rural Indiana…"
Once he has the car he wants, the long process of restoration begins. "There are things you need to look for when buying the car: rust spots, bad modifications… We then tear the car down to every last nut and bolt and put the chassis on a rotisserie - restoring every nook and cranny." Within the last few years, aside from special examples taken to the high-profile auctions, these cars are generally sold before the restoration process is even complete. "I have had multiple buyers for each car before they are even done."  He frequently works with Porsche exporter Jonathan Sieger at The CarBrewery - many of the finished Southern California projects make their way back to Germany, where early Porsches are getting a premium.
The stress of the cars going through the auction is not only a validation of the builder's work, but a hopeful return on investment in money, time and expertise. Watching them leave the show area and head for the auction block can bring stomach-churning moments. After the auction's end, with a sale more than he anticipated, he is congratulated by his brother and dad, who are very supportive of Allen's abilities.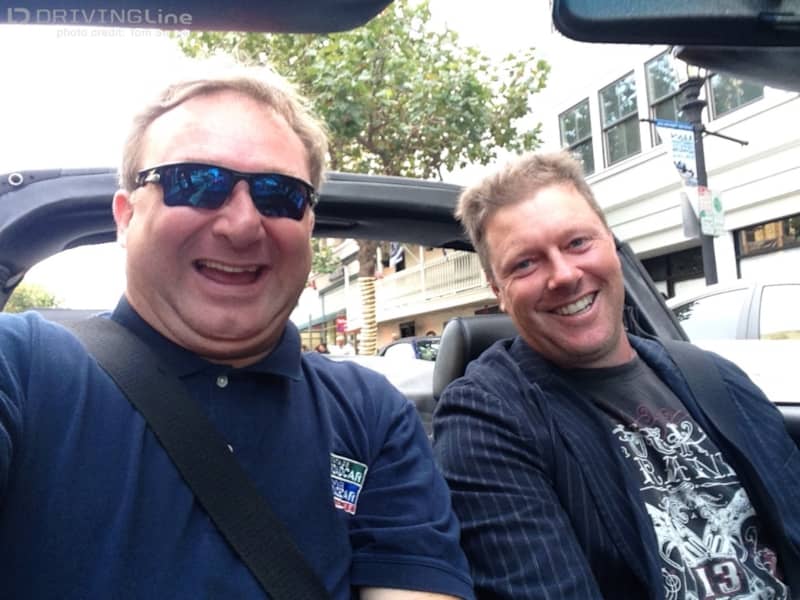 So what would Allen's dream restoration be? "I always thought that the coolest car to find would be the James Dean (1955 Porsche 550 Spyder). If you could find it in that wrecked condition, I could bring it back." As for the future, he wants to continue to build his business and work on more exotic Porsches: "I would really like to start finding 904s and 906s—they would be a dream to work on." Despite being 38, Allen still has over 20 years of experience under his belt—a fact that is sometimes overlooked in the exotic and special interest car hobby, which still sports an over-55 demographic. Mark feels there is a barrier to entry these days for a younger audience. "When we were 16 you could get a car, work on it and drive it. Today gas is expensive, an entry level car is expensive and kids would rather just gather on their smartphones." However he recognizes car guys from all venues. "When it comes to the Japanese tuner cars… there are some really brilliant guys in that arena. But for the classics, there are fewer guys my age who do these types at my skill level." He doesn't worry though, about the lack of youth interest, "The cars are so unique, there will always be an audience."