How Travis Reeder Slid His Way Into the Drivers Seat of the First Electric Drift Car
On May 10, 2019, Travis Reeder slid into history as the driver of the first electric drift car to qualify for Formula Drift in his Napoleon Motorsports EL1 Camaro, earning 67 points on his second qualifying run. After the much-documented drama surrounding the car at Formula Drift Long Beach, and a mechanical issue that kept the car from competing at the second event of the season in Orlando, the team was relieved to put the car into the show at Road Atlanta.
But we're getting ahead of ourselves. Let's get back to how Travis Reeder navigated his way through the grassroots and Pro-Am circuits to get into Formula Drift in the first place! 
The Early Years
Reeder was part of a family of gearheads growing up in Vancouver, Washington. His parents were always into cars, having various hot rods in the garage and watching NASCAR or NHRA drag racing on the weekends. As soon as Reeder got his driver's license, he knew he wanted to get into drifting because it was the cool new sport and very affordable to participate in. "A weekend of drifting would cost a couple hundred bucks, which is much cheaper than a lot of other motorsports," Reeder said. Since his family was a normal working class family and didn't have deep pockets, he knew that cost would be a factor in getting involved with any motorsport.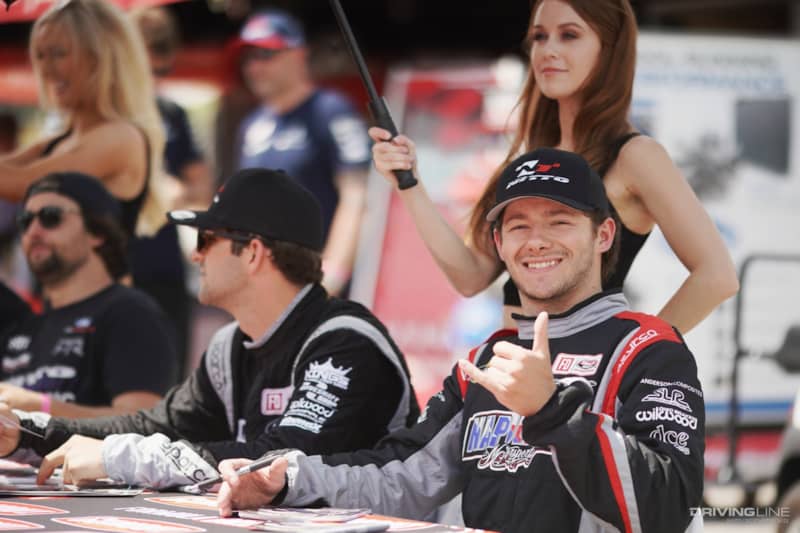 Reeder's first vehicle was a hand-me-down mid-'90s Toyota pickup truck, and as soon as he officially got it from his dad, he did what any kid who wants to get involved in drifting and has a little bit of welding know-how would do: He welded the differential and started to slide it around at any chance he got. Of course, he didn't actually tell his parents that he welded the diff, but who really tells their parents about welding the differential in the hand-me-down pickup truck? A few years later, Reeder received some money from family and friends that was intended to help him get a start in college, but instead, Reeder decided to use that money to go purchase a used 1991 Nissan 240SX S13 coupe. That coupe is the same Nissan S13 that Reeder used to win the 2018 Formula Drift Pro 2 championship and was the stand-in car for the first two rounds of the Pro 1 series in 2019.
Rolling Through Evergreen Drift ProAm
The Nissan S13 Coupe would be the workhorse drift car for Reeder over the following six years. He slowly built it over time, adding parts as his budget would allow and driving at as many local events as possible to build up his experience. Six years after acquiring the car, Reeder felt like he was ready to start competing and entered the Evergreen Drift ProAm series just outside of Seattle in 2016. This same series has spawned several Formula Drift drivers in the past, including Walker Wilkerson, Ian Fournier, Kyle Pollard and Cameron Moore.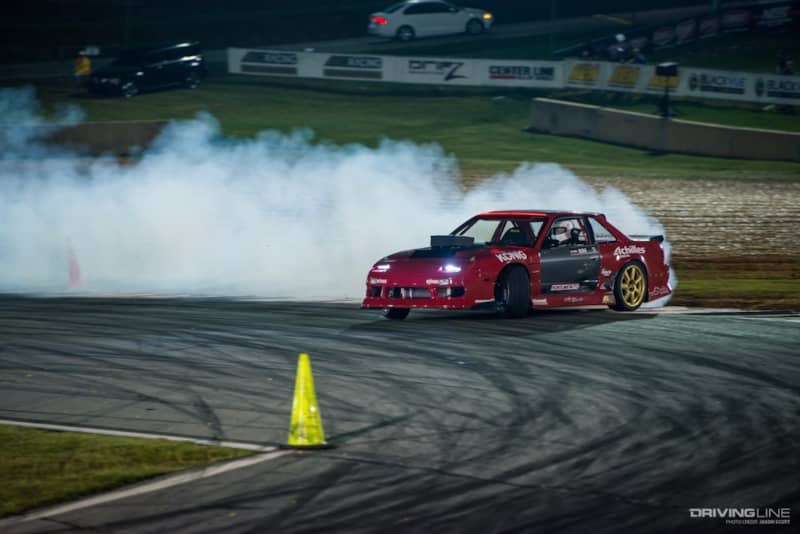 Reeder ended up finishing second at the first ProAm event he entered and won his second event. He wasn't expecting to see results so quickly in competition, but was happy with them and continued to push towards a bigger goal. Overall, Reeder claimed four of five podium finishes in his first competitive season and won the championship by six points over Matt VanKirk. With the Evergreen ProAm series conquered, Reeder turned his attention to the next level.
Ups and Downs in Formula Drift Pro 2
Reeder' success continued into the start of the 2017 Formula Drift Pro 2 season, as he earned second in his first event at Orlando Speedworld and won the second event at Road Atlanta. After two events in the 2017 Formula Drift Pro 2 series, Travis Reeder held a 78 point lead over the next closest competitor. The next two rounds didn't go as smoothly, as Reeder lost to fellow Evergreen Drift alumni Dylan Hughes in the Top 8 of Round 3 at Evergreen Speedway and Austin Meeks in the Top 16 in the season finale at Irwindale Speedway. What looked like a lock for a championship turned into him finishing in second by just two points, narrowly losing the championship to Kevin Lawrence. That finish motivated Travis to work even harder for 2018.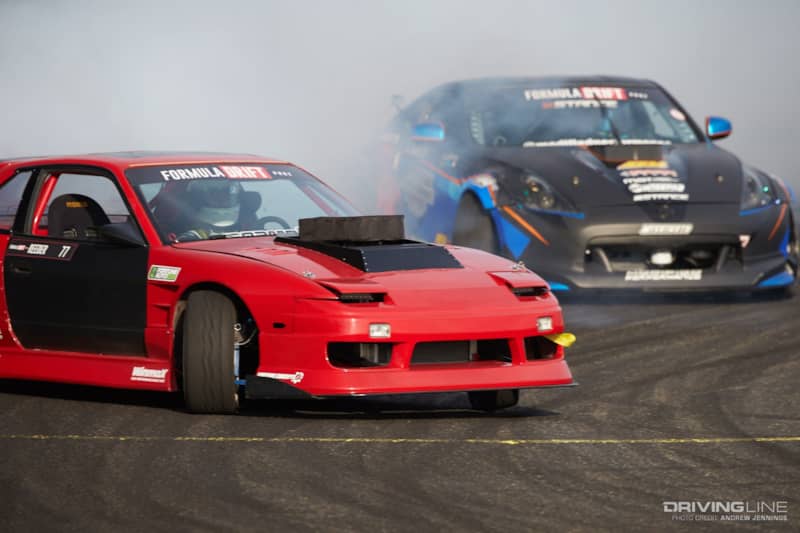 Reeder returned in 2018 with a new motivation for success but failed to qualify at the first event in Orlando. He bounced back in Atlanta with a podium finish (again losing to Dylan Hughes in their semifinal battle), and strung together back-to-back wins at St. Louis and Texas to win the championship by 18 points.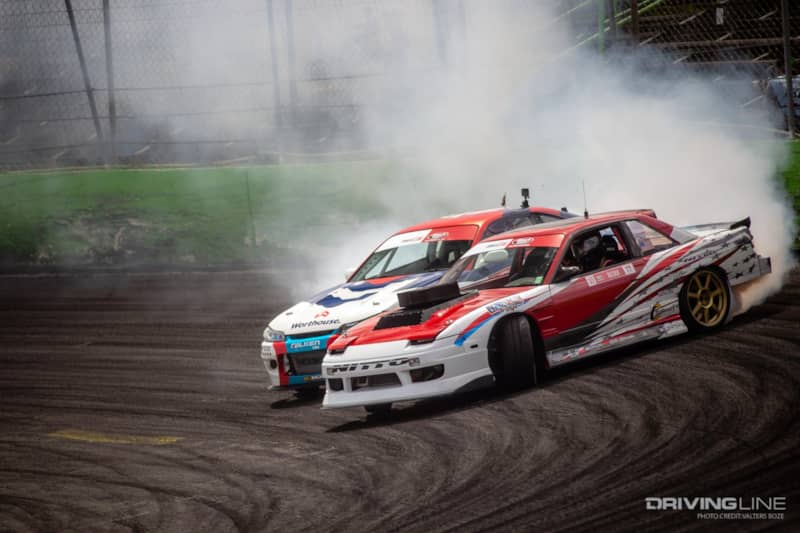 Looking ahead to the 2019 season, Reeder was a rising star to watch. He knew he wanted to move up to the top tier of competition but lacked the proper funding to make a Pro 1 program happen. He faced a few different options: either take a season off, save up funds, and try to make a privateer effort at running the Pro 1 class, or return to Pro 2 and try to continue the success and momentum. Knowing that professional drifting is as competitive as it is, Reeder thought that while taking a season off was the better financial choice, the lost momentum via social media and with sponsors could hurt his chances of ever making a return. Thus, he vowed to return to Pro 2 and just try to continue with on-track success in hopes of impressing some potential sponsors.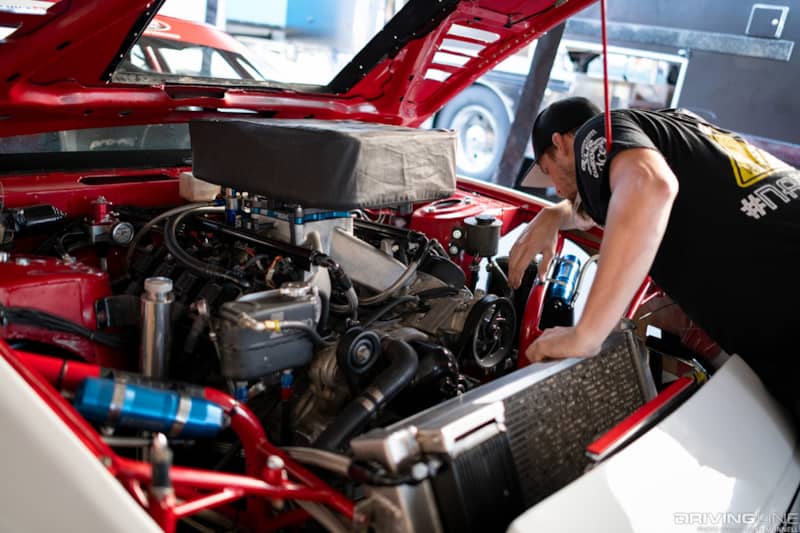 Reeder brought his car back to his home in Vancouver, Washington and started the normal offseason prep: tearing apart and refreshing parts like the engine, transmission and differential, fixing any broken parts, taking stock of the spares he had available to him, stripping the livery and evaluating options. Then, in February of this year, he got a phone call.
Napoleon Motorsports Enters the Picture
Napoleon Motorsports had begun building their Camaro EL1 electric drift car in October of 2018, and had partnered with a driver who was local to them in Texas. However, an unexpected opportunity outside of drifting materialized for that driver that was too good to pass up. That left Napoleon Motorsports with a vacancy in their drivers seat, and a very short period of time to fill it. They chose to give the 2018 Pro 2 champion a call, and Reeder answered it.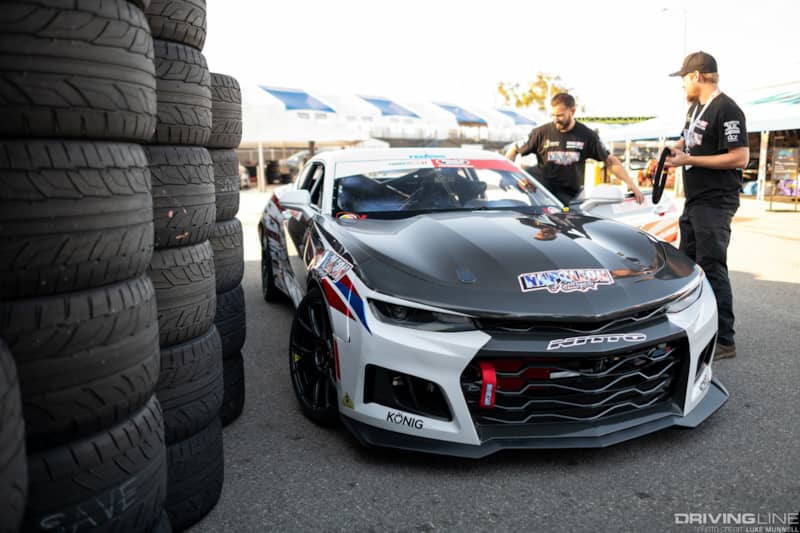 "They laid down their plan for the car and the powerplant, and at first I was a little confused. They continued to detail their plans, and I realized that there wasn't a question of if they were going to be bringing the car to drifting, it was whether I was interested in being the driver to pilot that car. I knew right away that it was going to be a game changer for drifting, so I was stoked to be involved with it!" said Reeder. Shortly after the phone call, he booked a flight to Texas to meet with the team and look over the car, and he knew he was in good hands for his rookie effort in Formula D Pro 1.
When Reeder landed in Texas, he quickly realized he had made the right decision. "I was very impressed with how professional the whole operation was. The car was very well put together, all the fabrication was awesome, the planning for the electrical was well thought out, and it gave me even more confidence in the program than I already had," he said. For Reeder, he knew the program was going to be revolutionary and innovative, and he was excited to be a key part in the process.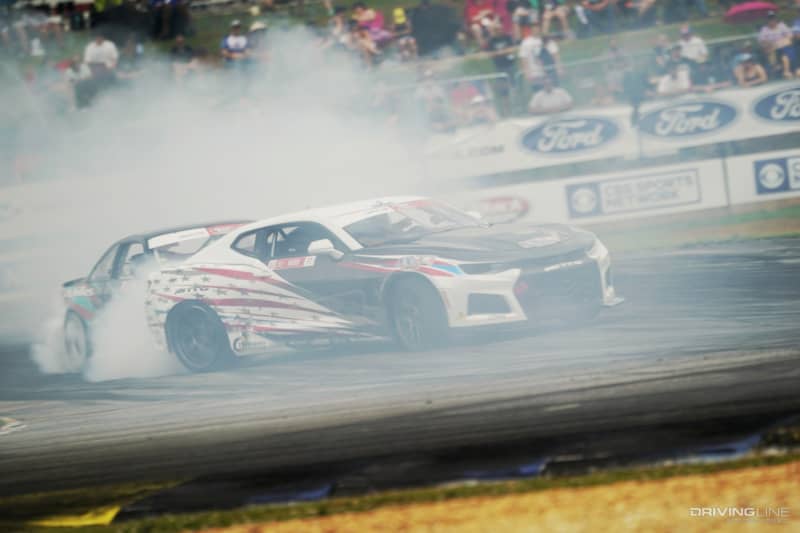 The first drive of the car reminded Reeder that this wasn't going to be a quick or easy journey. He had to retrain his brain to think about the Camaro differently than how he operated his Nissan S13. Thankfully, Reeder picked up an E36 BMW as a practice car in the 2018 offseason, and jumping from the S13 to the E36 was a great training tool to remind him that he had to treat each car differently. "When I drove the Camaro for the first time, it was definitely very different, but it was the best kind of different. It drove way better out of the box than I expected! I had full faith in the team, I just wasn't sure how the concept of an electric drift car would drive," said Reeder. The more he's driven the car, the more confidence he's gained, and the team has continued to add traction and grip to make the car even better.
Making History in Atlanta
After Reeder drove the first two events of the 2019 Formula Drift Championship in his refreshed Nissan S13 Coupe chassis, Reeder and the team committed themselves to putting the Camaro on grid at Road Atlanta. Thursday practice went smoothly for the team, which was an upgrade from the Orlando round when some gremlins parked the car for the entire weekend. Moving into the Friday practice and qualifying sessions, once Reeder turned a single wheel on track in the Camaro, he was committed to it for the weekend. But the laps were adding up, data was being gathered, and the team was dialing in more grip and traction into the car, proving that it wasn't just a one-hit wonder.
Unfortunately, as Reeder pulled the car into the burnout box ahead of his first of two qualifying laps, the car went into limp mode. "As I watched the driver in front of me take off from the starting line, we had to make a decision as to if we were going to take our qualifying lap. We decided that we wanted to show the Camaro in the best possible light, so we passed up our first qualifying lap to diagnose the problem and work out the solution instead of trying to qualify in limp mode," said Reeder. That decision turned out to be the right one!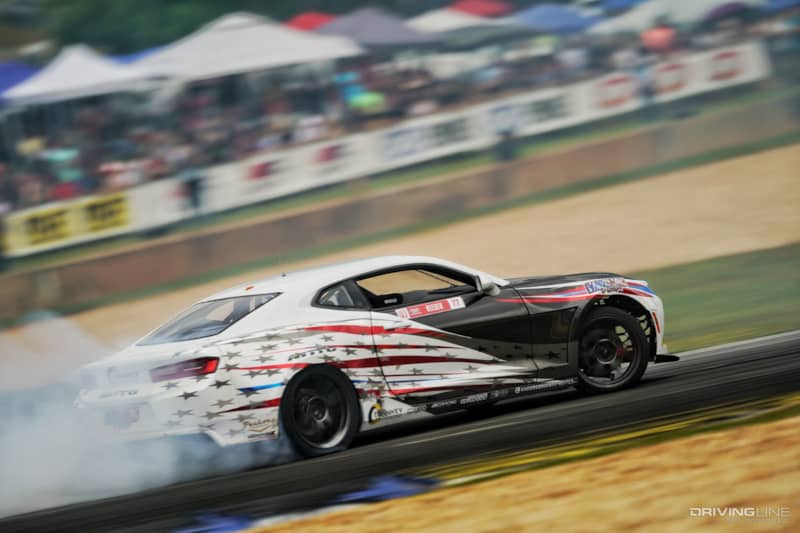 As Reeder pulled back to the line for his second qualifying lap around 90 minutes later, the car would make history. The qualifying lap was a relatively safe one that scored 67 points out of 100, which left some room for improvement had he taken two full qualifying laps, but kept Reeder above the cutoff line for tandem competition. As luck would have it, Reeder landed in the 31st qualifier position, which matched him up against second place qualifier and fellow Nitto Tire driver Chelsea DeNofa for the Top 32 round. While Nitto only sponsors five drivers on the grid, Reeder has had the misfortune of matching up against a fellow Nitto driver in the first round of tandems at each of the first three events of the year. Reeder defeated Alex Heilbrunn in the Top 32 round at Long Beach, but lost to Ryan Tuerck in Orlando. All he needs to finish his bingo card of facing all Nitto drivers in the first round would be to face Vaughn Gittin Jr.!
Reeder lost his first tandem battle in the EL1 Camaro against DeNofa but continues to lead the Formula Drift Rookie of the Year chase. Just three events into the season, he sits in 20th place overall in the Formula Drift Pro championship standings. Reeder and Napoleon Motorsports are aiming to continue developing the Camaro chassis and hope to see continuously improving results through the remaining five rounds of the Formula Drift season. If you want to know more about Travis Reeder's EL1 Camaro, listen to him talk about it on the Konig Wheels podcast.
Stay tuned to Driving Line for additional coverage of Reeder and the rest of Formula Drift!