Power Stroke History, Lesson 5: 3.0L
The last Power Stroke on our list represents Ford's most recent venture: a diesel-powered F-150. Following the announcement that it would bring a compression-ignition option to the F-150 at the 2018 Detroit Auto Show, Ford followed through in 2018 with the first-ever diesel-powered version of its best-selling truck. With the VM Motori 3.0L EcoDiesel V6 offered in Ram 1500s, it was obvious which competitor Ford was looking to outgun with this new engine, and the company delivered on that front, too. Where the EcoDiesel puts out 240hp at 3,600 rpm and 420 lb-ft at 2,000 rpm, the 3.0L Power Stroke V6 bests it with 250hp at 3,250 rpm and 440 lb-ft at 1,750 rpm.
Nearly identical to the Lion series engine Ford builds in the United Kingdom, the 3.0L Power Stroke can trace its roots back to the same power plant found under the hood of the Land Rover Discovery and Range Rover. However, several key areas were upgraded once Ford's Power Stroke engineering team—many of whom are said to have worked on the wildly successful 6.7L Power Stroke program—got ahold of the Lion V6. A revised, forged-steel crankshaft, upgraded main and rod bearings and higher peak injection pressure make the engine more durable, cleaner and potentially more fuel efficient. For the full scoop on the Power Stroke that powers America's favorite pickup, keep reading.
3.0L Hard Facts
| | | | |
| --- | --- | --- | --- |
| Production: | 2018 to Present | Valvetrain: | Dual overhead camshafts (DOHC), four valves per cylinder, cogged timing belt |
| Bore: | 3.31 inches | Injection System: | High-pressure common-rail (29,000 psi peak), direct injection |
| Stroke: | 3.54 inches | Injectors: | Bosch piezoelectric high-pressure common-rail |
| Displacement: | 183 ci | Injection Pump: | Bosch CP4.2 high-pressure fuel pump (rear mounted) |
| Compression Ratio: | 16.0:1 | Turbocharger: | Variable geometry turbo with ball bearing center cartridge |
| Block: | Compacted graphite iron (CGI), four-bolt mains with two cross-bolts per cap | Intercooler: | Air-to-air |
| Crank: | Forged-steel | Emissions: | Exhaust gas recirculation (EGR), diesel particulate filter (DPF), selective catalytic reduction (SCR) |
| Pistons: | Cast-aluminum | Horsepower: | 250hp at 3,250 rpm |
| Heads: | Cast-aluminum | Torque: | 440 lb-ft at 1,750 rpm (sustained through 2,250 rpm) |
Meet the Lightweight, DOHC, V6 Power Stroke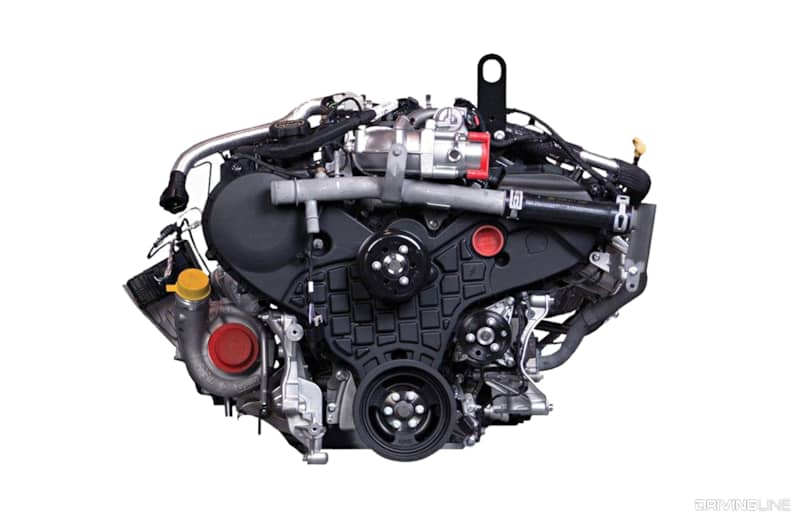 Built at Ford's engine plant in Dagenham, England, the 3.0L Power Stroke V6 is a direct derivative of the 3.0L from the Lion engine family (think Land Rover) which was originally designed with the help of PSA Peugeot. For utmost strength and considerable weight savings, it makes use of a compacted graphite iron (CGI) block and aluminum heads, and tips the scales at just over 500 pounds wet. Dual overhead cams actuate four valves per cylinder by way of a cogged-style timing belt concealed behind the composite front timing cover.
Efficient Package Size (Though Shrouded in Secrecy)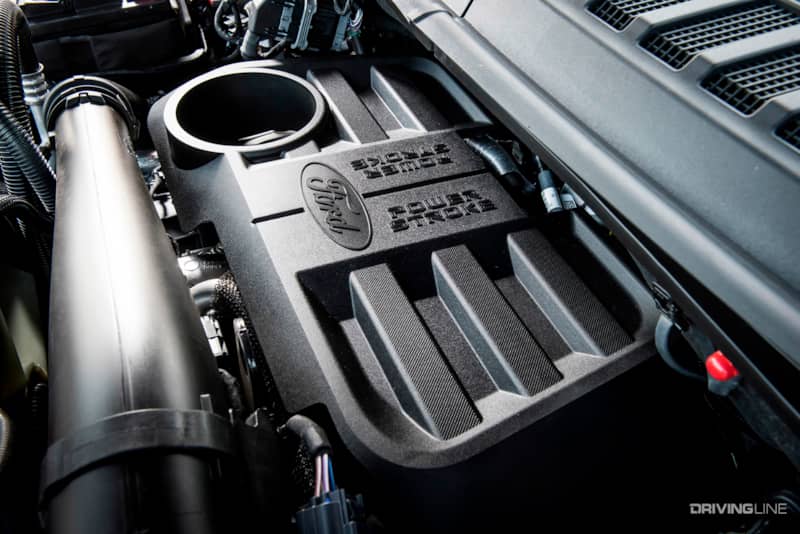 Within the confines of the F-150's engine bay, the 3.0L Power Stroke packages extremely well thanks to its 60-degree design. The variable geometry turbocharger resides along the passenger side of the block, with the valley being reserved for the intake throttle valve, EGR crossover tube, secondary fuel filter and Bosch CP4.2 high-pressure fuel pump (driven at the rear of the engine).
Timing Belts Are(n't) the Devil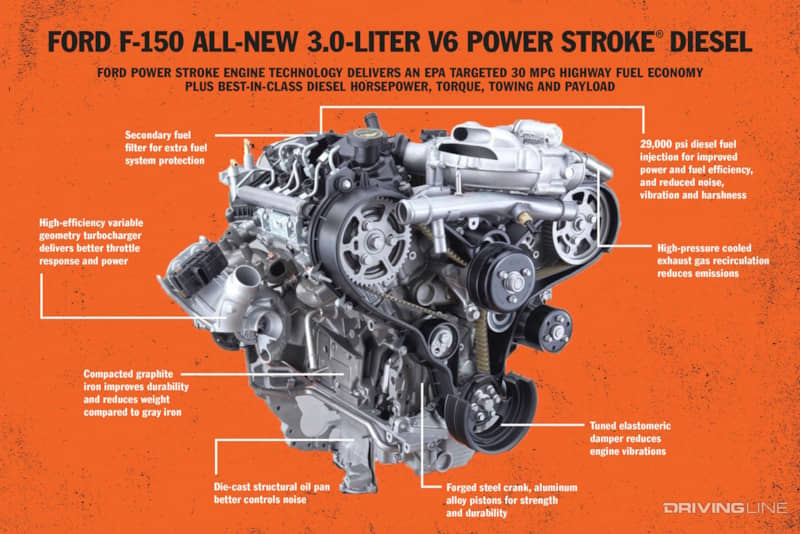 The prospect of a timing belt is a bit icky for ¾-ton and larger truck owners spoiled by all the commercial-grade, gear-driven diesels they may be used to, but it's not an uncommon feature on smaller diesel engines. Of course, the main drawback for any power plant relying on a timing belt is that if it breaks, the valves stop moving while the crank, rods and pistons don't. However, a properly observed timing belt change interval, which in the case of the 3.0L Power Stroke is a fairly lengthy 150,000 miles, should leave virtually zero chance of it occurring on the average '18-newer F-150.
Priority Numero Uno: Best-in-Class MPG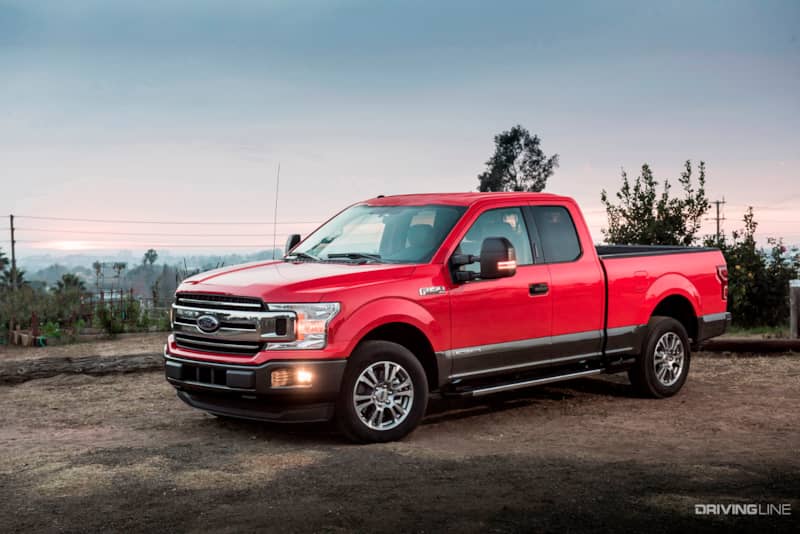 With half a dozen engine options available on the F-150, Ford's primary aim for the 3.0L Power Stroke was to outperform Ram's EcoDiesel in the fuel economy department. Unladen, a diesel-powered 4x2 SuperCab F-150 is capable of 30 mpg highway per EPA estimates, along with 22 mpg city and 25 mpg combined. The 10-speed SelecShift automatic (the joint venture between FoMoCo and GM) likely aids in the 3.0L Power Stroke's ability to achieve these class-leading numbers.
DEF Saves the Day (Again)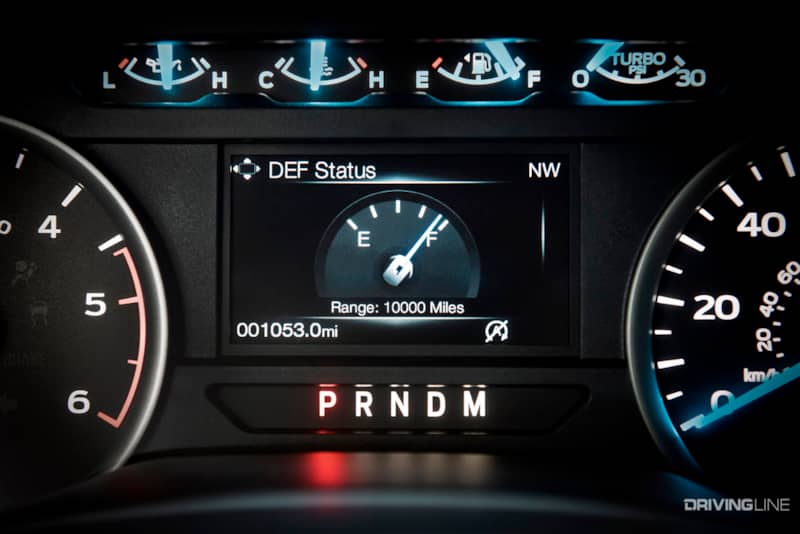 One of the key ingredients in the new Power Stroke F-150's superb fuel economy capability is its use of diesel exhaust fluid (DEF). As part of the selective catalytic reduction (SCR) system, the urea-based chemical allows post-engine NOx emissions to be dealt with downstream in the exhaust. This means a more complete combustion event can be carried out in-cylinder (which reduces particulate matter yet produces NOx). On top of that, when you have a quick-reacting, ball-bearing variable geometry turbocharger providing instant transient response and a 10-speed automatic that's always in the right gear, very little fuel goes to waste to get things moving and keep them moving. With a 5.6-gallon DEF tank onboard, Ford claims 10,000 miles can be racked up between refills.
Owning the Half-Ton Segment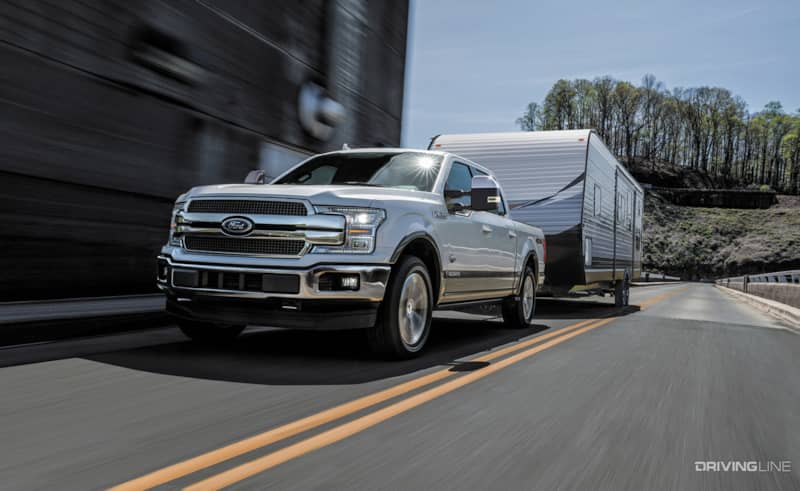 As previously mentioned, technically speaking there are six engines available for America's best-selling pickup at the present time. Amid the popular twin-turbo EcoBoost V6 and 5.0L V8 options, which remain extremely popular, Ford only anticipates a five-percent take-rate on its 3.0L Power Stroke diesel. Knowing this, we can deduce that Ford's diesel offering provides the exclamation point on a long list of half-ton accolades. After all, a 3.5L EcoBoost-powered, SuperCrew 4x2 model can tow a best-in-class 13,200 pounds, while a 5.0L-equipped regular cab 4x2 can haul 3,270 pounds in the bed. Now, thanks to this little oil-burner, Ford can also lay claim to the fuel economy title.
Designed to Work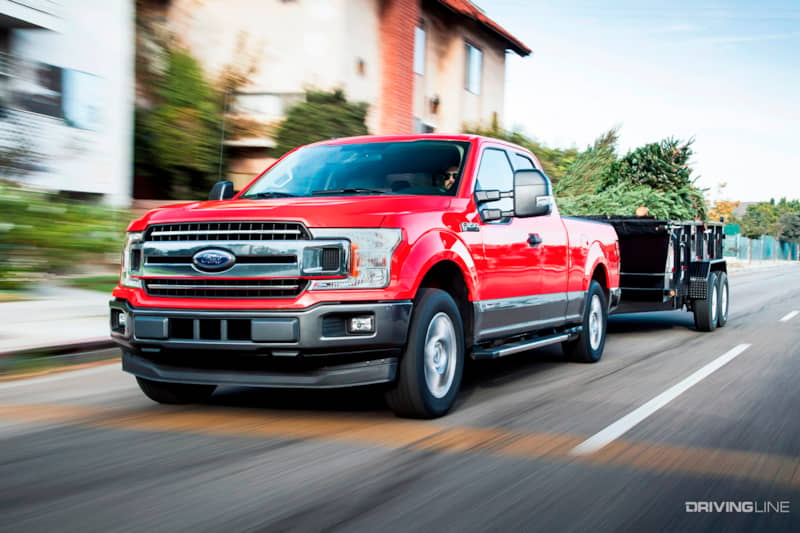 Even with the 3.0L Power Stroke under the hood, the F-150's towing and payload capacities are remarkable for a half-ton. When configured in 4x2 SuperCrew form with 3.55 gears and the 156.8-inch wheel base option, a diesel-powered F-150 can tow 11,400 pounds. When a 4x2 SuperCab with the 145-inch wheel base is selected, payload capacity peaks at 1,940 pounds. By comparison, an '18 EcoDiesel-powered Ram 1500 is capable of towing a maximum of 9,210 pounds and hauling 1,600 pounds in the bed.
Meaty Torque Curve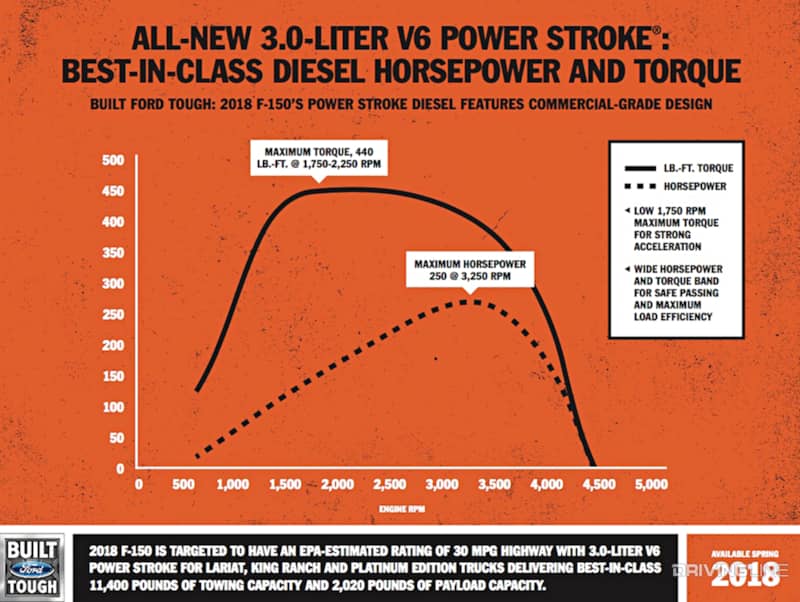 It's impossible to look at the torque curve of the 3.0L Power Stroke and say it isn't designed to excel at work. Peak twist (440 lb-ft) checks in at 1,750 rpm and is sustained to 2,250 rpm—right where the engine will spend the majority of its life. Furthermore, 400 lb-ft of torque or more is on tap from approximately 1,400 rpm to 3,400 rpm. And, as is inherent of V-type engines, a broad horsepower band is available, with sufficient horsepower being made past 3,500 rpm.
No Need for Numbers-Crunching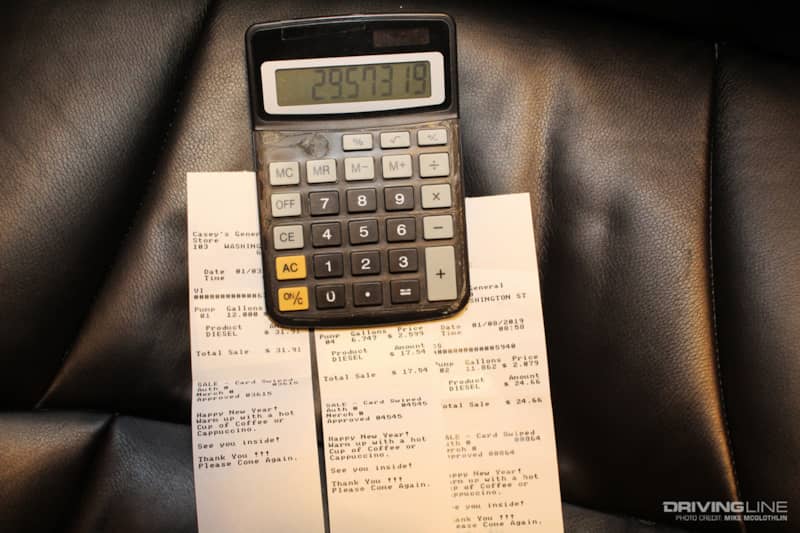 Automotive journalists tend to spend an inordinate amount of time crunching numbers and then dwelling on the fact that the diesel option will never be able to pay for itself. This is true. In most cases it won't. But for the potential buyer of a diesel-powered truck that doesn't matter—and it never will. Folks looking to get into a diesel are going to do so because they want a smooth towing experience (no gear hunting thanks to the abundance of low-end torque), an engine that doesn't complain or struggle under huge workloads, encompasses usable power from idle to redline and sees exceptional range between fill ups. The long-term durability of a diesel engine is usually a deciding factor as well. The 3.0L Power Stroke isn't intended to take sales away from the EcoBoost and 5.0L. It's designed to get someone into an F-150 rather than an EcoDiesel Ram.
Want to know more about Ford's diesel F-150? We have all the details!