Power Stroke History, Lesson 4: 6.7L
After the uphill battle Ford faced due to the design flaws and endless warranty claims associated with the 6.0L and 6.4L engines, the company brought its diesel engine program in-house for the 6.7L Power Stroke. For the first time, Ford had full say in the oil-burner that would power its ¾-ton and larger trucks—and the company made the most of it. Influenced by a wide array of engineers, the 6.7L Power Stroke was developed with maximum efficiency, performance and longevity in mind. In addition, the 6.7L entailed a host of firsts in the diesel pickup market, such as a compacted graphite iron block, reverse-flow heads, four valves, four rockers and four pushrods per cylinder and an air-to-water intercooler.
The emissions control system became more complicated on the 6.7L Power Stroke, too, but Super Duty customers saw their fuel economy return to pre-'08 levels thanks in large part to Ford's use of selective catalytic reduction. A high-pressure common-rail system from Bosch, complete with the newfangled CP4.2 injection pump and piezoelectric injectors, produced more than 29,000 psi for the cleanest-burning, most efficient combustion event to date. When the new common-rail fuel system was combined with the engine's dual compressor wheel, single sequential variable geometry turbocharger, peak torque checked in at a Cummins-like 1,600 rpm. To be sure, the 6.7L Power Stroke has had its fair share of minor problems over the years, but by and large this engine has been every bit the success story Ford hoped it would be.
For the full synopsis on the engine that once again placed Ford at the top of the diesel truck heap, keep scrolling.
6.7L Hard Facts
| | | | |
| --- | --- | --- | --- |
| Production: | 2011 to Present | Valvetrain: | OHV, four valves, four rockers and four pushrods per cylinder, single cam, roller lifters |
| Bore: | 3.90 inches | Injection System: | High-pressure common-rail, direct injection |
| Stroke: | 4.25 inches | Injectors: | Bosch piezoelectric high-pressure common-rail |
| Displacement: | 406 ci | Injection Pump: | Bosch CP4.2 high-pressure fuel pump |
| Compression Ratio: | 16.2:1 | Turbocharger: | Variable geometry Garrett GT32 SST ('11-'14), VGT Garrett GT37 ('15-current) |
| Block: | Deep-skirt, compacted graphite iron (CGI) | Intercooler: | Air-to-water |
| Rods: | Powdered-metal | Emissions: | Exhaust gas recirculation (EGR), diesel oxidation catalyst (DOC), diesel particulate filter (DPF), selective catalytic reduction (SCR) |
| Pistons: | Cast-aluminum | Horsepower: | 390hp at 2,800 rpm (initial release), 400hp at 2,800 rpm (H.O. reflash '11-'14), 440hp at 2,800 rpm ('15-'17), 450hp at 2,800 rpm ('18-current) |
| Heads: | Cast-aluminum, reverse-flow with six 12mm head bolts per cylinder (with sharing) | Torque: | 735 lb-ft at 1,600 rpm (initial release), 800 lb-ft at 1,600 rpm (H.O. reflash '11-'14), 860 lb-ft at 1,600 rpm ('15-'16), 925 lb-ft at 1,800 rpm ('17), 935 lb-ft at 1,800 rpm ('18-current) |
The 6.7L Power Stroke: An Instant Classic
Without question, and as is obvious nine years into its production run, Ford developed the 6.7L Power Stroke for the long term. The key behind its staying power starts with its deep-skirt, compacted graphite iron (CGI) crankcase, cast by Tupy. The superior strength of a CGI block over conventional gray iron provides built-in flexibility for future stress (i.e. added horsepower and torque). Case in point, since its inception, Ford has upped horsepower by 60 and torque by a whopping 200 lb-ft (2011 vs. 2019). From the day it was released, the 6.7L Power Stroke was a hit. By September, 2013, the 500,000th version had already been produced at the Chihuahua, Mexico engine plant.
Trump Card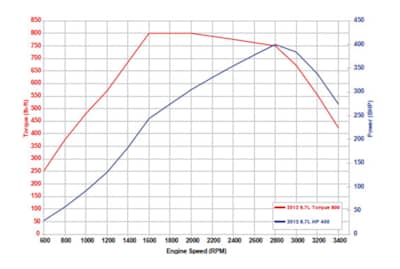 Shortly after revealing the power ratings of the all-new 6.7L Power Stroke in 2010, GM pulled the veil back on its newly-released LML Duramax's numbers, and they were higher. No longer willing to settle for second place, that August Ford issued a High Output factory reflash, free of charge to all 6.7L Power Stroke owners. The new PCM calibration was good for another 10hp and 65 lb-ft of torque, topping GM's LML Duramax in both horsepower (400hp vs. 397 hp) and torque (800 lb-ft vs. 765 lb-ft).
Rotating Assembly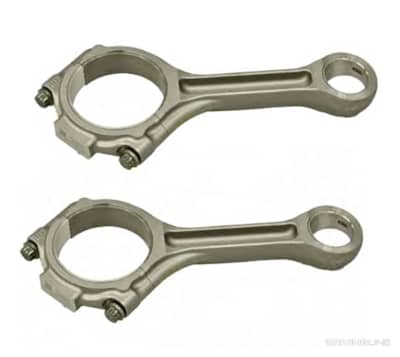 While Ford engineers got away from the bed-plate provision employed in the Navistar-built 6.0L and 6.4L Power Strokes, the 6.7L's forged-steel crankshaft is soundly anchored in place thanks to cross-bolted, nodular iron main caps that employ six bolts apiece. Though not as girthy as the units found in the 6.4L, the 6.7L's connecting rods have proven more than sufficient to date, and the aftermarket rates them as being capable of handling as much as 700rwhp. The fractured cap, powdered-metal con-rods' large bearing journals are clocked slightly so that the big end can be installed in the deep-skirt CGI block. The 16.2:1 compression cast-aluminum pistons are supplied by Mahle and feature offset piston pins and a single oil cooling galley.
Reverse-Flow Heads with 32 Valves, Rockers and Pushrods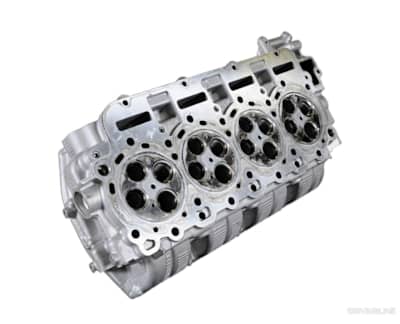 One of the more radical departures from tradition was the 6.7L Power Stroke's use of reverse-flow cylinder heads. By breathing air in through the valve covers and pushing exhaust gases out via the valley-located manifolds, both turbo lag and engine compartment heat are significantly reduced. The cast-aluminum heads feature four valves per cylinder, but also four rockers and four pushrods (no valve bridges here), an added complexity that has paid off big so far for Ford. Despite a few hiccups on early '11 engines, valvetrain issues are rare for the 6.7L Power Stroke. The heads also clamp to the block courtesy of six 12mm diameter bolts per cylinder, which means head gaskets are seldom ever a concern.
Bosch CP4.2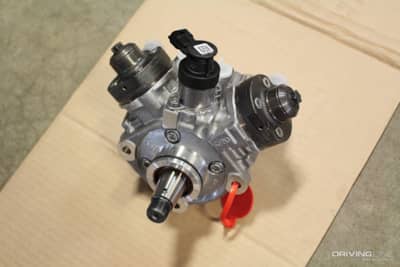 Sourcing a common-rail system similar to what was found on the LML Duramax, a Bosch CP4.2 high-pressure fuel pump was at the heart of it. The twin-piston pump was tasked with pressurizing fuel as high as 30,000 psi for the injectors to use. It's timed to both the camshaft and crankshaft and is driven by the camshaft gear. While the CP4.2 has been used on all 6.7L Power Strokes to date ('11-present), starting in '15 a higher volume CP4.2 was added, which corresponded with the engine's power rating jump from 400hp to 440hp and torque bumping up to 860 lb-ft (from 800 lb-ft). All told, the longer stroke of the updated CP4.2's cam provided an 11-percent increase in fuel flow.
Piezo Injectors: Clean, Quiet Power
On the receiving end of the 30,000 psi worth of fuel pressure the CP4.2 produces, you'll find eight piezoelectric injectors, also from Bosch. The state-of-the-art, precisely-controlled injectors provide for multiple injection events per combustion cycle to meet emissions and keep engine noise low. Their lightning-quick injection rates also require very little duration in order to obtain the desired power output from the engine (which also keeps exhaust gas temperature low). Optimum in-cylinder atomization takes place after fuel makes its way through the injector's eight-hole nozzle. For '15 model year 6.7Ls, higher flowing injectors were added to the equation (along with the engine's increased horsepower and torque ratings).
"DualBoost" GT32 SST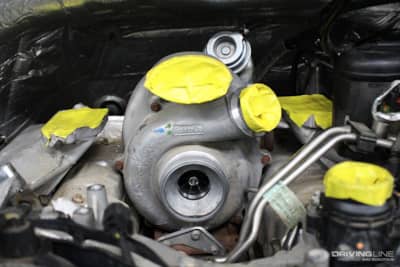 From '11 to '14 this Garrett GT32 SST variable geometry turbo was used on the 6.7L Power Stroke. Its dual compressor wheel, twin air inlet, ball bearing center cartridge and wastegate was the talk of the town in many conversations. But the trick little turbo had a secret: It was extremely restrictive. Its turbine wheel was undersized when compared with the competition and even though there were two compressor wheels (back-to-back on the same shaft) the 46mm inducer charger was out of steam well before 3,000 rpm. In time, over-speeding would take many of the GT32 SST's out of action.
More Reliable GT37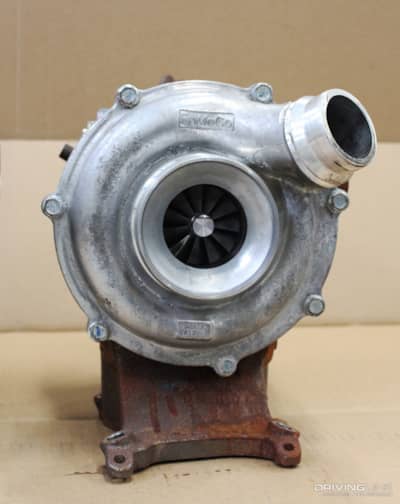 For '15, when Ford increased the 6.7L's output from 400 to 440hp, a conventional, single (61mm) compressor wheel Garrett GT37-based turbo replaced the GT32. The GT37 also makes use of a larger turbine wheel, no wastegate and has proven much more reliable to date. Accommodating the turbo change meant that the lower cast intake found on '11-'14 engines was done away with and only one air inlet feeds oxygen into the compressor housing. In stock form, the GT37 will produce 30 psi of boost and its shaft speed has been clocked as high as 130,000 rpm.
Better Intercooling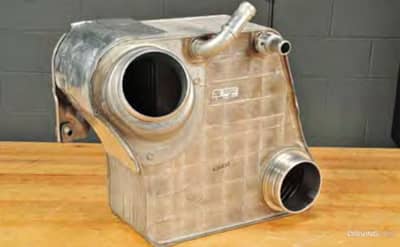 A first for the diesel truck segment, Ford's 6.7L Power Stroke ditched traditional air-to-air intercoolers in favor of an air-to-water unit. It consists of a stacked-plate heat exchanger relying on coolant from the engine's secondary cooling system to drop charge air temperatures before boost makes its way into the cylinder heads. Key benefits to Ford's air-to-water system include the under hood space savings it affords and the tremendous efficiency it provides. An air-to-water intercooler shreds heat and yields very little boost drop when compared to traditional air-to-air units.
An EGR System Engineered to Last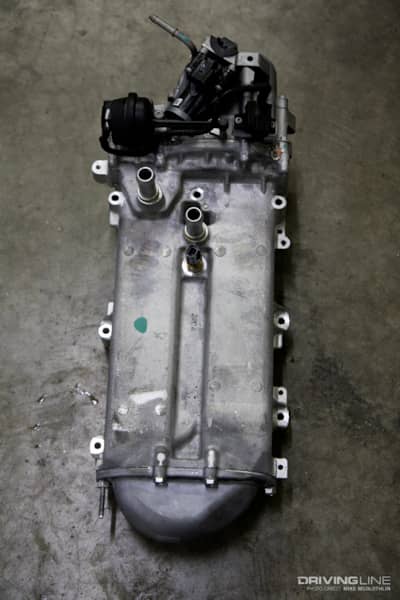 As the third Power Stroke to be graced with exhaust gas recirculation (EGR) in order to control NOx, Ford improved upon what it had learned on the 6.0L and 6.4L engines. Like the 6.4L, the 6.7L utilizes two EGR coolers, but they're enclosed within a common housing, specifically designed to allow for expansion and contraction without rupturing. The EGR valve also controls exhaust flow before the EGR coolers rather than after it. In an effort to not overtax the secondary cooling system, beginning with 2015 model year engines, the high-temperature coolant system is now used to cool the EGR coolers.
A DPF That Sees Less Regeneration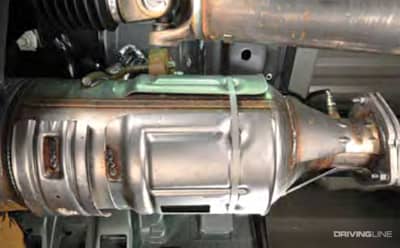 Just like the 6.4L, the 6.7L utilizes a diesel particulate filter (DPF) in order to prevent both fine and large pollutants from leaving the tailpipe. However, the 6.7L has the benefit of undergoing fewer regeneration cycles—the soot-burning process that's required inside the DPF and that requires additional fuel—thanks to selective catalytic reduction, or urea injection. With SCR in the mix, Ford is able to pull off a much cleaner combustion event in-cylinder being that the NOx produced by doing this is taken care of down wind in the exhaust (within the pre-DPF diesel oxidation catalyst). This means the 6.7L Power Stroke sees noticeably better fuel economy than its predecessor did.
Selective Catalytic Reduction Saves the Day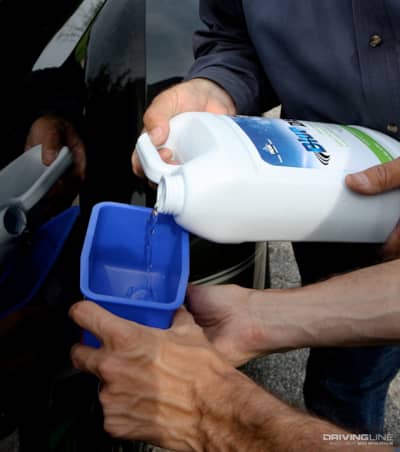 By bringing selective catalytic reduction (SCR) to the 6.7L Power Stroke, it allowed Ford to meet tougher NOx emission requirements without having to rely solely on EGR (think plugged EGR valve, EGR coolers and heads if this had been the case). By injecting the chemical mixture of urea and water known as "diesel exhaust fluid" (DEF) downstream in the exhaust, the amount of EGR required is effectively cut in half.
Want to get the most out of your 6.7L? Read our budget diesel mods!