Inside Line: OPP's Punk'n Spice JL [Video]
When you're in the business of selling aftermarket parts, it's never a bad idea to have real-world experience to back up your recommendations. The guys at Offroad Power Products are known for their collection of extremely well-crafted late-model 4x4s. Some of these rigs fall in the heavily modified and one-off custom category, while vehicle's such as the company's 2018 Jeep Wrangler Unlimited Rubicon shown here are comprised entirely of off-the-shelf parts.
While it would have been easy for the OPP team to swap out the stock turbo-charged four-cylinder engine and AdvanTEK Series Dana 44 axles for something more substantial, that would not have provided the on-the-trail experience that helps differentiate them from many other retailers in the market. Pairing the stock Rubicon axles with a set of 40-inch Nitto Trail Grapplers mounted on 17-inch KMC beadlock wheels is definitely pushing the stock drivetrain way outside of the factory specs, but that's the point. With Cooper "Smash" Ramussen behind the wheel, there will be no shortage of limit testing.
We caught up with the OPP team earlier this year in Moab, Utah, for the annual Easter Jeep Safari event. There, Cooper was doing his best "rock ballerina" dance with the all-new JL platform. We'll be checking back on this setup soon to find out just how well everything is holding up.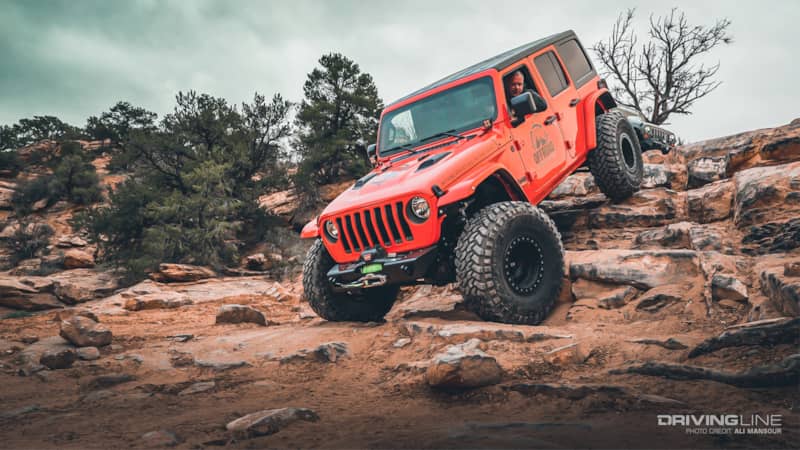 Check out another 2.0L-powered JL that isn't afraid of little hangtime. Send it with Synergy!