Inside Unlimited Diesel Performance's Most Powerful 7.3L P-Pumped Power Stroke Ever
Everyone loves a P-pumped 7.3L Power Stroke. They lope, they smoke, they make big power and they always rally the Ford fan base. Almost exclusively found in the truck pulling realm, this rare breed of engine bucks its original electronically-controlled HEUI system in favor of full-on, mechanical injection—and it all centers around a massive inline pump in the valley. While this kind of tractor technology is primitive, the amount of fuel a P-pump brings to the table is unmatched by any other means of injection. Combine the right amount of air with all that fuel and you can make some serious power, and in the case of the guys at Unlimited Diesel Performance, nearly 2,200hp!
In the P-pump 7.3L game for a handful of years now (and the 7.3L HEUI game for the past 15), Nate Bailor and Ben Burnworth—owners of the aforementioned Unlimited Diesel Performance—have been campaigning their 7.3L-powered '81 F-350 in the Limited Pro Stock Diesel Truck class. Although turbo restrictions limit what their mechanical 7.3L is capable of doing in this nationally-sanctioned category, on occasion they're able to bolt a larger turbo in place and effectively uncork the true potential of this beast of an engine. Recently, the pair did just that during a visit to the engine dyno. A larger, freer flowing turbo—along with a few tweaks on the P-pump—produced an insane 2,180hp and 2,821 lb-ft of torque.
To find out how Nate and Ben pieced together one of the most powerful 7.3Ls in history, read the whole story below.
Exotic Hard Parts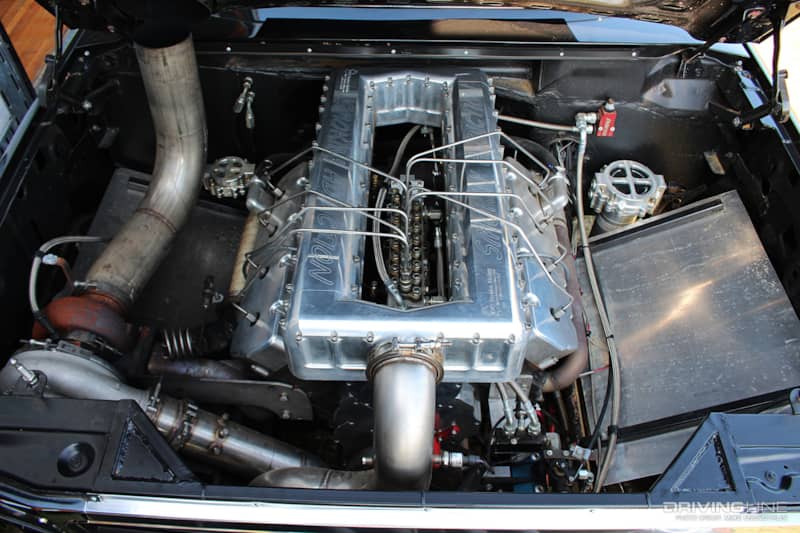 To survive big boost, immense cylinder pressure and nearly 3,000 lb-ft of torque, it all starts with a sound bottom end—and the foundation under Unlimited Diesel Performance's 7.3L Power Stroke is second-to-none. A factory-based, internally-balanced stock stroke crankshaft is anchored in place within the concrete-filled, OE cast-iron block by way of a Hypermax bedplate. The crank swings eight forged-steel R&R Racing Products rods that are topped off with 0.010-inch over D&J Precision Machine FSR pistons. The 2618 forged pistons feature a forged steel top ring land for utmost durability in this extreme cylinder pressure environment. The camshaft was spec'd out by longtime truck and tractor pulling guru, Bob Holmes.
Replica Cylinder Heads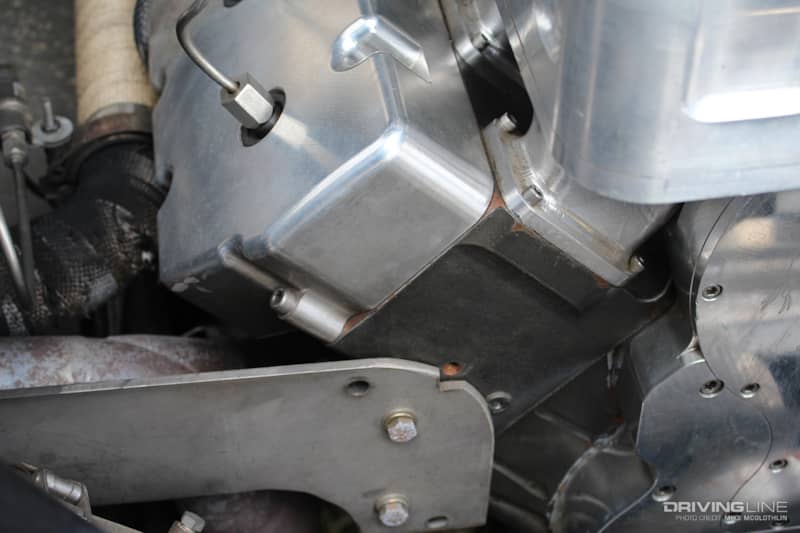 Factory replica, recast cylinder heads from D&J Precision Machine clamp to the block via 9/16-inch head studs from ARP. For utmost combustion containment, both the heads and block are cut to accept fire-rings, with 50 percent of each fire-ring protruding into the crankcase and the other half into the heads. The decision to pour a replica set of heads was made in order to optimize the location of the injectors, facilitate the use of huge, 2-inch diameter intake valves and also allow the intake ports to be as free flowing as possible (they flow 100-percent more air than the factory heads do). Beneath the valve covers, you'll find Jesel roller rocker arms (and roller lifters beneath them), a pretty exotic rocker arrangement for a diesel.
Eight-Cylinder P7100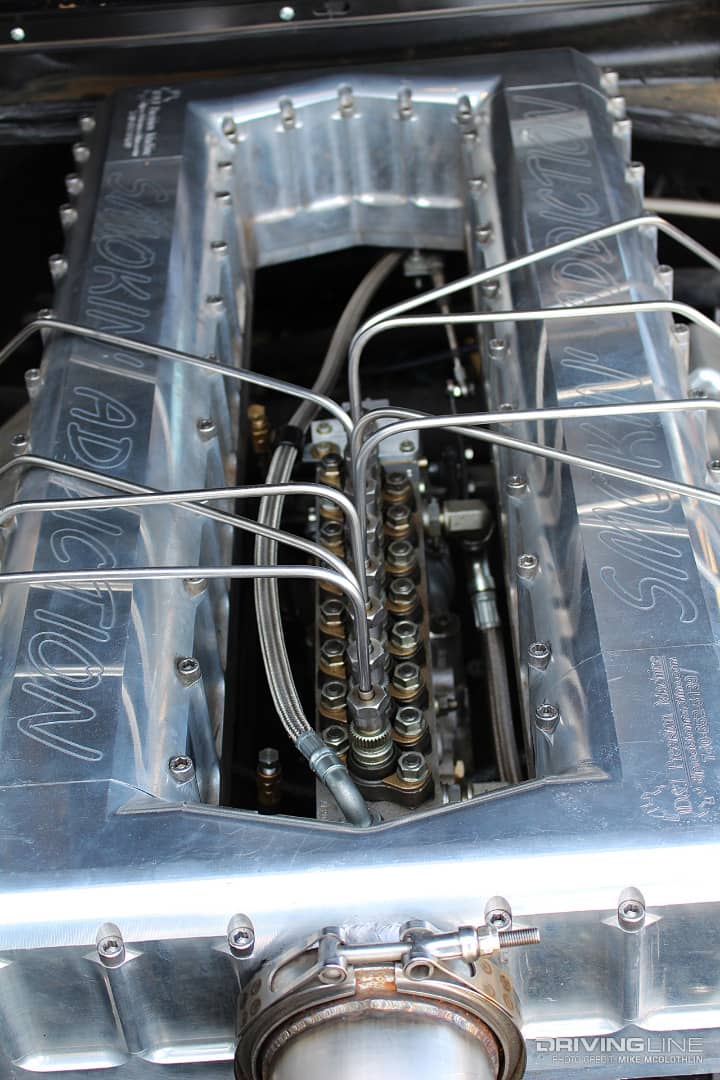 Without a doubt, the start of this show is the massive P-pump that all but consumes the lifter valley. Built by Mark Massey (a.k.a. The Pump Doctor), it sports 15mm plungers and barrels, a custom cam profile and an Ag governor. Custom bent injection lines route fuel to International-based, triple-feed mechanical injectors with billet bodies and massive five-hole nozzles from Scheid Diesel. The pump itself is from the Bosch P7100 family and is believed to have been sourced from a marine application. It is gear-driven off of the camshaft, concealed within a one-off billet front cover designed and machined by D&J Precision Machine.
Smooth Bore Turbochargers = Restrictor Plate Racing for Diesels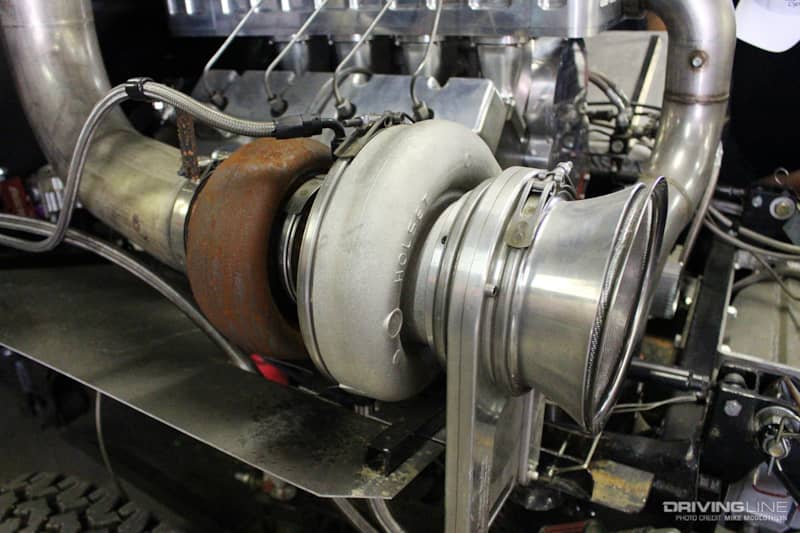 In Limited Pro Stock class trim, a smooth bore turbo with a 76mm (3.0-inch) inducer compressor wheel must be run (shown). In this situation, additional airflow cannot be gleaned from a map width enhancement groove, thereby limiting how deeply the 7.3L can fill its lungs. However, with a 4.4-inch charger from Wimer Fuel Injection & Turbo in the mix (and added fuel volume by way of a few wrenches turned on the P-pump to match the additional airflow), the engine is a completely different animal. In fact, with the massive 4.4-inch turbo feeding the engine nearly 1,000 more horsepower is on the table.
High-Flow Intake Manifold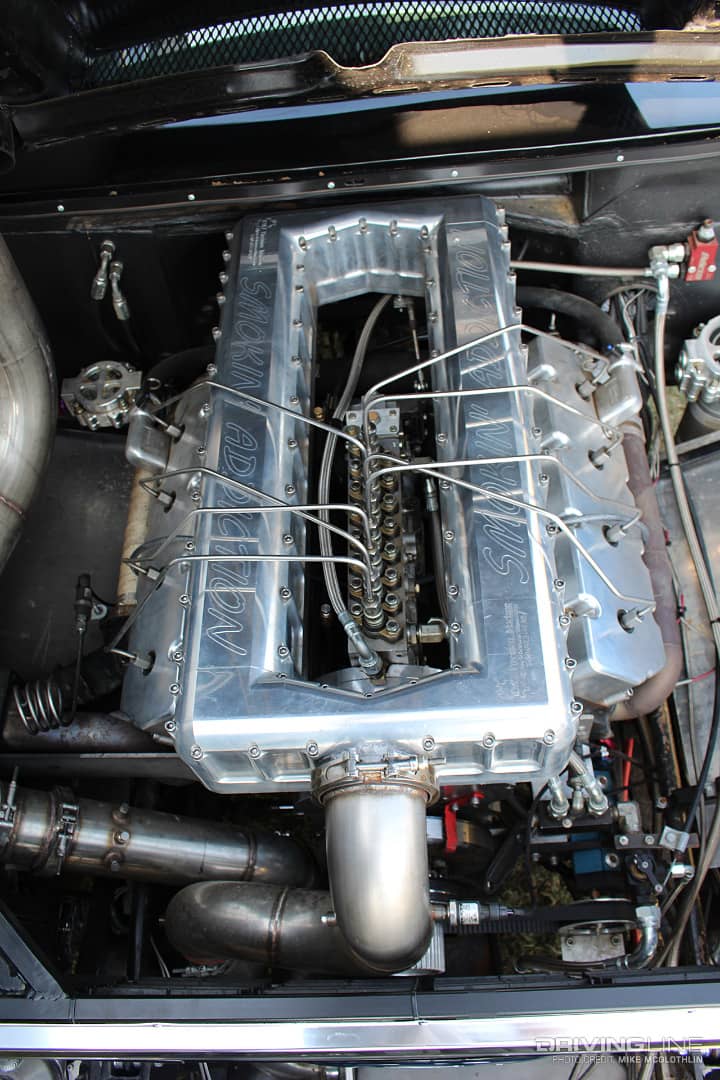 An individual runner style intake manifold ensures each cylinder sees its fair share of boost. The billet-aluminum work of art was also produced by D&J Precision Machine who, as you might've guessed by now, played a major role in Nate and Ben's engine. From machining the FSR pistons to performing the final hone on the block to providing key parts and pieces required to run the P-pump, D&J was there from start to finish. When everything was assembled, D&J even ran the engine on its in-house dyno.
Water-to-Air Intercooling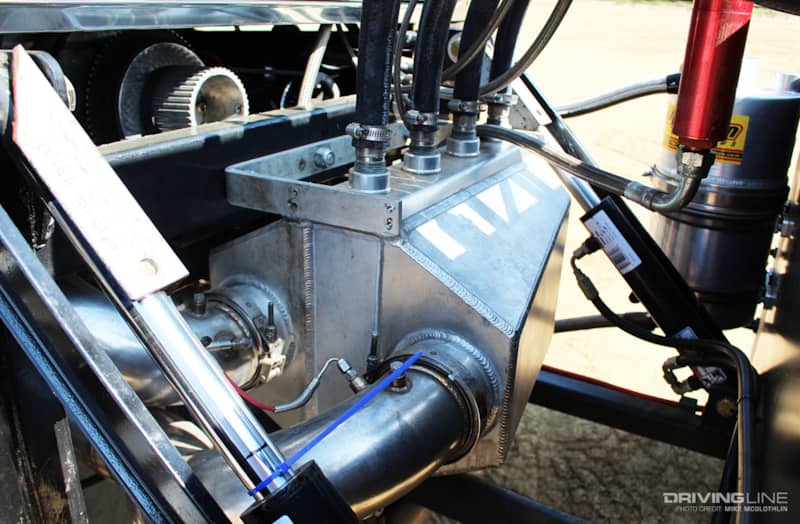 Part of the trick to making big horsepower requires that you are able to effectively manage it. Case in point, without an intercooler (and even with a traditional air-to-air intercooler) the engine could melt to the ground with the kind of in-cylinder heat that 2,200hp can produce. To keep intake temps tame and exhaust gas temperature at or below 1,600 degrees F, a water-to-air intercooler system is employed. The arrangement makes use of a PT4000 intercooler from Precision Turbo & Engine with a 4-inch inlet and outlet, a V-belt driven water pump and a water box that's built into the truck's front weight box. Highly efficient, the water-to-air system drops intake temps leaving the turbo's compressor outlet from 600 degrees to 60 degrees by the time it enters the engine.
Dry Sump Oil System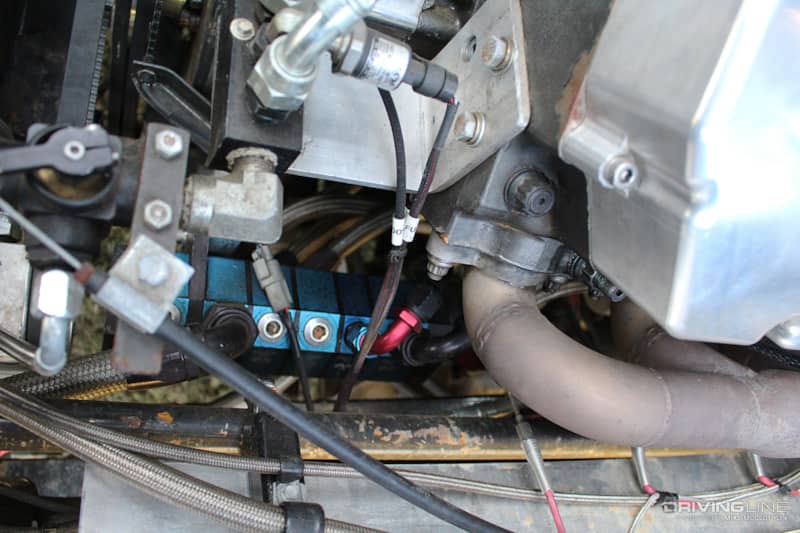 To maintain the engine's oil pressure requirements, a dry sump oil system based around an R&R Racing Products pump is employed. The system makes use of a one-off Moroso pan, four oil scavenge stages, two pressure stages and ensures that 130 psi is on tap when the engine needs it most. Coupled to the back side of the oil pump you'll find a Waterman fuel pump, which sends 50-psi worth of fuel supply pressure toward the P-pump. As an additional safeguard, the engine, P-pump and turbocharger each have their own separate oil systems. This way, one component failure can't take out another.
2,180HP and 2,821 LB-FT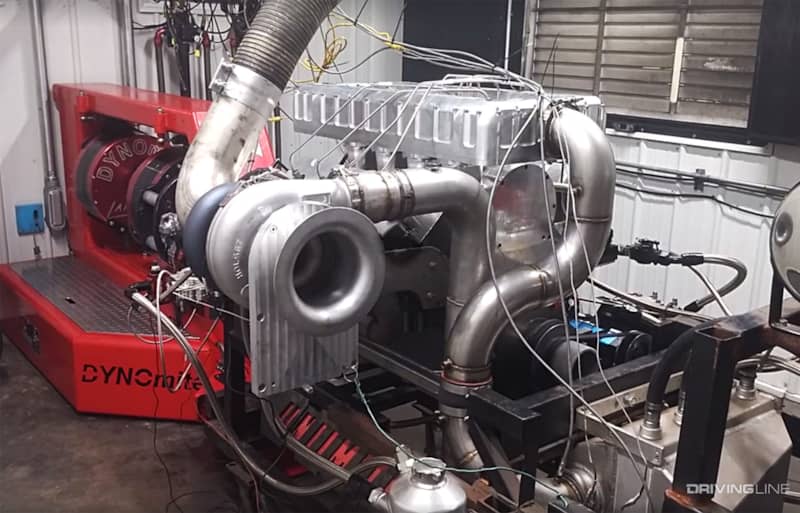 Prior to the start of each pulling season, you can find Nate and Ben's P-pumped 7.3L in this type of torture chamber. This past May, some impressive things happened aboard the engine dyno at Marlatt Competition Engines & Dyno in Rushville, Indiana. With the aforementioned 15mm P-pump and the 4.4-inch turbo bolted in place, the engine belted out 2,180 hp (at 4,600 rpm) and 2,821 lb-ft of torque. As far as publicly release numbers are concerned, this makes their engine the most powerful 7.3L on record. Encouraged by the big single turbo numbers, they plan to try an even larger, 4.7-inch charger on the engine in the future, if not a full-on Pro Stock tractor turbo (5.25-inch).
The Price of Pioneering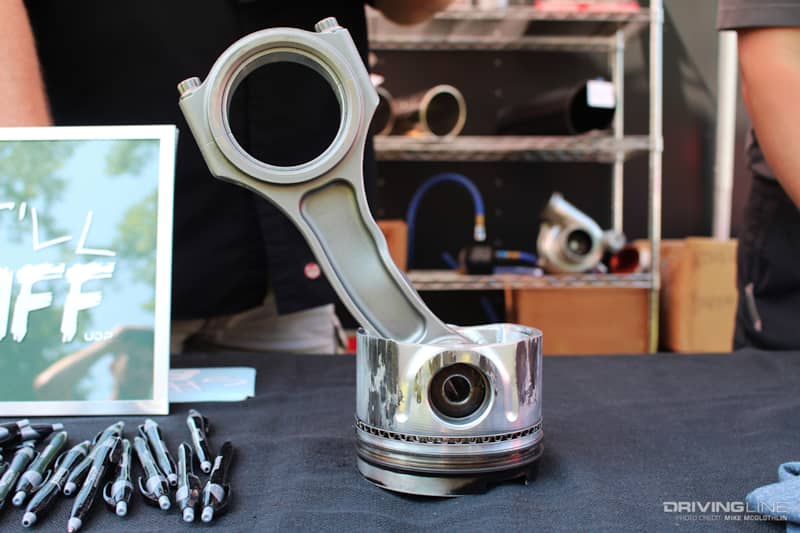 Unfortunately, during a follow-up pass after the 2,180hp dyno pull the engine began to run rough. Once the test was aborted, chucks of aluminum were discovered in the oil system and the guys at Unlimited knew they'd had a hard-part failure. When they tore the engine down, they identified a connecting rod (with two full seasons and countless dyno pulls on it) as the culprit. Despite the carnage, Nate and Ben plan to have the engine up and running again soon. Look for their truck, "Smokin' Addiction," to be running the Pro Pulling League's Limited Pro Stock diesel truck circuit, along with select other exhibition or open class type events in the greater Ohio area this summer.
More From

Driving Line
Curious as to how the 7.3L Power Stroke earned its reputation as one of the best diesel engines ever fitted into a pickup? Check out the full backstory here.