Jeep Gladiator Flatbed Conversion from MITS Alloy
It's been a little over seven months since we installed our MITS Alloy tray bed and canopy onto our 2020 Jeep Gladiator Rubicon. If you missed it, don't worry, you can watch the entire two-part installation by clicking these links (PART 1 & PART 2). When we originally ordered our bed from Mule Expedition Outfitters, we had the option of getting it as a tray bed only. For those not familiar with Australian slang, a "tray bed" is essentially the Aussie version of what we call a flatbed in the U.S.
For as long as trucks have been around, flatbed conversions have been around too. Most of the time, you see them used on farm trucks or in the service industry. However, they have become increasingly popular in the off-road communities for both rock crawlers and overlanders alike. The beauty of the MITS Alloy tray bed is that the all-aluminum bed is a bolt-on upgrade for the Gladiator platform. So, you don't have to be a master fabricator to get one on the back of your JT.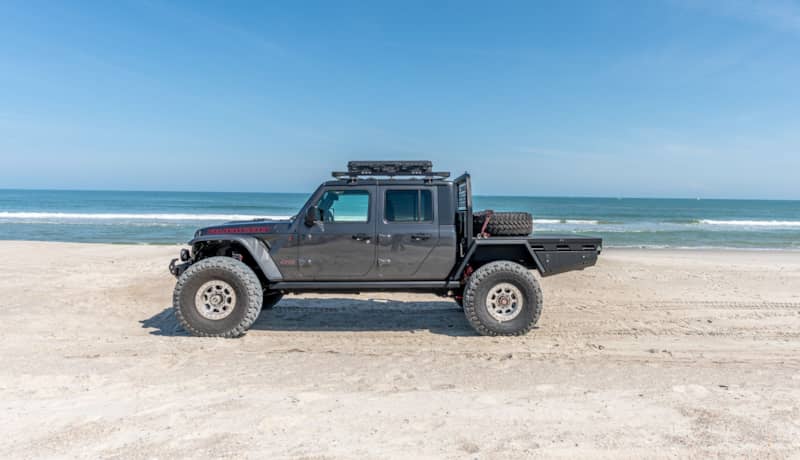 When we ordered ours, we optioned it to come with the canopy. The main reason being we wanted the extra storage it provided, along with a spot to securely mount our 40-inch-tall Nitto Trail Grappler. While we've been extremely happy with our canopy layout, we've been curious to see just how the Gladiator would look and perform with it removed. So, we decided to unbolt the canopy feature and test it out. Here, we'll breakdown some of the things we learned living with it in this configuration and what you need to know if you are thinking about a tray bed for your JT.
The Setup
This is how we ordered our MITS Alloy tray bed and canopy. The upper half is what's called the canopy and can be optioned in a variety of different lengths and configurations. The lower half is the tray, and starts around $11,000, depending on options. All of the tray beds come with an 8-gallon waterboard mounted at the front of the bed, which has been incredibly useful off-road.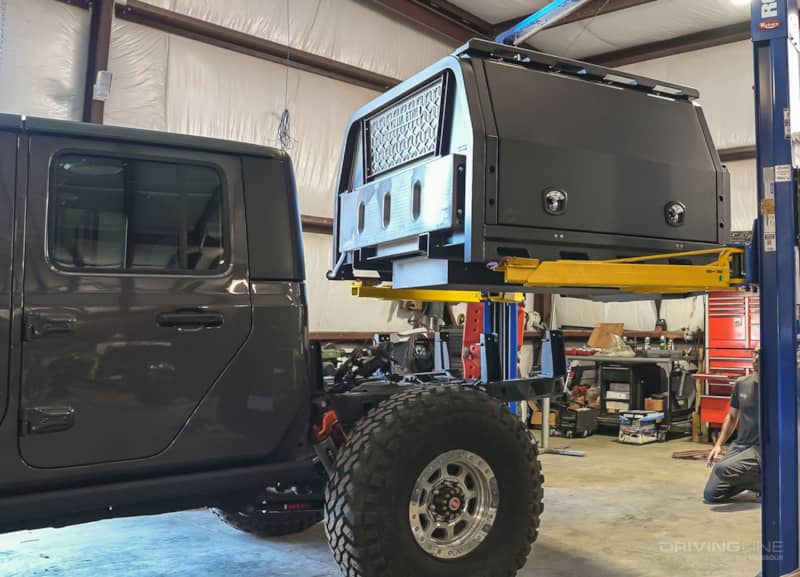 Mounts
The bed conversion is entirely bolt-on. This is accomplished by using six mounting towers, which attach to the original bed mounting points.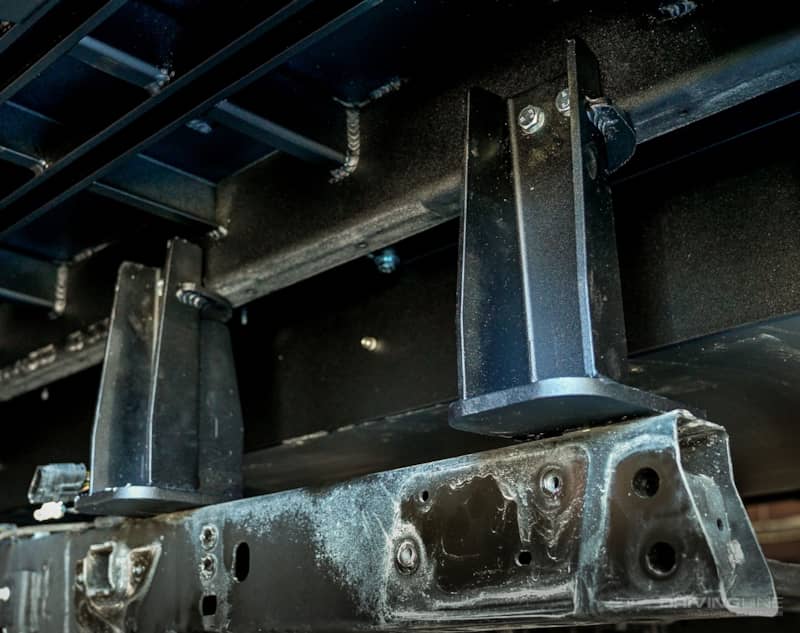 Canopy Removal
To remove the canopy, you'll need to unbolt the four through bolts that secure it to the tray. Then, you'll use the canopy jack holes located on both sides of the canopy to lift it off. This canopy empty is still a few hundred pounds. So, you'll either want to use a canopy jack or some sort of machinery capable of safely removing the bed from the tray.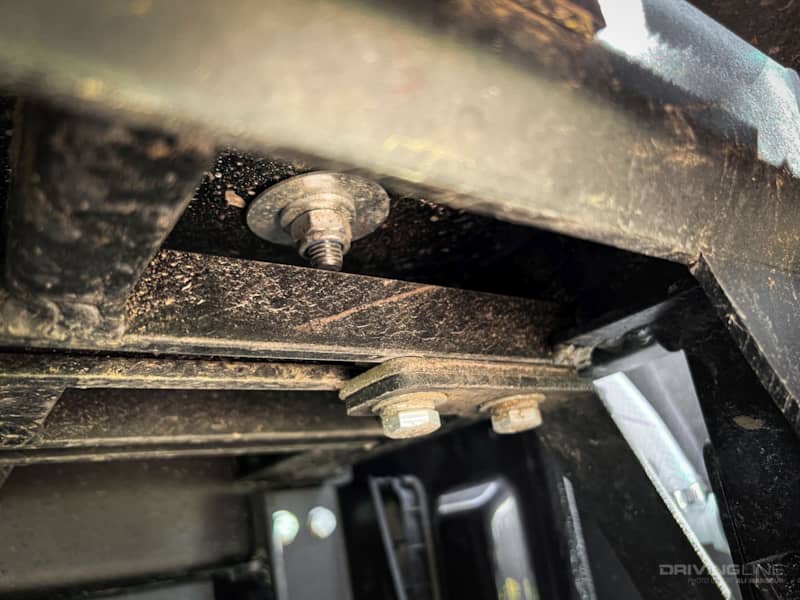 Shedding Weight
Our Gladiator is running 3-inch rear lift springs from Dobinson with a rate of 440-600. Removing the canopy raised the rear of the Jeep about 1.75 inches. The only real suspension adjustment we did was dial back the low and high-speed compression settings on our Fox 3.0 DSC shocks.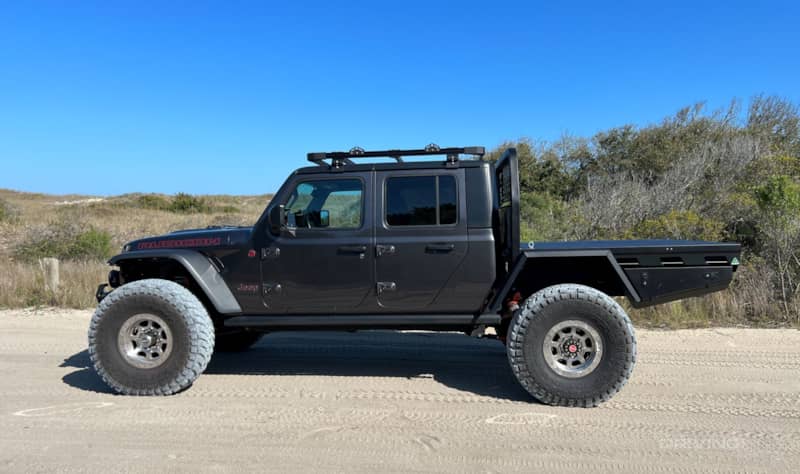 Tray Basics
The MITS Alloy tray bed weighs 429 pounds and is 6.13-feet wide. The added width over the stock bed we found is a pro and con. On the one hand, it gives you a tremendous amount of room for gear (especially with the canopy on). The downside is that the bed sticks out past the body of the Gladiator, which doesn't help with the aerodynamics of an already boxy vehicle on the highway.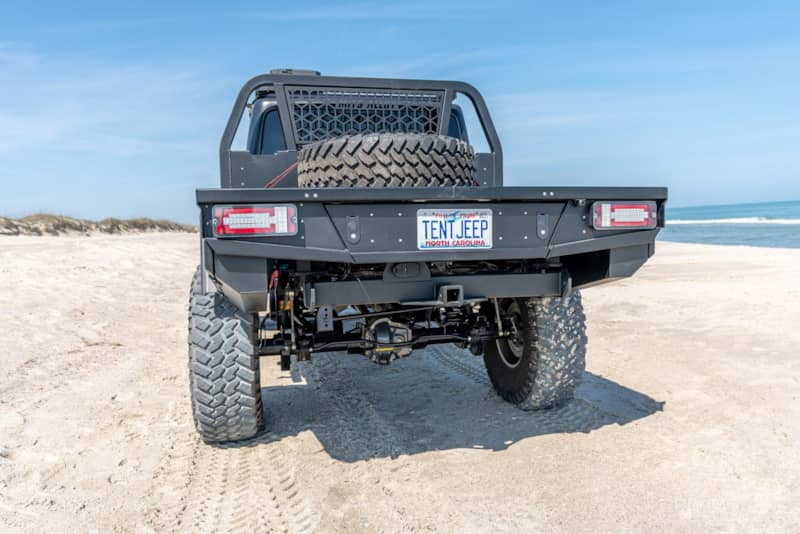 Length
At 5'8" inches long, the MITS tray is actually a touch longer than the original bed. Thanks to the custom receiver hitch built by Ujoint Offroad, the departure angle is drastically improved over stock. On trails we used to frequently hit our receiver, we no longer do so.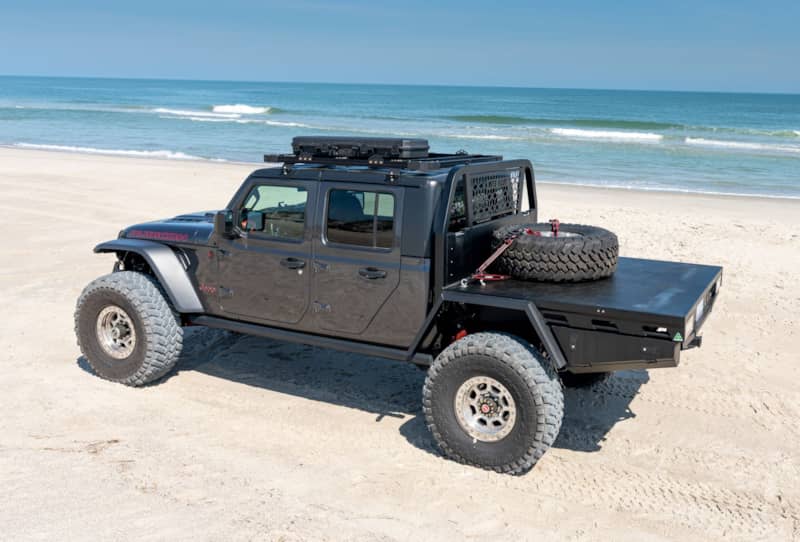 Trail Grappling
Our Gladiator's drivetrain is a bit different than stock as it's running a set of 72.5-inch-wide Dynatrac ProRock XD60 axles. Bolted to the full-float axle set are 40x13.50R17 Nitto Trail Grapplers using 17x8.5-inch Trail Ready beadlocks with 5.5 inches of backspacing. The combination of a low amount of lift, massive true-to-size 40s, and wider-than-stock axles resulted in us trimming and building custom fender flares with Ujoint Offroad. If your Gladiator is running stock-width axles, this likely will not be necessary. It's also worth noting that MITS Alloy does offer fenders for 40-inch-tall tires.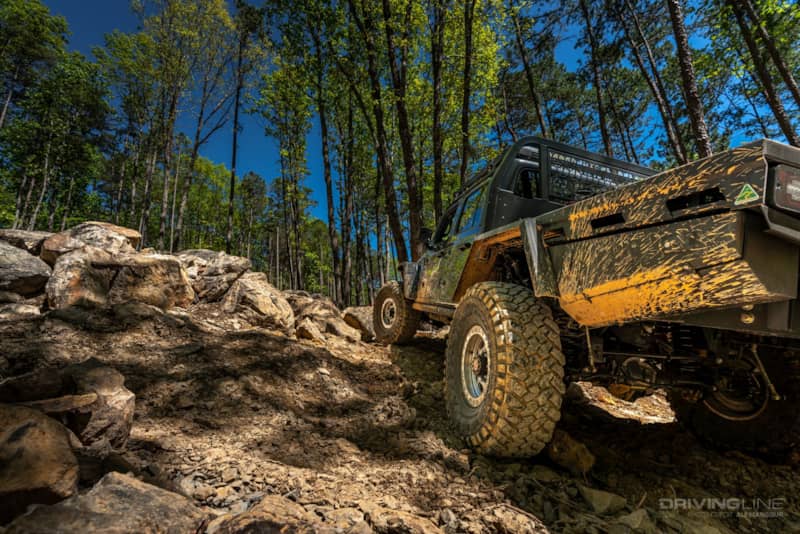 Drawer System
Having a flatbed without some sort of tie-down system is challenging. Thankfully, the bed came with a 5ft. long drawer that can hold up to 496 pounds. It's roomy enough that we can store our onboard air, tool kit, spare fluids, and a few gear bags. It's also completely sealed from the elements and lockable.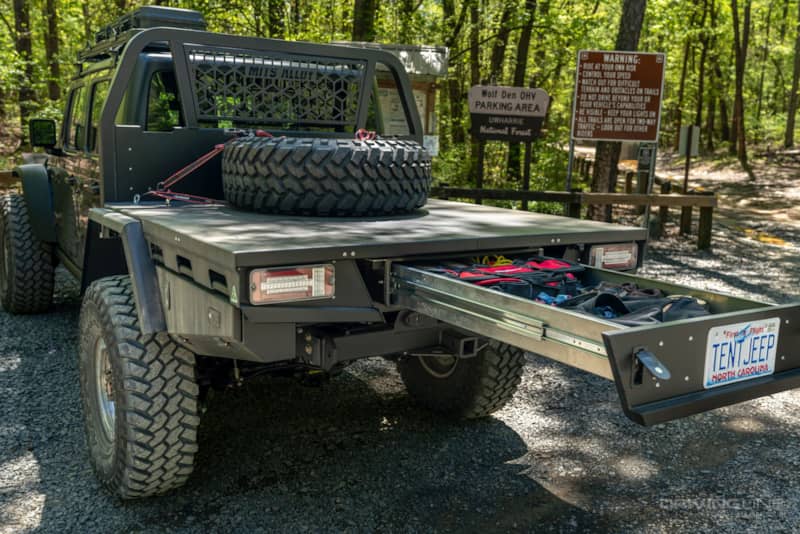 Side Boxes
On the side of the bed, we have lockable, weather-tight boxes. We're constantly changing the content of these depending on what we are doing with the Jeep. On beach days, they are great for holding toys and dirty bits. Given these are aluminum and fully coated inside and out, they are easy to keep clean and we don't have to worry about rust.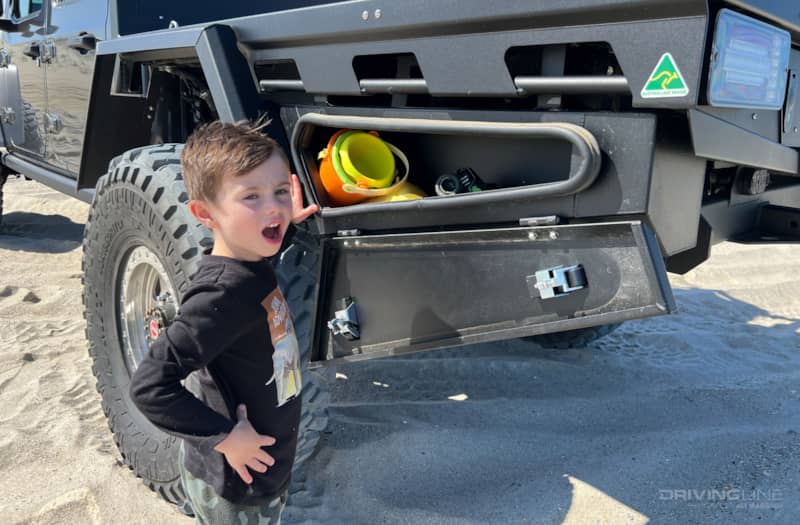 Impact Testing
We've already got a few trips under our belt with our new setup and have even managed to test the toughness of the powder coat finish by tapping the bed side accidentally on the trail. If this was a stock bed, we would have surely damaged the sheetmetal and busted another taillight.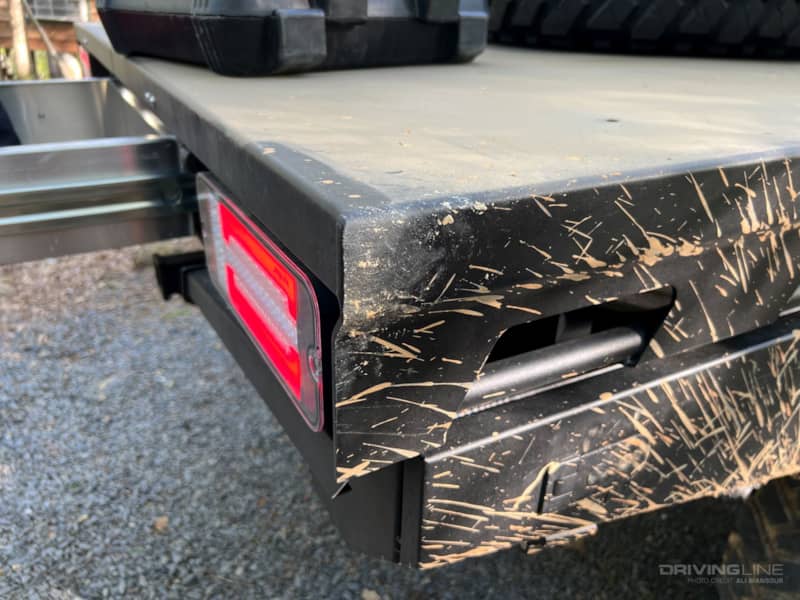 To Flatbed Or Not
We love the look of the flatbed, but the lack of tie-down points means we need to put some work in to make it a bit more usable. It's also worth noting that MITS offers bolt-on bed sides if you want to give your tray bed a more conventional truck appearance. As much as we dig the look, the reality for our family of four is exactly what we suspected, the canopy on the back makes this far more usable for our needs. Overall, the added storage and increased departure angle make the tray bed a very attractive option over the stock bed. Depending on what you're looking for, we think this is a great opportunity to expand the capabilities of an already outstanding off-road platform. Be sure to head over to our YouTube channel for more information about this setup.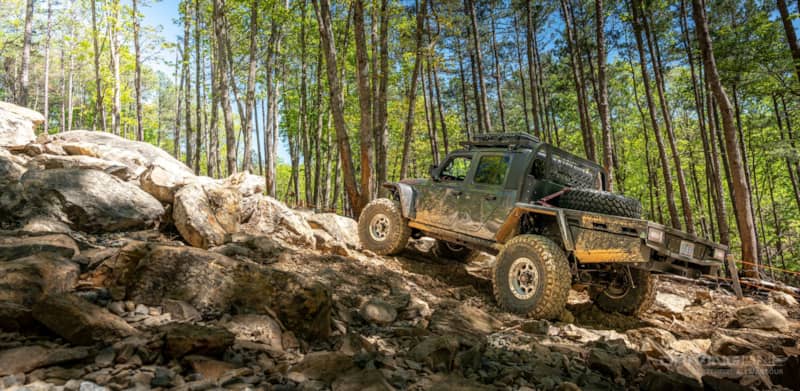 More From

Driving Line
Want to see our latest Gladiator upgrades? Check out this video.