Jeep Gladiator Low Profile Bed Rack & ARB Simpson Series III RTT | Inside Line
The 2020 Jeep Gladiator has unleashed a new wave of aftermarket bed accessories. With the solid-axle truck lending itself as an excellent overland platform, it's no surprise that we are seeing a wide range of bed rack systems. Moving from a 2018 Chevy Colorado ZR2 to a 2020 Jeep Gladiator Rubicon was a big change for us. While we've been very happy with our truck upgrade, one thing we lost in the transition was a place to mount our ARB Simpson Series III roof top tent.
This got us looking at different rack options that would allow us to easily put the tent on the back. Given this didn't need to be a permanent bed fixture, we wanted something low profile to make sliding the tent on and off easier. While there are some incredible Gladiator-specific rack options on the market, the sheer size and cost of them had us looking at different options. This is how we landed on a more universal solution.
It comes from AA Products and it's designed as a universal low-profile rack. Picking it up for an extremely reasonable price of $235, the APX2503 boasts a 300 pound on-road capacity and 180-pound off-road capacity. This dynamic capacity rating meant we should have no trouble hitting the trail with our tent in place. Even better was that the 3 1/8-inch bars would be compatible with an assortment of Yakima accessories we already owned. So, what's the catch?
Well, the universal nature of this rack means that the included aluminum crossbars are designed for a full-size truck. And at 79 inches, they hang out quite a bit past the bed. The other issue is that if you have a trail-rail system, you'll need to ditch the side runners for this to work. So, how did we make it all come together? To get the full scoop, we highly recommend you checking out our Inside Line video posted on our YouTube channel. There, we will walk you through everything we needed to do to make it work.
In the article below, we're highlighting some of the steps and experiences we've had with the system.
Clamping
The AA Products APX2503 uses two clamps per crossbar mount. Sitting on a provided piece of rubber, we measured out the distance for the aluminum landing pads then bolted them in place.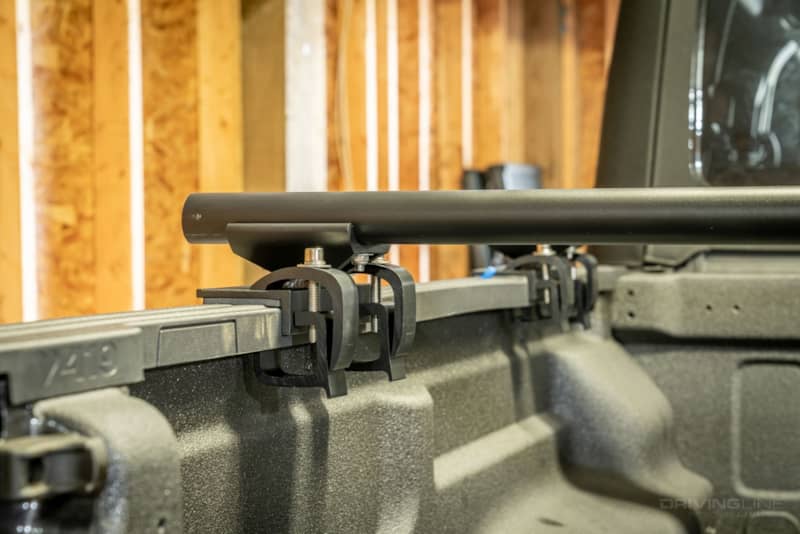 Bar Width
While we detail this more in our video, the biggest modification we did to this bar set was trimming them down from 79 inches to about 64 inches. Doing this kept the bars from sticking past the bed significantly. The crossbars include removable end caps. So, once we cut the one side of each bar with a Sawzall, we put the caps on, which gave it a perfectly finished look.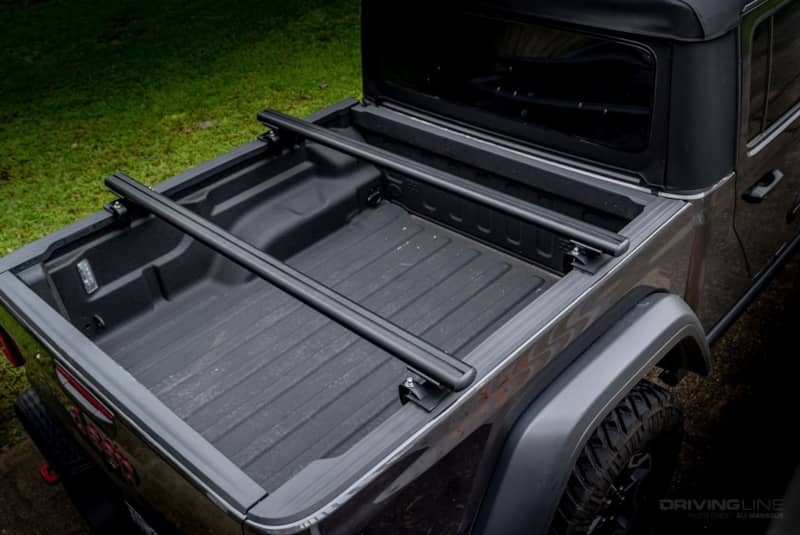 Tent Mount
Our Simpson Series III from ARB uses a common track and groove bolt system. To secure it to the new crossbars, we used 70mm M8 bolts, which attached to our DIY backing plates that were cut from 1½-inch wide, ¼-inch-thick flat bar.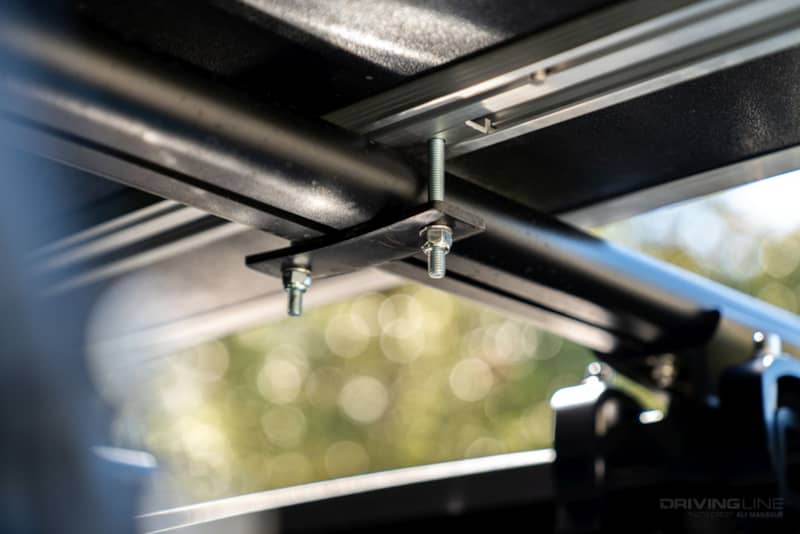 Low Profile
A major draw of this setup beyond price was that it would keep our tent below the roof line. This was important for a variety of reasons. Maybe the most obvious is that it prevents the tent from working as a wind catch. Having driven with the tent fully exposed on the roof on previous vehicles, we can tell you that it is a major aerodynamic penalty. Another important factor is that keeping it low makes it much easier to tear down and setup. We will eventually lift our Gladiator, so the lower we have the tent, the better.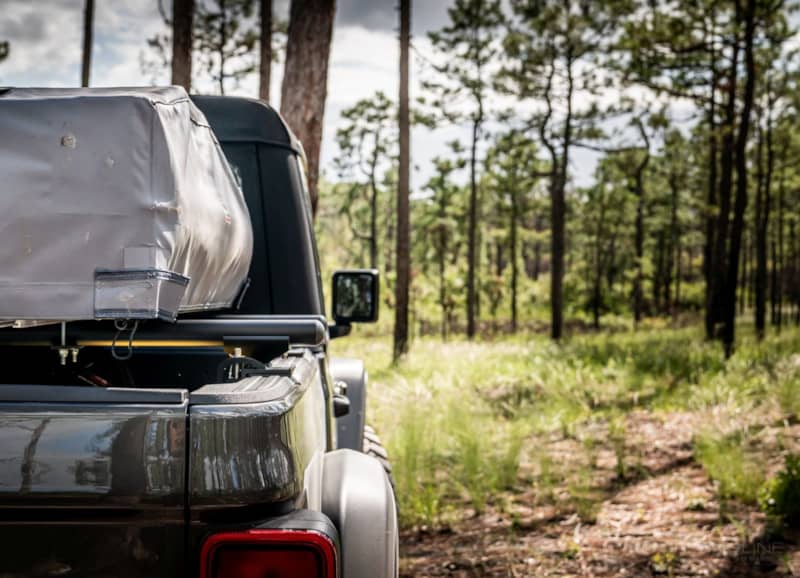 Gear Room
While the rack is low, we didn't sacrifice the usability of the bed entirely. We picked up a couple of inexpensive gear bins from Walmart, which slide under the rack without issue. Our ARB Fridge 35L also still fits, but you do have to drag it out to have full access.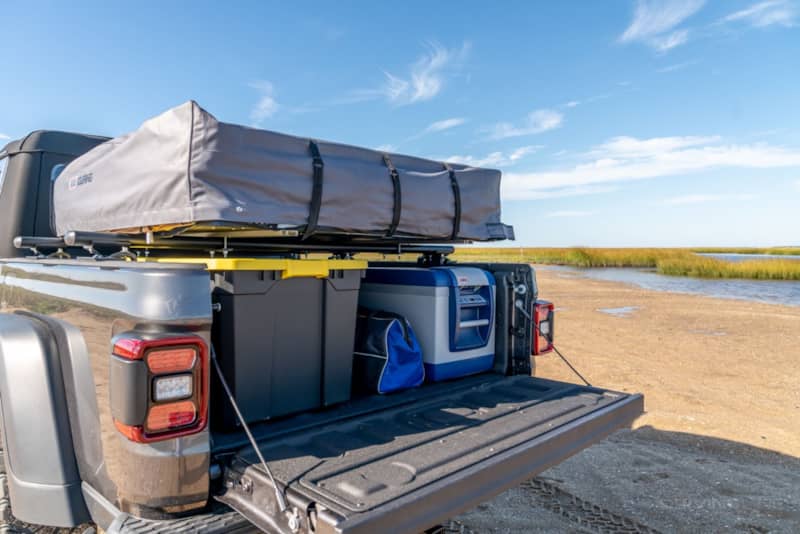 Level Load
As side from running a set of 35x11.50R17 Nitto Trail Grapplers, our Gladiator is completely stock. Even with the added weight of the tent on the back, we didn't notice much of a difference in the stance of the Jeep. If anything, the biggest benefit has been we don't get as much bounce out of the rear suspension, which makes the truck feel more planted on-road and off.

Off-Road
As we mentioned before, our tent isn't going to be a permanent fixture. That being said, we haven't had any issue with it moving off-road. We'll periodically bolt check everything, but for now, we don't see this setup being an issue on the trail.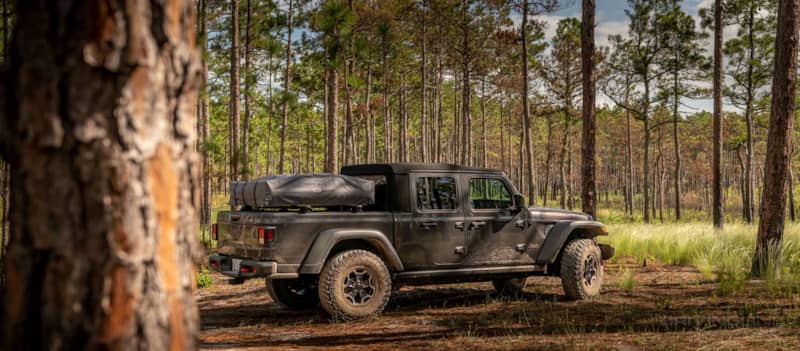 Awning Interference
One issue we did find with our setup was that we couldn't use the inside awning pole on the front of the tent. While we could off-set the tent position on the rack to make it work, we don't think it's worth it. Most of our camping is done in the cooler months, so creating a cross breeze is less of a worry. Given the one pole still works, it isn't a complete loss.
Initial Thoughts
Even with two adults in the tent, the truck doesn't move around enough to make the sleeping situation feel uneasy. Though we are sacrificing bed space to keep the tent below the roof, the tradeoff is worth it to us. For the low cost and minimal modification, we think this AA Products rack is a great investment. Given we've owned the tent for a few years now, the overall upgrade turned out to be a fairly cheap one. We have a few ideas how this setup could also double as a tire carrier, but we will get into that in a later article. If you haven't already, please be sure to subscribe to our YouTube channel for future updates and adventures we in store for our Gladiator build.