Jeep Gladiator Rubicon Adventure Build on 40-inch Tires
The Jeep Gladiator Rubicon has been a gamechanger in many respects. As the only new midsize truck to come with a solid-front axle, massive wheelwell openings, and a flood of aftermarket support thanks to its similarity to the Jeep Wrangler, the Gladiator has proven to be an incredibly versatile build platform. When we first picked up our 2020 Rubicon JT, we didn't expect for it to end up on 40-inch-tall tires. However, a slow and steady series of upgrades and adventures led us to this point.
Having logged untold hours behind the wheel of this Jeep, we've learned so much not only about this platform, but what it needs to thrive on the trail. Our goal was never to build a flashy vehicle, but simply to upgrade it with parts that would increase the functionality and overall off-road performance of the Jeep. In many ways, it's become the Wrangler with a bed that we've always wanted.  In this article, we're breaking down the key upgrades that have gotten us to this point. We'll discuss why we went with what we did and how it's all affected the Jeep (for good or bad).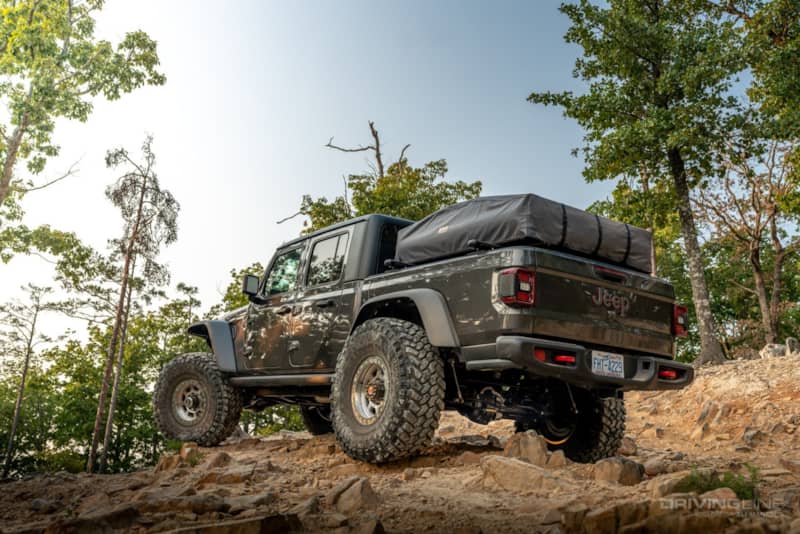 Power & Economy
The one part of the Jeep that remains unchanged is the powertrain. The original 3.6L V6 is back by the stock eight-speed automatic. Our fuel economy averages around the 13-mpg mark, and we can still hold overdrive gears on the interstate. Sure, we wouldn't mind a little more power under the hood, but don't look for a V8 swap coming to this Jeep any time soon. 
Practically Bulletproofed
One thing we purchased pretty early on was a phone and action camera mount from Bulletproof Mounting Solutions. We've found this to be an extremely handy setup over the years. Especially for longer trips where Google maps is leading the way.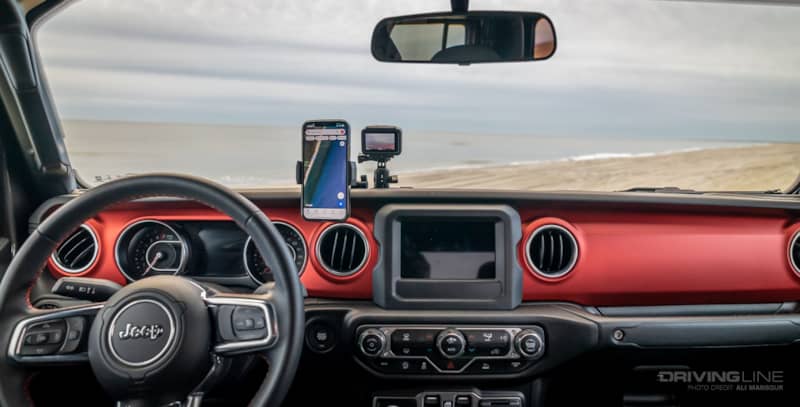 3 Inch Lift
We're running a JKS Manufacturing 3-inch suspension system with the J-Spec Fox 2.0 shocks. The adjustable control arms were critical when swapping in our new axle set and we've found the arms incredibly durable as they often make contact in rocky terrain. One thing we have found is that the added weight of the 40's and 60 series axles has been a little too much at time for the stock valving to handle (mainly off-road). This is something we will be addressing in the future.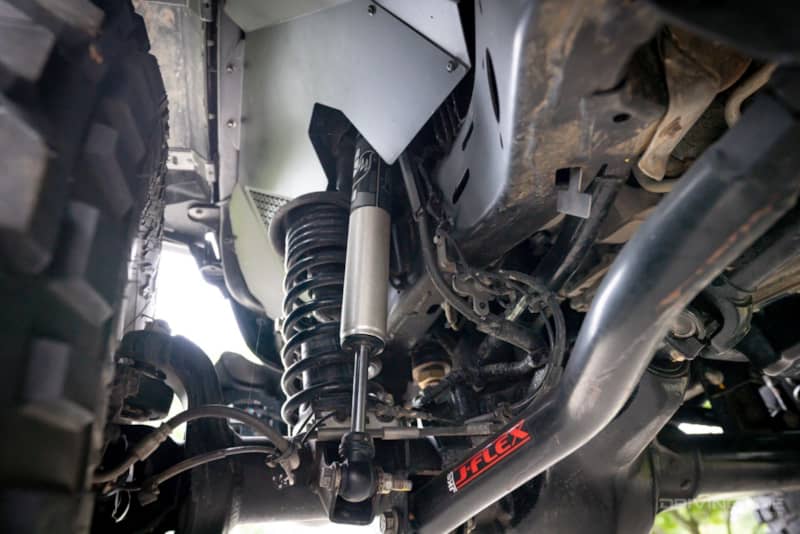 Rubicon Flares
Splitting apart our Rubicon flares is what has allowed us to run just 3 inches of lift and a 40-inch-tall tire. When we split the flares, we replaced the original turn signals with a set from Rugged Ridge. Also from Rugged Ridge is our Arcus front bumper and Trekker 12.5k winch. The lightweight stubby front bumper increased the approach angle of the Jeep considerably and we've only had to trim it slightly to clear the 40s.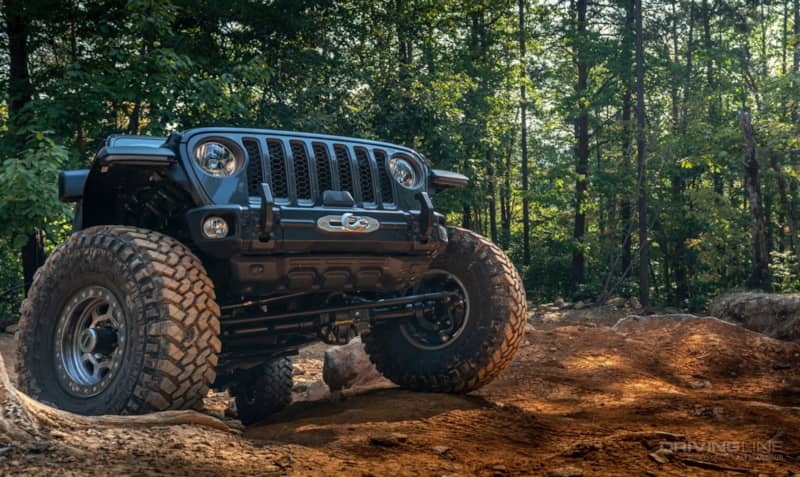 ProRock Upgrade
We knew moving up to 40-inch-tall treads would require a major axle upgrade. After looking at all of our options, we decided on a full-float ProRock XD60 axle setup from Dynatrac. We liked that we could order the axles in a 72.5-inch width, and based off of the standard components, these had the best overall value. Having wheeled on these axles for almost a year now, we can definitely attest that the unique silhouette of the ProRock center section makes a huge difference off-road in the ground clearance department.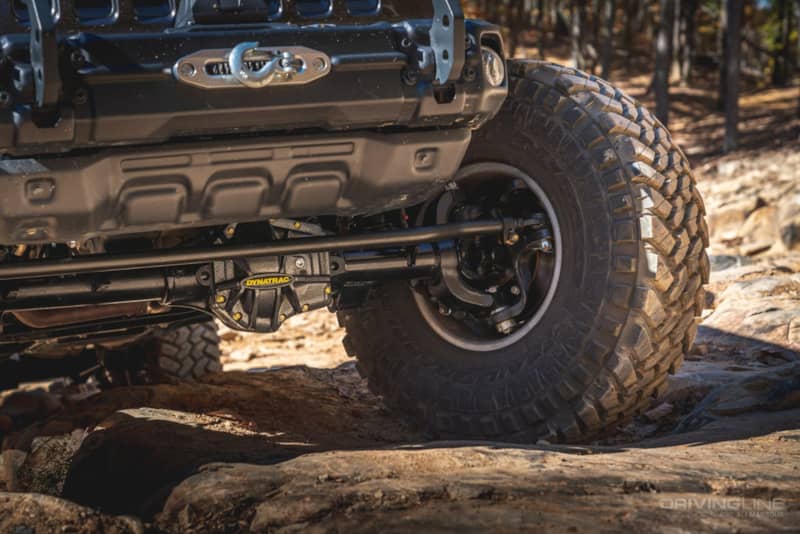 Locked In With 40s
Going with a wider axle meant we could opt for a high amount of backspacing to keep the reduce the scrub radius. This is why we order our 17x8.5 Trail Ready beadlocks with 5.5 inches of backspacing. The functional beadlock allows us to safely drop our 40x13.50R17 Nitto Trail Grapplers into the single digits off-road and high backspacing figure reduces the stress on our front-end components.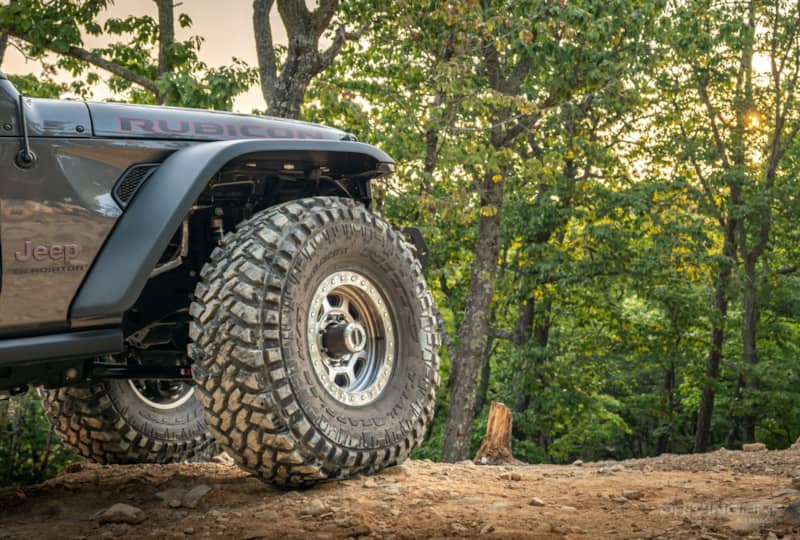 Trail Grappling
We've run Nitto Trail Grapplers for years in sizes 37 and below. This was our first build moving up to the mud-terrain radial in a 40. We knew how well the Trail Grappler worked off-road and can attest that it's even better in the large 40-inch sixing. What we were not expecting was how smooth and quiet this tire would be on the highway. Despite not balancing the tire, we've never had a single shake or issue out of the treads. It's also worth noting that these Load Range C tires are very true-to-size. So, if you are looking for a real 40, this is it.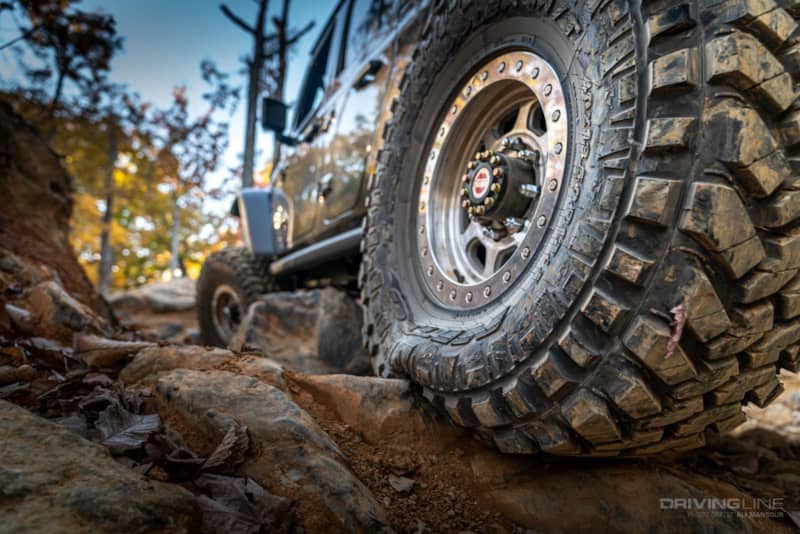 XD60 Clearance
While our ProRock XD60 front axle is a high pinion, the XD60 out back is a low pinion design, which is better suited for our application. The bolt-in rear axle allowed us to retain the factory rear sway bar and even moved up our track bar mounting point. This made our Gladiator incredibly stable on-road and off. To give us a little more clearance out back with did chop off the back section of stock exhaust.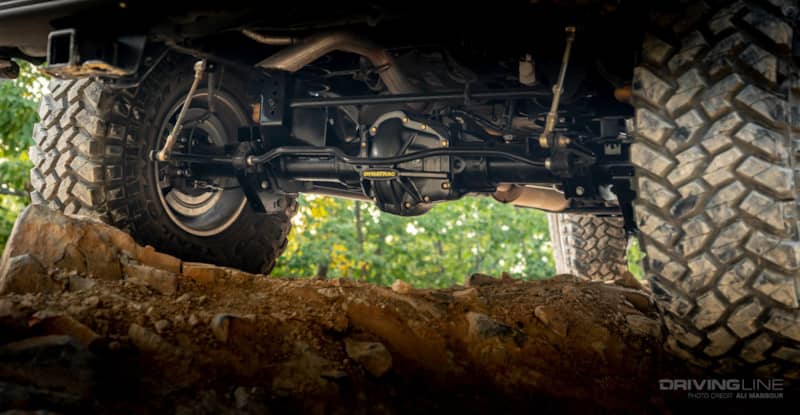 Reel Drivelines
Another meaningful upgrade that came at the same time we swapped axles was the move to aftermarket driveshafts from JE Reel. The 1350 double-cardan joint on the front driveline gave us the ability to get more suspension travel, which helps significantly on the trail. After talking with JE Reel about our driveline options, we decided on the company's two-piece rear setup. This has kept our shaft from being mangled on the trail more than once.

The Assist
We've had play in the stock steering of the Jeep since day one. Adding 40-inch-tall tires to the mix made this significantly more noticeable. So, we ended up ditching the stock steering system for a hydraulic-assist kit from PSC Motorsports. The steering is now incredibly tight and responsive on the highway. Off-road with the front axle locked, we've had no issue pointing our Trail Grapplers where the need to be.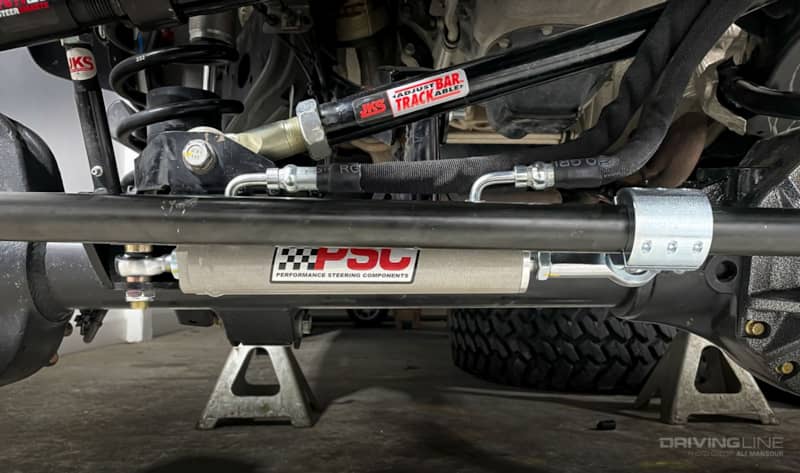 Low Profile Rack
We're constantly toying with different setups for the bed of our Jeep. One that we get asked about often is our low-profile rack setup from AA Products. The good parts about this dual rail system are that it's fairly inexpensive, easy to use, and can support a roof top tent. The one negative is that the bars landing feet will leave depressions in your plastic bed caps, making it difficult to seal an over-the-rail style of bed cover. Had we known this was going to be the case, we would have gone a different route.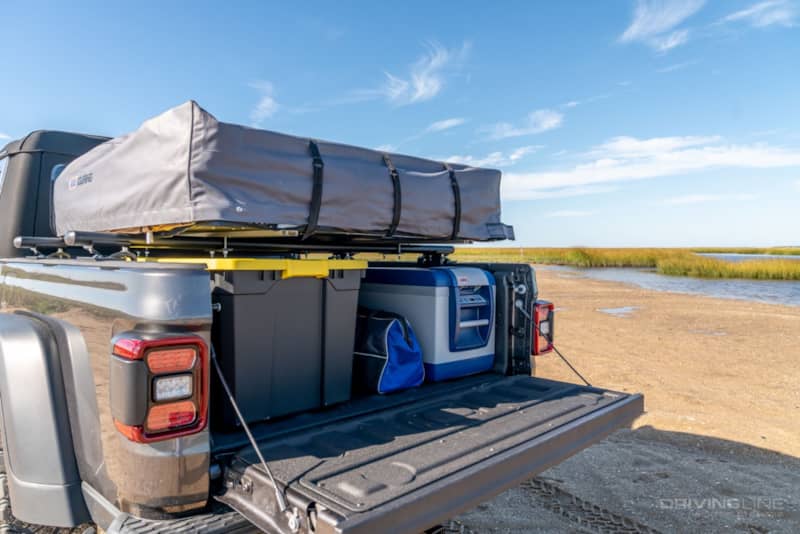 Inside Line
From the beaches of North Carolina to the red rock in Utah, we've driven our Gladiator on countless adventures. We are constantly looking for ways to increase the versatility of this Jeep and have some incredible adventures on the horizon. To follow this build, be sure to head over to our YouTube channel and hit subscribe. This is where you can find the latest in-depth reviews and adventure coverage.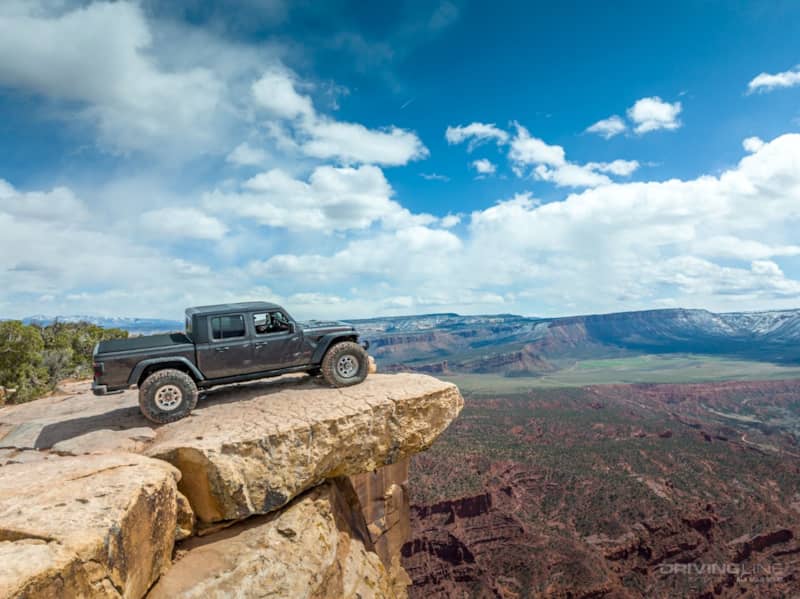 More From

Driving Line
Digging this Gladiator build? Then you'll love this one!