Jeep Wrangler 3M Vinyl Vehicle Wrap
Over the past 15 years or so, the way we modify our vehicles has changed drastically. Where bolt-on performance mods used to rule the roost, we have seen handheld programmers takeover. And in place of sky-high lift kits, performance suspension systems have become the norm.
It stands to reason that the way we alter the basic appearance of our cars would evolve as well. Traditionally, if you wanted to change the color of your car, you were stuck shelling out for a very expensive paint job. These days, we're seeing more and more people opt for a color-change via a vinyl wrap.
While it can be nearly as labor intensive as a paint job, wrapping a vehicle cost significantly less, and unlike paint, it isn't permanent. The magic behind the wrap is the vinyl.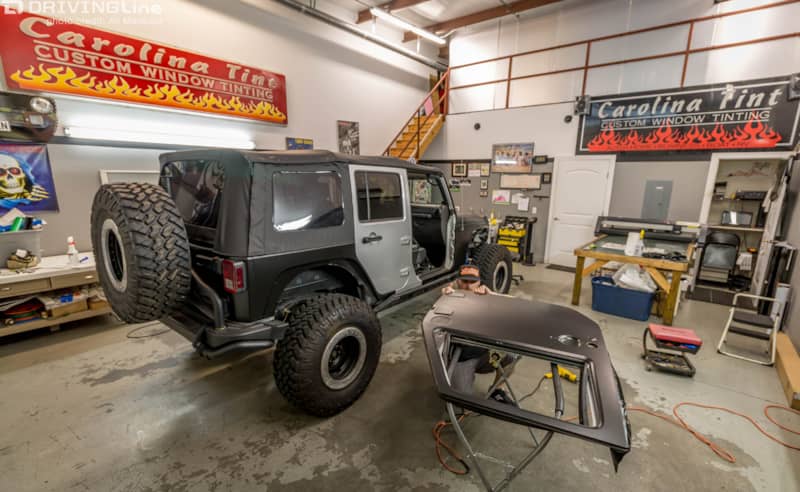 Companies such as 3M offer a specific vinyl that is designed to adhere to your vehicle's paint without damaging it.
The specialty vinyl is crafted to last between five to seven years. Once the vinyl's life cycle is over, you can simply peel it off. Given there are so many finish options from 3M (Matte, Satin, Gloss, Carbon Fiber and Brushed Metal), you're not stuck paying an extra premium for a more extravagant color or look.
A major draw for those who use their vehicles off-road as much as we do is that the wrap can actually protect the paint from scratches and light debris.
While it's not intended as paint protection, we've witnessed firsthand how well it works against common limb and desert pinstriping. Preserving our body panels can sometimes be a lost caused on our hardcore 'wheeling rigs, but it's well worth it on our 4x4s that serve as daily drivers.
For our 2007 Jeep Wrangler Unlimited Rubicon, there were already plenty of light scratches and a few dents, but the paint was in good shape overall.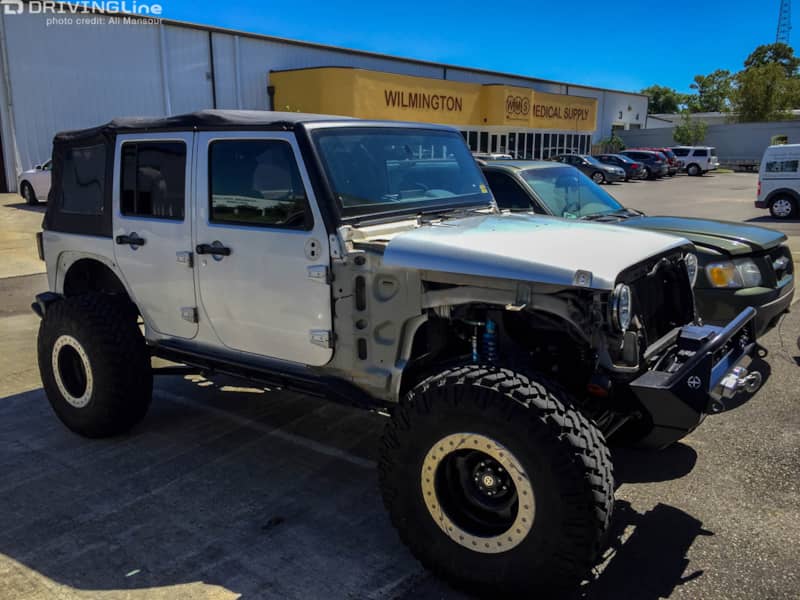 After talking with our local Tint and Paint Protection specialists at Carolina Tint in Wilmington, North Carolina, we decided to change things up on our Wrangler with a 3M 1080 Series Satin Black wrap.
Going with a satin black would achieve the complete color change we wanted, while also providing some easy solutions to some wrapping challenges that are unique to the Wrangler platform.
Here's how it all went down:
The process of wrapping a vehicle is similar to that of a good paint job.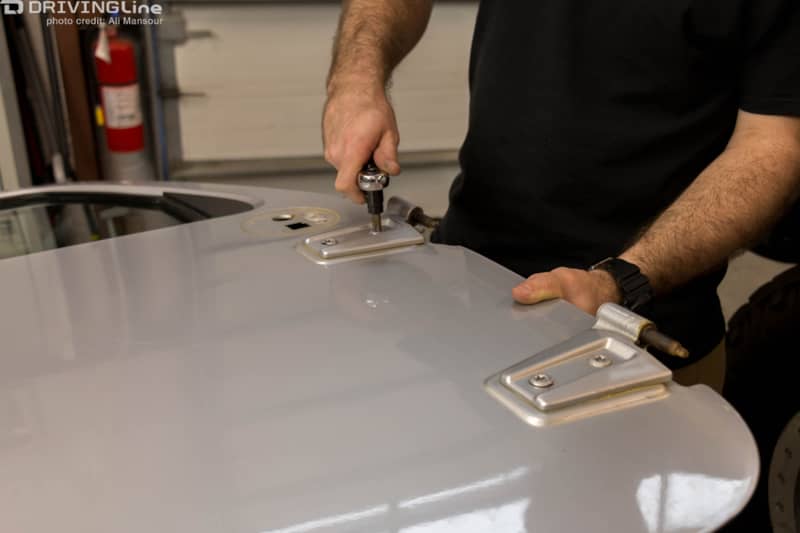 Anything that needs to be unbolted is to allow complete coverage of the panel or part. The Jeep Wrangler is essentially a giant Mr. Potato Head as parts and pieces are easy to remove and replace.
Out of the gate, Carolina Tint knew one of the hurdles that would be unique to wrapping a Jeep Wrangler is that unlike most automobiles, the door hinges are external.
Since wrapping the hinges and hardware is not recommended, you have a few options:
The easiest non-permanent solution would be to Plasti Dip the hinges, assuming you can match the color. You can also buy a set of aftermarket door hinges for a few hundred dollars and paint them to match. Or you can do what we did and paint the stock hinges to match the wrap.
Another critical step is to make sure the surface is clean and dry.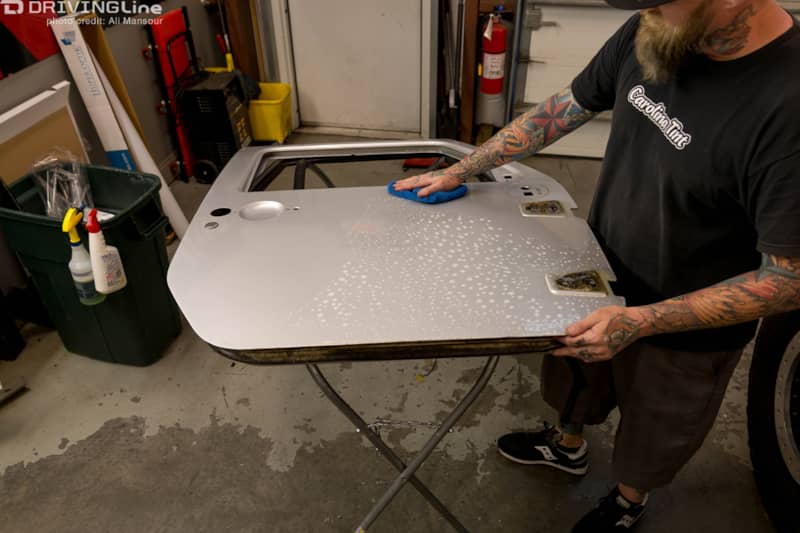 This will ensure the vinyl sticks to the parts properly and no left-behind dirt or debris scratches the paint.
For our wrap, we opted for 3M's 1080 Series Satin Black, as it's specifically engineered for automotive applications.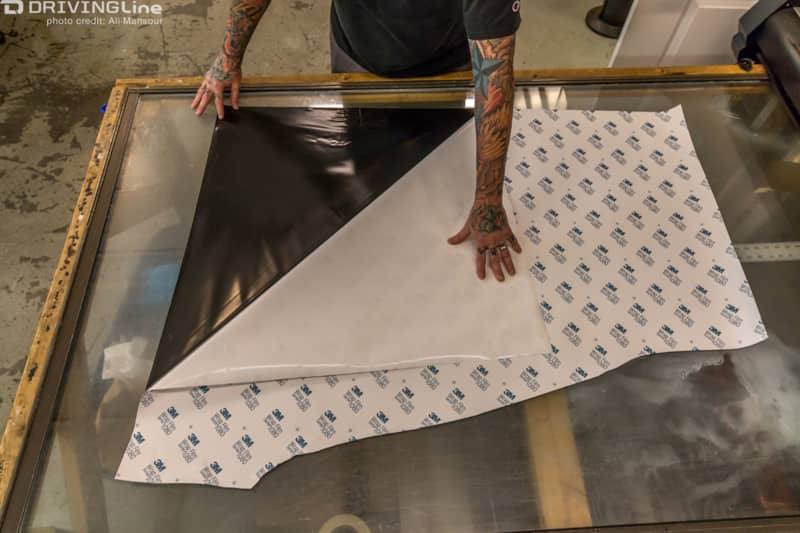 The pressure-activated adhesive backing is designed with air release channels, which reduces the chance of air bubbles and makes it easier to manipulate on the vehicles sheetmetal.
There is plenty of calculation and planning involved in the wrap process.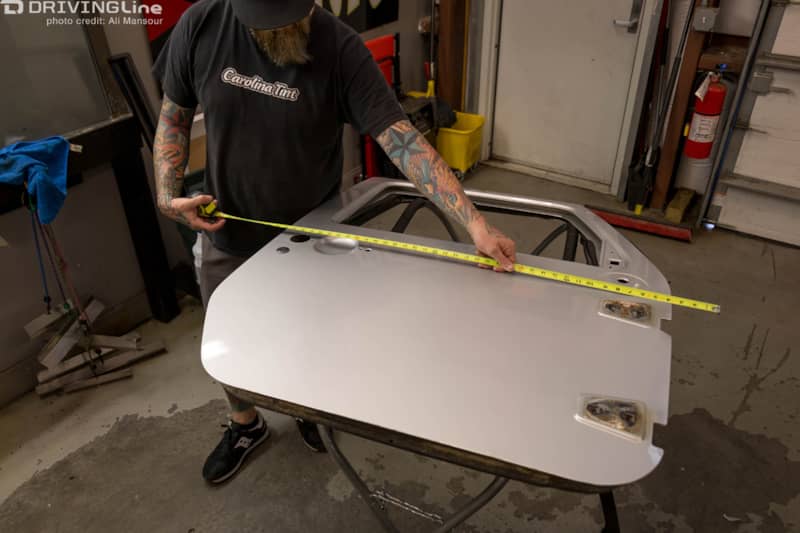 The goal for each panels is to have it completely seamless. Sometimes, this isn't always possible, but a skilled wrapper can make a seam all but disappear.
The key is to waste as little material as possible, since it's pricey stuff!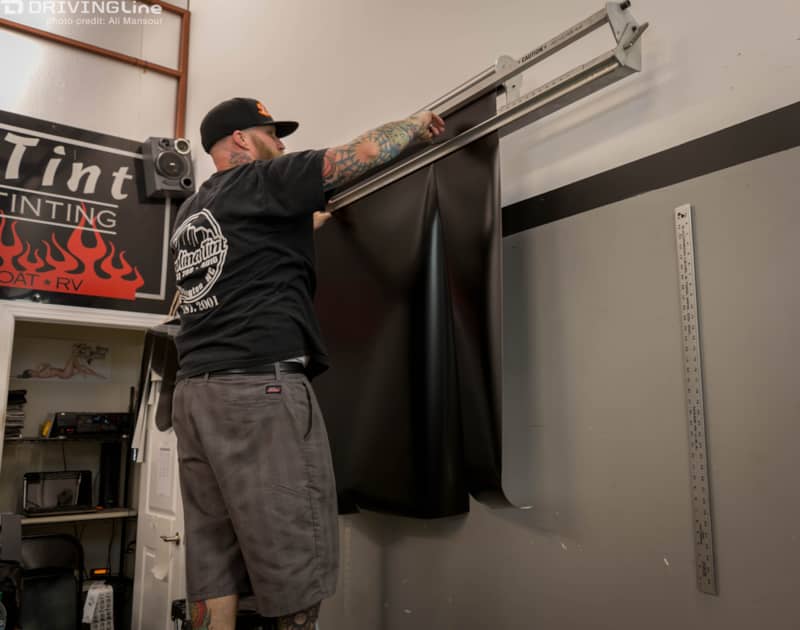 Since the 3M 1080 wrap is offered in up to 60-inch-wide rolls, we had no trouble getting complete coverage on some of our Jeeps larger parts.
There's no prep work required for the actual material itself.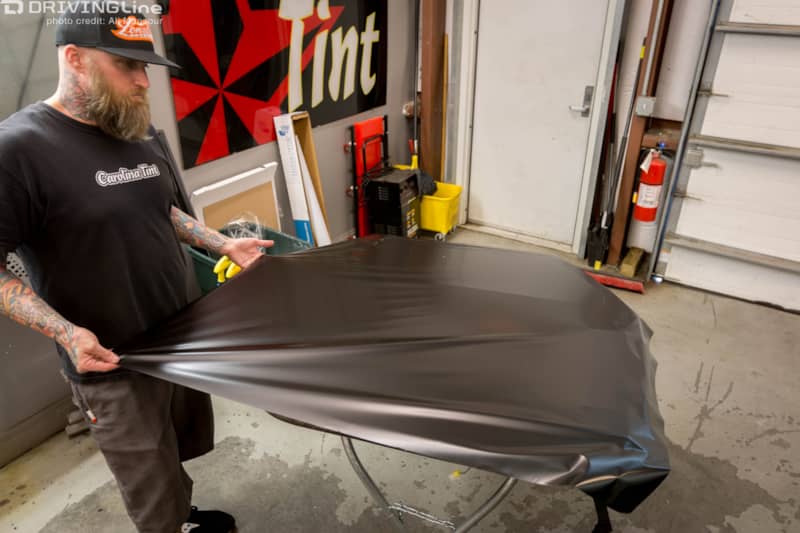 Once you cut out your desired section, you simply lay it atop the segment you are working on and begin.
One of the two tools critical for the wrap installation is a small felt-edged squeegee.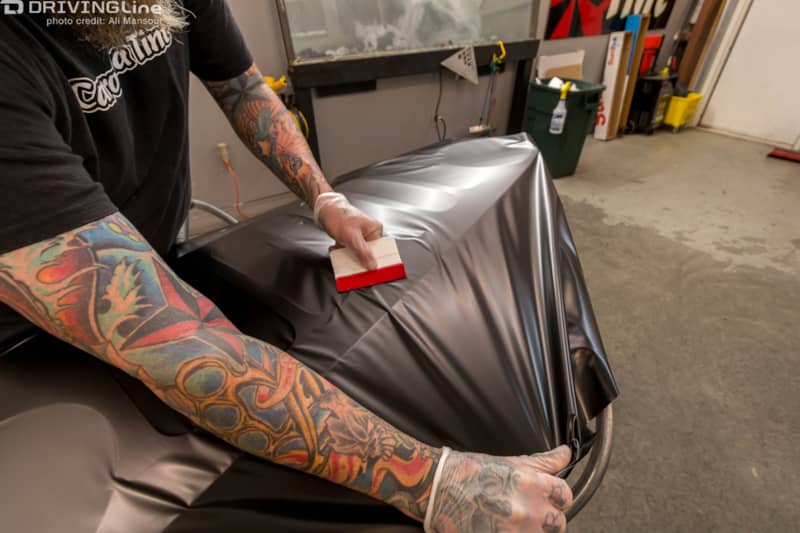 Carolina Tint owner Shannon Curran uses it to smooth out the material, while simultaneously pulling along the outside to ensure that the thin vinyl remains tight.
The other major installer tool used is a heat gun (or small torch).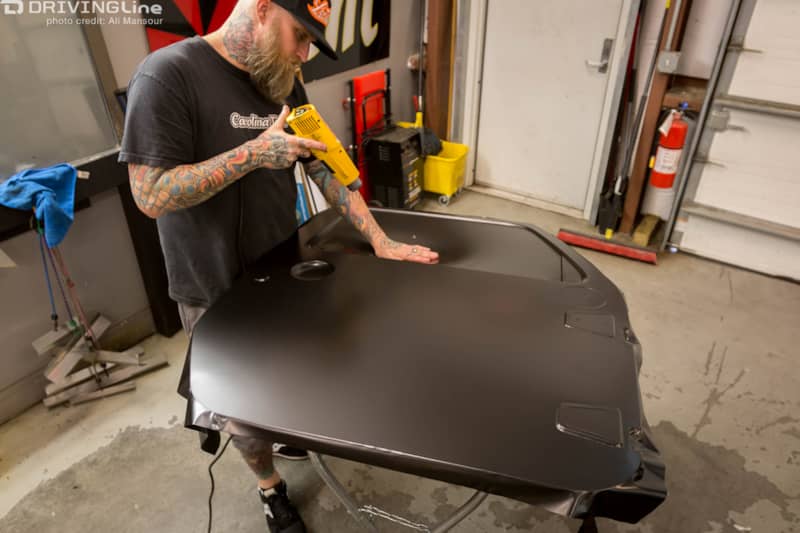 Applying heat makes the material easier to manipulate, but you have to be extremely careful not to overheat the vinyl. Overheating or overstretching the material can cause discoloration and deter the vinyl's adhesion to the part. This is one of the reasons 3M recommends professional installation of its wraps.
One area we were especially curious about were the door jambs.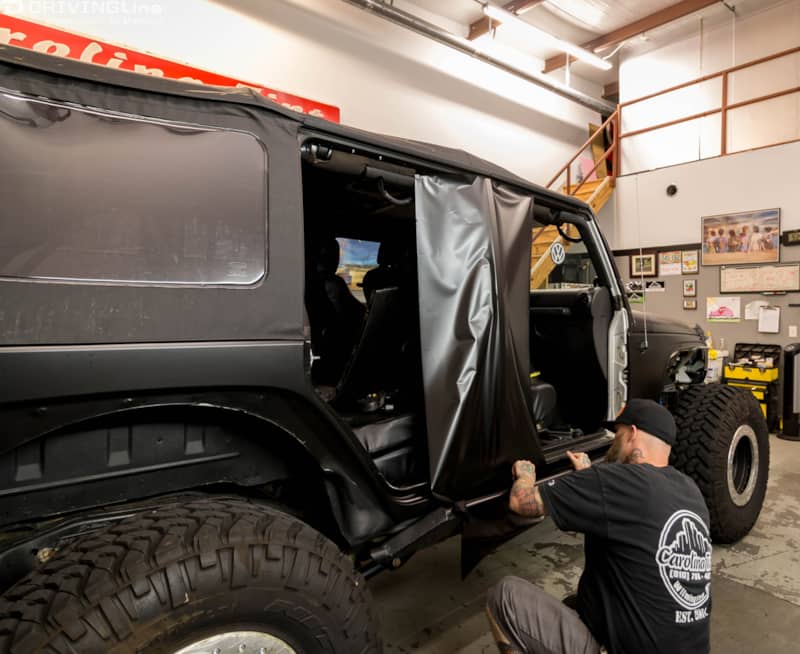 While it can sometimes be vehicle dependent, it's common practice not to wrap the jambs. This means you will still see some areas of the vehicle's original color when you open the door. From the outside however, you will not be able to tell.
The crew at Carolina Tint have great attention to detail, which shows in their work.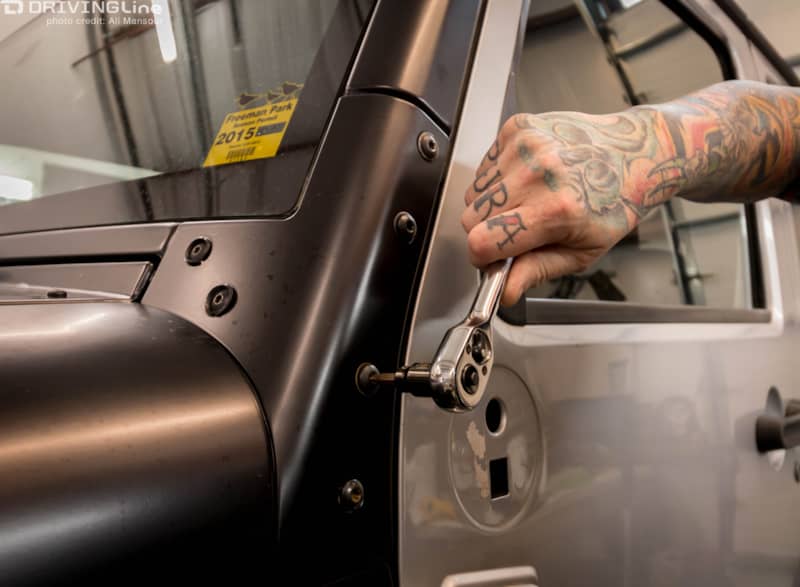 Even the small windshield mounts were removed and wrapped completely to make sure to areas of the JK's original silver paint didn't show through.
To allow for the Jeep's fender flares to be reinstalled, small openings were made in the material.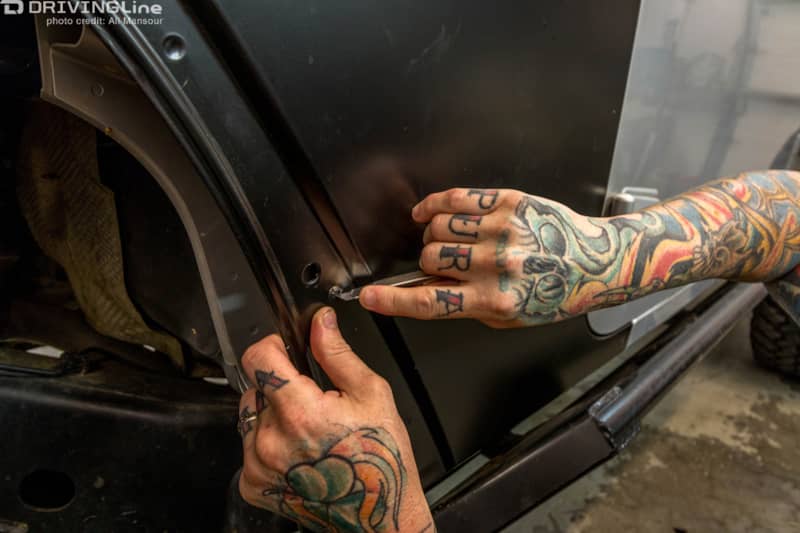 This also brings up an important point about the condition of the vehicle prior to a wrap. If it has dents or deep scratches, you'll likely be able to see them in the wrap as it contours to the shape of whatever it is covering below. Also, the wrap can adhere to most any paint, but it will not stick to body filler.
Installing a wrap is a labor intensive process, which is why it commands a certain price.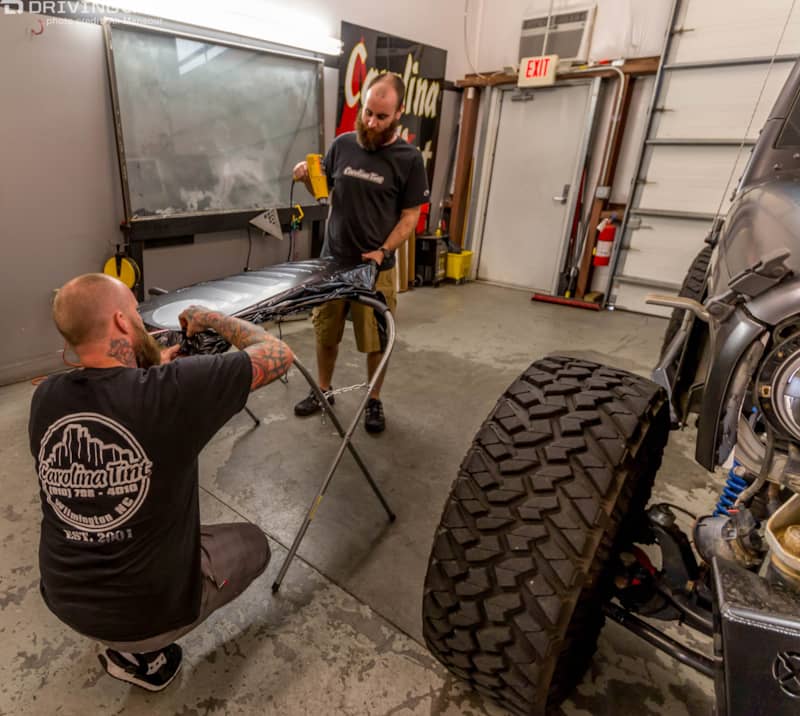 A well-done color change paint job can easily run you close to $6,000. You can expect to pay a little less than half that for a wrap.
For comparison's sake, here's what we started with: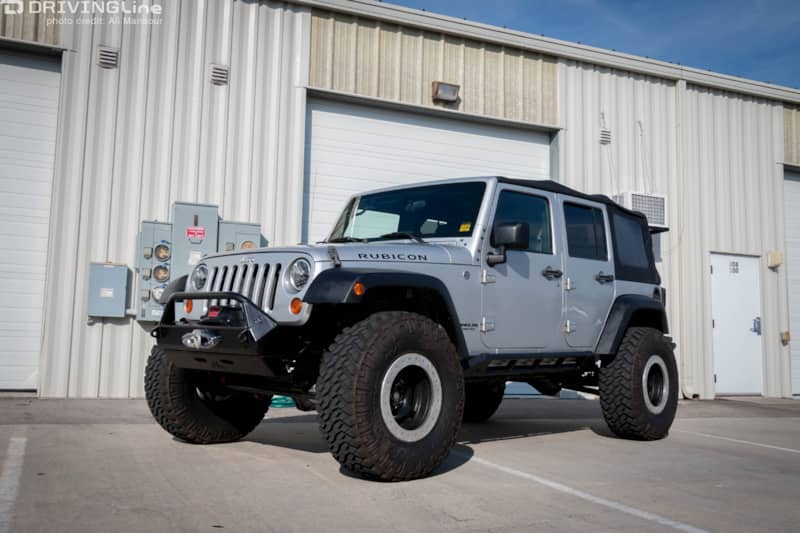 Since we didn't have a hardtop to cover, it saved us some time and expense with the install.
The finished product is absolutely on point for what we were looking for:
The satin black has just enough sheen to it that it won't show up our greasy handprints from daily use as quickly as a matte black wrap would have. It also masks some of our Wrangler's body imperfections rather well.
To match our satin wrap, we painted our hinges and fender flares with SEM 39143 Trim Black spray paint.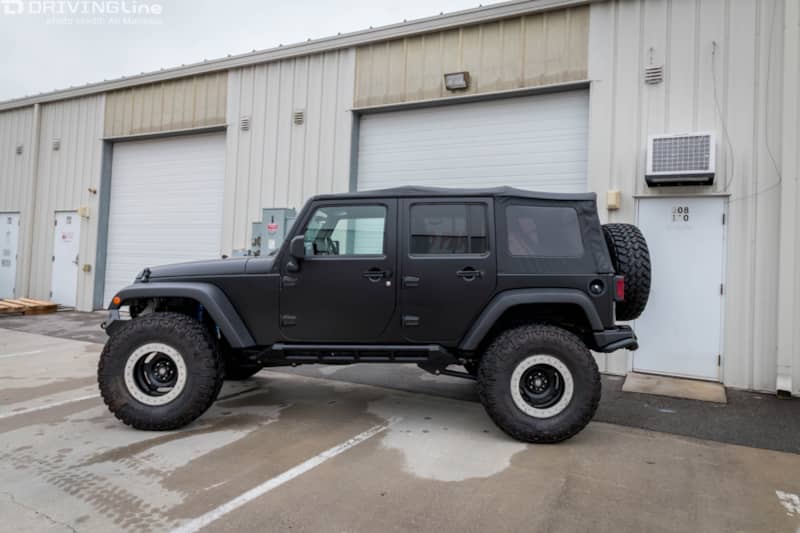 The match is nearly perfect.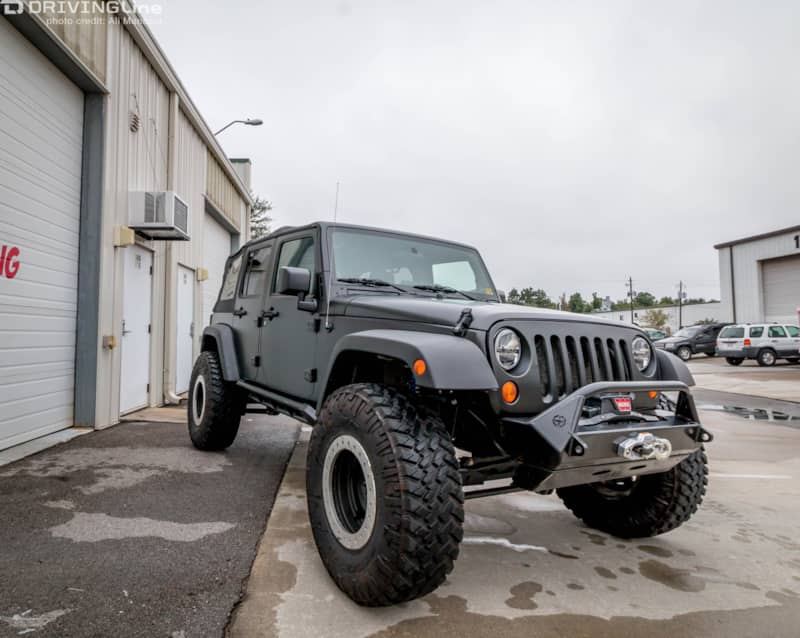 Overall, we couldn't be happier with the wrap. It gave our Wrangler Unlimited the fresh look we were aiming for, and now we have something that will protect the paint below from gaining any new desert pinstriping. If we do manage to damage a section, we should be able to replace just that area pretty easily.
More From

Driving Line
See more of Carolina Tint's process in the gallery below, and if you want to give vinyl-wrapping your own vehicle a try, check out our step-by-step DIY guide.