8 Most Outrageous 6x6 Conversions For Off-Road Supremacy
Tired of four-wheelin'? Then you should consider upgrading to a 6x6 for your next off-road adventure. Over the last decade the number of aftermarket companies offering 6-wheel conversions for rugged all-terrain trucks has skyrocketed, with nearly every continent on the planet producing its own 6x6 specialists imagining new and creative ways to add an extra drive axle to the world's most popular rigs.
Wondering which trucks stand out on the 6x6 landscape? We've rounded up the most intriguing options out there, and threw in a little history to demonstrate how long the 6x6 streak has been running through the off-road community.
Mercedes-AMG G63 6x6
The Mercedes-Benz G-Class has long been a favorite among the Beverly Hills set, but even in base form this Magna Steyr assembled box is a legitimate trail warrior thanks to its three locking differentials and respectable ground clearance.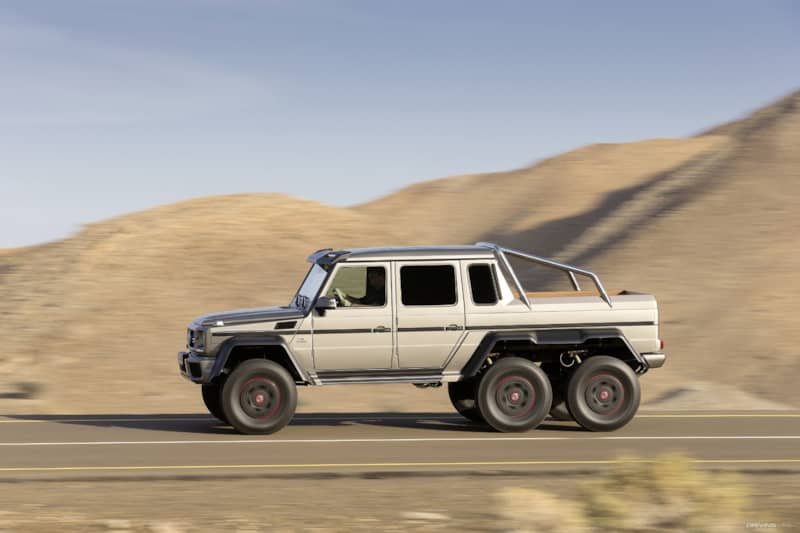 Add two more locking differentials into the equation (thanks to a double-diff on the initial rear axle), plus a twin-turbo V8 engine tuned by AMG, and the G63 6x6 is an absolute brute. Rocking 536 hp, a central air inflation system for each of its tires, and Ohlin shocks, the Mercedes-AMG thunders over almost any obstacle (aside from its own turning radius) with 18 inches of ground clearance.
More so than any other model, when it appeared in 2014, the G63 6x6 was responsible for shifting the six-wheel focus from exploration and overlanding to high speed hot-rodding over huge tracts of desert or savannah. It would go on to inspire models like the next entry on our list, and sell in surprisingly high numbers on both sides of the Atlantic.
Hennessey VelociRaptor 6x6
The Ford Raptor was already one of the biggest and baddest off-road pickups on the market, but that wasn't enough for Hennessey, which used it as the template for its very first 6x6 offering. The company is willing to convert any second-generation Raptor platform into this rolling monstrosity.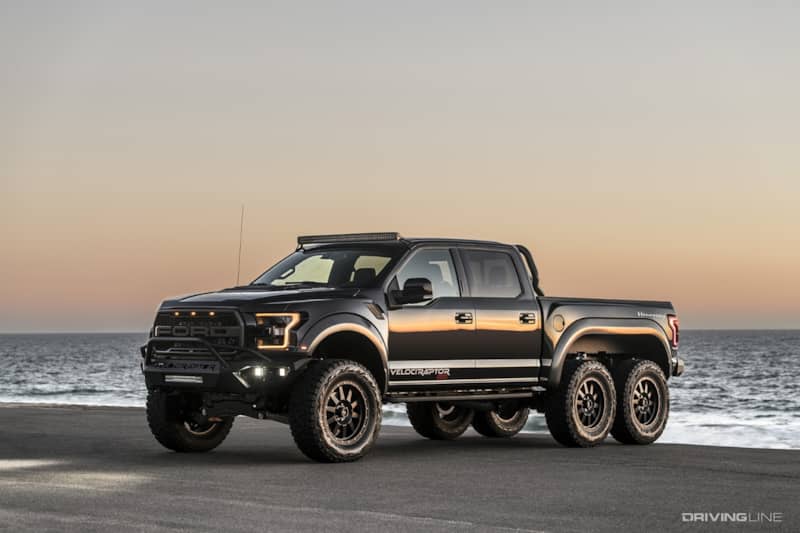 The truck offers a 600 hp edition of Ford's 3.5-liter EcoBoost V6 to go with its massive road presence, custom bumpers and roll bar, and of course as many extra luxuries as you're willing to pay for over and above its equally hefty $350k asking price. Like the Mercedes-AMG that preceded it, the Velociraptor is intended more for high speed runs than the Rubicon.
Dodge Ram T-Rex
The Dodge Ram T-Rex kicked off America's dalliance with 6x6 pickups all the way back in 1996. Introduced at SEMA, the 'Technology Research Experimental' concept was far from being all show and no go, as its six-wheel drive setup was backed by a 500 hp version of the V10 engine found in Dodge heavy duty pickups.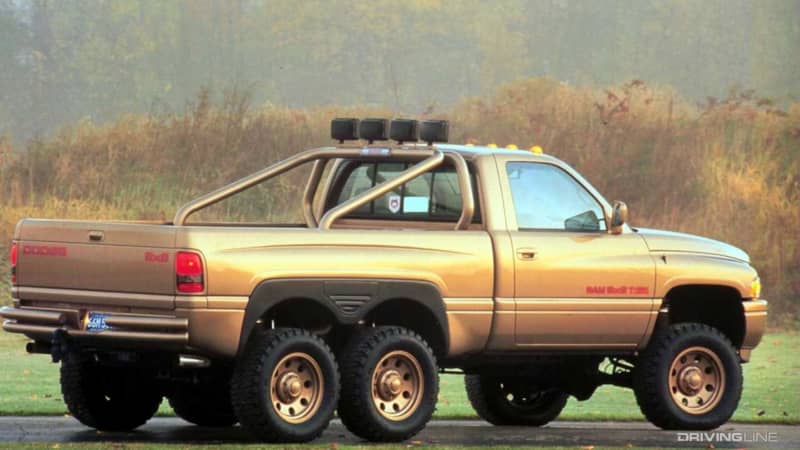 That 10-cylinder engine was also good for a whopping 600 lb-ft of torque, monster numbers for the mid-90s, and the T-Rex also rode on an adjustable air suspension system that presaged the stock setup eventually offered with production versions of the Ram.
The T-Rex was built for Dodge by a company called USA6X6. which would build a couple more 6x6 show trucks (including a Jeep Wrangler and another Ram) before going out of business in 2008.
Hennessey Goliath 6x6
Not wanting to leave Bowtie fans out of the party, Hennessey ported its VelociRaptor formula over to the Chevrolet Silverado in 2019. It's essentially the same package, with big wheels, huge lift, extra drive axle, and a whole whack of off-road gear to go with it.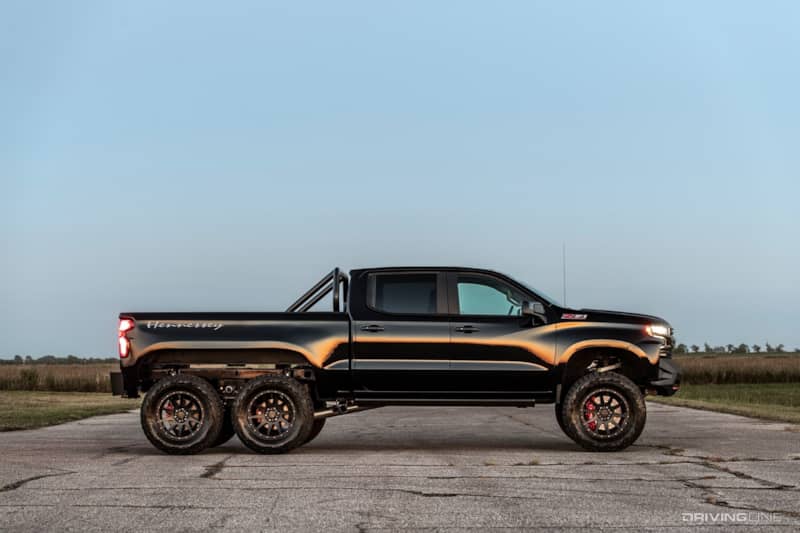 Power for the Goliath is a little more modest, checking it at 450 horses, which means bounding over dunes and crashing through brush is going to be somewhat more restrained with the Chevrolet than when piloting the Blue Oval six-wheeler. Despite the power handicap, it's somehow even more expensive than the faster Ford, with a $375k price tag.
Bruiser Conversions / K6 Industries / Wild Boar
Want a 6x6 pickup, but Jeep is life? There are currently three companies out there that have you covered with monster conversions of the JK Wrangler.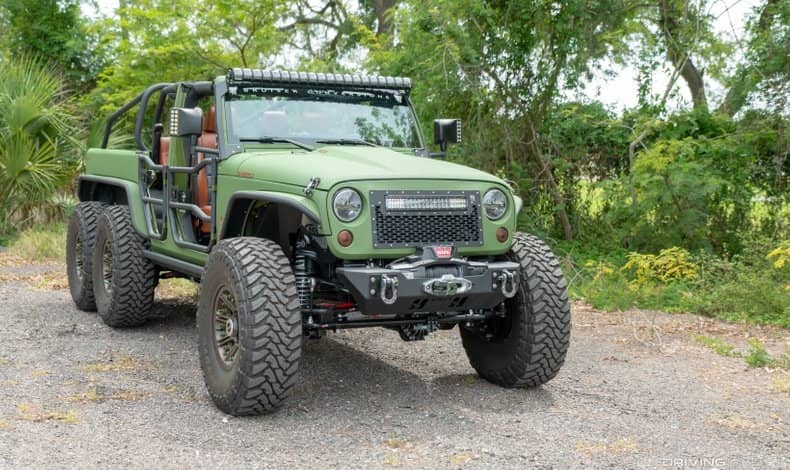 Bruiser Conversions doesn't just add an extra axle and a cargo bed to the four-door Wrangler Unlimited, but it also installs a supercharged LS V8 engine to go with it, along with an astonishingly long list of aftermarket off-road gear.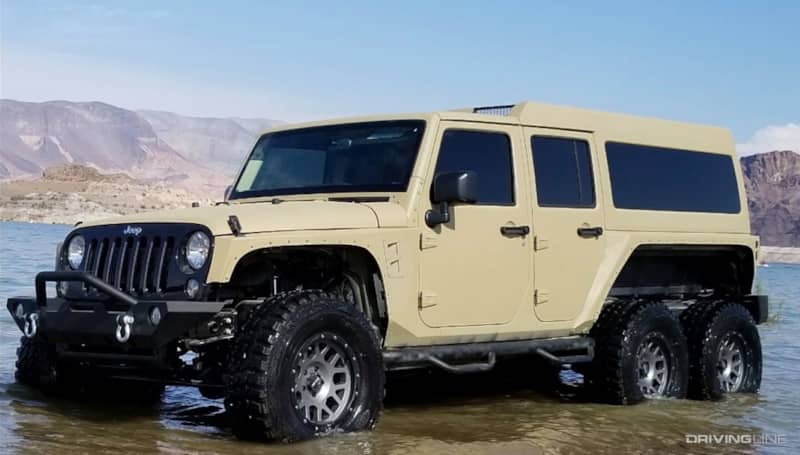 K6 Industries offers both pickup and 7-passenger versions of the JK, while Wild Boar once provided the extra incentive of a Hellcat supercharged V8 with over 700 hp. The latter was built in partnership with a company called Dakota Customs, which specializes in V8 Jeep conversions.
Chelsea Truck Co. / Foley Specialist Vehicles
The Land Rover Defender 110 is one of the most renowned off-road vehicles in the world, so it's no surprise that a pair of companies have selected it to deliver their own 6x6 conversion.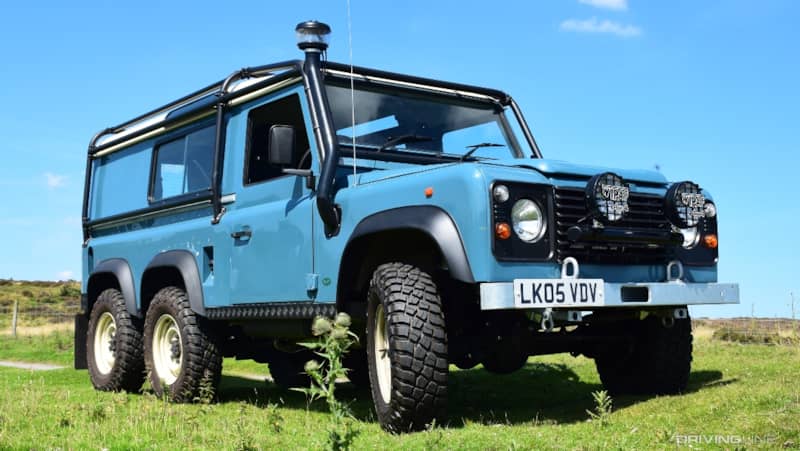 That being said, the two approaches couldn't be more different. Foley Specialist Vehicles offers a luxury-oriented model, the LS3-powered Defcon 6x6, but it also offers task-focused six-wheel drive models of the Defender that are intended to tackle a wide range of tasks including safari, search and rescue, emergency medical services, and transportation.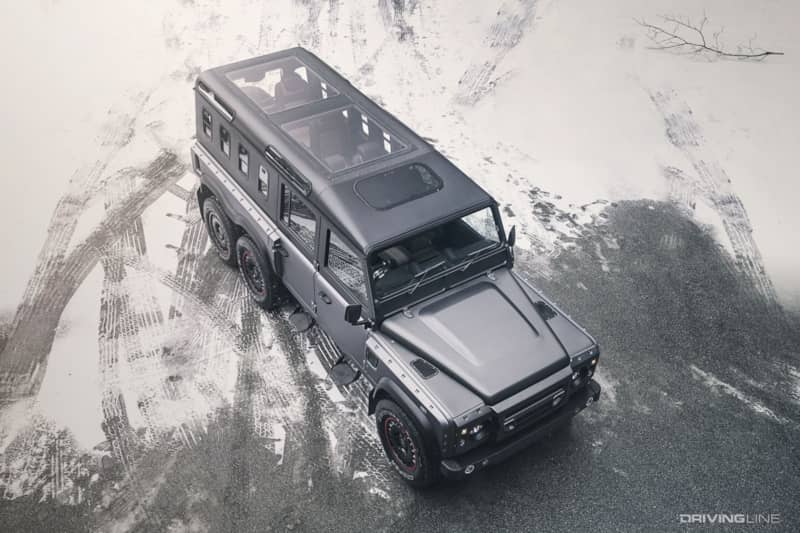 The Chelsea Truck Co. version of the six-wheeled Defender 110 is more in the vein of the Mercedes-AMG G63 6x6. Dubbed the 'Flying Huntsman,' it offers 430 hp from a 6.2-liter LS V8, and balances off-road equipment with go-fast gear and high end comfort features. You can even get an armored version of the truck, if you like to live both large and dangerously at the same time.
Patriot Campers / Multidrive Technology / Boss Aluminum / JMACX / TJM Pretoria East
As popular as the Jeep Wrangler JK might be for 6x6 conversion it lags behind one of off-roading's elder statesmen in terms of the sheer number of options out there from the aftermarket. The 70 Series Toyota Land Cruiser, perhaps the most stalwart and versatile all terrain champion ever built, can be had in at least five different flavors of six-wheel drive.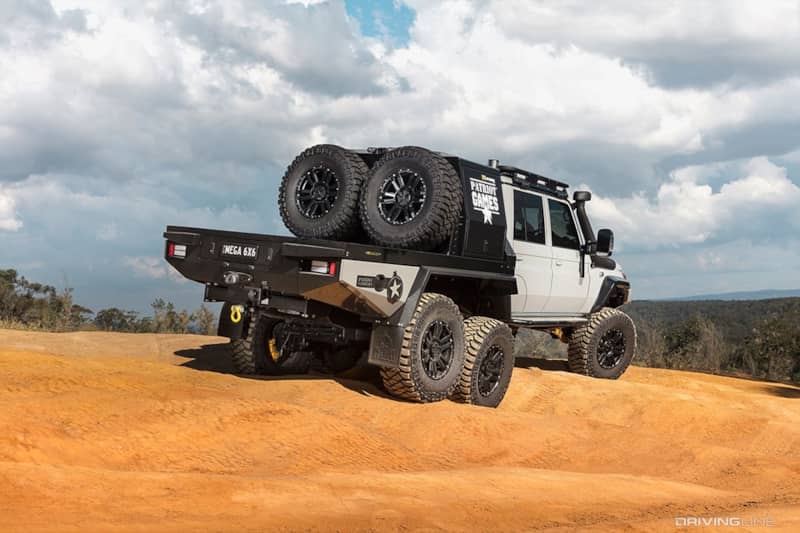 Patriot Campers is known more for its accessories in America than its custom trucks, but in Australia it does a robust business kitting out Land Cruisers, including the over-the-top 6x6 Megatourer built on the '79 chassis version of the truck. The truck offers nearly 400 hp from a supercharged V6 or the choice of a turbodiesel V8 edition for those who favor range and torque above all else.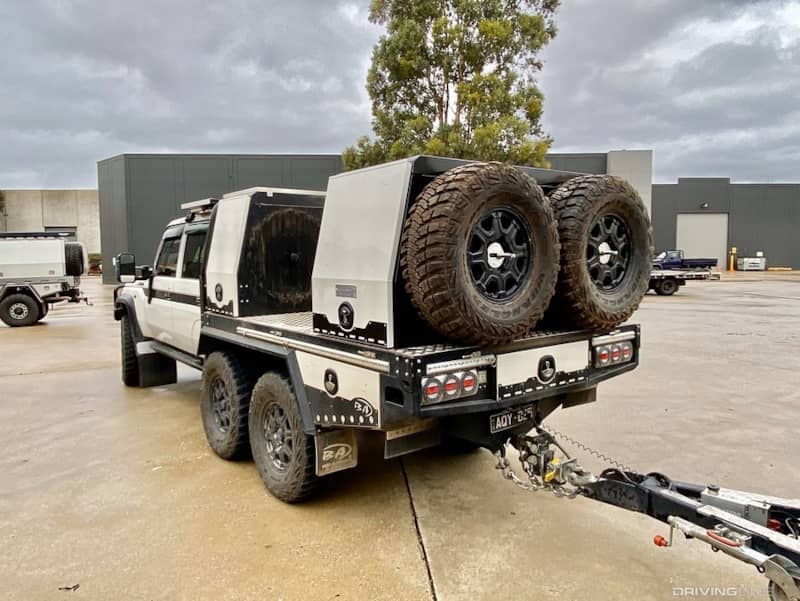 Patriot uses a conversion kit from a company called JMACX for the Megatourer, as does Boss Aluminum, with all three based in Australia. Given that JMACX also produces its own turn-key 6x6 solution it's fair to say that Outback country is the epicenter of six-wheeled Land Cruisers. That being said, TJM Pretoria East delivers six-wheel drive Land Cruisers to the South African market, with a focus on both commercial and overlanding applications.
DBL Design
If you want to go big and stay true Ford blue, you don't necessarily have to park a VelociRaptor in your driveway. DBL Design offers a full range of heavy duty 6x6 upgrades for the F-450 and F-550, and while most of these are aimed at commercial customers looking to outfit a fire department or forestry service, DBL does cater to the off-road crowd, too.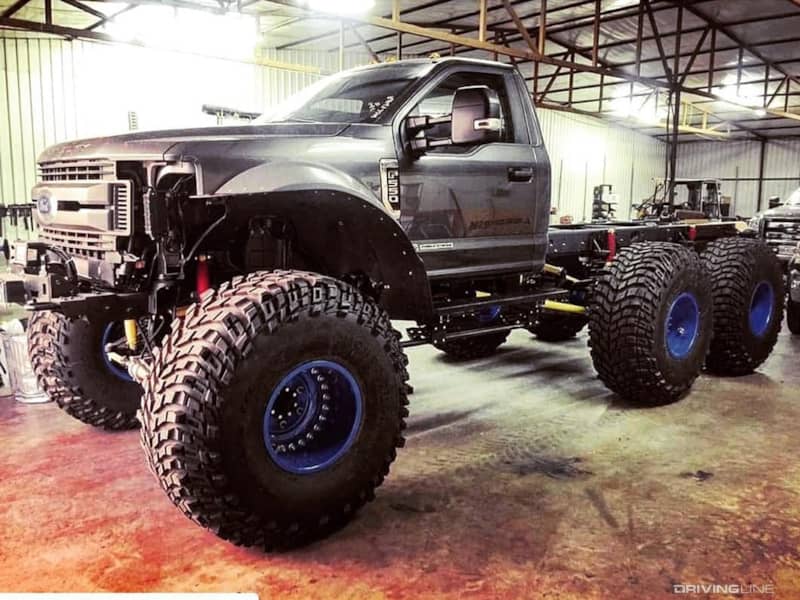 Most F-450 and F-550 trucks are sold as chassis cabs, which means you can design your own bed that's best suited to your particular overlanding or transportation needs. DBL even offers a 'Severe Duty' package that's intended to upgrade and protect critical vehicle systems from the type of abuse that a day of heavy trail driving can inflict on such a large vehicle.
Want to read about more over-the-top off-road trucks? Check out our list of the craziest big money 4x4 rigs on the market.