Life With Ridge Grapplers: Part 1
After Nitto released the Ridge Grappler in the spring of 2016, it received rave reviews from online and national print publications, industry experts and off-road enthusiasts. Coined a hybrid terrain and aimed at the truck owner that enjoys the off-road capability of a mud-terrain but that prefers the tread longevity and quiet, comfortable ride of an all-terrain, the Ridge Grappler has proven to be the perfect compromise for countless truck owners. So far, the Ridge Grappler has been a huge hit not only with its intended target audience (light duty pickup owners), but in the Jeep segment as well. Whether it's on an F-150 or a Wrangler, the Ridge Grappler has been praised for its prowess in dirt, rocks and sand, while holding its own in light to moderate mud.
A Perfect Fit
Not surprisingly, Nitto's Ridge Grappler has found a happy home in the ¾-ton and larger diesel truck segment. In this domain, truck owners depend on their vehicle(s) to do everything: work, play, commute and even haul the entire family to Disneyland. Needless to say, the tire's E and F load range options, above-average off-road capability, pleasant on-road manners and the prospect of even tread wear piques their interest. Common endorsements among diesel enthusiasts include: great traction in rain (even aboard 700hp trucks), solid off-road performance, a quiet ride out on the highway and an affordable price point.
Long-Term Test
We know you've read Ridge Grappler reviews on Driving Line before, but we've never tested a set on a 1-ton diesel pickup, long-term—and by long-term, we mean it. This evaluation won't span the course of a few months, but rather years, with subsequent installments posted intermittently. To keep tabs on the series, make friends with the search function at the top left of your screen. The purpose of this test is to convey how well the Ridge Grappler performs in a wide array of environments on a daily-driven diesel, as well as how it holds up over the long haul.
All-Purpose Tire, Year-Round Use
Throughout the course of our evaluation, the Ridge Grapplers will be exposed to everything a Midwestern environment can throw at them (rain, sleet, ice, snow and mud) while also bearing the brunt of having a 10,000-pound trailer in tow and the occasional ton of rock in the bed. We'll probably even air them down and test them at the drag strip a time or two. Let's get started.
The Test Mule

This is the guinea pig our Ridge Grapplers will be motivating: a four-door, 4x4 '97 Ford F-350 equipped with the hard-to-kill 7.3L Power Stroke. Like most diesel truck owners these days, our F-350 is used for everything. Whether it's cruising down the interstate at 75 mph, towing heavy (rain or shine) or commuting for work in the snow, it has to be ready for anything. It's no coincidence that we're purchasing new tires right before winter hits. Our Ridge Grapplers were sourced from York Tire in Jacksonville, Illinois, where they were also mounted and balanced.
Variable-Pitch Tread Pattern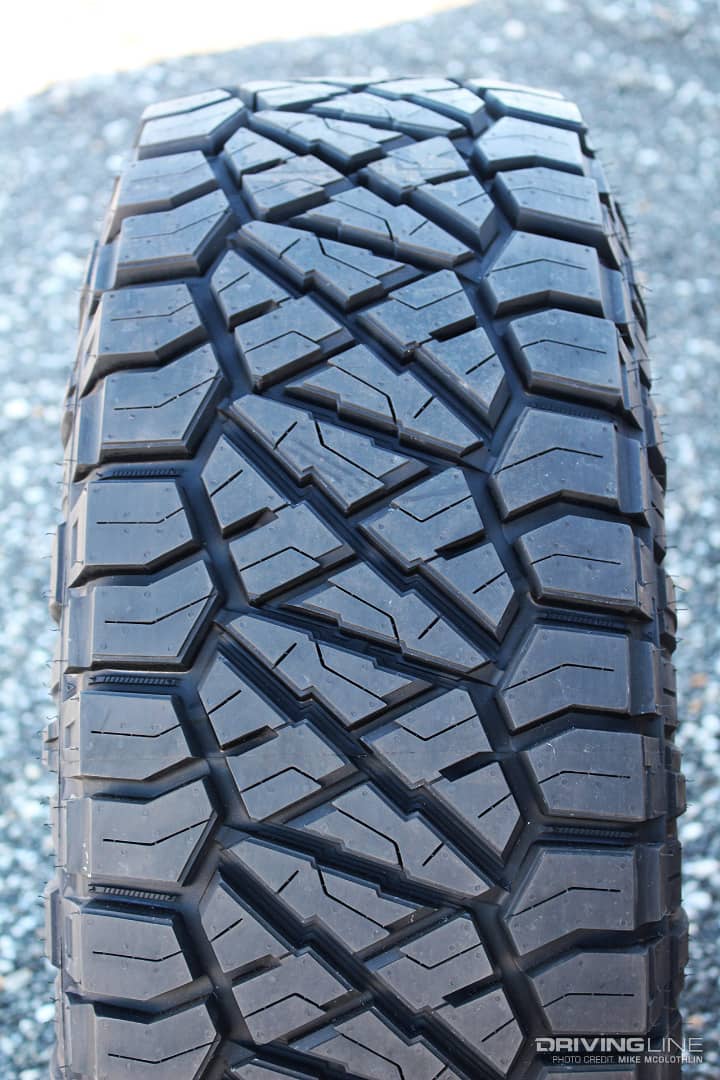 So what exactly does this mean? It means variable-pitch tread blocks are employed to keep the tire quiet and comfortable on the highway. The tread pattern was designed using computer simulation and through the use of advanced sound equipment. All that engineering paid off, with Nitto's own in-house testing earning the Ridge Grappler a score of 4 out of 5 in quietness (the same score given to the Terra Grappler and Terra Grappler G2 all-terrains).
Two Sidewall Options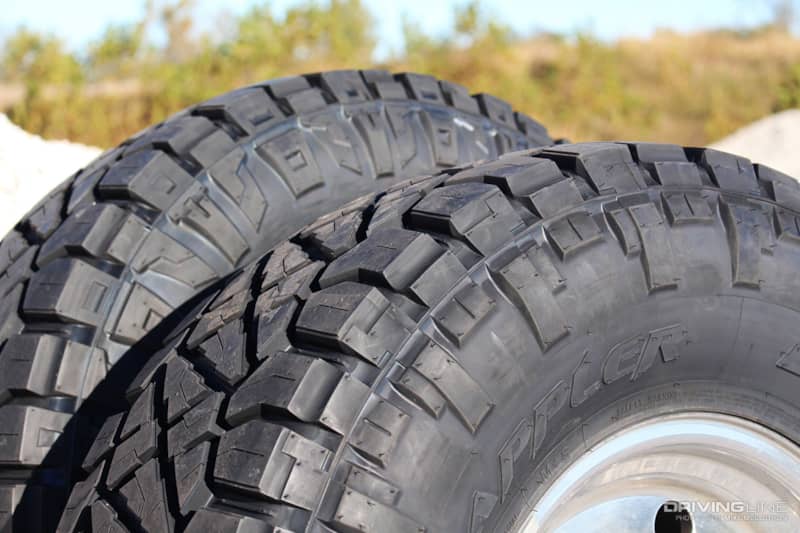 No different from other tires that bear the Grappler name, each Ridge Grappler features two different sidewall designs. One side entails a more traditional pattern, while the other incorporates a new, aggressive tread block design. It's up to the end-user to decide which sidewall faces out.
Alternating Shoulder Grooves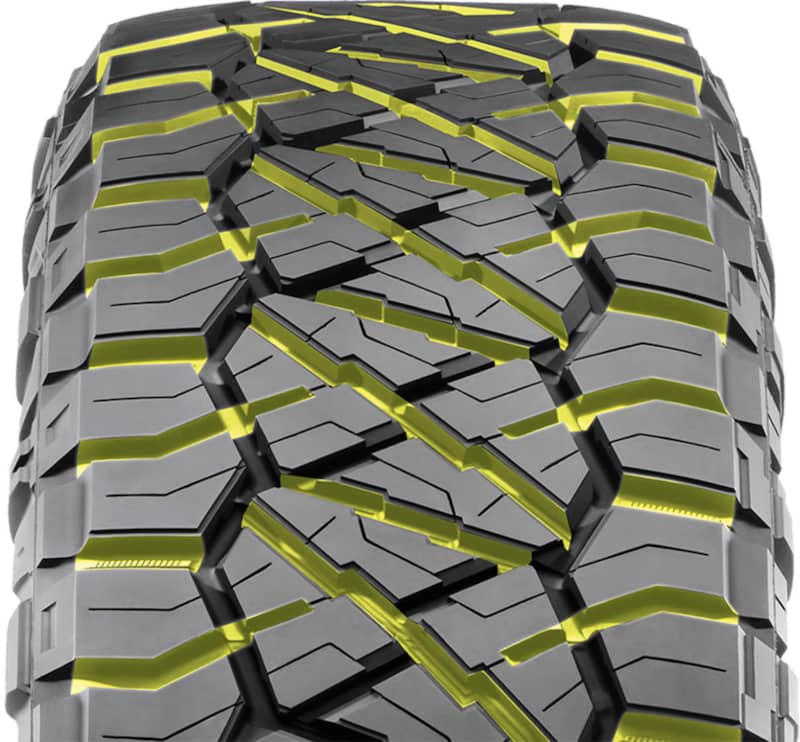 In this head-on animation shot, you can see the grooves along the tire's shoulders. The highlighted grooves on the left are intentionally designed in varying widths and lengths to clear mud and keep the tire digging effectively. Lateral Z grooves arranged in a zig-zag fashion provide more aggressive biting edges for the tread blocks. For additional off-road bite, staggered shoulder lugs are also used.
Rigid Tread Blocks & Stone Ejectors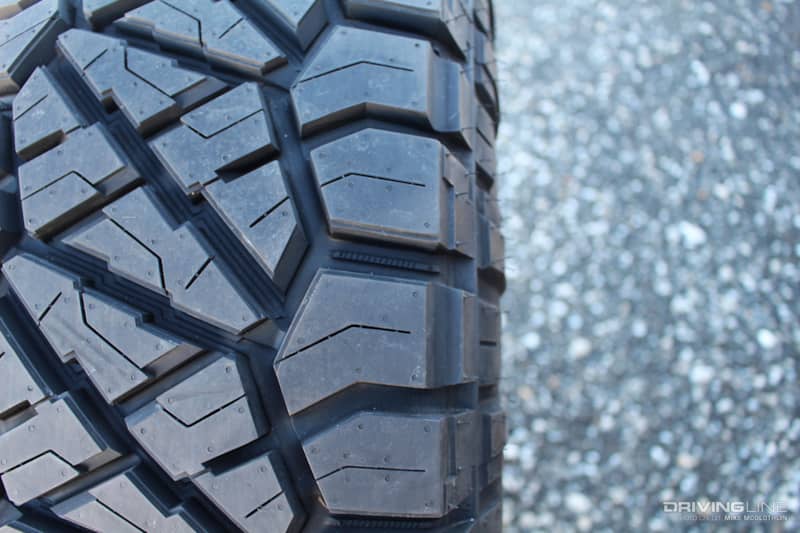 In an effort to add strength and reduce flex in the tread blocks, Nitto employs a reinforced block foundation on the Ridge Grappler. Further aiding traction, the tops of the tread blocks feature tapered and stepped edges. Stone ejectors are also present in the shoulder grooves to keep rocks from drilling into the bottom of the grooves.
16-to-24-Inch Availability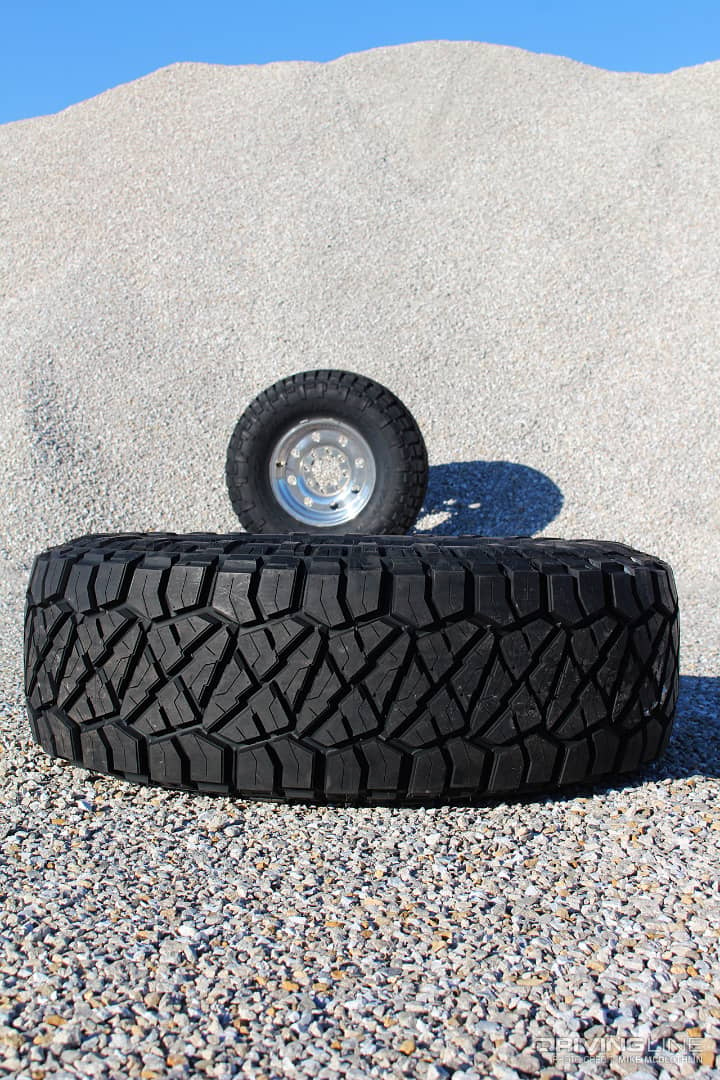 Because we were mounting our Ridge Grapplers on the F-350's factory 16x7-inch forged-aluminum Alcoas, we were left with two tire choices: LT265/75R16 or LT285/75R16. The lack of 16-inch options isn't surprising, as very few vehicles make use of such a small wheel these days. However, starting with LT255/80R17 and ending with 37x13.50R17, there are 16 options for 17-inch wheels. As for 18s and 20s, there are 24 and 26 different Ridge Grappler sizes, respectively. Beyond that, 10 sizes are available for 22-inch wheels and two options exist for enthusiasts running 24s.
LT285/75R16
Having already run 33-inch diameter, 12-inch wide tires on the truck in years past with no clearance issues, we knew the LT285/75R16 option wouldn't be a problem. If you're unsure what the outer diameter of your metric size tire is in inches, check out the conversion formula below:
Example: 285/75R16
285/10 = 28.5 (mm to cm)
28.5 x 0.393 = 11.2 (cm to inches)
11.2 x 0.75 = 8.4 (width x sidewall height, which in this case is 75% of the width of our 16-inch wheel)
8.4 x 2 = 16.8 (the "2" meaning top and bottom side wall)
16.8 + 16 (add in the wheel diameter) = 32.8 inches
10-Ply, 80 PSI and 3,750 Pounds of Carrying Capacity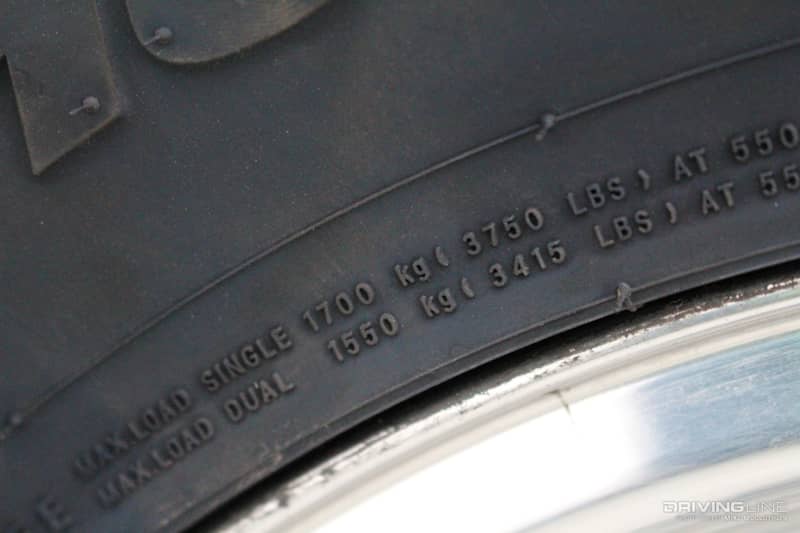 Like most E load range tires, maximum inflated pressure for the Ridge Grapplers is 80 psi. The LT285/75R16 tires bear a load index of 126 and a carrying capacity of 3,750 pounds per tire (in single rear wheel applications). As all of Nitto's E load range LT tires do, they also feature a 10-ply rating.
Built for Heavy Loads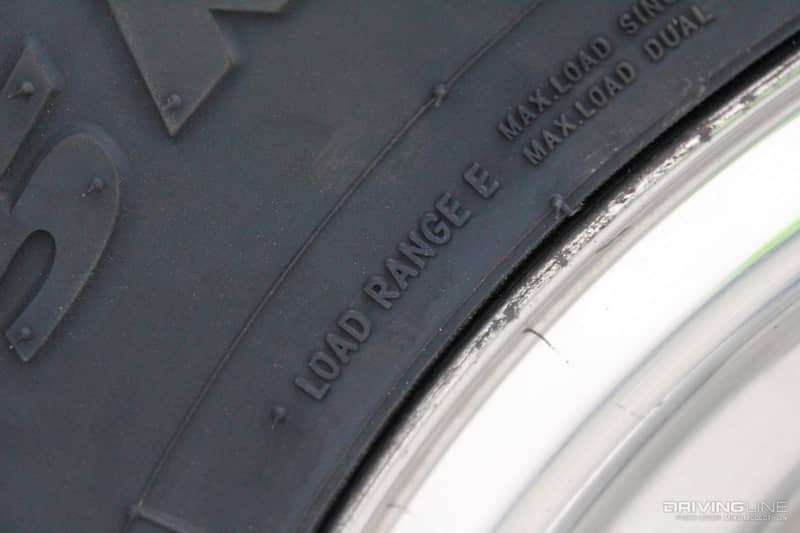 For the truck owner that lives life at max GCWR or GCVW, Nitto offers various sizes of the Ridge Grappler in an F load range, starting with 18-inch fitments and up. With today's diesel trucks capable of towing in excess of 30,000 pounds, a properly spec'd Ridge Grappler will never be your workhorse's weak link thanks to the various E and F load range options. Note that our LT285/75R16's are load range E.
Keeping Tabs on Tread Depth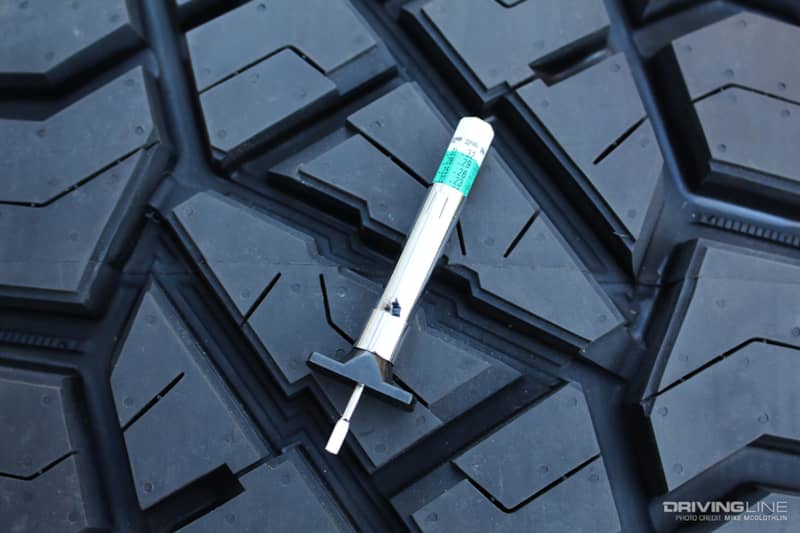 Measuring a tire's tread depth is the best way to log tread wear and we'll be doing it with this color-coded tread depth gauge from Godeson. You can pick these babies up for $3 or $4 at your local auto parts store and they last forever. A tire tread depth gauge measures the height of the line that extends from the deepest portion of the tread void to the top of the tread block. To keep tread wear to a minimum we plan to rotate our Ridge Grapplers every 4,000 miles and maintain the same air pressure for the duration of our testing.
It's All Downhill From Here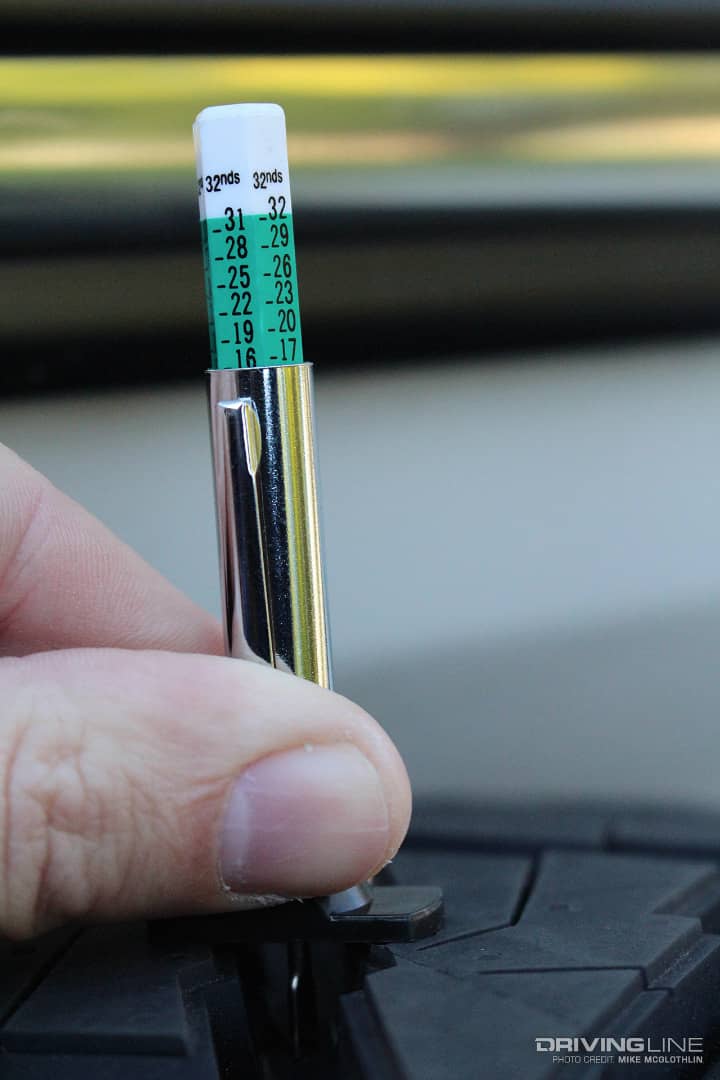 Our starting tread depth on the LT285/75R16 Ridge Grapplers checked in as advertised: 16.4/32". We'll be making regular tread depth inspections throughout the course of testing these tires to gauge how quickly (or, hopefully how slowly) they wear. Look for our first check-in (Part 2) some time this winter, once we've racked up a couple thousand miles and some testing in the rain, sleet and snow that's sure to grace the Midwest in the coming months.
Toy Hauling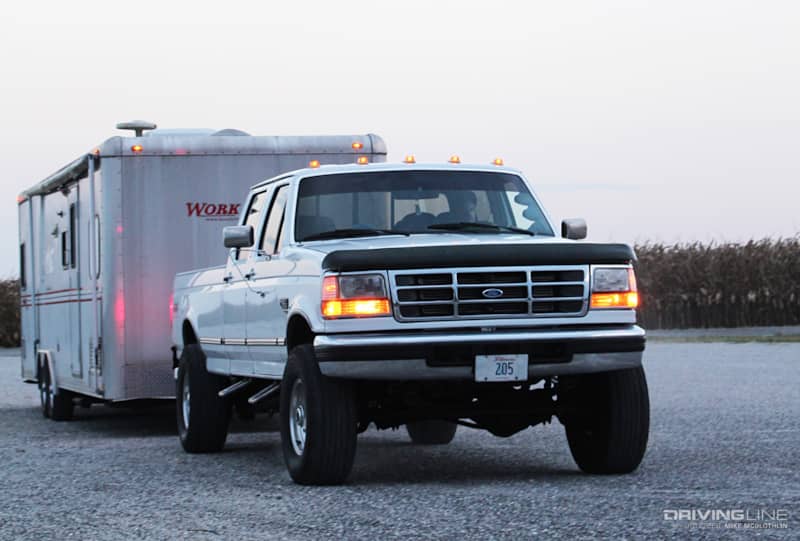 When the old body style Ford isn't running back and forth between photo shoots, industry events and the occasional off-road venture during the summer, it'll be attached to this toy hauler. Though it's a far cry from the types of loads you see late-model diesel pickups lugging around these days, it's heavier than it looks and tips the scales at just over 10K when fully loaded. This is where the LT285/75R16 Ridge Grappler's E load range and heavy-duty carrying capacity offers utmost peace of mind.
See the follow-up to this article—Nitto Ridge Grappler Review Part 2: 120 Days of Real World Testing.