Nitto Ridge Grappler Review Part 2: 120 Days of Real World Testing
We're only a few months into owning a set of Nitto Ridge Grapplers, but the last 120 days have certainly been eventful for our new hybrid terrains. Little did we know when we had them mounted and balanced in late October that we'd be facing our first snow of the year just three weeks later—even more justification that fall is the best time to invest in new tread. In November, we were hit with two weather events that brought considerable snowfall to central Illinois, something that hasn't happened in years. Needless to say, the Ridge Grappler's performance in snow was quickly evaluated. Once the snow melted (you read that right, December proved warmer than November in 2018), we put the tires to use on the highway, aired them up to 80 psi to tow a 10,000-pound trailer and even logged fuel economy in an effort to track any changes (good or bad) that resulted from our change-over to Ridge Grapplers from mud terrains.
Why are we doing all of this? To determine whether or not the Ridge Grappler lives up to all of its marketing hype. It's no secret that light truck and Jeep tires aren't exactly cheap these days. A set of quality sub-33-inch tires alone can run you $1,000, so it pays to know if a specific tire is a sound investment. So far, we believe the Ridge Grappler truly is all it's cracked up to be, and we're glad we forked over the cash on a set of 285/75R16s for our '97 F-350 test mule. They're quiet on the highway, comfortable even at maximum pressure, do very little rock collecting and have no problem maintaining traction through eight inches of snow. For a full analysis on what we've learned about the Ridge Grapplers thus far, check out our first progress report below.
Tire Specs:
| | | | |
| --- | --- | --- | --- |
| Size: | LT285/75R16 | Carrying Capacity: | 3,750 lbs/tire at 80 psi |
| Inflated Diameter: | 32.83 inches | Ply Rating: | 10 |
| Inflated Width: | 11.26 inches | Factory Tread Depth: | 16.4/32 inches |
| Max Air Pressure: | 80 psi | Current Tread Depth: | 16/32 inches |
| Load Range: | E | Miles Tested: | 1,700 |
| Load Index: | 126 |   |   |
Snow-Busting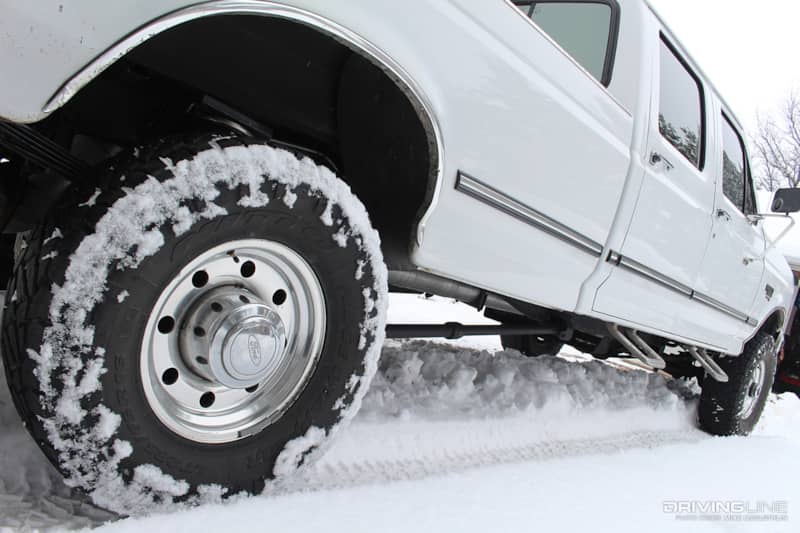 Unbeknownst to us at the time, our late October rendezvous with a set of Ridge Grapplers proved the perfect time to buy tires. In mid-November, the first snow of the '18/'19 winter season arrived ahead of schedule and we were able to see what the Ridge Grapplers could do in eight inches of a powdery mix. First, and because our F-350 is equipped with manual locking hubs up front, we wanted to see how well the Ridge Grapplers could propel our 7,300-pound Ford through the snow in two-wheel drive. The result? They had no problem maintaining traction (during light acceleration), digging us along with relative ease. It wasn't until snow accumulation had crested six inches that we opted to hop out and lock the front hubs.
Always Biting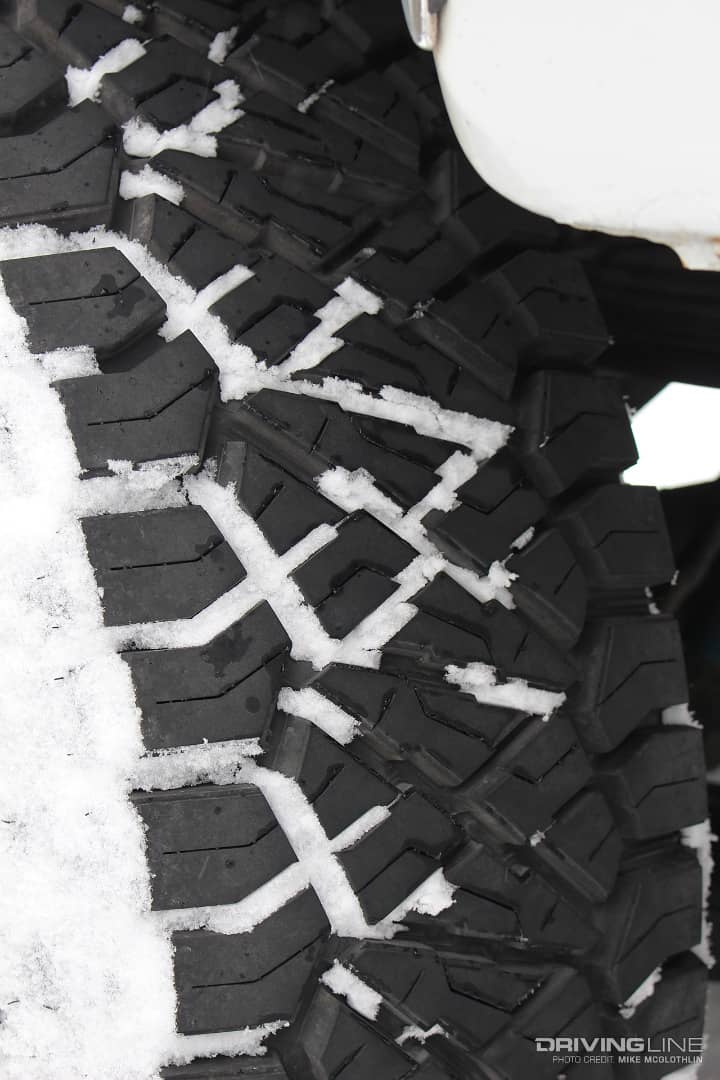 As expected, the Ridge Grapplers performed much better in snow than the mud terrains they replaced. Traction was consistent and reassuring when accelerating, and stopping distances were shorter during braking. Despite the partially snow-packed tread pattern shown above, the tread channels cleaned out quickly and effectively in our testing, and we believe the stepped edges of the tread blocks also factored into the above-average traction we experienced while playing in the white stuff. Also notice the aggressive, wrap-around style sidewall accumulating its fair share of snow as well (which it was quick to shed). It's proof that the Ridge Grappler's extra source of bite will grab ahold of virtually anything it comes into contact with.
80 PSI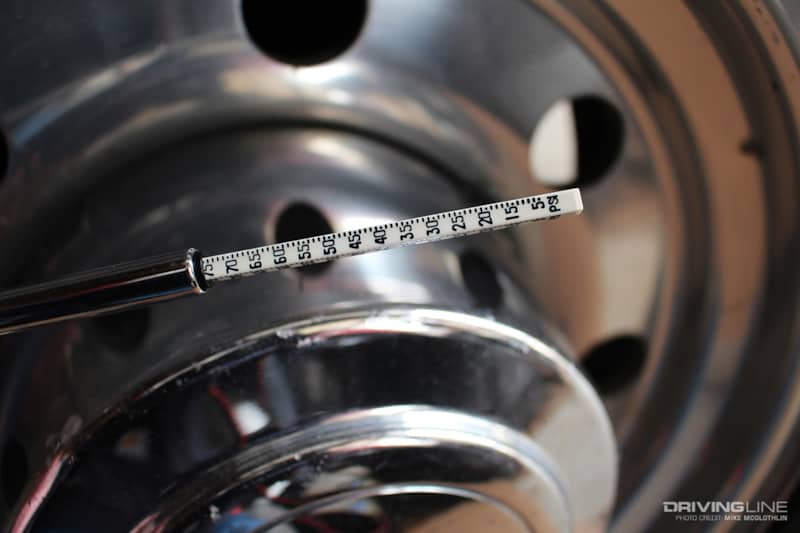 In preparing to tow on the Ridge Grapplers for the first time, we brought air pressure up to 80 psi, the max inflated pressure for our E load range tires. Reiterating what we told you in Part 1 (and also listing it in the spec box above), our particular Ridge Grapplers carry a load index of 126. Their specific carrying capacity is 3,750 pounds per tire at maximum inflated pressure (again, 80 psi).
Peace of Mind While Towing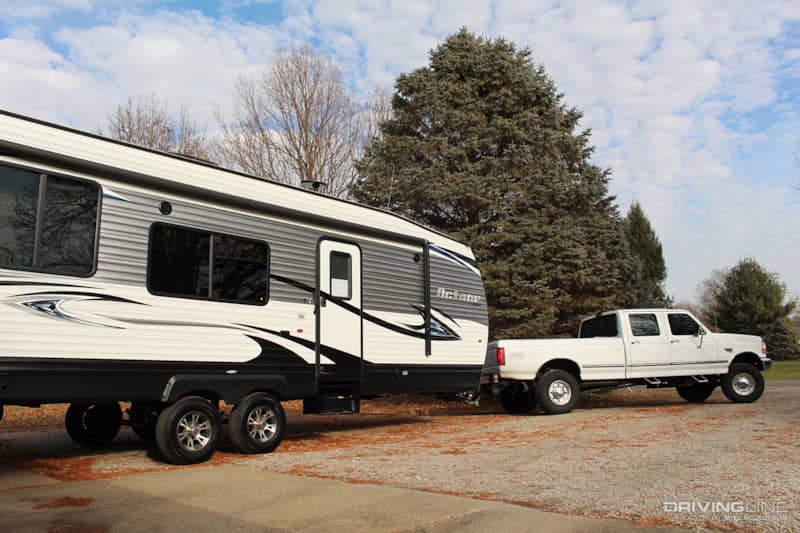 While toting our tandem axle toy hauler back from Missouri, along with subsequent excursions with the 31-foot wind sail in tow, the truck felt extremely stable. While airing up to 80 psi for max carrying capacity may not have been necessary for this particular load, the higher pressure hardly altered the truck's ride quality as far as we could tell (full disclosure: we're talking about a truck sporting a solid front axle on leaf springs, so it takes quite a bit to make its fairly rigid ride seem worse). With no noticeable decrease in ride quality from airing up to 80 psi and the fact that we'll be visiting the campground and/or trailhead more frequently as spring sets in, we'll likely leave air pressure here for the foreseeable future.
Tracking Tread Depth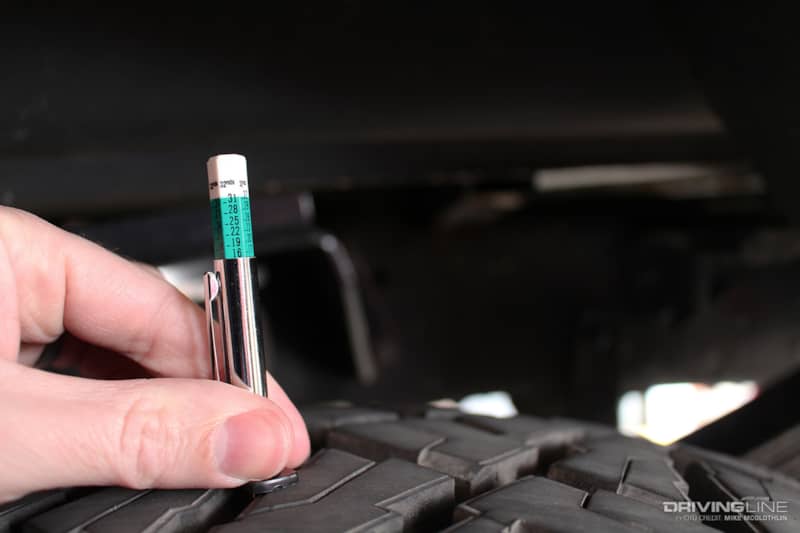 Having only racked up a little more than 1,700 miles on the Ridge Grapplers so far, we didn't expect to see any appreciable amount of tread wear. We were right. Per our color-coded Godeson tread depth gauge, tread depth checked in at 16/32 inches (vs. 16.4/32 inches on Day 1). Again, in this instance the Ridge Grappler blurs the lines between all terrain and mud terrain in that its tread depth is deeper than most A/Ts yet shallower than many M/Ts.
Darn-Near Brand-New
As they should, with less than 2,000 miles on the clock our Ridge Grapplers appeared brand-new after a quick wash. While we haven't had to rotate them yet (the plan is still to rotate every 4,000 miles), winter isn't exactly the busy travel season in the Midwest. As the weather warms up, these tires will see a lot more revolutions, be it while towing, commuting or playing in spring-thaw mud.
Quiet Ride, Pending MPG Improvement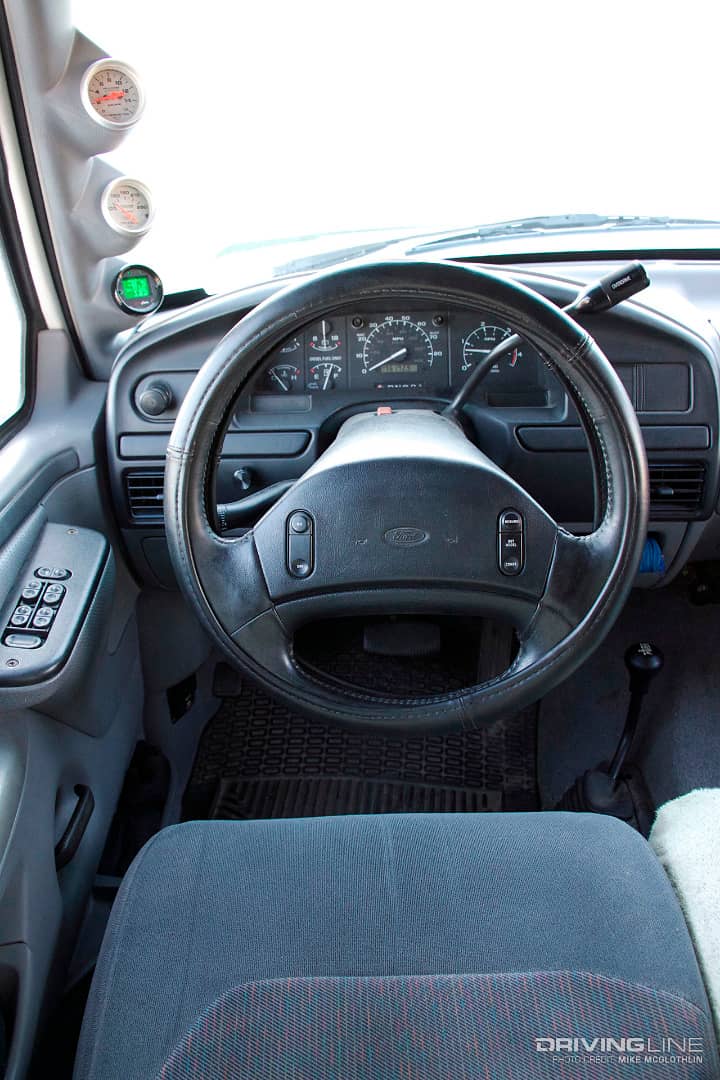 Any time you transition from a mud terrain to a less aggressive tire, the amount of road noise generated at all speeds goes down. For us, the quiet ride of the hybrid terrain Ridge Grapplers was highly welcomed when we made the switch. To date, we've neither observed an increase nor a decrease in fuel economy, indicating no increase in rolling resistance as compared to the worn mud terrains they replaced. However, once we're no longer running winter blend diesel we expect to see a slight uptick in fuel mileage (most likely ½ to 1 mpg better).
Paint-Saving Tread Design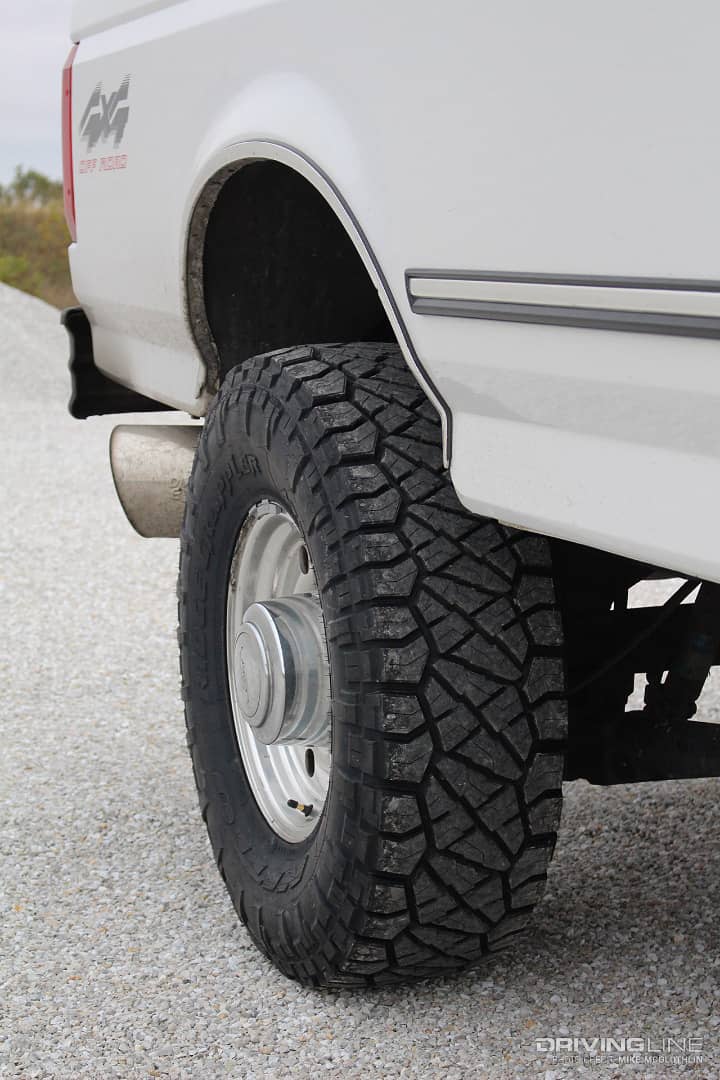 Pitted against a set of BFGoodrich All Terrain T/A KO2s—the time-tested, revered tread that often serves as the yardstick tire in the truck segment—we've noticed a similar ride quality and quietness, but have been pleasantly surprised to find that the Ridge Grapplers aren't nearly as prone to picking up rocks. We think this is due in large part to both the sizing and design of the voids between tread blocks, but also the effectiveness of the built-in stone ejectors. We're especially thankful for the Ridge Grappler's lack of a tendency to collect smaller rocks—the kind that become paint-removing projectiles at highway speeds.
More From

Driving Line
Catch up on our long-term Ridge Grappler review by reading

 

Part 1!