Long-Term Ridge Grappler Review: 3 Years Later
When the Ridge Grappler debuted in the summer of 2016, the tire industry was buzzing about the radical new tread design the folks at Nitto had come up with. By combining some of the best characteristics of an all-terrain with those of a mud terrain, the "hybrid terrain" was a unique take on light truck tires and many truck owners and off-road enthusiasts bought in immediately. Yours truly was among them. When it came time to buy new tread for my old Ford, I knew exactly what tire I was going with.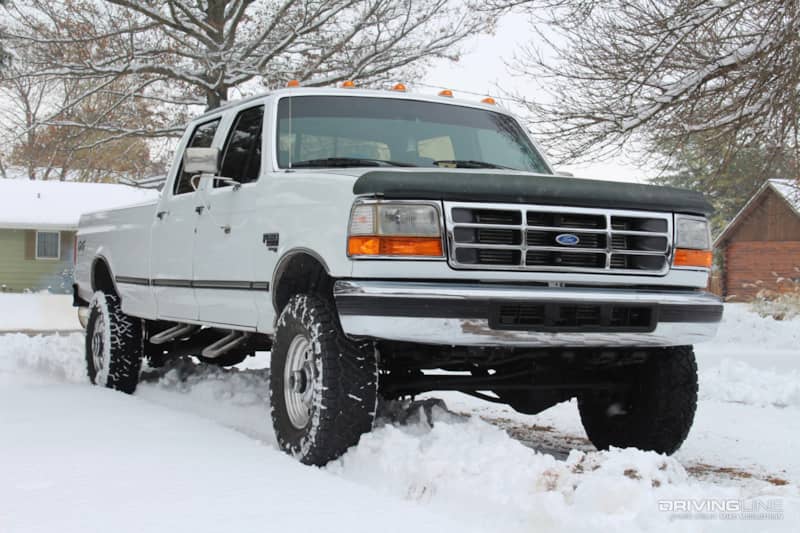 Now more than three years into my long-term evaluation of the Ridge Grapplers, they've seen snow, they've seen ice, they've seen rain, salt, frigid cold and uncomfortable heat. The F-350 they sit under has been daily driven, drag raced, towed trailers and even seen mud over the course of the last 40 months. Through it all, they've performed flawlessly. After 11,000 miles they show minimal, even and uniform wear, remain quiet at highway speeds and continue to turn in respectable fuel economy. Once a die hard, mud terrain fan, I may never run a dedicated M/T ever again. Here's why.
Tire Specs:
| | |
| --- | --- |
| Size: | LT285/75R16 |
| Inflated Diameter: | 32.83 inches |
| Inflated Width: | 11.26 inches |
| Max Air Pressure: | 80 psi |
| Load Range: | E |
| Load Index: | 126 |
| Carrying Capacity: | 3,750 lbs/tire at 80 psi |
| Factory Tread Depth: | 16.4/32" |
| Current Tread Depth: | 13/32" |
| Miles Tested: | 11,008 |
The Perfect Blend Of A/T And M/T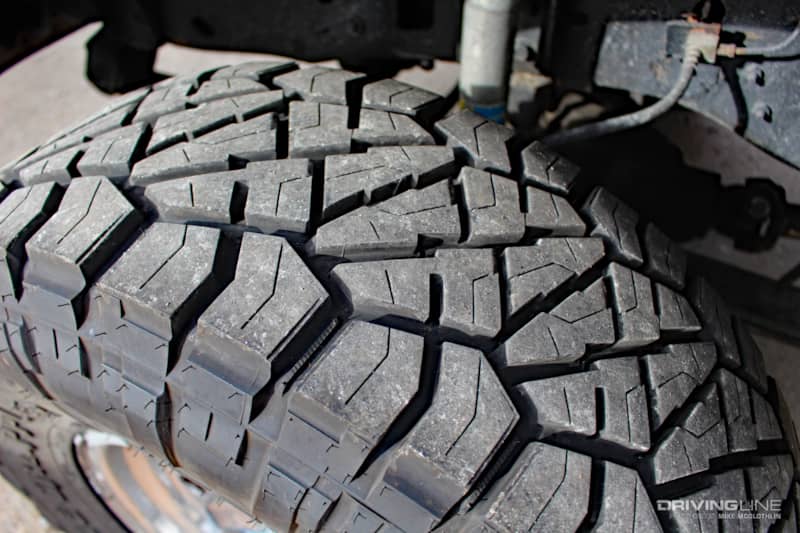 In the fall of 2018 it was time for fresh rubber for the old body style Ford. Although I was a longtime fan of mud terrains, I wasn't exactly looking forward to dealing with the road noise I'd once thought didn't matter. However, I wasn't yet willing to give up an aggressive tread pattern for an all-terrain. For this reason, the Ridge Grappler stood out among all other options. It held the promise of all-terrain type road noise but mud terrain-like aggressiveness. More than three years on, they've delivered on that promise and then some. Even most of the stepped tread block edges remain.
Even Wear At (Primarily) 65 PSI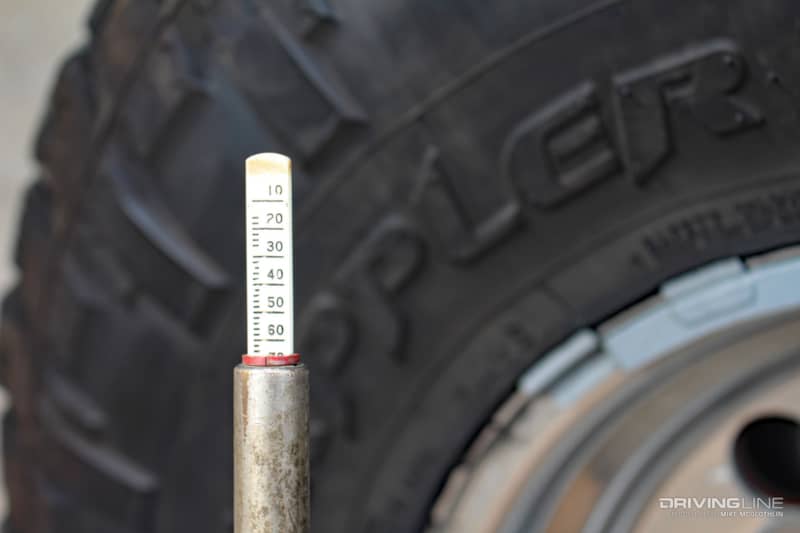 While the Ridge Grapplers are aired up to 75-80 psi prior to attaching the F-350 to a 10,000-pound tandem axle toy hauler or dumping a ton of rock in the bed, for lighter loads and daily driving duties they're inflated to 65 psi. With ride quality and tread wear seemingly optimized at this inflation pressure, it's likely where it will continue to stay. Regular rotations and checking inflation pressure monthly (sometimes even bi-weekly) has also likely contributed to the aforementioned consistent wear.
Tread Depth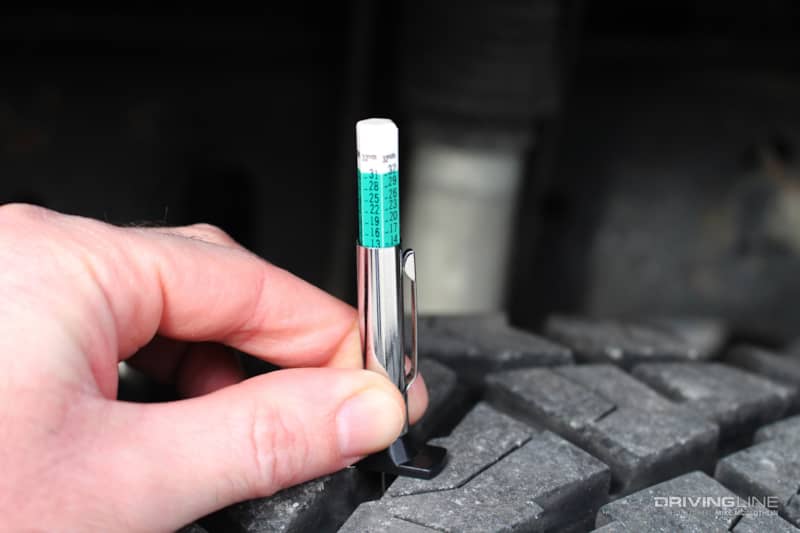 Back in June of 2020, tread depth per our trusty Godeson tread depth gauge checked in at 13.5/32 inches. Now, more than a year and a half later it reads 13/32 inches. We would consider this wear rate normal if not better than average, but even better than the Ridge Grapplers' apparent wear resistance is their uniform wear across the width of each tire.
Towing Stability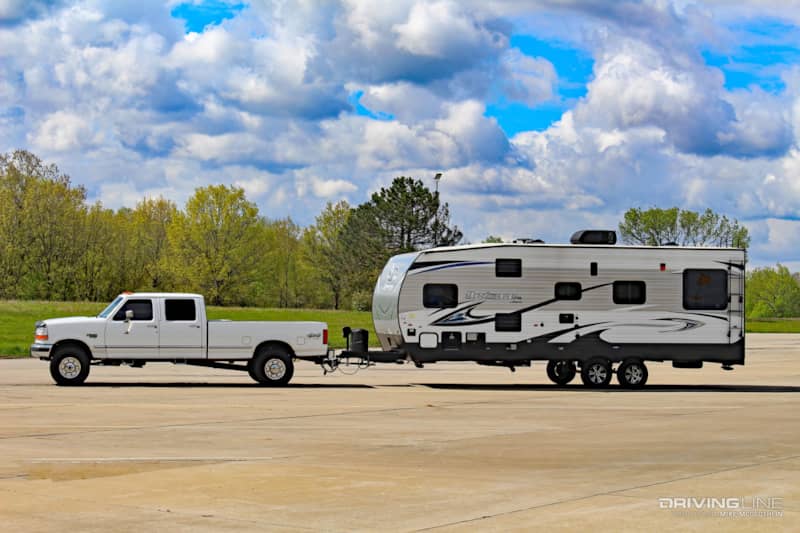 Just like the N speed rated, radial trailer tires we run on the Jayco, we invested in a truck tire more than capable of handling a substantial workload. Lugging this 31-foot wind sail is the most formidable task the truck is handed, but with the Ridge Grapplers inflated to 75-80 psi, the trailer tires aired up to the same pressure and a weight distributing hitch in the mix, the tow vehicle never feels unstable—even in moderate cross winds while traveling 70-75 mph.
Daily Driven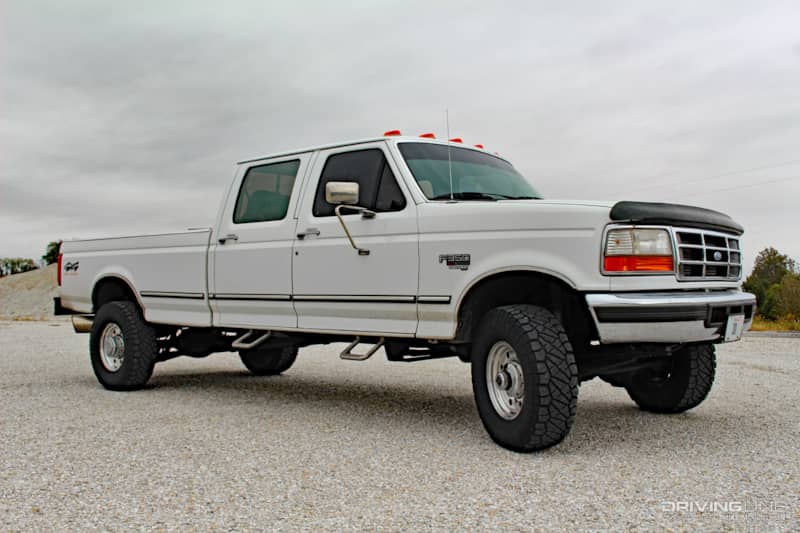 While accumulating 11,000 miles in three years doesn't exactly scream daily driver, the truck does still see its fair share of everyday use when the weather is fair. However, it's always on call when the weather goes south. That means it's pulled out of its winter hibernation anytime snow hits the ground or when four-wheel drive is required. In each of those instances so far, the Ridge Grapplers have performed very well. Pulling recovery duty their first winter aboard the Ford, they never let us down.
11,000 Miles Down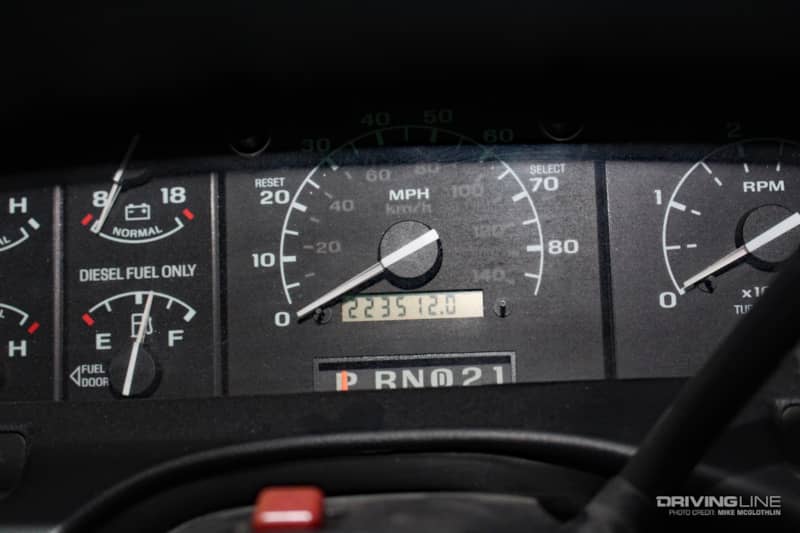 Having tacked 11,000 miles onto the odometer with the Ridge Grapplers under the truck, fuel efficiency remains roughly 1-mpg improved over what it was with a set of dedicated mud terrains in place. And while the difference between 15-mpg and 16-mpg (empty) is trivial to most truck owners, the fuel efficiency we gained in switching to Ridge Grapplers is yet another reason to justify purchasing another set. Combined with the Ridge Grappler's wet-weather performance, its quiet ride, stability and fuel efficiency, we might just run this tire indefinitely.
Regular Tire Rotations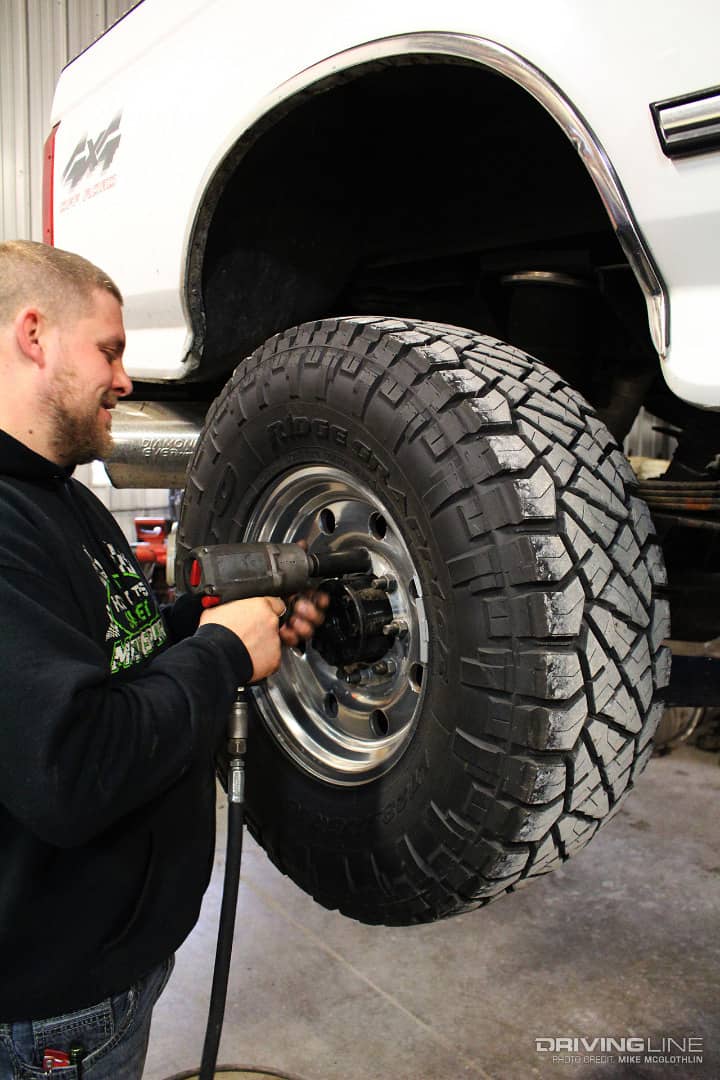 When rear brake work brought the F-350 into the shop with 4,000 miles on the Ridge Grapplers we decided to go ahead and rotate them at that time. At 8,000 miles we performed our second rotation and now we're slowly inching toward a third. Based on what we've seen between 4,000-mile rotations and regular pressure checks (along with an inflation check after each rotation) thus far, we plan to get at least another five years of solid service out of Nitto's hybrid terrain.
More From

Driving Line
For us, the Ridge Grapplers are more than just a link between the truck and the pavement. During the summer, our E load range hybrid terrains make it possible to camp, ride and enjoy the great outdoors safely. You can read more about that 

here

.