Nitto's New 38-inch Trail Grappler: The Perfect Jeep Wrangler Tire Size?
The Jeep Wrangler is one of the most aftermarket supported vehicle there is. With tons of suspension kits and lift options available it is easy to run just about any size tire you want on a Jeep. Plus, all the high-line, high-clearance, fender options that enable huge tires with minimal effort. However, there is a lot more to running bigger tires than just suspension and fender clearance. Gearing, brakes, steering, driveshafts, axles, etc., all come into play depending how big of a tire you choose.
So what tire is best for a Jeep Wrangler JK or JL?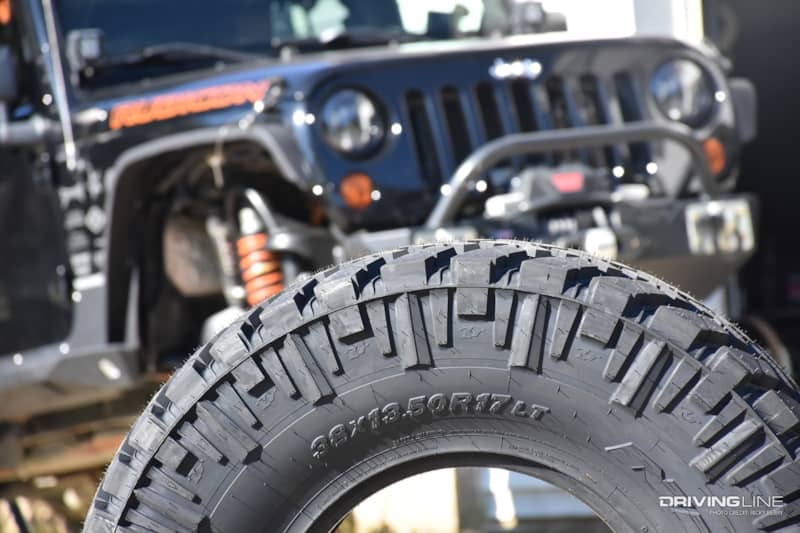 Bigger Looks Better, But at What Cost?
Hard to argue that a 40-inch tire on a 17-inch wheel doesn't look about right on a 4 door Jeep JK or JL, or even the new Gladiator JT. A 3.5" lift, some wheels, maybe some fender mods and you can slap a set on.  However, unless you're happy just cruising around the mall, you're going to need to do a lot of additional modifications to get the proper performance out of the Jeep as a whole. Now, the 37-inch is really the more common choice for the average Jeep to cruise some trails. You'll still need to regear and upgrade axle shafts and some other minor components for off-road, but you can get by without going to 1-ton axles and hydraulic-assist steering. The catch, they just don't quite have the look of the big 40s, right?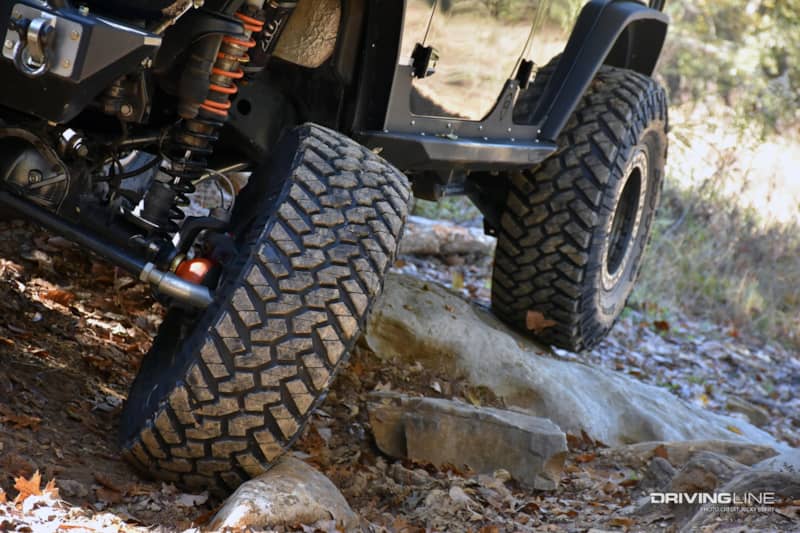 Nitto's New 38-inch Trail Grappler Tire
Fortunately, Nitto just launched the new 38x13.50/R17 Trail Grappler. It roughly measures 1.125" taller than the 37 version, and weighs 21lbs less than its 40-inch version. It comes in a load range D, which is an 8-ply sidewall design rated for 3,195lbs. That is more than enough for the average Jeep, providing a tough sidewall and minimizing any concerns regarding punctures. This new 38 could arguably be the best all-around tire for the Jeep Wrangler. Large enough to make big off-road obstacles seem a little smaller, but light and nimble enough to cruise the trails without stressing too many components.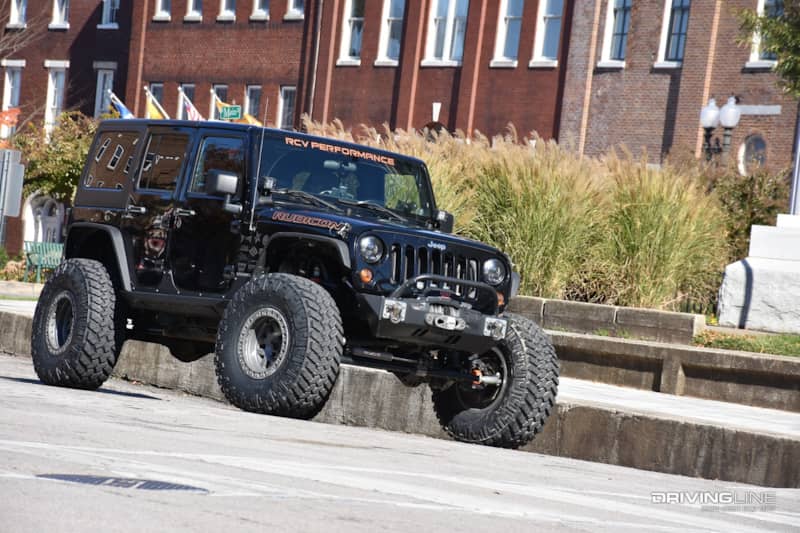 The Trail Grappler is already one of the best options when looking for a mud terrain tire anyway. The dual-sidewall design Nitto offers for the Trail Grappler allows you to choose your preferred style. The tire is engineered to be as aggressive as possible for off-road, yet relatively smooth and quiet on-road when compared to other M/T tires. Additionally, Nitto tires are well balanced from the factory, and usually require far fewer (if any) weights to balance them.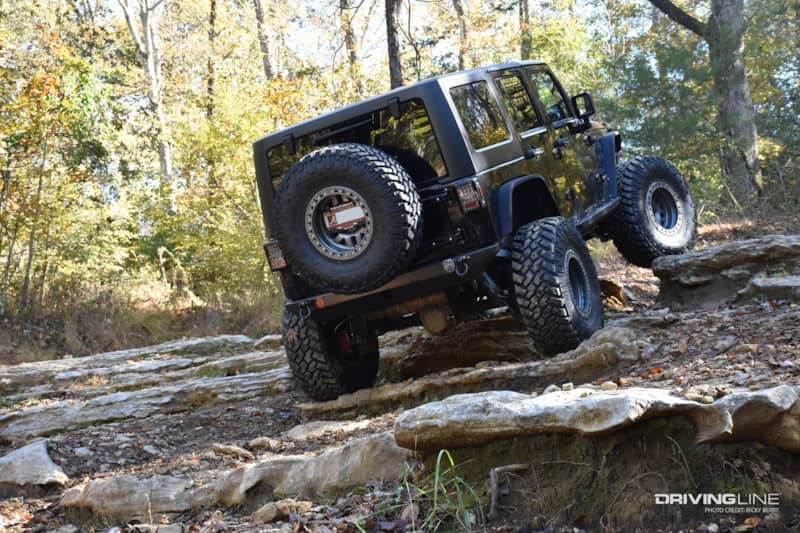 Hypothetical Example of a 38" instead of a 40" Tire
Hypothetically, say you have a Jeep JK Rubicon with all the best parts short of swapping out major components. Long-arm suspension, 5:38 gears, RCV axles, upgraded brakes, 1350 drive shafts, hydraulic-assist steering, etc. A 40-inch tire can push the limits of those components if you're wheeling some tough trails or an aggressive driver.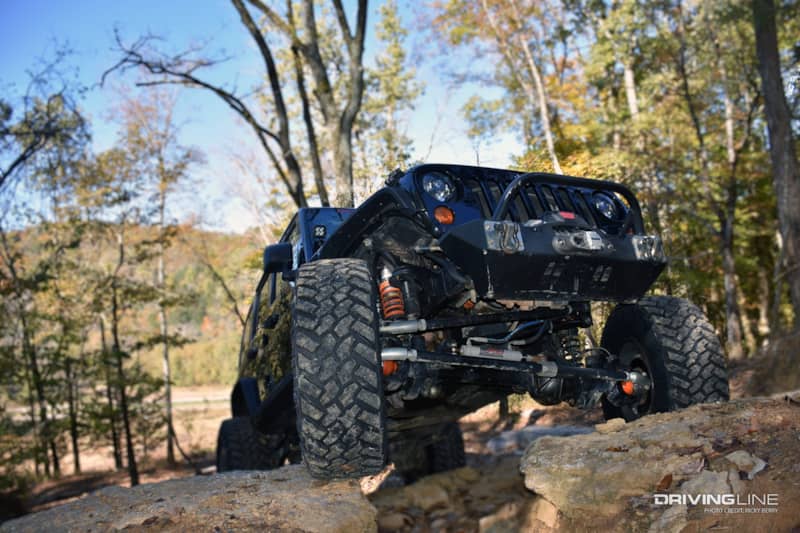 Even if you're just cruising the roads, the little minivan motor pushing a brick-shaped Jeep down the interstate can struggle and potentially be hunting gears trying to maintain speed on 40-inch tires. The 38-inch Trail Grappler will help all of these concerns, while still looking the part and functioning very well off-road.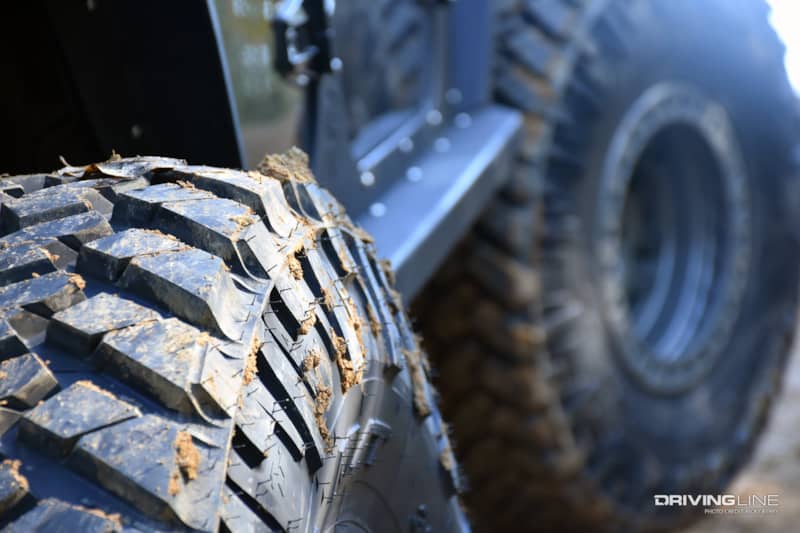 Ultimately, the Jeep Wrangler is such a versatile off-road platform that it can accommodate any size tire you'd want, and drive it accordingly.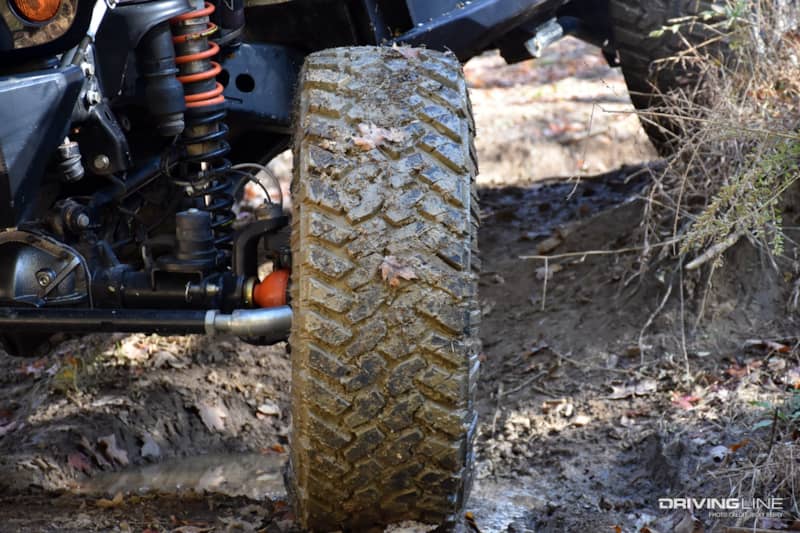 There is nothing wrong with a mild build on 33s, or over-the-top on 42s! For me, based on experiences from driving a Jeep JK Rubicon on 37s and 40s on-road and off-road, in conditions from the muddy, rocky trails of the southeast, to the incredible traction of Moab Utah, the new 38-inch Trail Grappler is the new tire of choice for this Jeep hands down. It looks good, helps the on-road drivability, and performs exceptionally off-road.