Off-Roading Moab Rim Trail by Jeep | On the Trail
Moab Rim Trail is many things. A kiddie ride at Chuck E. Cheese isn't one of them. This month, On the Trail tackles Moab Rim Trail with two Jeep JKs and a Jeep TJ, courtesy of Austin Stobaugh, Courtney Schipper, and Jeremy Ricks.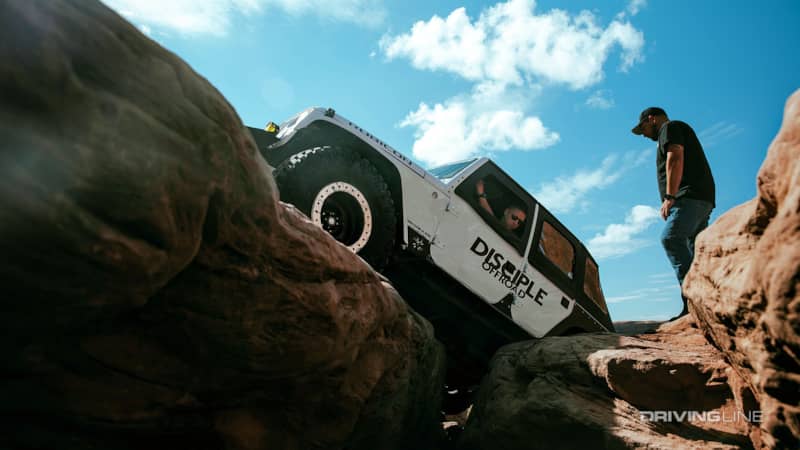 Moab itself is obviously known for its scenic rocky vistas and the off-roading that comes with them. You'll find a variety of trails to explore for any skill level. That said, Moab Rim Trail isn't recommended for newbies or the faint-hearted. As you'll see in the video, even hearty pioneers in the Old West steered clear of the Moab area, skirting it on their way to California during the Gold Rush. Think about that: the people who braved the unknown armed only with muskets and hope looked at this place and said, "Oh, hell no. Let's go 'round this thing." (Click here to watch the video)
Nuclear Option
Fast forward to the 1940s and the post-WWII era. Uranium is all the rage as the US and the Soviet Union ramp up the Cold War. It seems that everyone who's anyone wants uranium to build up those trendy new nuclear deterrents to discourage rival powers from going to war. The discovery of uranium in the Moab area leads to a new "gold" rush and with it, the need to traverse all of the rocks in the area. Another side effect of World War II was an almost endless supply of surplus Jeeps. The rugged little vehicles proved invaluable in finding the uranium and the rest is, as they say, history. The Jeep found its home here and in the decades since off-road enthusiasts have flocked to the Moab area to take on what it has to offer just for the sheer thrill of doing so.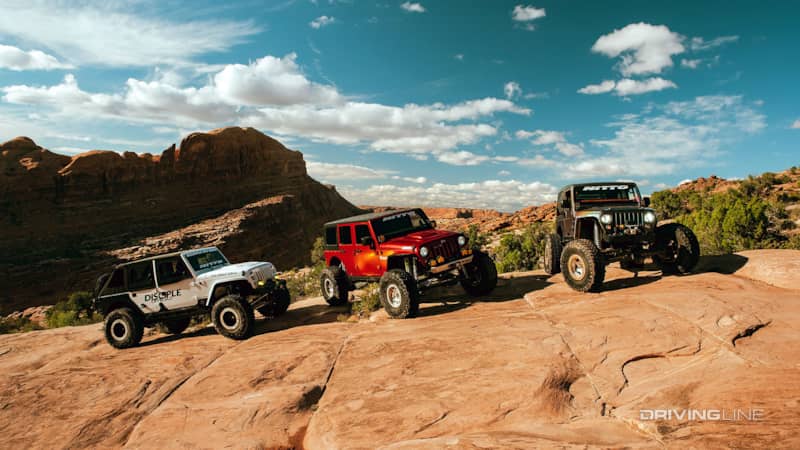 Carbon Off-Road's Austin Stobaugh (@carbonoffroad), Courtney Schipper (@justagirlandhertj), and Disciple Off-Road's Jeremy Ricks (@discipleoffroad) drove out the Moab Rim Trail to take it on directly. Staging from the trailhead, they spent a great day exploring this mixed-loop trail and it was especially exciting since it was the first time hitting this trail for all three of them. The trail itself is also popular with hikers, mountain bikers, and traffic going the opposite direction, so you'll want to keep an eye out while you navigate it.
Rough Riders
Moab Rim Trail being a pretty tough ride, we brought three equally hardy Jeeps for the job. Courtney brought her stretched 2002 TJ and Austin came out with his 2009 Jeep JK on a completely custom suspension with Dana 60 and 70 axles underneath it. Both pack 40-inch Nitto Trail Grapplers.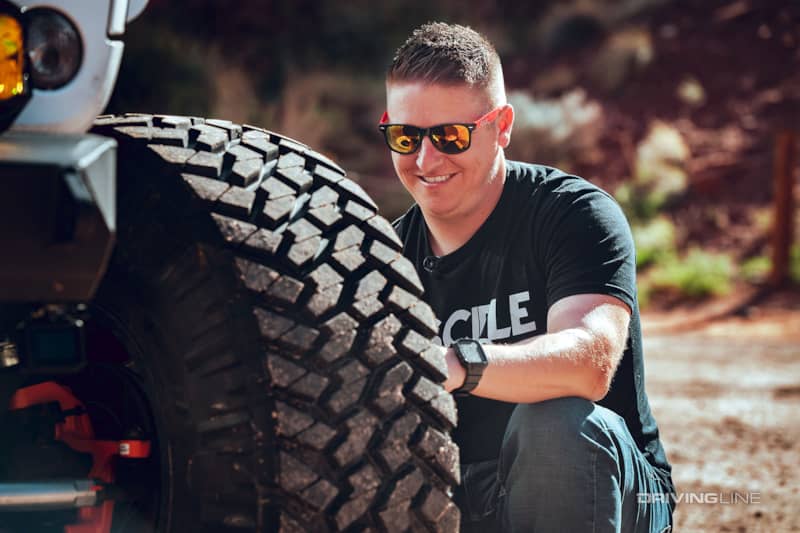 Jeremy brought a 2014 Jeep JK Rubicon with an Evo coilover kit, Evo armor, PSC Hydro assist, and RPM Steering axles to bear on this trail. He's running on the new 38-inch Nitto Trail Grapplers. They're a bit larger than the more traditional 37-inch version without having to bump up wheel sizes like he would if he went up to 40-inch tires. The 38-inch tires let him retain his 17-inch wheels while giving him more sidewall over the 37-inch versions he had before. Moreover, the 38 is a 1350 mm wide tire versus the 37's 1250mm width. That means a little more traction on the ground and a bigger sidewall on the same size wheel as before.
All Kidding Aside
After airing down, it was time to go to work. Our crew wasted no time and neither did the trail. Almost immediately, you'll run into your very first obstacle. As Courtney took note, "This trail is no joke."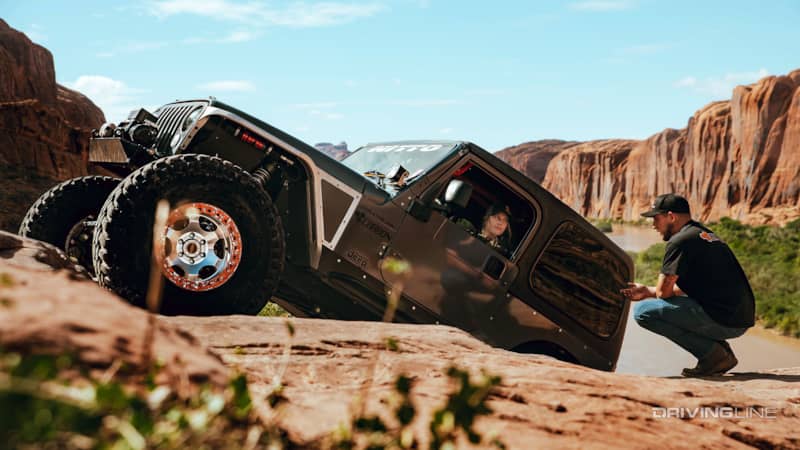 They were still within spitting distance of the trailhead when they stopped to plan their attack on the first climb. Moab Rim Trail grew up on a steady diet of cliffs and rocks. Both will challenge you in abundance here. Moab Rim Trail is rated a seven but trail ratings, like the pirates' code, are more a set of subjective guidelines than actual rules. As sevens go, this one falls on the rough side. Doing your homework before heading out to a trail is always best but that's especially true with a boss-level challenge like this one. Getting advice from local off-roaders is a good idea too.
What's Crackalackin
Moab Rim promised terrific views ahead for our intrepid explorers but first they had to mount the Devil's Crack. It's one of the first obstacles on this trail and also one of the most difficult.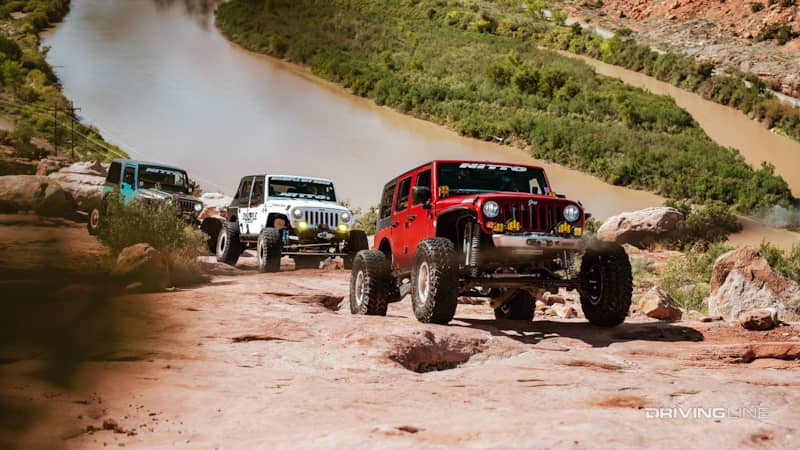 Our overall plan was to tip-toe through the trail since none of our team had ever been on it before and obstacles like Devil's Crack were the reason for that. It's the evil love child of a turning climb with an off-camber shelf. Austin guided Courtney and Jeremy through the first obstacle and aside from getting Jeremy's rear tire to wedge up at one point and Courtney having to power through a ledge, the sailing was pretty smooth.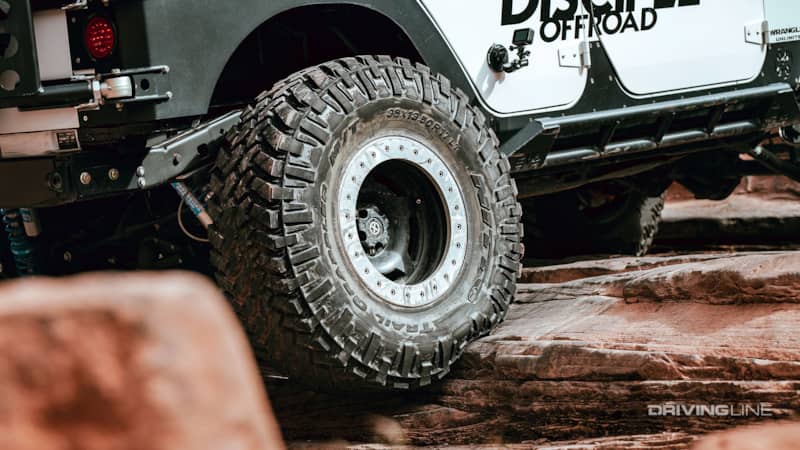 One upside to a hard trail is that not everyone gets to enjoy it. When you top a gnarly obstacle and get a chance to check things out, you're being rewarded for conquering the beast that kept you from it. Moab Rim Trail does this more than once. Cliff views are common currency traded for hard work here but you'll also get a good scenic look at the Colorado River as it winds along its 1450-mile path to the Gulf of California far away.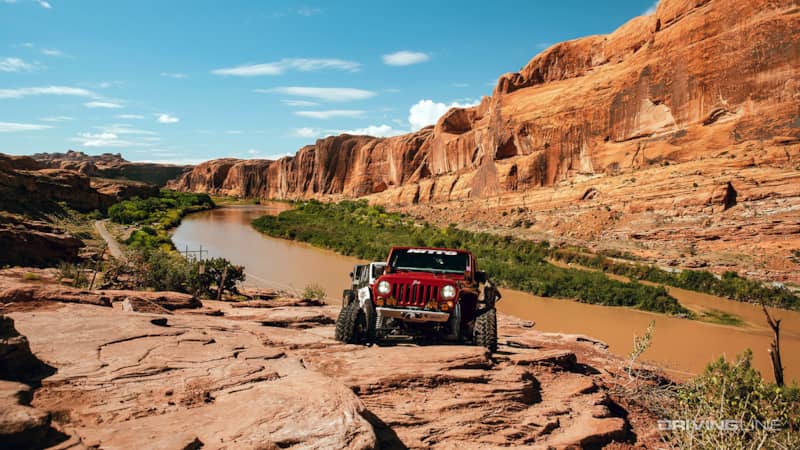 World War Z
After winding their way up along all of this desert beauty, the group arrived at the base of the Z Turn. While not nearly "The Devil's Crack" in the creative name department, Z Turn describes it to a "T." It was time to walk the line and as Austin says in the clip, you want to note where you're tires are going to go, what gives you the most traction, and the signs of what paths others chose before you when choosing the right path to take over an obstacle. Setting yourself up for the next part of the obstacle before you get to it also really helps in a zig-zag like this. The Z Turn is also off-camber and has plenty of holes so take it slow unless you want to roll over and ruin your day. If you plan on hitting Moab Rim, bear in mind that 37-inch tires are the recommended minimum size.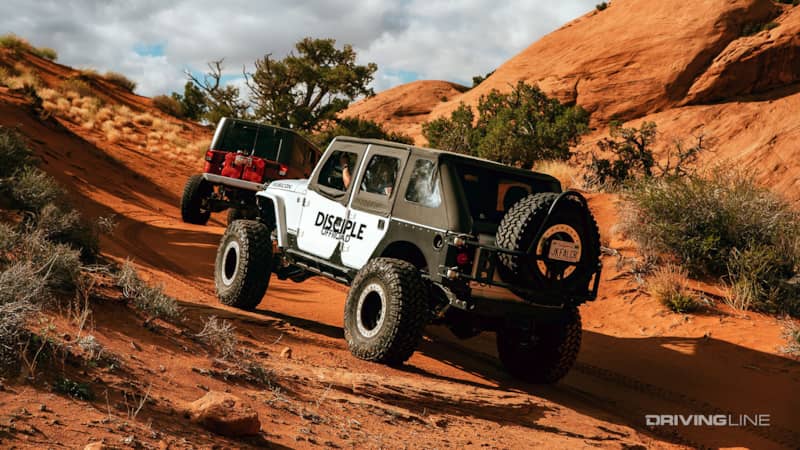 And This is My Boom Stake
It's trials like these that show you just how hard Charlie Steen and his trusty army Jeep had it after the war when he searched them thar hills for uranium in the late 1940s and early 1950s. The man was solid determined to find his fortune here and in 1953 fate rewarded him for his perseverance when he discovered the Mi Vida lode near Moab. The boom was so good Charlie went from a tarpaper shack to a $250,000 mansion in Moab proper. It still stands and is now a local restaurant, The Sunset Grill. Although the uranium boom only lasted for twenty years or so, Jeeps still prowl the rocks and hills here but now for off-roading instead.
Backtracking
Brave the harsh front end climbing at the start of Moab Rim and you'll eventually get to the tamer backside of the trail. After meandering through the red-tinged rocks and sand we got to Tire Test Hill. It's an optional part of the run where you go up, stop halfway on the line at the steepest part of the hill, and try to start again while you're on that part. Like the name says, the idea is to test how much traction your tires have on these rocks. If you're not feeling it, there's a line on the left that you can take instead. The two paths meet back up on the backside beyond. Guess which one we chose?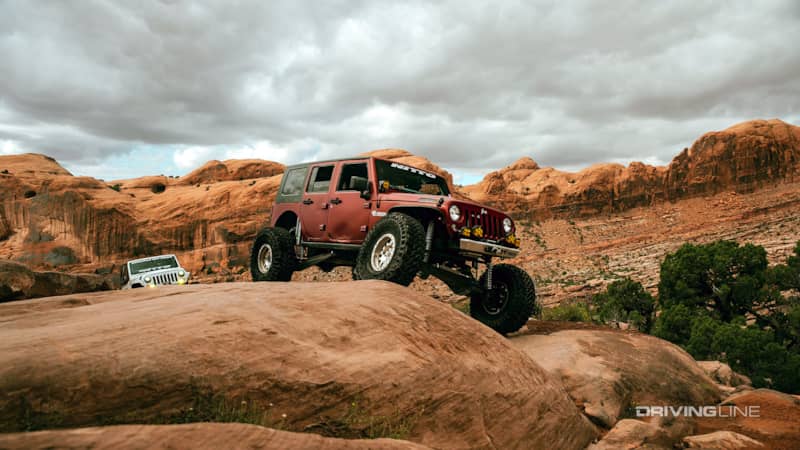 Nope, we actually took both. Courtney chose the alternate but Austin and Jeremy wanted to see just how well their Nitto Trail Grapplers would handle the test. As Austin put it, "Nothing! Not even a chirp!" Everyone made it through nicely and smoothly, then linked up for the next leg of the trip.
That would be a series of little hot tubs of water created by recent rainfall. Large tires and high clearances came into play here making the trip that much easier over the wonky angles in play. Water meant wet sand and at one point the boys had to back up over an obstacle before moving forward because of it. But not Courtney. She just blazed her way through it in one shot.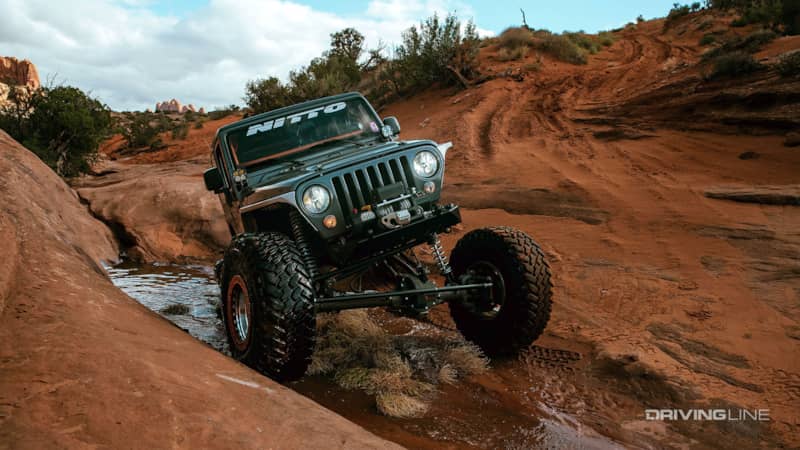 Things got a little iffy on the home stretch, though. At this point you'll find yourself incredibly close to the cliff's edge on the way back down to the trail head at the end of the loop. But a cool head and a slow crawl will get you through it.
Final Thoughts
Off-camber might be the best way to describe Moab Rim. The changing angles can be disorienting and confusing; level becomes a subjective term out here. Jeremy says it was a blast but that it also put him out of his comfort zone a little bit.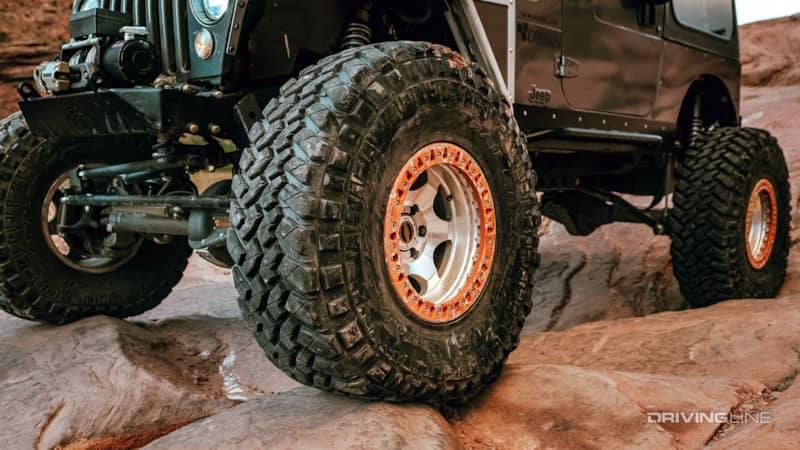 Maybe not as much as it put Courtney out of hers, though. Not only did it test her skills, she's also afraid of heights (of which there are many here). Between the ledges and the off-camber angles, this is a tough trail but taking your time and driving with a group you trust can be the difference between a great day and a tragic one out here.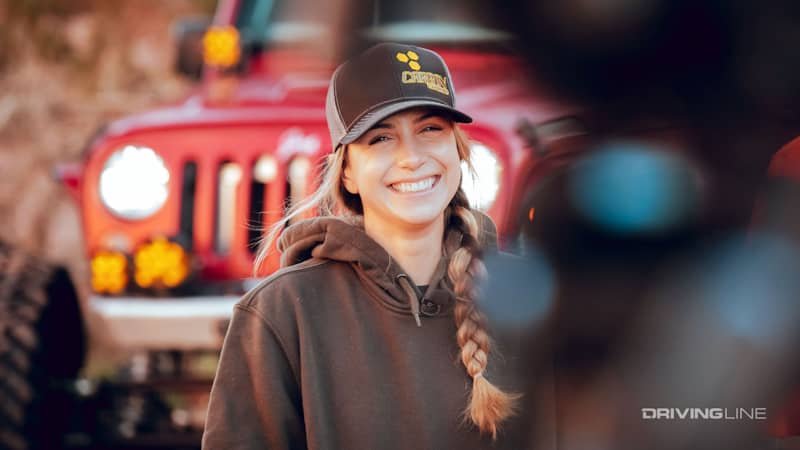 Courtney recommends large tires and lockers out here but Jeremy may have summed it best: "Anybody can go out and build a big Jeep but we always recommend you at least get some seat time and get some experience with that vehicle. Just because it's built up doesn't mean that you as a driver are capable of handling this trail." Watch more On the Trail videos on our YouTube channel.