Old-School Diesel Swaps (Including a 3,000HP Supercharged Duramax Hot Rod)
In case you were wondering…diesel swaps are still "in." As word continues to spread that oil burners provide unmatched reliability, tremendous horsepower potential, gobs of torque and go about their business extremely efficiently, the upsides of going diesel are no longer being ignored. From a Duramax-powered '50 Chevrolet 1.5-ton work truck to an off-road-ready '49 Power Wagon to a 3,000hp supercharged, all-billet Duramax hot-rod, this diesel swap special showcases the wide range of applications compression-ignition is being used for. From homebuilt to high-dollar, these diesel conversions were executed to perfection.
1950 Chevrolet Pickup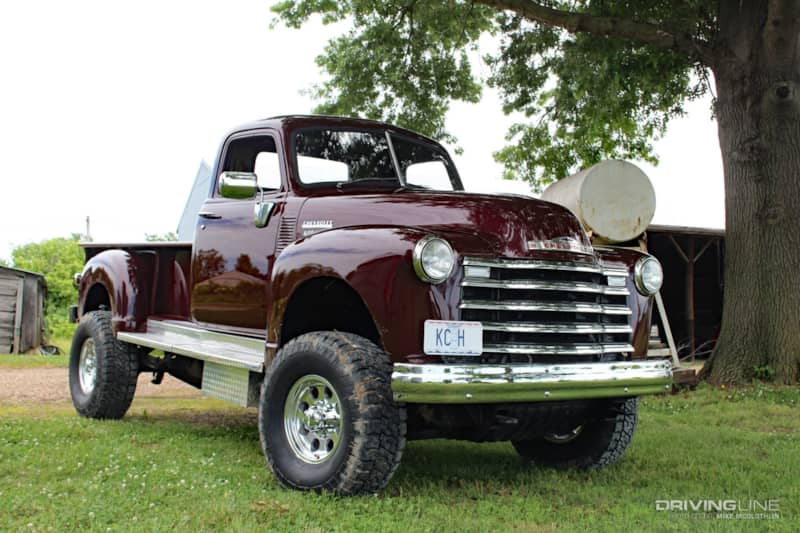 Built over the course of roughly two years with the help of his son, his son-in-law and patient wife of more than 40 years, Phil Prinster now owns one of the more unique work trucks in eastern Missouri. For years, Phil didn't quite know what to do with the 1950 4100 model Chevrolet he'd acquired. Then a plan was hatched to bring it back to life with diesel under the hood and all the heavy-duty hardware that needed to go along with it. After obtaining a wrecked '06 Chevrolet Silverado 2500 HD, the frame, axles, transmission, suspension (including IFS) and LBZ Duramax V-8 were used.
Allison-Backed Duramax and 4x4
No cutting was required on the firewall to get the 6.6L Duramax to fit, but the radiator in front of it had to be relocated. Engine integration was aided by the folks at nearby LinCo Diesel Performance and a Standalone Solutions wiring harness, which even brought fully functional cruise control to the table. LinCo also added a single EFI Live tow tune for a few extra ponies. A two-inch body lift was required to clear the Allison 1000 transmission's bellhousing and the wrecked '06 HD also donated its NP261XHD transfer case and floor shifter.
Subtle Interior Updates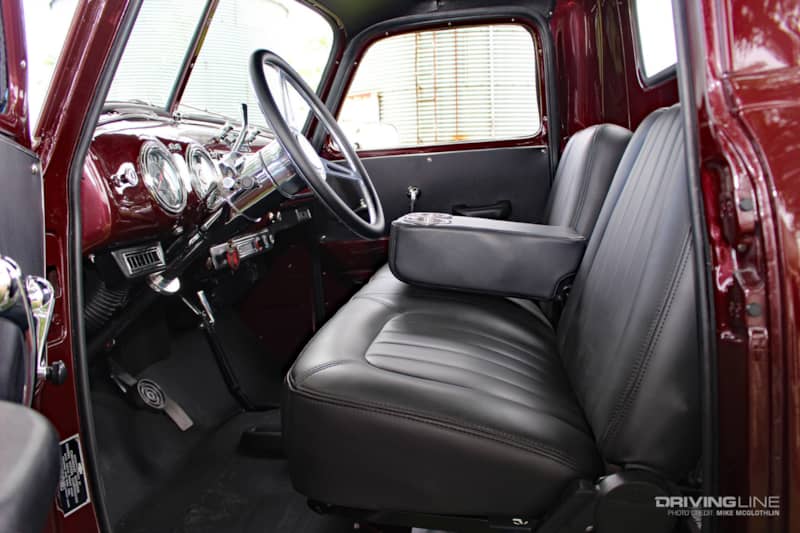 The old Chevy's interior was modernized a bit thanks to a Vintage Air A/C system and cab noise was reduced using Eastwood's X-Mat sound dampening. A Glide Engineering seat frame with underseat storage (and which can recline) was upholstered by JCAT Customs. A slidebar radio came from Custom Autosound. Other than the creature comfort updates, the classic look and character inside the cab has been well-preserved.
The Ultimate Power Wagon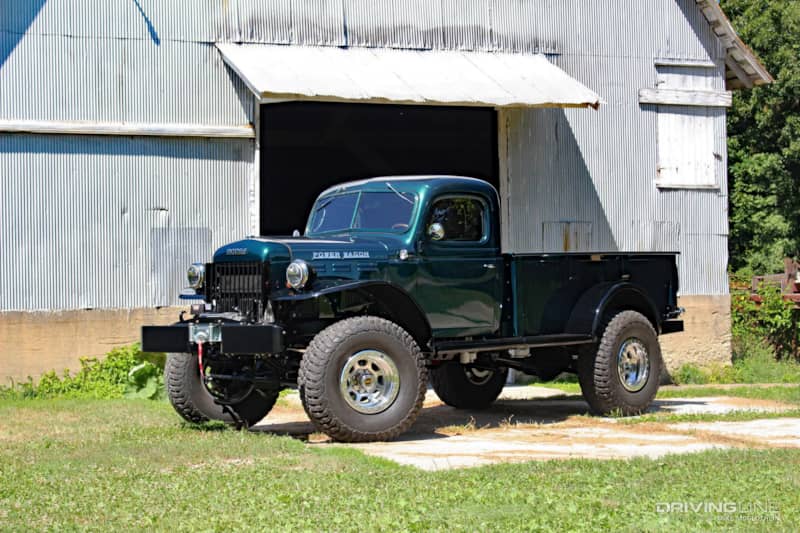 How do you make an original flat fender Power Wagon even more rugged? Squeeze a 6BT Cummins into place, combine a Dana 60 up front with a 14-bolt GM out back, juice things up to about 700 lb-ft and throw a 12,000-pound Warn winch into the mix. And how do you tame its tractor-like interior? You add weather stripping, power-adjustable seats, electric windows and air conditioning. That's exactly what the talented J.B.'s 4x4—a do-all shop located in tiny Kingman, Indiana—did for '49 Power Wagon owner Carl Van Rooy.
Fresh 5.9L Cummins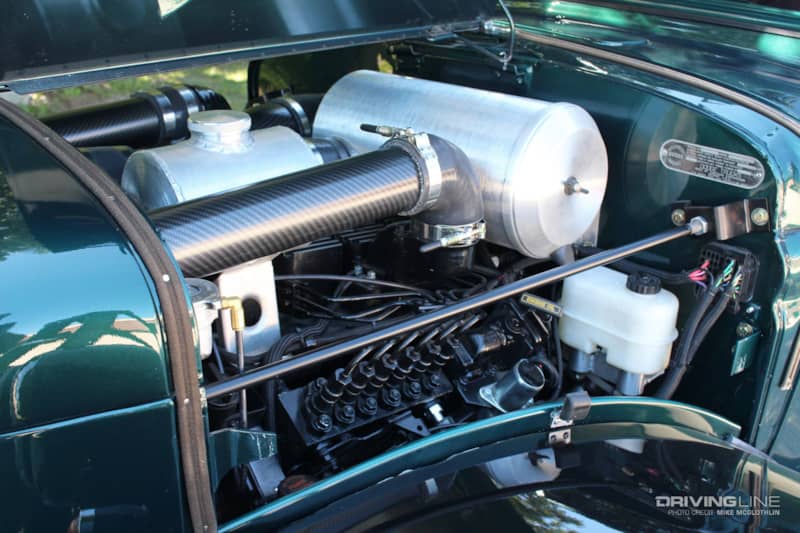 One look at the engine bay and it's obvious how much work had to be performed in order to shoehorn the 5.9L Cummins into place—especially since the original firewall is uncut. A custom-fabricated radiator and overflow tank, a compact intercooler and a top-mounted air cleaner were all required to pull off the conversion. The Cummins engine, pulled from a '96 Dodge Ram, was overhauled for a fresh start (along with a new cylinder head and 60-pound valve springs) and all the proper tweaks have been performed on the P7100 injection pump. A BorgWarner S363 SX-E turbo produces the engine's boost and also routes exhaust out a 3-inch downpipe, where it transitions into a baffled exhaust stack that's incorporated into the passenger side running board.
Primitive To Contemporary In The Cab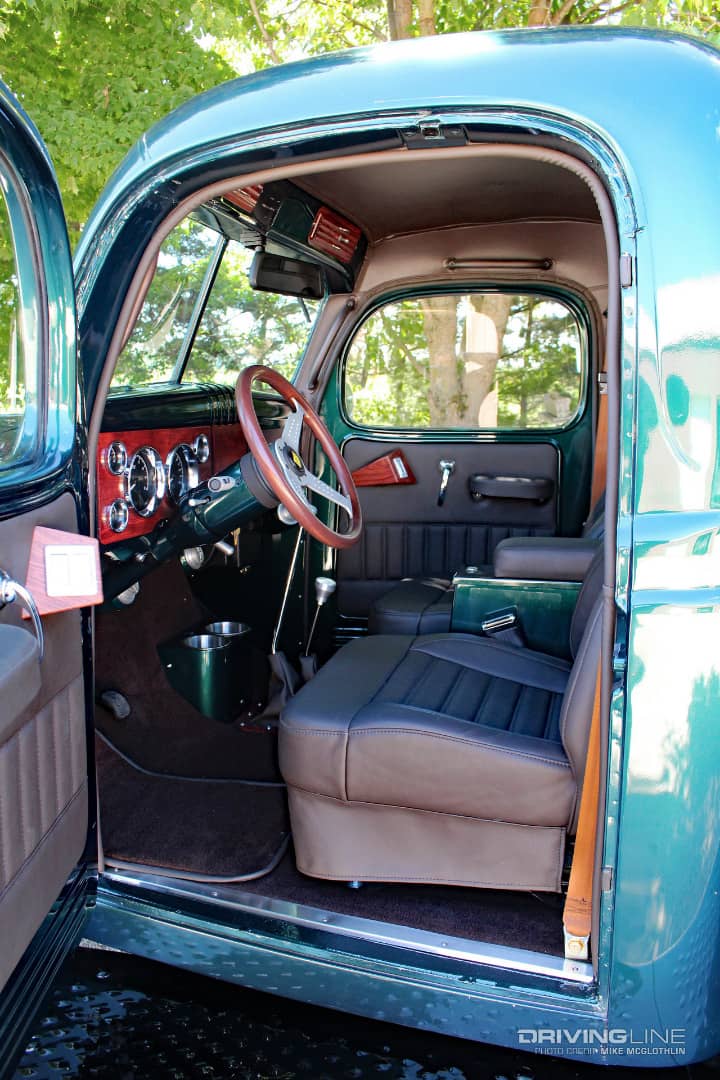 Bringing the 70-plus year old interior up to speed in terms of both comfort and functionality begins with 6-way power adjustable seats from WiseGuys (and upholstered by Don's Auto Trim). J.B.'s 4x4 built the gauge panel that accepts Dakota Digital gauges, the custom window switch panels (yes, the windows are electric), center console, and floor pan. An A/C system from Old Air Products keeps occupants cool and a Painless wiring harness makes cruise control possible. A Lokar shifter handles gear selection for the transmission, a reinforced version of the Chrysler 47RE automatic.
The 'Screwed Coupe'
This mind-blowing hot-rod was a huge hit when it was unveiled at SEMA 2017. The '37 Chevrolet coupe—a former Hemi-powered Pro Mod drag car—was built as a joint effort between Wagler Competition Products and EZ Lynk under the Critical Mass Motorsports umbrella. An exotic Duramax diesel with a blower and no turbo(s), a rare combination, the Screwed Coupe was designed and intended to draw attention—and that's exactly what it does. The coupe benefits from a Greg Risk Racecraft tube chassis, a Rossler transmission equipped with a Neal Chance converter and a Pro Mod 11-inch rear end from Mark Williams Enterprises. From head to toe, this car is top-notch.
Supercharged, 3,000HP DX500 Duramax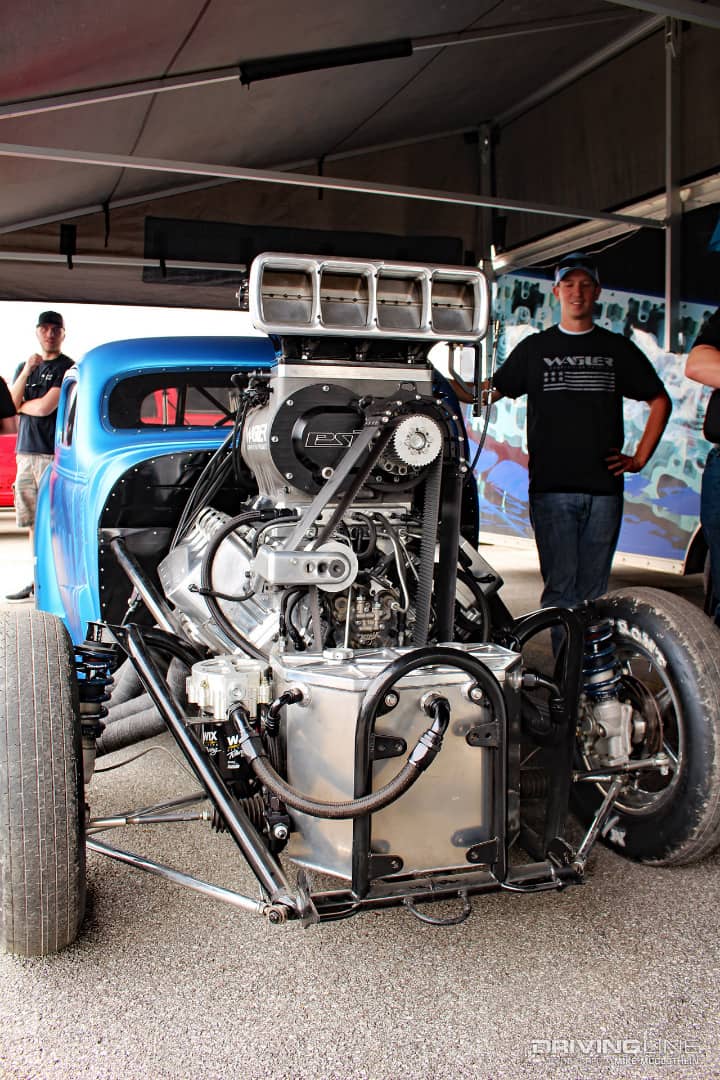 An all-billet DX500 Duramax from Wagler Competition Products powers the coupe and is a true work of art, but it's the massive PSI supercharger that turns people's heads 90 degrees. A mix of water-methanol is used to cool the blower and nitrous is utilized to drop intake temps. You have to understand that when this car debuted just over three years ago, this type of setup was virtually unheard of in the diesel realm. The industry is built around the use of turbos, and rarely does anyone combine the use of water-meth and nitrous oxide (for any reason), so this was a drastic departure from the norm. The zoomie exhaust is another touch uncommon to the diesel world, but that makes perfect sense on this hot-rod. It's positively killer.
More From

Driving Line
Need more Cummins? Click here to see a sand-roosting H1 Hummer, a 3,000hp sled-puller and the oddest four-wheel drive '85 Lincoln you've ever seen.