On the Trail: Off-Roading Wipe-Out Hill Trail with 3 Jeeps in the Rain
This edition of On the Trail takes you to Moab, Utah's Wipe-Out Hill Trail for a day of mud slinging and rock tackling sprinkled with rain and hail showers. Woohoo! (Click here to jump to the video directly)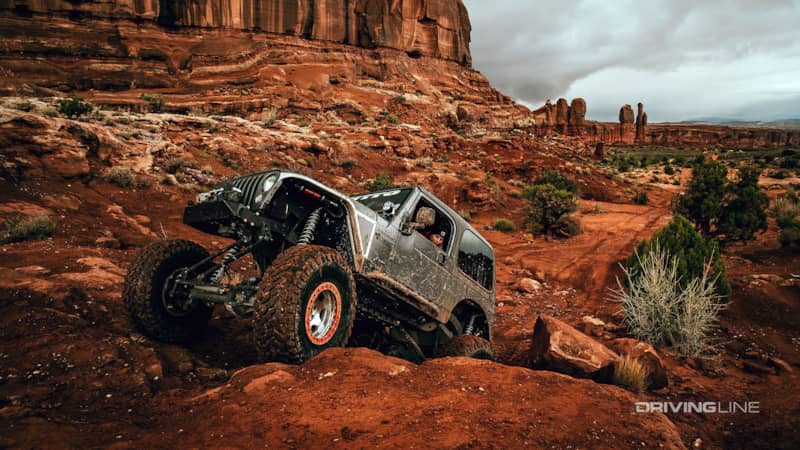 Today's Special Guest Stars
Our crew for this excursion consists of three experienced Moabers: Courtney Schipper of Carbon Off-Road (@justagirlandhertj), Carbon Off-Road's Austin Stobaugh, and Jeremy Ricks from Disciple Off-Road (@discipleoffroad). Between the epic scenery and trails varying from mild to challenging, there's a lot of enjoyment to be had with you and your friends.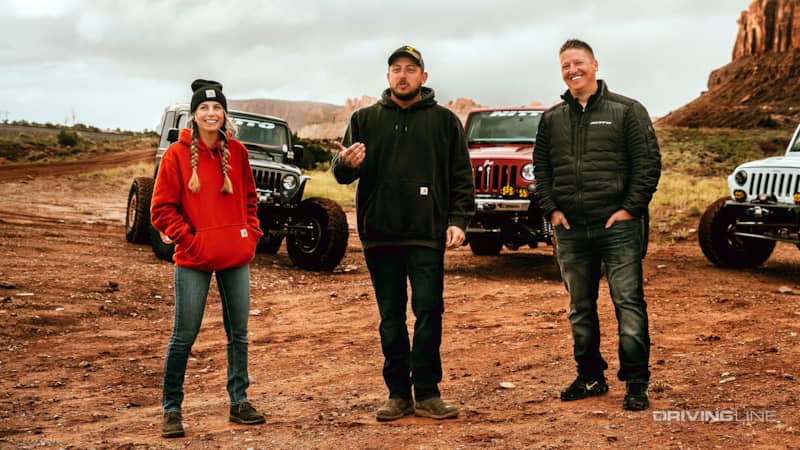 Mountain biking, sky diving, zip-lining, and more also await the adventurous out in the Moab area. Wipe-Out Hill Trail is a scenic, moderate trail under normal conditions, but the day we went didn't fall into that category. Rainy weather decided it wanted to come play too. Luckily, we had three great Jeeps for the job.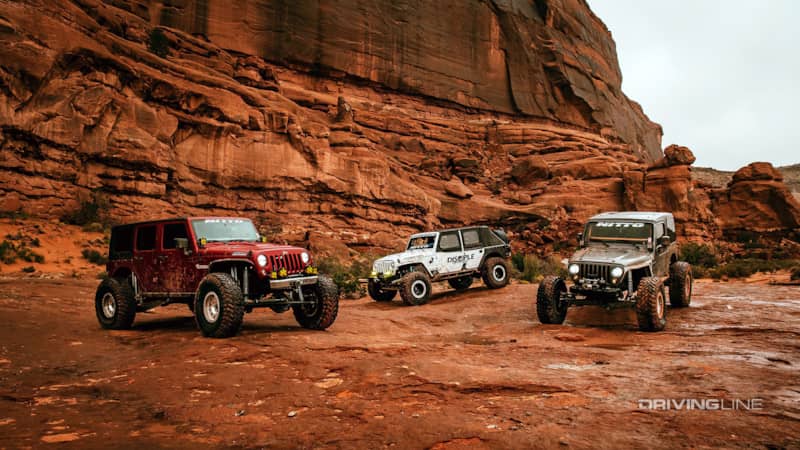 Jeremy brought out a 2014 Jeep JK Rubicon on an Evo Manufacturing coilover kit, Evo armor, RPM steering kit, and 38-inch Nitto Trail Grapplers. Courtney is packing her trusty 2002 stretched TJ on Dana 60s with 40-inch Nitto Trail Grapplers also. Lastly, we have Austin's own 2009 four-door Jeep JK. It's rolling on a completely custom suspension and has 40-inch Nitto Trail Grapplers just like Courtney's Jeep. With its aggressive mud tread design, the tire should be up to the challenge of whatever the inclement weather out in Moab throws at us for the day. 
The Adventure Begins
Seeing as how we had a break in the rain, it was time to hit the trail. All of that rain meant mud, even in the desert around Moab. Rocks were slick and wet, as rocks get when hit with a rain storm. Tires also tend to have less traction under these conditions and all of these things are challenges you'll want to be aware of in this sort of weather. But, as Austin counsels in the video, "Take your time. It's going to be totally different than when it's dry."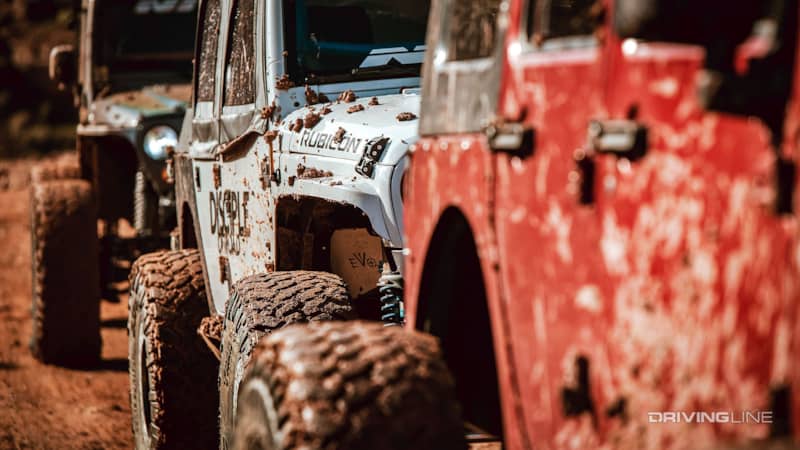 On that note, the team got underway. The Old Spanish Trail, which linked Santa Fe and Los Angeles way back in the 1700s, ran through Moab. And the first part of our journey followed some of that trail in the area. The rain had, in fact, muddied the terrain pretty well but there was some blue sky overhead at this point. All of that mud means going easy on the trail so as not to ruin it with ruts and the like.
For Jeremy, getting to Moab from Los Angeles was a long drive so he made sure to bring everything he'd need both to get here and then take on the trails. Grand County, Utah is a sparsely populated area consisting primarily of Moab (population: 5000); packing in what you need ahead of time is a wise choice. A full tool kit, spare parts, map, and first aid kit are always a good plan, as is a winch if you're anticipating less than ideal conditions. 
Break Like the Wind
A little bit later, our heroes took a break for a walk through Tusher Tunnel. It's an 80-foot tunnel 'twixt two rocks, formed by water seeping through a crack and dissolving rock over time. Think of it as a natural wind tunnel shaped like a triangle. When the trio got to the light at the end of said tunnel, they were rewarded with a view of some pretty cool rock formations on the other side. There are worse places to hang out!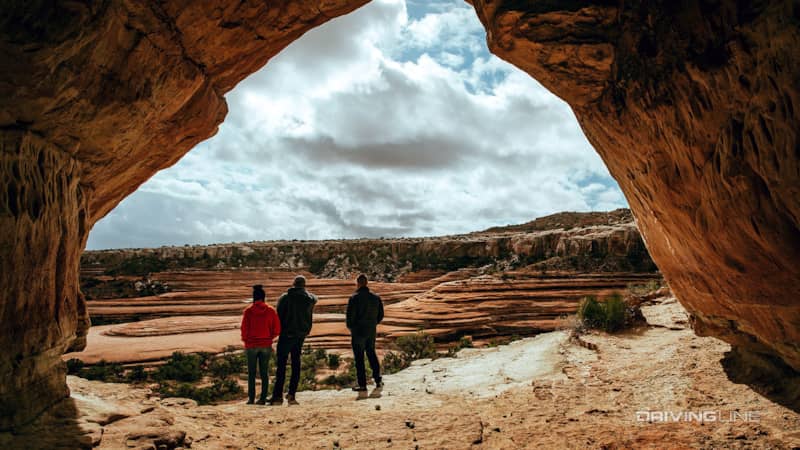 When break time was over, the group continued on over wet sand and puddles. One more thing you need to keep in mind near Moab is that the slickrock sheds water wicked fast during a rainstorm. Getting caught in a stream bed or other flashflood-y area on a day like this is a bad plan.
Luckily, Formation Tower isn't a stream bed because that's where we decided to ride out the hail storm that rolled in. The direction the storm was coming from was the same direction we had to go, which is why we waited it out and opted to keep going. As Austin says in the clip, they wanted to slip in behind the storm after it passed.
Down with the Slickness
When that finally happened it was time to keep going. All of that fresh rain meant plenty of wet rock and mud to roll over and through. Your best two times of the year for Moab are April and October but it's good to be prepared just in case. The balanced void ratios of the Trail Grapplers cleared mud from the tread as we rolled along while also giving us better traction in these conditions.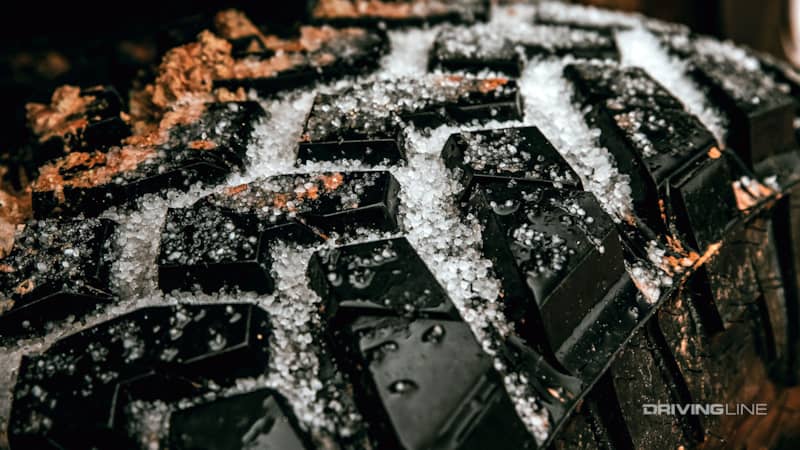 Right about this time we met the Ledge Hammer. It's a minor obstacle en route to Wipe Out Hill. Austin scouted it on foot to pick which of the three possible lines over it he felt was best. Not only that, his foot recon gave him an idea of what conditions would be like once the group got to Wipe-Out Hill itself. The straightforward line looked deceptively easy, though; slick rocks and mud forced us to bust out the winch to get passed it.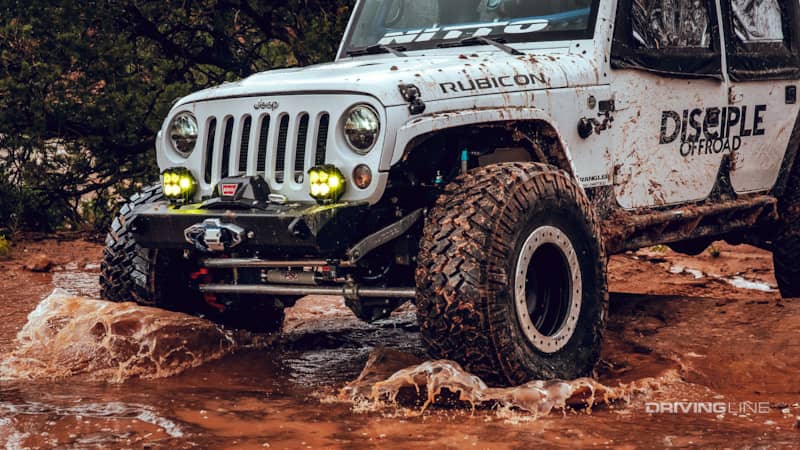 With the appetizers finished, it was on to the main course: Wipe-Out Hill itself. After the three drivers walked the path, they hopped back in their respective Jeeps and got down to business. The plan was for Austin to take point; if he got to the top and felt it was impassable at that point, Jeremy would winch him back. But Austin took it nice and slow, getting up and over while fresh hail pelted his Jeep along the way. Jeremy and Courtney followed suit with no problems. Part of that was because the latest round of hail didn't hit until the group had started up Wipe Out Hill while the rock was fairly dry. It wasn't until Austin crested the top that the hill started to actually get wet. From the look of things, all three drivers got over it just in time. At this point, it was pretty much a giant pile of slippery goodness, which is sarcastic speak for big ol' wet rock going up, big ol' wet rock going down. Austin wouldn't not recommend heading up Wipe-Out Hill in the middle of rain or hail showers for that reason. Timing is everything and theirs seemed to have been perfect for the hill.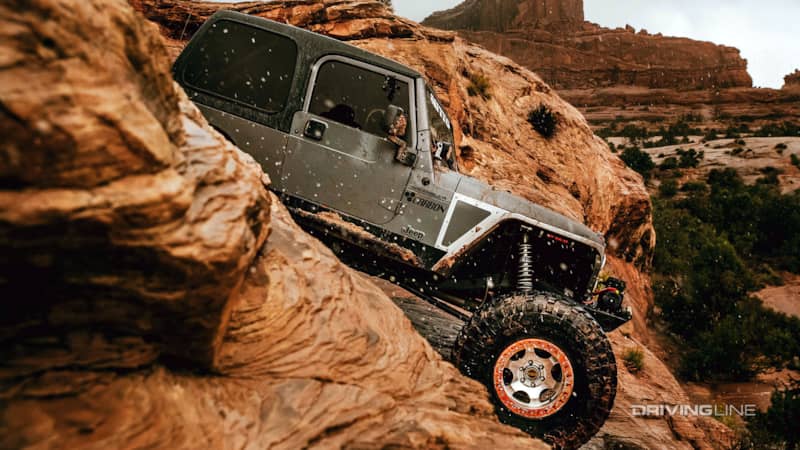 This day was no easy ride in the park. Between the rain, hail, snow, and sun, it offered a combo plate of weather conditions but because our crew came prepared for it and had experience working with the proper gear, there weren't any problems. Although the weather changed rapidly, they adapted just as fast and saw it through.