Patina Perfect: A Coyote-Powered '71 F-100 That's Just Right
The grandkids that inherited this '71 F-100 and promptly traded it in for cash wouldn't recognize it today. Unbeknownst to them, it never became scrap metal. Instead, it changed hands a few times before the folks at LinCo Diesel Performance discovered it while searching for their next project vehicle for longtime customers, John and Lisa Eilermann. The couple specified they wanted a Ford from their childhood, but a vintage-looking, reliable truck that runs as well as a new one. Something unique yet functional that Lisa could run up to town in, use around the farm and even take to the occasional car show. LinCo took over from there, turning master fabricator Tyler Turay loose on the project, which eventually exceeded the Eilermann's expectations.
One year after embarking on the ground-up build, a 5.0L Coyote V8 sits under the hood in a flawless engine bay, a Crown Vic IFS front-end offers a plush ride, a four-linked and coilover rear suspension means business out back and a subtly-updated interior boasts a Retro Sound head unit, a Vintage Air system and Dakota Digital gauges. The original body panels, badging, mirrors and front bumper remain, while a little wet sanding followed by a luminous finish help preserve the truck's Patina—effectively trapping the F-100 in time. From the modern powertrain to the 50-year-old bench seat, it's a perfect mix of old and new—and it's also one hell of a vehicle to catch a ride in.
Loads Of Character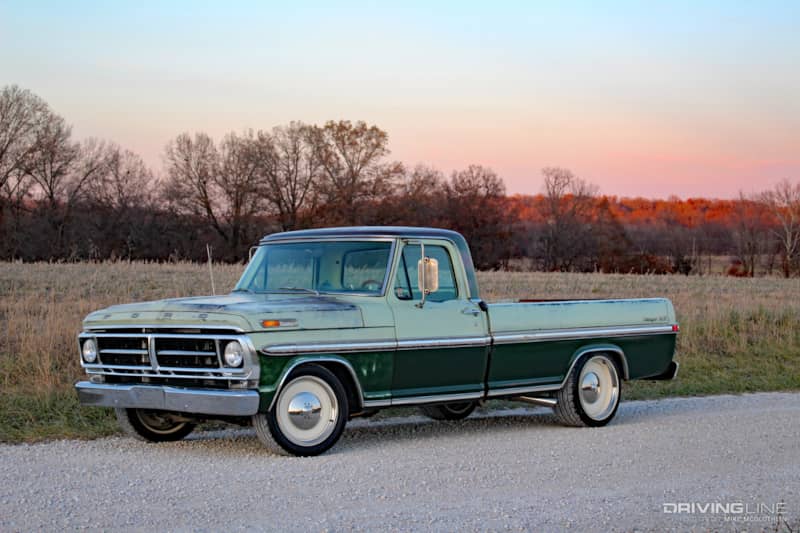 It's a long way from the old Arkansas farm it grew up on (in more ways than one), but Lisa Eilermann's F-100 is one of the more unique Bumpside Fords you'll come across. Much of the original truck remains, although the frame and factory 9-inch have been powder coated, but the bench seat, mirrors, badges, moldings and tailgate have all gone untouched. Already well-patina'd, the body was wet sanded from head-to-toe to remove all surface rust and then hit with a coat of Patina Sauce from Sweet Patina. The rust-inhibiting, water-resistant, luminous chemical polymerized to a hard finish and helped preserve the raw look of the truck's sheet metal.
Million Dollar Engine Bay
Plucked from a wrecked '18 F-150 with 126,000 miles on the odometer, this truck version of the 5.0L Coyote produces 395hp at 5,750 rpm and 400 lb-ft of torque at 4,500 rpm. The modular V8 features dual overhead cams, an aluminum block, aluminum heads and 12.0:1 compression. The engine was set in place using Outcast Autoworks' adjustable motor mounts, which work in conjunction with Crown Vic IFS-swapped trucks. The motor mounts also allowed for the engine to be positioned as far away from the Cold Case aluminum radiator as possible. The engine bay, fenders, firewall, hood hinges and core support were all powder coated black, which makes for an impeccably clean look under the hood. Nearby STL Mustangs fine-tuned the ECU.
Mustang Long Tubes & a Custom Exhaust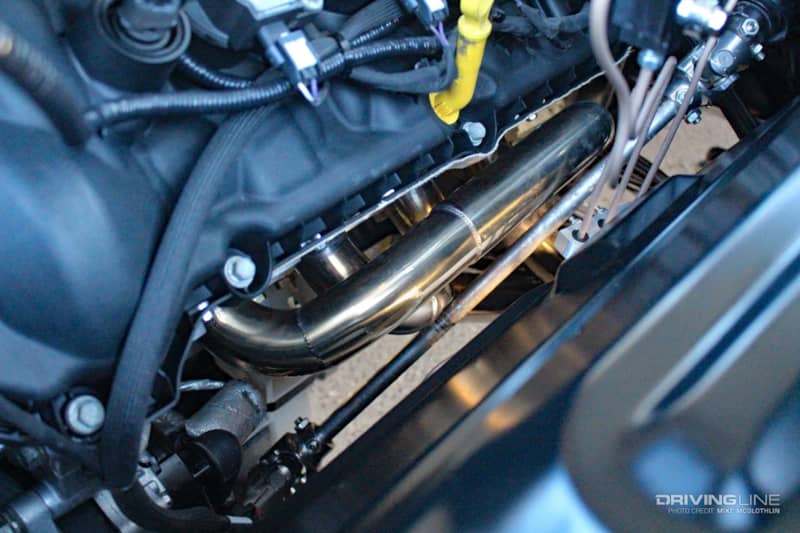 Freeing up a few ponies, a set of Gen 1 Coyote headers were installed, along with a 2.5-inch stainless steel dual exhaust system. The long tube headers called for some work on the driver side in order to clear the steering shaft. The exhaust system was fabricated by LinCo's Tyler Turay and was built around the use of an X-pipe intended for a Gen 1 Coyote. Small cats, expansion joints for flexibility and Vibrant mufflers also made it into the polished stainless steel exhaust system.
Preserving the Past While Enhancing the Present-Day Driving Experience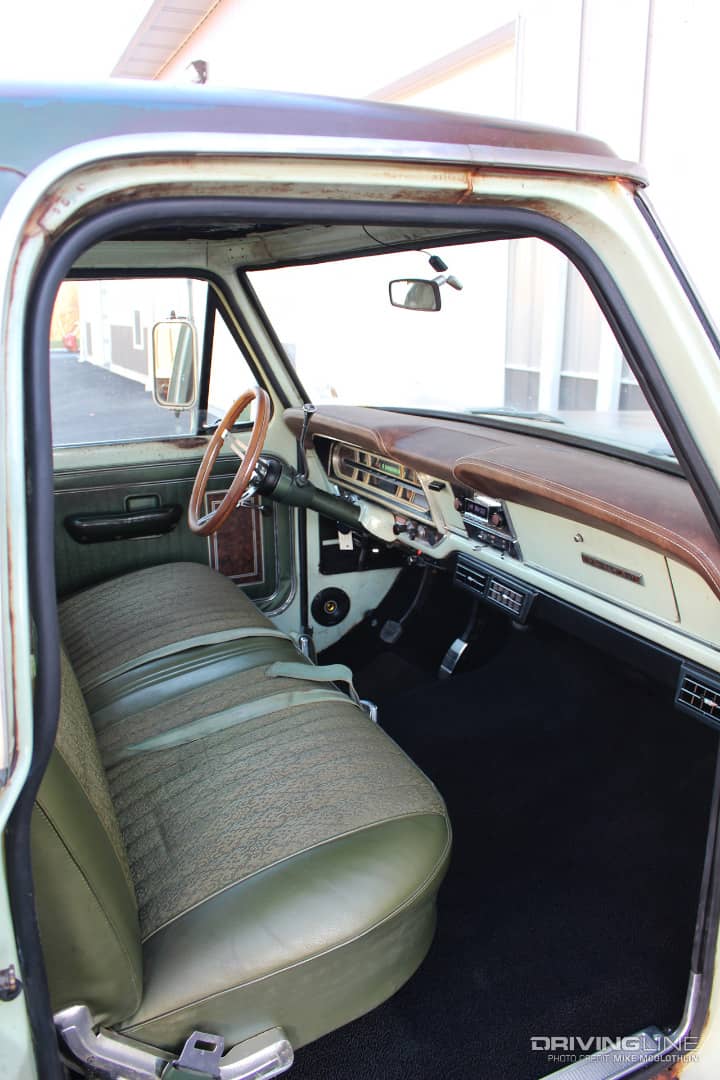 Without corrupting the classic look and feel of the interior, the folks at LinCo were able to add several modern creature comforts. Among them were a Vintage Air A/C system, four 4.5-inch speakers with a Retro Sound head unit and a custom dash pad (with a matching head liner and sun visors currently on the way). The cab floor was treated to new carpet, but the bench seat—which is in surprisingly great shape—remains 100-percent original. Over on the driver side, a Fat Fender Garage gas pedal mount made the use of the Coyote accelerator pedal possible.
Factory-Appearing yet Digital Instrumentation
Subtly modernizing the instrument cluster without altering its original appearances was pulled off thanks to a factory-appearing cluster from Dakota Digital. Fully-illuminated needles, backlit faces and highly visible LCD message centers make it the perfect upgrade for monitoring vehicle parameters. Even better yet, the only items that required wiring up were the fuel gauge, turn signals and the high-beam indicator. A GPS module is used to display precise mph below the original speedometer.
Integrated and Cool-Running 10R80 Automatic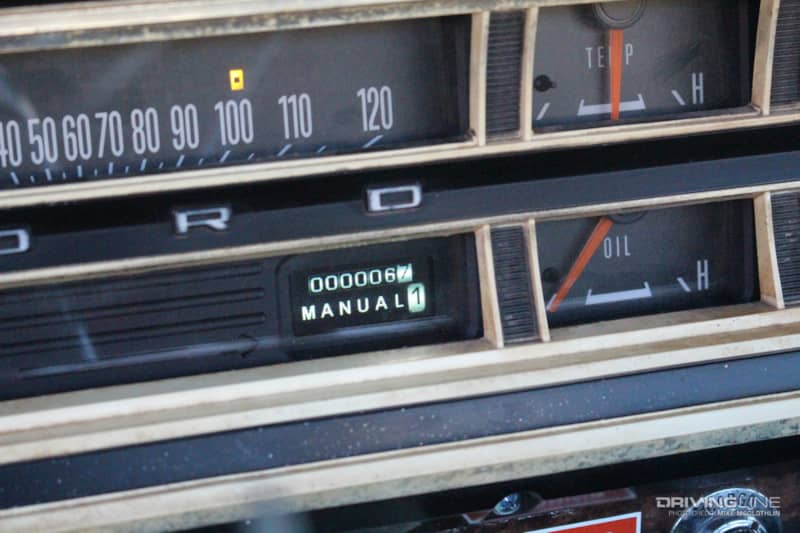 Along with the 5.0L Coyote take-out engine, a 10R80 automatic transmission came with it (and we'll note that '18 was the first year the 10-speed was available behind the Coyote engine in the F-150). A Fat Fender Garage Coyote-swap transmission shift lever was installed to maintain the use of the truck's original column shifter, and to keep fluid temp in check LinCo sourced a cast-aluminum pan from PPE along with a remote-mounted transmission cooler from Derale Performance.
4-Linked, Reinforced 9-Inch and Disc Brakes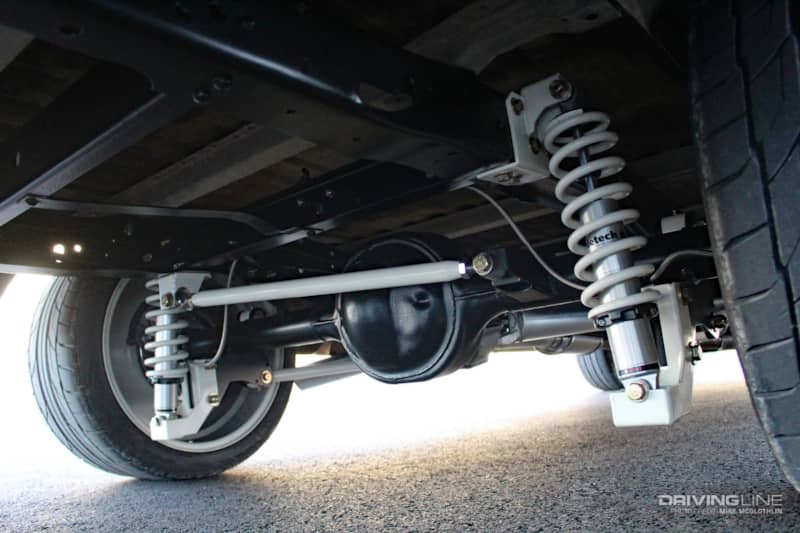 Converting the rear suspension to a four-link, coilover arrangement was made possible courtesy (once again) of Fat Fender Garage. The classic truck swap specialists provided LinCo a bolt-on four-link system (other than the rear axle brackets, which were welded), complete with adjustable Ridetech HQ series coilovers. The F-100's factory 9-inch rear end was fitted with a 3.73 ring and pinion from Speedway Motors, Quick Performance 31-spline axle shafts and a four-way disc brake conversion from Summit Racing was also thrown in.
NT555 G2s And 12-Second Potential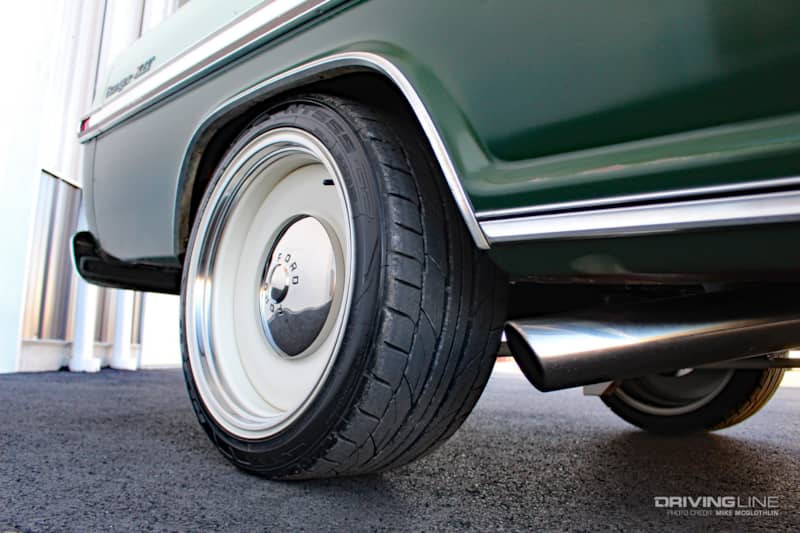 With the four-link suspension forcing the rear tires to constantly dig, Nitto rubber got the call for maintaining traction. The summer ultra high performance NT555 G2 tread out back measures 295/35ZR20 while the front 255/45ZR18 NT555 G2s are just along for the ride. Depending on how well the Nittos hook and how close to 4,000 pounds the truck tips the scales at, low 13s and possibly even high 12s could be possible at the track. D-Town Smoothie wheels from Detroit Steel Wheels (20x11 in the rear and 18x8 up front) fit the old Ford just right, as do the dog dish center caps.
Crown Vic Front Suspension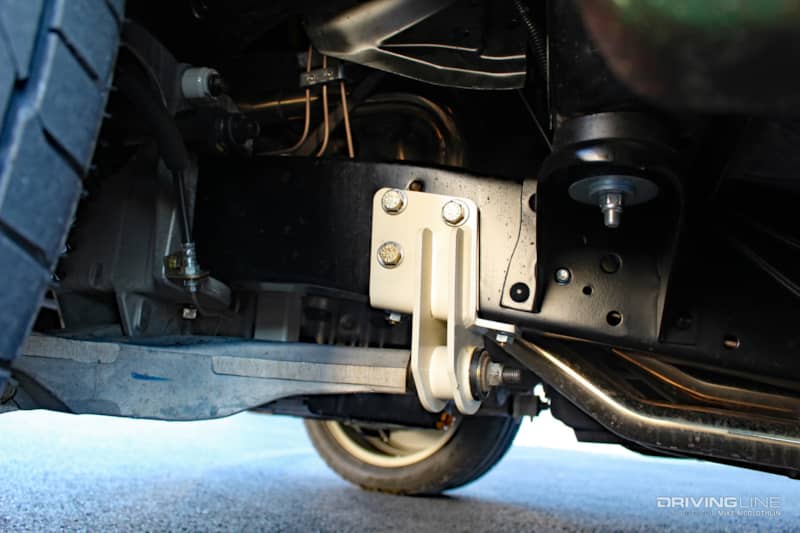 An independent front suspension out of an '05 Crown Vic replaced the truck's 50-year-old hardware and LinCo made sure to replace every bushing. Factory size Crown Vic brakes are employed all the way around as well, albeit with drilled and slotted rotors. And because Lisa plans to still use the truck as a truck, the front suspension wasn't lowered any. In fact, the truck's overall stance is very close to how it sat from the factory.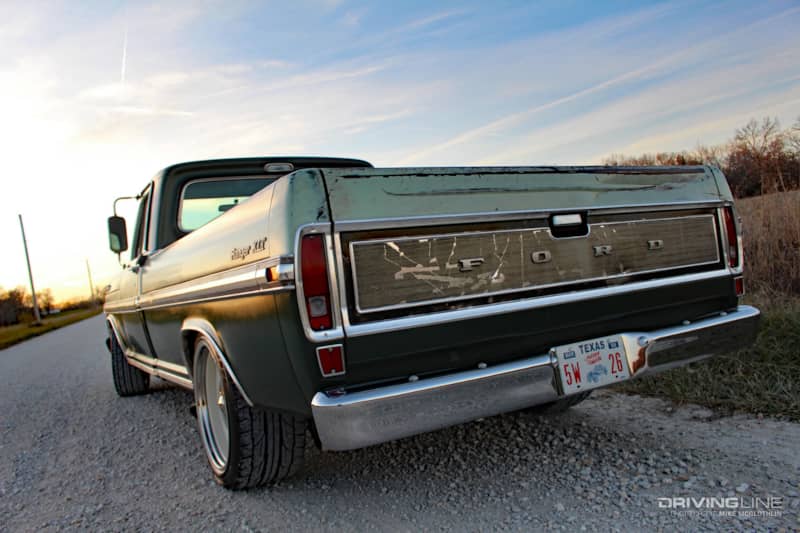 More From

Driving Line
Is the EcoBoost more your thing? Find out why Ford's twin-turbo 3.5L version is so popular right

here

.