Project Overland Caddy: Can this Cadillac Escalade EXT Be Transformed into a 400hp Adventure Rig?
With the massive popularity of trucks and SUVs today both foreign and domestic, there aren't many undiscovered gems out there. But the Cadillac Escalade EXT might just be one, and I'm going to tell you why in just a moment.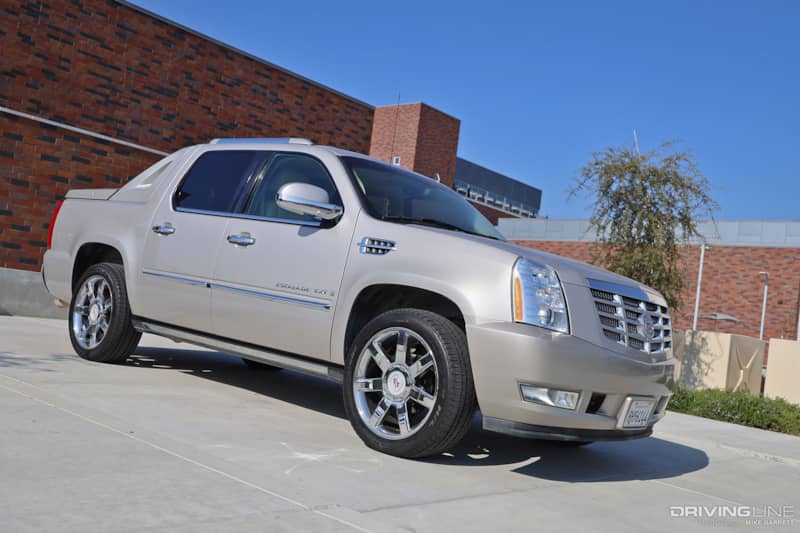 For the last nine months or so, my 2004 Lexus GX470 sat on the side of my house alongside a long bed, two-wheel-drive 2008 Chevy Silverado ex-company work truck that my dad and I used for towing or for hauling stuff around.
The Lexus was great at being a comfortable hauler with plenty of room for the kids that could also get down off-road when needed. The big Chevy could tow anything and had a massive bed but at the expense of interior space and was also pretty unwieldy during city driving.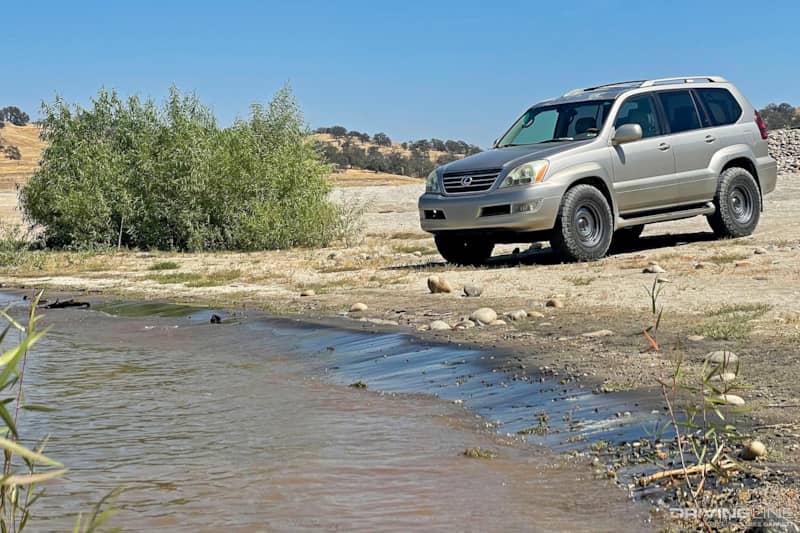 And with new project cars piling up left and right and parking space at a premium, I came up with the idea that we'd combine the GX470 and Silverado into one vehicle. One that could do the jobs of both and free up some space. The ideal candidate a half-ton crew cab pickup truck with four-doors and four-wheel drive.
The Cadillac of Pickup Trucks
Fast forward a couple of weeks and a few Craigslist ads later, and there we were—the Chevy and Lexus replaced by a fairly unusual pickup truck, a 2007 Cadillac Escalade EXT.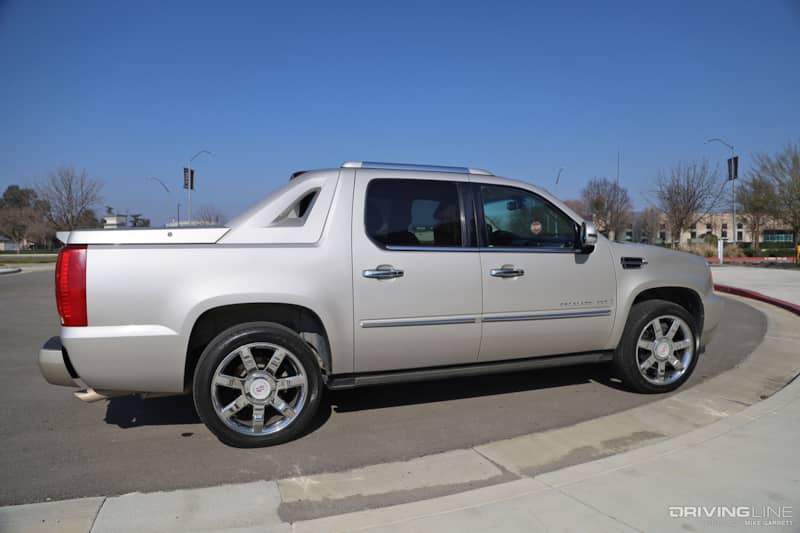 The EXT was the pickup version of the Escalade sold in its first two generations, and for all intents and purposes, it's a fancier Chevy Avalanche with a larger engine.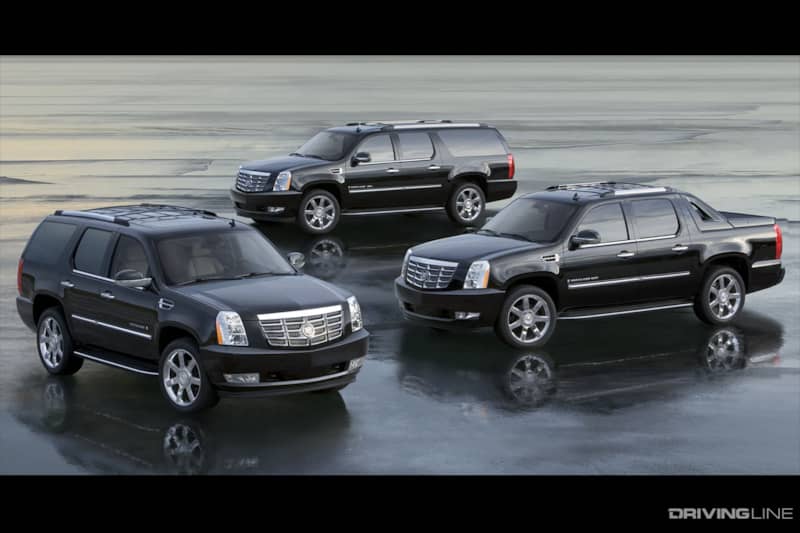 That larger engine is a 6.2 liter V8 that makes 403 horsepower and 417 pound feet of torque. And it's coupled with six-speed automatic, full-time four-wheel drive and a factory tow rating of 7,600 pounds.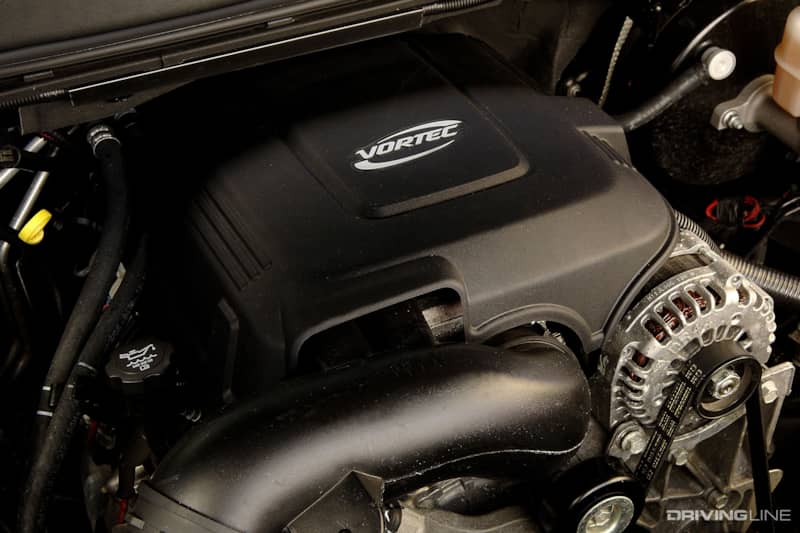 Then there's the interior. Four big doors, a cabin spacious enough to haul two kids, and quite plush. Heated and cooled leather seats, a nice sound system—and all the amenities that my GX470 had.
Part Pickup, Part SUV
And that's before you get to the EXT's (and Avalanche's) real party trick—the "Midgate" system.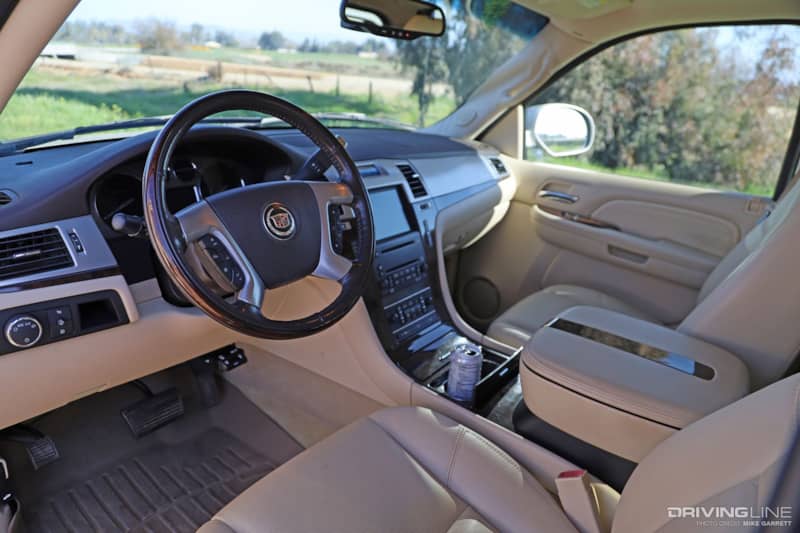 The system allows you to fold the rear seat down and expand the bed capacity from five feet to eight feet—effectively being able to switch to a long bed pickup on the fly.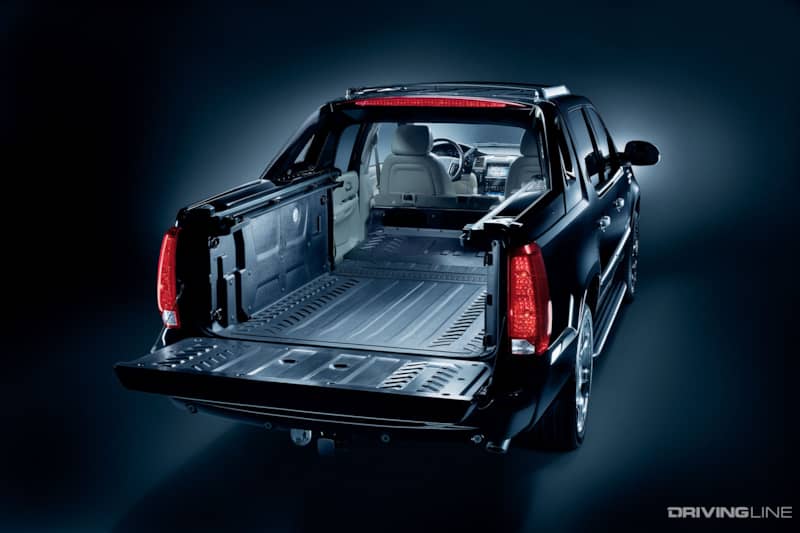 Interestingly, the midgate feature was just revived by GM on the new 2024 Silverado EV—the first time it's been seen since both the Avalanche and the Escalade EXT were discontinued in 2013.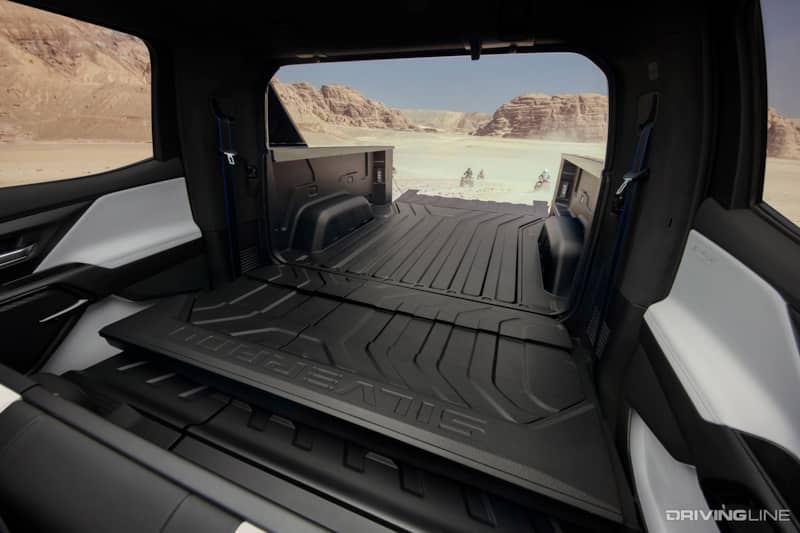 Bang for the Buck
But it was really value that lead us to this particular truck. With all used vehicles, and pickups especially in high demand these days, a traditional crew cab, half-ton 4WD pickup from the late 2000s to early 2010s we'll easily set you back $15,000 or more, and that's with high mileage and plenty of wear and tear.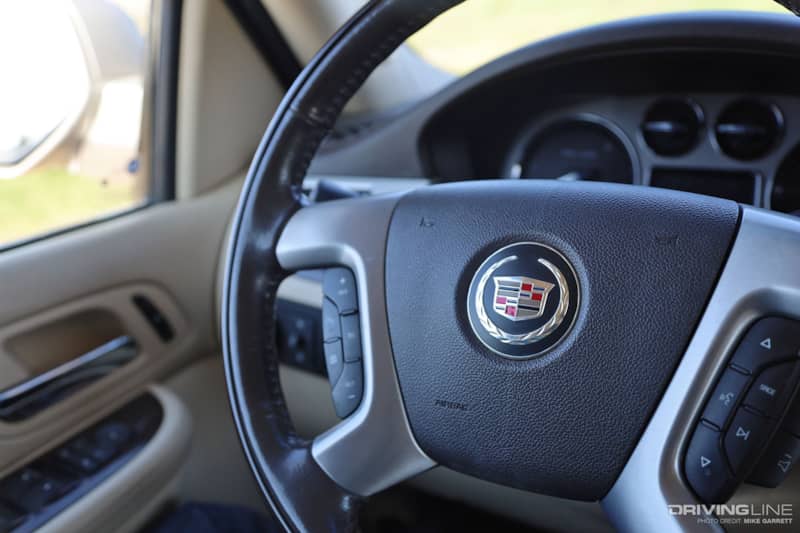 But after coming across this one-owner EXT for sale locally, in better condition and with lower mileage than a comparably priced pickup, it was a pretty easy choice. The potent 6.2 liter V8 was the big draw, and the funkiness and rarity being an interesting bonus.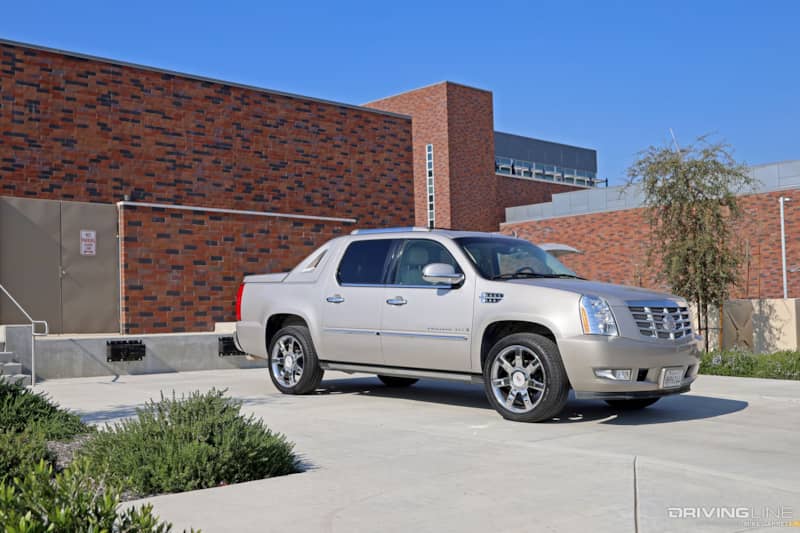 Overland Caddy?
In a lot of ways, the EXT is really the perfect follow-up for my GX470. The GX is a luxury-trimmed Toyota Land Cruiser Prado while the EXT is a luxury-trimmed Chevy Avalanche. They both have V8 engines, body-on-frame construction, and full-time four-wheel drive. They are even the same color.
Actually, if you were to put the GX and the old Silverado work truck into a blender, this would basically be the result. So in that sense, it's hard to ask for much more.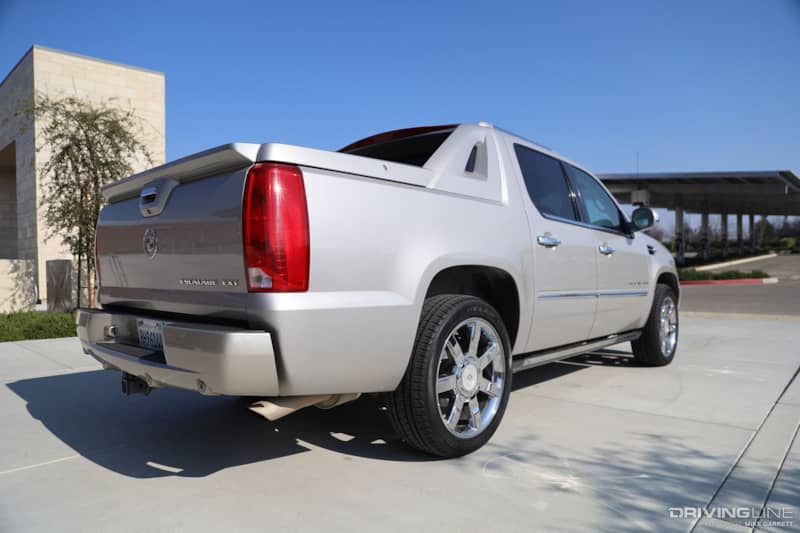 After spending some time behind the wheel, I'm a big fan of the powertrain, refinement and performance of the Escalade EXT. And while it's certainly not a mainstream off-road platform I'm hoping it will deliver enough capability for my needs.
On the other hand, the chrome and blinged out trimmings aren't really my thing. No worries though, because that's where the real fun starts.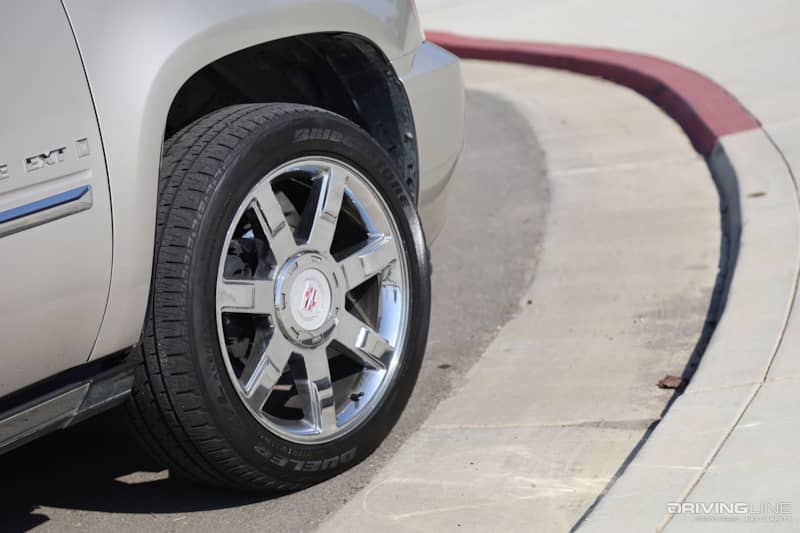 This example was 100% stock, including the factory-equipped 22-inch alloy wheels, which are good-looking but not quite what I had in mind for an all-purpose towing and adventure rig.
Fortunately, the Escalade shares the same 6x139.7 bolt pattern with other half-ton GM trucks AND my old GX470, which meant that the wheel and tire setup from the Lexus would bolt onto the Caddy.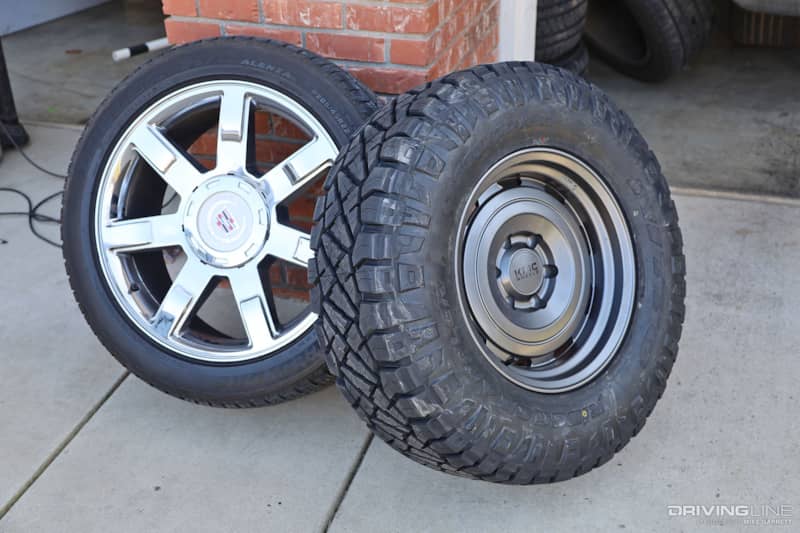 And that's exactly what I'll be covering in the second part of this story, where I'll begin my mission of trying to transform this funky, luxury pickup into an outside the box family adventure rig, starting with a set of Ridge Grappler tires and downsizing the wheels by five inches.
To be continued.
More From

Driving Line
Speaking of the Avalanche and the midgate, would that have been a better name for Chevy's upcoming Silverado EV?