Putting the Super in Abraham Islas' `68 Camaro SS
Story By Mark Masker
Photos By
In the 1960s Ford's Mustang changed the performance car game not just for itself but also its competition. As the cool new kid, it pressured all the other kids to up their game if they wanted to stay popular. Among those kids was Chevrolet whose own compact sport offering, the Corvair, couldn't keep pace. Its rear-engine design wasn't winning over consumers and bad publicity from Ralph Nader's famous book, Unsafe at Any Speed, wasn't exactly helpful, either. Mustang sales were through the roof. And Chevy needed a new design to compete.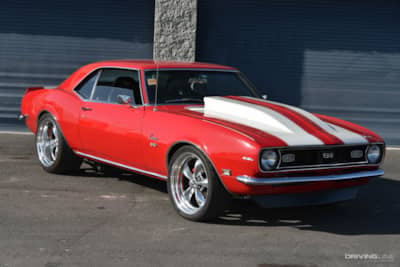 Enter the Camaro. Sporting a conventional rear-drive, front-engine design like its Ford counterpart, the new car also worked with a variety of engines, too. It debuted in 1966 for the 1967 model year. The first iteration of the Camaro was produced until the 1969 model year. Among the variants offered was the one seen here: the Camaro SS (Super Sport). Owner Abraham Islas not only restored it, he may have added a few modern upgrades in the process. And by "may" I mean, "Oh, yeah. He damn sure did." Even with a car this cool, 50 years of technological advancement can make it even better.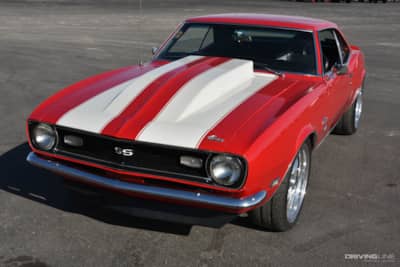 Abraham's love of the Camaro isn't a one-night stand; it's lifelong. "As I was growing up in the `90's I always saw my godfather Teo Escalante driving his black `67 Camaro, El Cuervo/The Raven. He'd drag race it and most of the time he would take first place," Abraham told me. "Since then I fell in love with the first gen Camaros. I always loved the looks and curves of the `67 and `68 more than the 69 Camaro." He actually bought this `68 from his godfather. It was just a shell of its former glory then but together they've turned it into this beauty.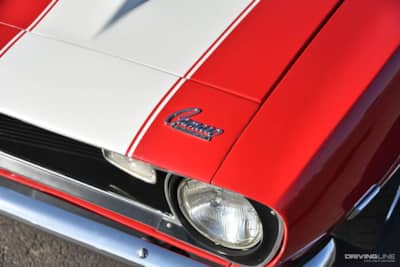 The goal was a classic car with badass looks but with the heart and technology of modern muscle. Abraham wanted to drive without the worries that come with some straightforward restoration projects. Knowing he was driving a reliable car meant being able to take long trips, like the one he and his wife took to Holley LSFest West in 2019. He and his wife took a four hour trip in the Camaro from Palm Springs to Las Vegas without incident so obviously he and his godfather succeeded.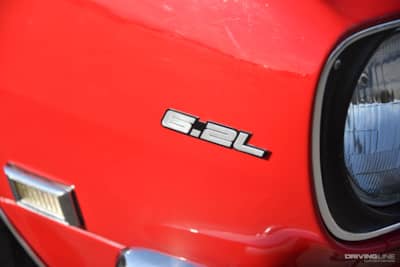 Seeing as how he started with an empty shell, Abraham's dream Camaro isn't powered by one of the 350 cubic inch (5.7 L) or 396-inch (6.5 L) V8's the car was originally designed for. His car packs a GM L92 6.2-liter Vortech powerplant instead. A friend of his recommended Texas Speed & Performance: "I wanted to have enough power to be competitive at drag racing with a naturally aspirated engine. I also knew that I was probably going to upgrade later on to a single turbo kit. Texas Speed & Performance gave me the parts I needed to be able to upgrade later without having to change parts and spend more money." Abraham powered up his Vortech engine with Texas Speed & Performance's LS3 Stage 1 supercharged camshaft, polished .660-inch dual valve springs, 7.40 chromoly pushrod, and VVT delete kit. His mill also packs a K&N intake and ceramic coated long tuber headers to round out the power package (for now; there's a Vortech Supercharger in the car's near future). All of this adds up to 425 ponies and 450 lbs-ft of torque on 91 pump gas. It's transmitted to the rear wheels by way of a 4L65E transmission and a GM 12 bolt rear differential.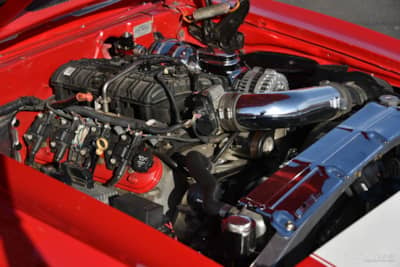 The power equation wasn't alone in the performance upgrade department, though. For as much as Abraham finds old cars with stock suspensions to be comfy, they also feel better suited to deep sea fishing than drag racing to him. In other words, he doesn't like cars that handle like boats. Having the best possible grip on the street or strip was a must. Being able to make quick turns without the tires leaving the ground was pretty important to him too. Chevy's original SS performance package helped with handling but the aftermarket gave Abraham what he needed to really dial in the chassis and suspension. Global West knows a thing or two about muscle car suspension and they got the nod for the upgrades. When the swap was all said and done, Abraham's Camaro SS got a complete front tubular arm kit (upper and lower), QA1 front double adjustable shocks with coilovers, and leaf springs with shocks out back. Now he can fine tune the handling to his driving.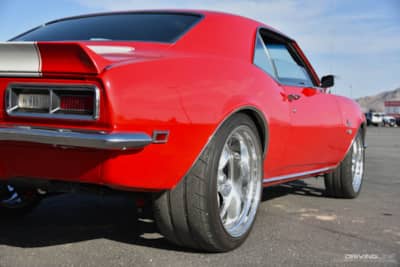 Yet for as much as Abraham loves all that new power and agile handling, they aren't his favorite changes to his Camaro. Those would be the wheels and tires: "Those 20x12-inch wheels with Nitto NT05R 315/35R20 on the back of the car make it look so beefy; just like a `68 Camaro should. And they also help with vehicle stability, avoiding sliding from side to side when you put the pedal to the metal. Since the early 2000's when bigger wheels on cars were the hot item, I had a Nissan Altima with 20-inch wheels and Nitto tires. At that time I just cared about the wheels and the tire shop just happened to put Nitto's on my car. Ever since then I noticed how good Nitto tires performed. When I started looking for the best wheels and tires to use for my `68 Camaro, I knew I was using Nitto's. I started doing a little research and I really liked the Nitto INVO and NT05R/NT05s. I chose the NT05R/NT05 combo because I knew that I would eventually drag race the car and those were the best tires for increased traction at the dragstrip." The SS runs on stylish, custom Torq Thrust American Racing wheels (20x 9-inch front, 20x 12-inch rear) shod in Nitto NT05s in the front (275/35R20) and big NT05R 315/35R20 in the rear. Brake-wise, a Camaro Power disc brake conversion kit keeps all of that modern extra power in line as needed.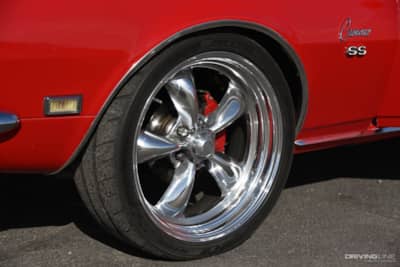 The old shell itself got some updating too. Restoring the exterior to its former glory would have been a good move but Abraham wanted more than that. Enter Underground Autowrkz in Indio, California. They laid down the Custom Red with White Pearl stripes that make his Camaro so easy on the eyes. Adding a 4-inch cowl induction hood didn't hurt its looks, either.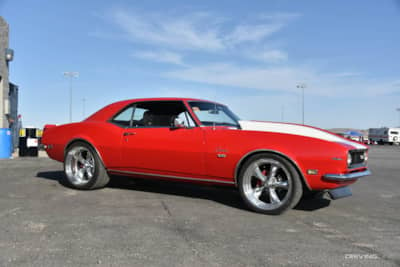 Abraham's Camaro also has an inner beauty to it too. Just open a door, look inside, and you'll see it. The custom dash and its Auto Meter instrumentation are pretty sweet but so are the Matrix Sport seats, B&M Quicksilver shifter, and Drive by Wire gas pedal that round Abraham's aesthetic vision for this car.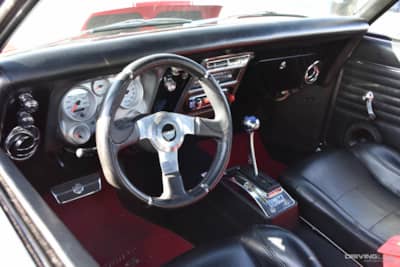 Which isn't to say Abraham's job is done here. So far he's digging the car for its intended mission: street driving but with everything it needs for the track, too. He doesn't feel like the job is done yet, though. In the world of custom cars, whoever does?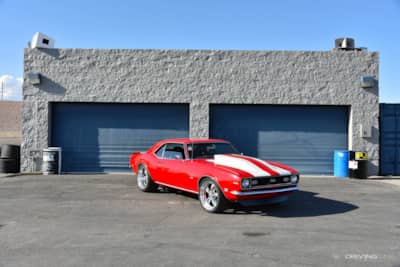 There's always some part or tweak in the back (or front) of your mind that would make your baby just a bit cooler or faster. In the case of Abraham's `68 dream Camaro, that means turbo power. We'd love to get the update when he's done. 
Click here to the Platinum Pro-tourer: a beautiful big-block powered 1969 Camaro RS/SS.