Recon On The Rocks: Is This The Ultimate All-Terrain Tire?
Building a daily driver that you frequently use off-road has a certain set of challenges. Picking the right tire may be the most important and difficult decision you'll make. Opting for an aggressive tread pattern will give you a better bite in the dirt but may rob you of fuel economy and longevity on the street. Too mild of tire, and you may find yourself struggling on the trail, thus robbing you of the joy of wheeling.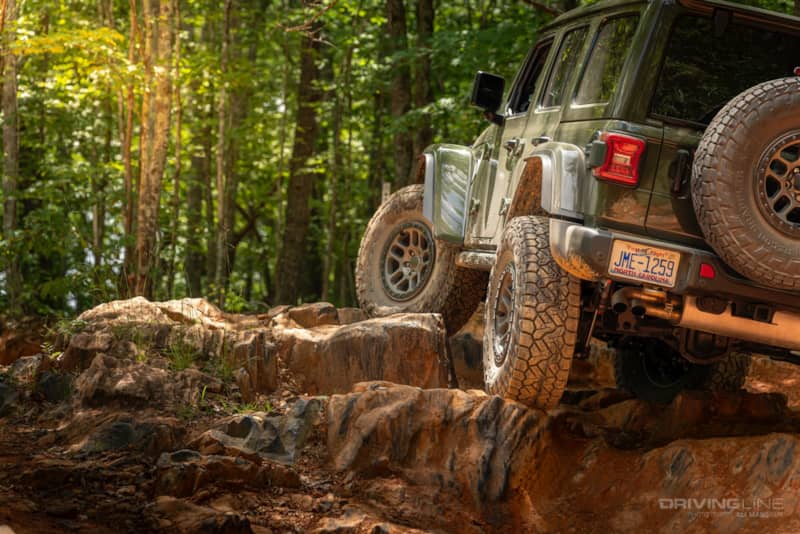 The seemingly easy solution is to equip your vehicle with an all-terrain tire. While on paper a tire designed for all terrains sounds like the perfect solution, experience has taught us that all-terrain tires rarely live up to their namesake. Thankfully, the all-terrain category has been undergoing a tremendous revamp. A great example of this can be found with Nitto Tire Recon Grappler A/T.
The Recon boasts the same classic all-terrain selling-points of being quiet, stylish, and offering high-mileage guarantees. However, with massive tread blocks, deep voids, and a unique tread pattern, this all-terrain is anything but conventional. How does this tire actually stack up in the real world? We set to find out using a 37x12.50R17 Recon Grappler A/T under our 2021 Jeep Wrangler Rubicon 392. Adventuring far beyond the tarmac, we set off to see just how well the next-generation A/T could handle trails in the southeast.  
Unique Tread
You can typically tell at a glance just how well a tire will clear out debris by looking at the spacing between the tread blocks. Larger spacing is going to allow for more room for dirt to escape. For an all-terrain tire, the Recon has a fairly aggressive tread pattern and seriously deep voids. While large spacing can equate to increased road noise, we've found that the Recon's roll extremely quiet under our Jeep. In fact, they are similar noise-wise to a conventional all-terrain tire.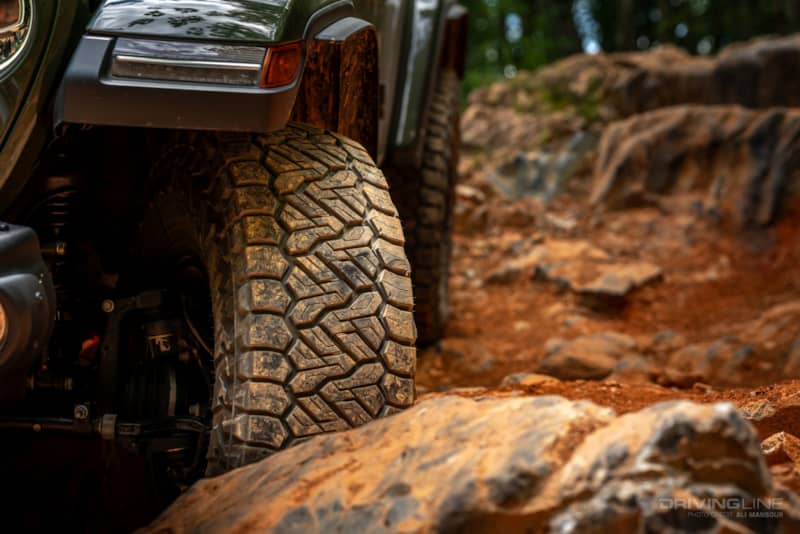 True To Size
One of the best features of a Nitto Tire is that you can rely on them being true to size. No tire has the exact dimensions that the sidewall states, but Nitto is more honest than most. This means you're getting what you pay for size-wise, which makes a significant difference on the trail. This is extremely evident from the ground clearance gains we saw under our Jeep.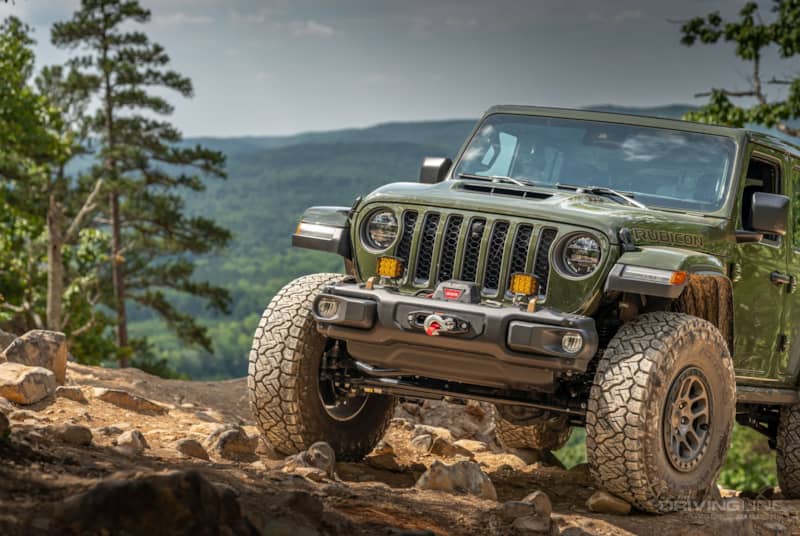 Light Weight
Tire weight impacts a vehicle's performance greatly. Compared to the mud-terrain tires we swapped off of the Jeep, the Recon is nearly 10 pounds lighter. That's a huge difference and something that you'll notice from a fuel economy and performance standpoint immediately. While a lighter tire doesn't always necessarily mean a better tire, in this case, it's a big win.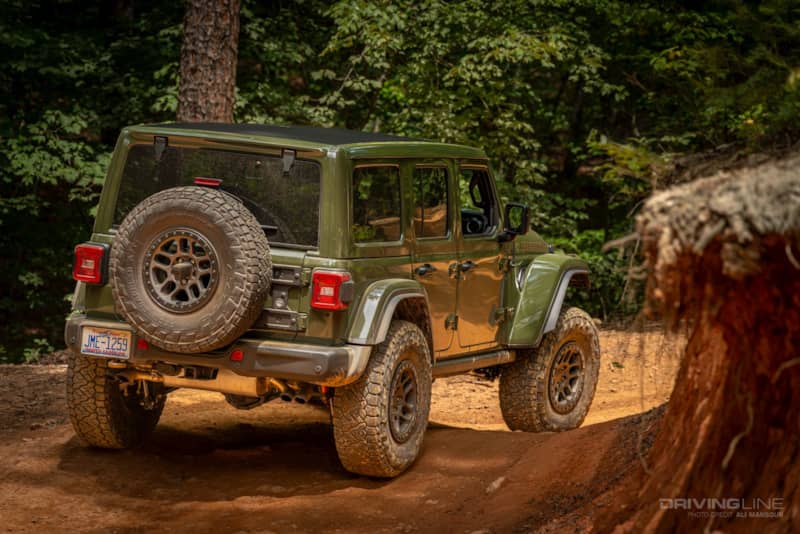 Sidewall Strength
Just because the Recon is on the light side, it doesn't mean Nitto skimped on the sidewall strength. Dropping the Recon's to 12psi on the trail, we've had no issues or sidewall damage.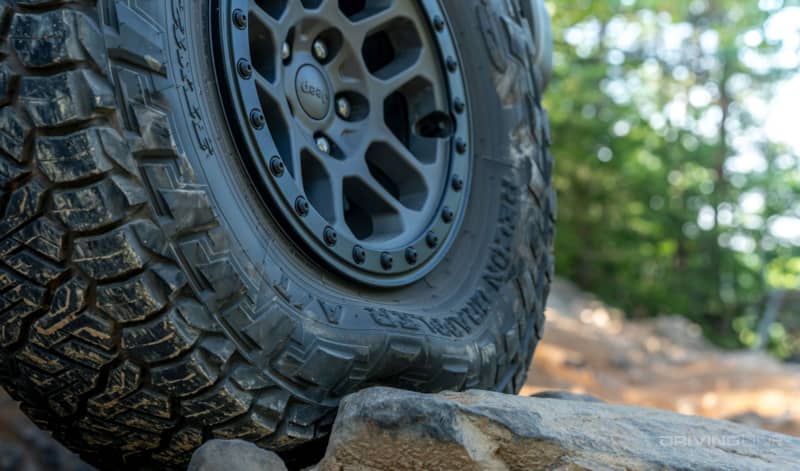 Gravel
Since the Recon doesn't have as many small grooves to pack in rocks, the tires do an excellent job of not loading up with gravel between the tread. We still get the occasional rock blast, which is extremely difficult to avoid (especially at faster speeds). Overall, we would have no issue recommending this tire for someone who frequents gravel.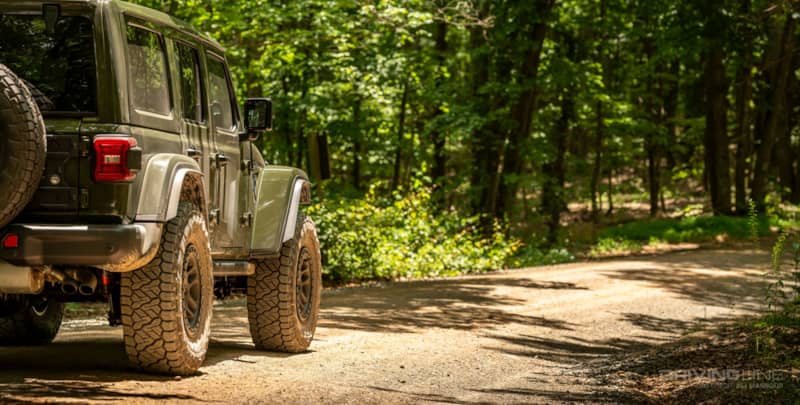 All-Terrain
In the rocks, the Recon's grip is notable, but more surprising is how competent they work with a bit of wet dirt mixed in. Coupled with a modest amount of wheel speed and the tires do an impressive job of cleaning out. Is this a better off-road tire in the mud that something like a Trail Grappler? No. However, the Recon is far more surefooted in the mud when compared to more conventional all terrains we've tested in the past.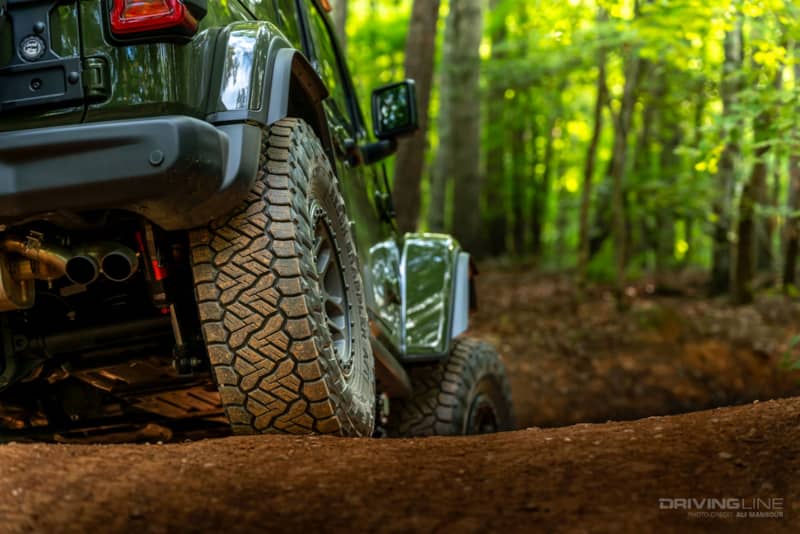 Final Thoughts
Nitto's fresh take on this classic segment is exactly what it needed. It's quiet, rolls smoothly, and is one of Nitto's lightest LT tire offerings. The unconventional A/T pattern provides excellent grip on the trail and has a sidewall that you can rely on. At the end of the day, buying an all-terrain tire shouldn't feel like a compromise. So, if you are in the market for a new set of treads for your weekend wheeler, the Recon Grappler A/T is absolutely worth a closer look.