Retrofied: Converging Modern Tech with Vintage 1955 Ford F-100 Iron
Classic American trucks are hotter than ever and one of the more popular ways they are being built is to function better than when they were new. Vehicles like Barry Hogues' '55 Ford F-100 have been popular with customizers for many decades because of its iconic good-looks, but the vintage truck game is changing. Some older techniques like modifying original components or robbing parts from other models have become less common. This is due to the modern support of aftermarket companies that produce new parts for superior upgrades without the hassles of the past.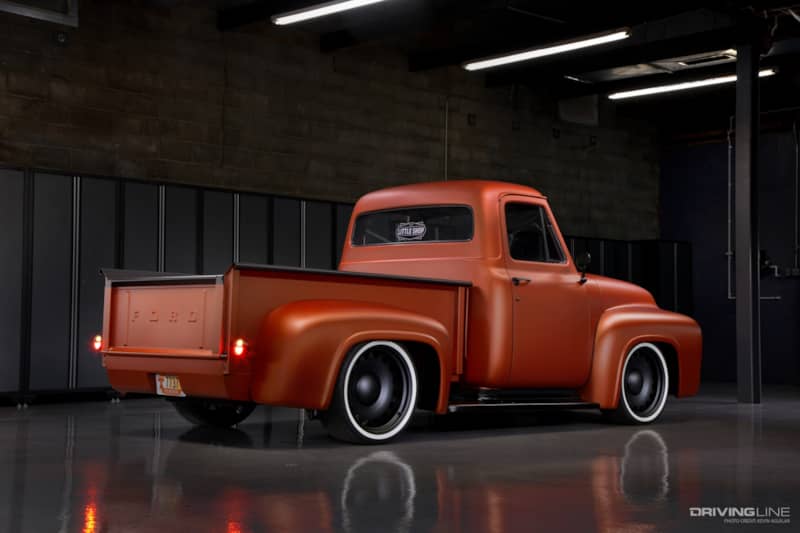 Previously, customizers would improve performance and alter ride height for depending on styling preferences. Performance and an aggressive stance is always a plus but there are better methods available now. The expectation is to have a classic looking vehicle with all the functions of a modern counterpart. Driving a vintage vehicle doesn't have to be a struggle and it can be an altogether more enjoyable experience for more people. Eric Saliba of Little Shop Manufacturing (LSM) knows this very well and is constantly looking for new ways to improve the drivability of vintage vehicles like this F-100.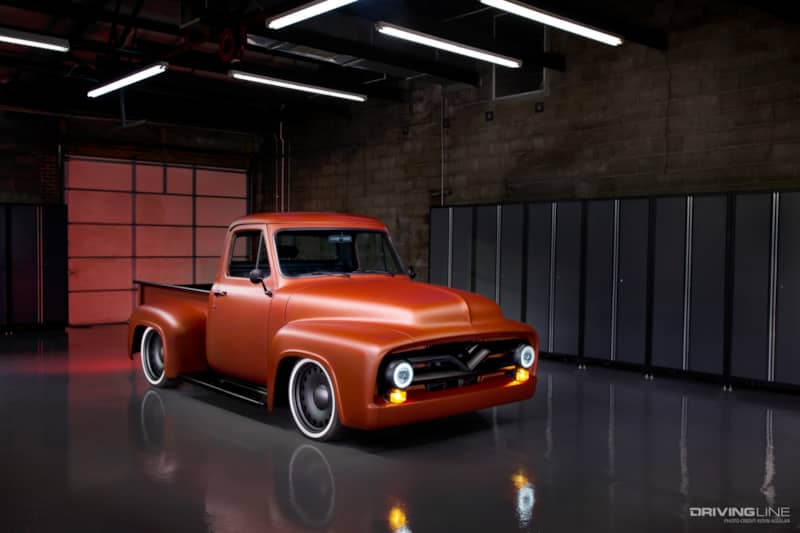 Solid Foundation
Early Ford trucks were designed as workhorses with very little of the creature comforts that modern truck owners take for granted. The old suspension systems were built to handle heavy loads rather than cornering ability or stylish lowered stances. Leaf springs over front and rear straight axles were dependable and got the job done and were combined with stiff manual steering, which can make driving a real workout when the roads deviated from a straight line. Mr. Saliba and LSM aimed to change all that.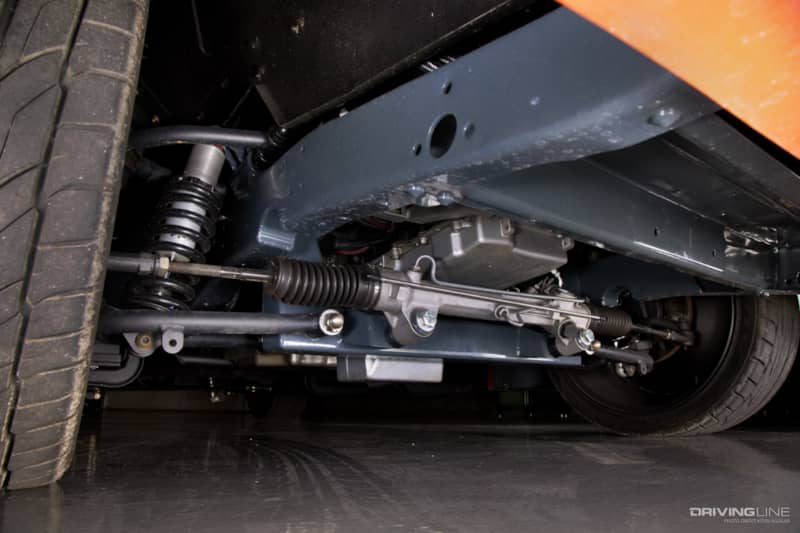 Creating a fresh start, the chassis on this truck was stripped to the bare frame before getting media blasted. From there, Little Shop was able to add a Total Cost Involved (TCI) independent front suspension that utilizes a Mustang II rack and pinion power steering unit and modern disc brakes. In the rear, the leaf springs were removed in lieu of a TCI four-link system with RideTech coil-overs to support the rebuilt 8.8-inch rearend. Not only does this system allow the truck sit at a lower height but it also increases drive comfort, and it's easier to steer and is quicker to stop.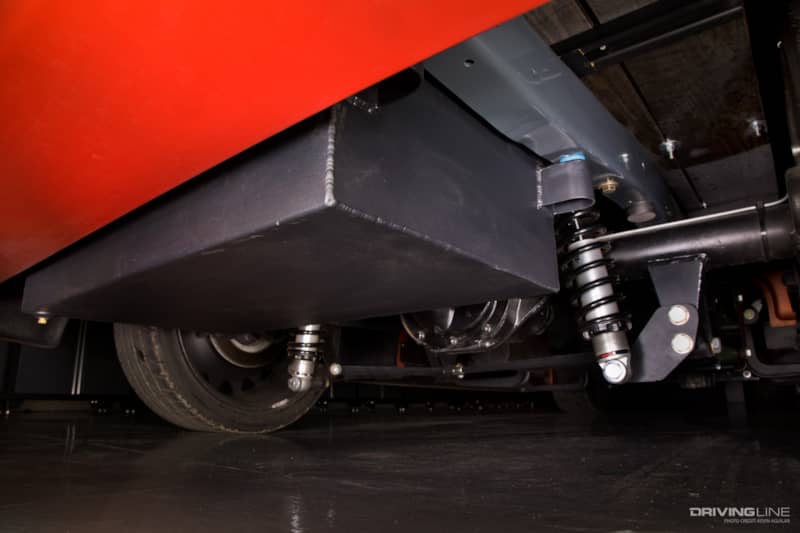 Modern Power
Though these trucks originally came with a V-8 under the hood, they hardly compare to the power offered by today's trucks. Often in the past, the under-powered antique motors were swapped out for newer carbureted versions of the Ford small bock. Now, you can have both power and efficiency with the new technology found in modern engines. Electronic fuel injection systems can be retrofitted to older engines but late model engines function better overall if you can put one to use.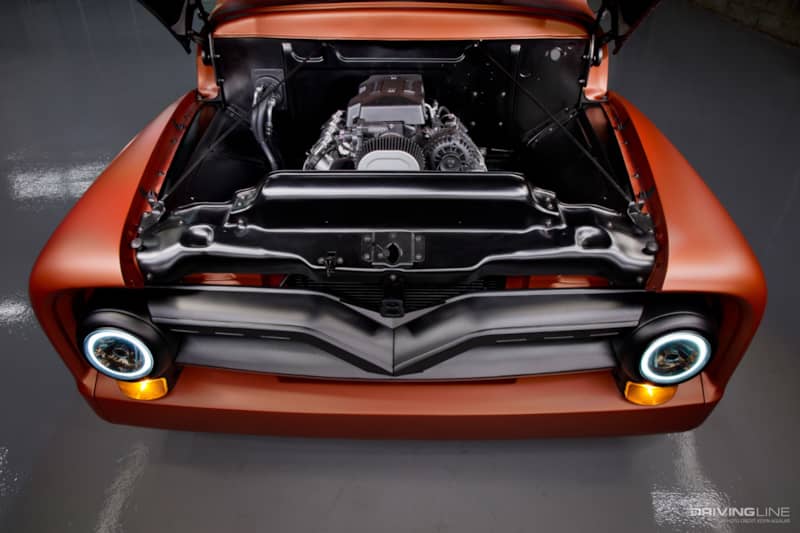 The go-to engine platform is GM's LS engine lineup because they are plentiful and powerful. Since so many vehicles came with them, you can easily salvage one from a retired vehicle for close to nothing. With the large number of aftermarket companies supporting the LS platform, making them function is relatively easy. They are more commonly fitted to classic Chevys and rarely put to use in Ford trucks like this. Some may say it's sacrilegious to install one in a Ford, but hot-rodders have been using Chevy engines in vintage Ford for many generations. That being said, a 5.3L LS engine was dropped in the engine compartment in front of a 4L60E transmission. To throw off and confuse the haters, Eric 3D-printed FoMoCo emblems and attached them to the LS's engine cover.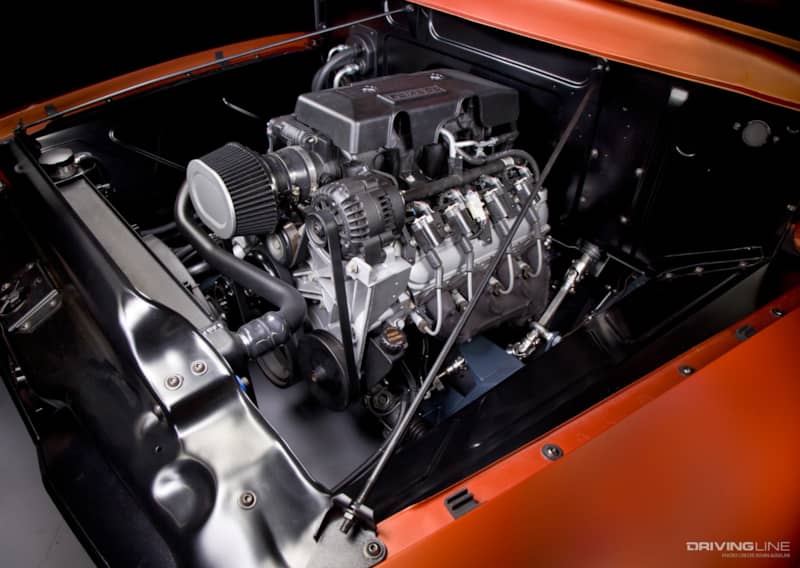 Dressed for Success
The emphasis of this build was to have a classic looking truck drive like it's a new one. This meant they would keep as much of the original styling as possible with no wild body modifications. Like most trucks of that era that have survived to today, it had been well-used and the beds are usually damaged beyond repair. A new bed was sourced from Mar-K Manufacturing along with a replacement ash wood floor replacement strips. After the rest of the body was finessed and straightened, the front and rear bumpers were replaced with roll pans. Then, Tim Dunn coated the beautiful round body on this Ford in a satin Orange Crush Axalta paint. Accenting the orange is a few key pieces coated in satin black.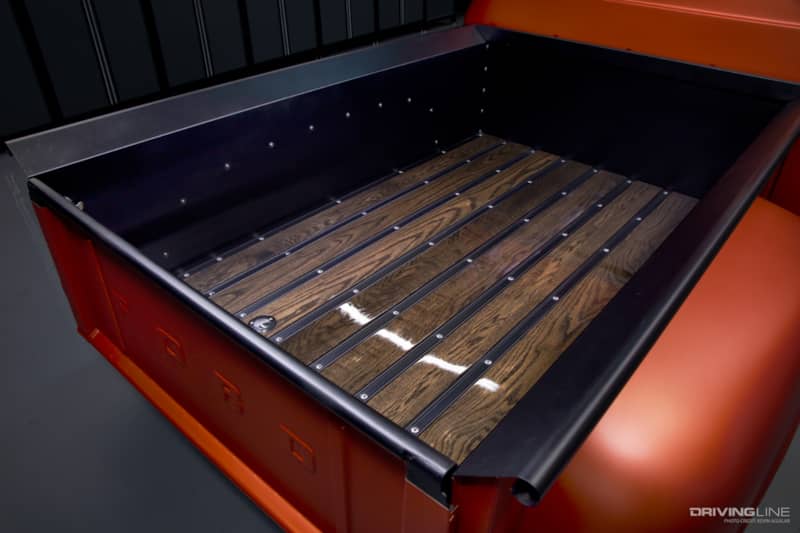 The application of steel wheels on these trucks makes for a classic look that has been used for ages. Original versions were a mere 15-inches in diameter and modern standards call for larger sizes. Thanks to Detroit Steel Wheel Company, you can achieve this classic look with sizes that correlate with new trends. Keeping up with the rest of the improvements on the truck, the 20-inch Ambassador wheels were wrapped in 265/35ZR20 Nitto NT555 G2 tires that were enhanced with white walls from Diamondback Classics. Not only is the design of these tires stylish but they deliver great traction, handling and wet-braking performance as well.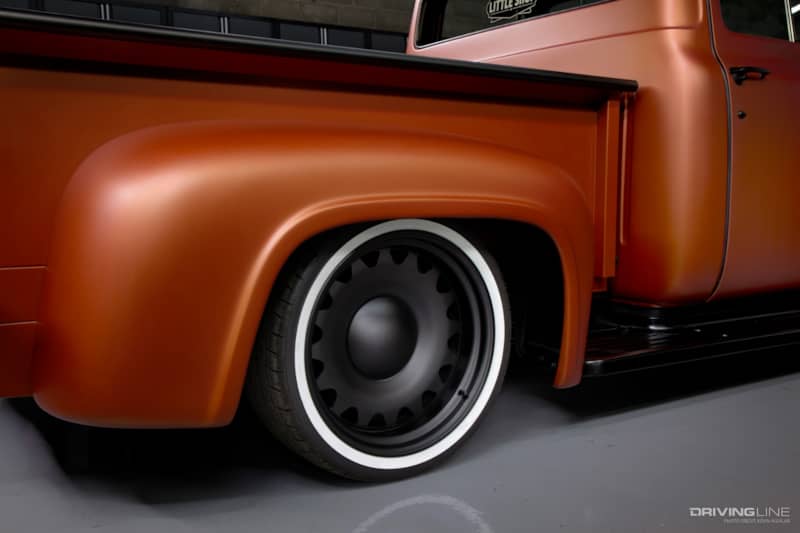 Interior Improvements
Every builder knows that one of the keys to finishing-off a vehicle is with a clean, high-caliber interior. Starting up front, an Ididit steering column with steering wheel from Summit Racing helps the driver dictate which direction the front wheels are turned. The dash was upgraded with a set of Dakota Digital gauges along with an air conditioning unit from Vintage Air. Custom carpet and door panels were created and installed before a set of TMI Products seats were attached to the floor. Topping off the interior are Lokar Performance Products pedals, door handles and window cranks.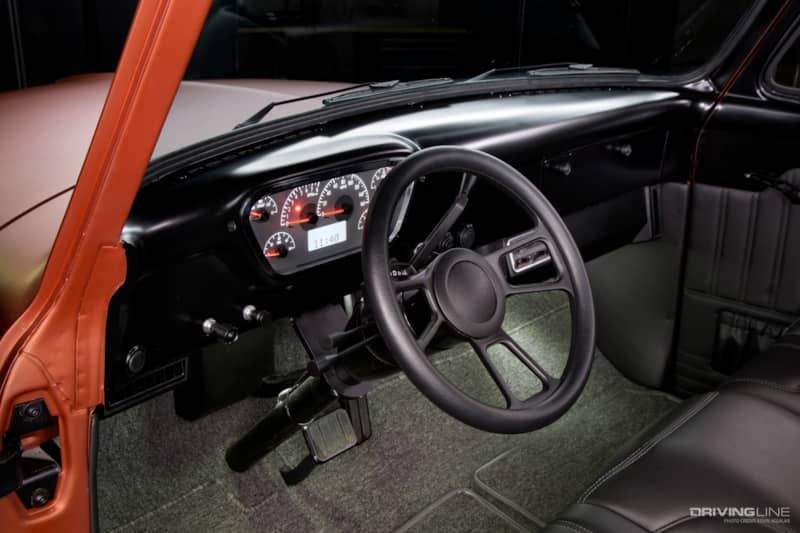 Adding performance and extra styling brings this truck up to speed with today's expectations. Since building this truck, it has been on a few road trips and has proven itself as a well-built and comfortable cruiser. The final result is a classic truck that has all the right stuff to make it a modern hit.
Specs:
| | |
| --- | --- |
| Year/Make/Model: | 1955 Ford F-100 |
| Owner: | Barry Hogues |
| Build By: | Little Shop Manufacturing |
| Engine: | 2005 GM 5.3L Vortec LS-based engine, 3D-printed FoMoCo emblems, PSI Conversion harness, Little Shop MFG fuel cell |
| Driveline: | 2006 4L60E transmission, Ford 8.8-inch rearend |
| Chassis/ Suspension: | Frame media and powder coated, TCI custom IFS front suspension, TCI/GM metric front disc brakes, TCI rear four-link, rear vented disc swap by Little Shop MFG, RideTech coil-overs |
| Wheels: | 20x9-inch Detroit Steel Ambassador wheels, powder coated satin black |
| Tires: | 265/35ZR20 Nitto NT555 G2s with 1-inch whitewalls by Diamondback Classics |
| Exterior: | Mid-Fifty front smooth splash/roll pan, Rear roll pan, Ford Model A taillights, Mar-K replacement bed with ash wood floor, replacement headlights with halo lights, Ford code GW Orange Crush paint in Axalta materials laid down by Tim Dunn |
| Interior: | Custom vinyl door panels and kick panels, custom carpet, TMI Products vinyl seats, Vintage Air A/C system, Ididit steering column, Summit Racing billet steering wheel, Lokar pedals and shifter, Lokar door and window crank handles, Dakota Digital VHX-series gauges |
Snow White is a beautiful '57 Chevy—made entirely of new steel.