Snow White: The Fairest '57 Chevy of Them All
Building a classic vehicle typically means dealing with a litany of problems, the most common of which is rampant rusting. Unless you start with a fully-built vehicle and or one that's been carefully taken care of, chances are that you will need to replace sections of it to eliminate weathered and compromised material. Very rare is the story of someone purchasing an older vehicle that has no rust.
With the price of a good project vehicle already high, and rising, it makes sense to start off new. It might feel a little strange or impure, but when it comes down to it, what does it really matter if you start with new steel? It'll look the same when you're done, but there is one big difference: You save a ton of time and money when you avoid old, damaged parts. Plus, it's sometimes considered sacrilegious to cut up a "survivor vehicle" anyway, meaning you can create a much more heavily modded ride guilt-free.
Starting the Build
So what's the best plan for building a custom classic vehicle that is over 60 years old? Well, we can tell you that there are no shortcuts, but there are smarter ways to attack the situation. When the idea to create the ultimate '57 came to Premier Street Rods of Lake Havasu City, Arizona, they knew just what to do. The folks there are known for building some outstanding vehicles, but their latest project has revolutionized the classic truck marketplace. This was the perfect build for their shop, as they specialize in making vintage trucks just like this one.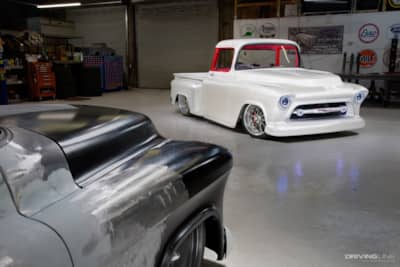 Rob Logsdon, Premier Street Rods' owner, was ecstatic to be able to create a modern marvel with this '57 Chevy 3100. You see, the crew there sells GM-licensed cabs and the necessary sheet metal for people who want to build a classic truck without the headaches and ballooning budgets that these builds can create. You read that right. They build completely new cabs for late '55 -'57 GM pickups. This is the newest product in the line, as Premier has previously offered parts for trucks as early as '47, which makes it easy for anyone looking to build these mid-century haulers.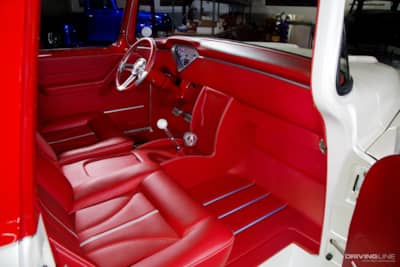 With an entry price of $8,995, not everyone may feel it's worth it. However, this is a bargain compared to the time and money that would need to be spent while attempting to get an original truck to the same starting point that this new cab provides. Another thing to keep in mind is that you might be working with steel that has been compromised in the process. Given these facts, it's easy to see how starting off fresh can be a good idea.
All-New Chassis
With the concept launched for this legendary '57, the crew at Premier started with a Total Cost Involved (TCI) chassis, complete with airbag-equipped RideTech ShockWaves shocks. They can be tuned for different driving situations and also have the ability to dramatically alter the height of a vehicle. To add to that, an AccuAir management system was hooked up to control the altitude. With this setup, Logsdon doesn't have to compromise ride comfort for a low stance.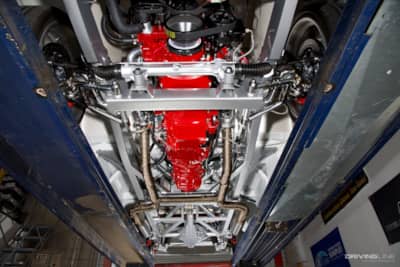 Wheels and Tires
Since this was a high-end build with plenty of performance and a touch of luxury, this truck needed a tire to match. The crew at Premier set their sites on a set of 245/35ZR20 and 285/30ZR22 Nitto INVO tires that would not only look the part, but could actually perform when put to the test. These innovative products of modern gripping technology now cover the Budnik G-series Spyder billet wheels that were chosen for this wicked ride.
LS Power
As things were shaping up, folks at Premier wanted to make sure that this truck was no slouch. One of the go-to power plants for builds like this is the LS3, and this one was built by BluePrint Engines to bring 638hp to the table. Since the truck was being set up for serious performance, the shifting capabilities now come from a TREMEC T-56 manual transmission that delivers power to the Currie rearend. Bringing this all to a halt is a set of Wilwood 14-inch disc brakes. For extra safety, an E-Stopp push-button emergency brake was added, which is a convenient modern touch that fits right in.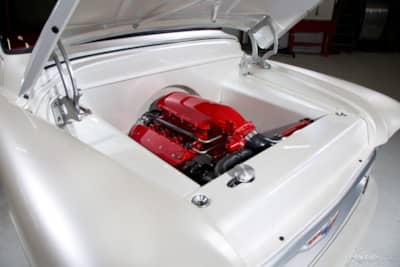 Dropping on the Cab
Once the foundation was set, the fellas took one of their new '57 cabs and dropped it on the chassis, along with a bed from Mar-K. Afterwards, all the other sheet metal pieces were collected before adding a few custom touches. Starting at the front is a smoothed bumper that was tucked closer to the body. Then, the grille was modified to resemble one found on a '57 Bel Air. The doors were modified to fit a set of sleek and modern Lokar handles. Next, the rear fenders received cutouts for the Borla exhaust and the rear bumper was ditched to make way for a roll pan. With all the exterior panels in place, the body was worked smooth and painted in House of Kolor Snow White Pearl and Blue Blood Red.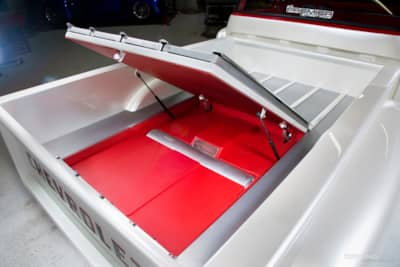 Finishing the Interior
Next up was the interior, featuring an Ididit steering column with a Budnik wheel. Other details include a Dakota Digital gauge cluster and Lokar shifter and pedals. Then, it was all sent to Ron Mangus who started by adding bucket seats, a custom center console and redesigned door panels. Just about the entire interior was covered in red leather, including the dash.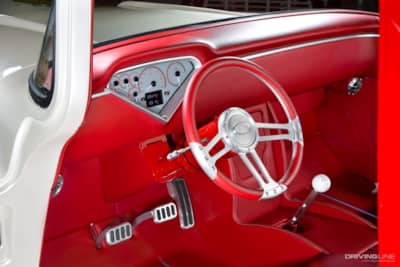 Though it can be considered a new truck, all the parts are based off the original and can be used on the real thing. Premier has shown us all how you can build one of these trucks without the hassle of searching for old, worn-out parts. With their help you can start with fresh, new products to help you get to your goal with less troubles.
The results speak for themselves, as Snow White has become a modern legend in the custom trucks scene. This truck was debuted at the annual SEMA Show and it was one of the hottest in attendance. It was later taken to a handful of shows and won a few awards. It became a Good Guys Truck of the Year early finalist and even took best of show at the inaugural C10 Nationals. These awards are nice but what Premier really proved is that you can create an amazing classic truck with all new parts.
Specs: Snow White
| | |
| --- | --- |
| Build By: | Premier Street Rods, Lake Havasu City, AZ |
| Engine: | 2016 GM 427 ci LS3 built by BluePrint Engines, Forged Mahle pistons, Dual Coil .650" lift valve springs, Eddie Motorsports valve covers, MSD wires, Holley EFI, Eddie Motorsports pulley drive system, Performance Rod & Custom radiator, SPAL radiator fan, Vibrant Performance intake, Sanderson headers, Borla Type S mufflers, custom aluminum fuel cell |
| Driveline: | Tremec T-56 6-speed transmission, mid-shift conversion, Lokar Performance Products shifter, McLeod twin disc clutch, Currie Enterprises rearend with 3.88 gears, Eaton Tru-Trac limited slip differential |
| Chassis/Suspension: | TCI Engineering chassis with IFS, rear torque arm suspension, RideTech ShockWaves, AccuAir management system, Wilwood 14-inch brakes front and rear, Wilwood 7-inch dual diaphragm booster/master |
| Wheels: | 20x9 and 22x11 Budnik G-series Spyder wheels |
| Tires: | 245/35ZR20 and 285/30ZR22 Nitto INVO tires |
| Body: | Premier Street Rods 1957 Chevy 3100 new cab and sheetmetal, Mar-K bed, customized front bumper and rear roll pan, custom running boards, Lokar Performance Products door handles, Eddie Motorsports hood hinges, Brushed aluminum bed floor, custom glass, Nova-Lux headlights, House of Kolor Snow White Pearl and Blue Blood Red paint, Pinstriping by Big Chris |
| Interior: | Work performed by Ron Mangus Interiors/Premier Street Rods, custom red leather bucket seats, custom red leather door panels and headliner, red carpet with custom red leather floor mats, dashboard wrapped in red leather, custom switches, AccuAir Touchpad, custom interior handles, Ididit steering column, Billet Specialties steering wheel, Dakota Digital gauges, Resto-Mod Air climate control, Alpine head unit, Kicker speakers and amplifier, Optima battery |
Gennie is a drool-worthy diesel Dodge dually dropped to the dirt.