Road Test Review: The 2023 BMW X3 M Competition Is A Track-Ready Luxury SUV—But Is It Daily Driving Overkill?
The BMW X3 is a popular luxury SUV for a reason. Generous when it comes to coddling riders front and rear, the X3's well-proportioned design still manages to effortlessly fit into the driveways and parking garages of condo dwellers and suburbanites alike, its versatility as a family commuter underscored by sleek styling and a choice of power plants ranging from mild to wild. In short, BMW's compact hauler represents that rarest of achievements, a vehicle that is simultaneously everything to everyone without introducing undue compromise into the equation.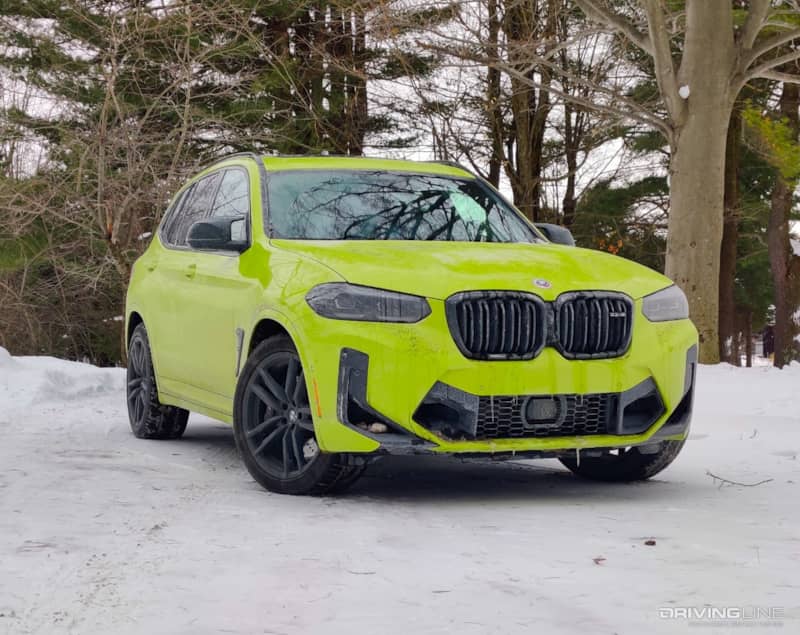 Can there be too much of a good thing? The 2023 BMW X3 M Competition—the hottest, and most expensive model in the sport-utility vehicle's line-up—feels simultaneously like 'more' X3 and 'less' X3. Whether this works for you will depend entirely on how you approach this particular case of addition and subtraction, and how important the final sum ends up being when matched against your own driving needs.
Bringing The Big Guns
Let's focus on the 'more' X3 aspects first. Appending 'Competition' onto the X3 M's already illustrious badge ensures that its turbocharged 3.0L engine pushes out an extra 30 horsepower, bringing its total production to an exceptional 503 ponies. That's on top of 479 lb-ft of torque, numbers that team up with a standard all-wheel drive system and an eight-speed automatic transmission to catapult the BMW to 60-mph from a standing start in a truly ridiculous 3.3 seconds, a repeatable number that's even quicker than its factory rating.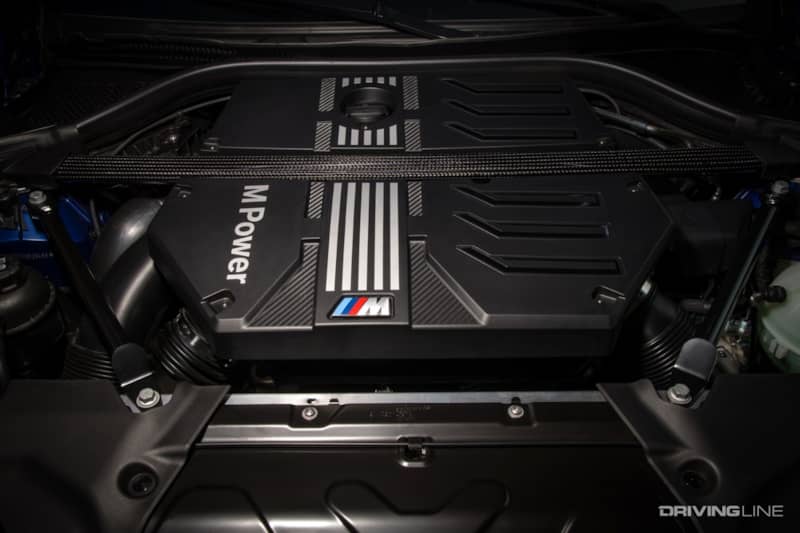 What does this mean in the real world? Off the line, the X3 M Competition makes it a driver's race when facing off against the smaller and marginally lighter BMW M3 sedan (which is notable for not being able to haul half a hockey team's equipment on the way to your next speeding ticket). It's the kind of hammer-fist launch that pummels the pavement into submission at such an alarming rate that you'll likely want to save full throttle for those times when you're solo, so as not to have friends and family swear off riding shotgun for life.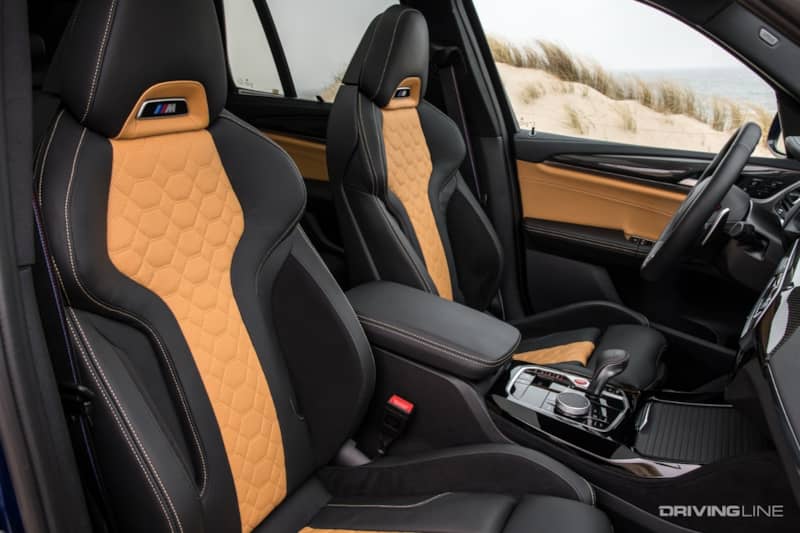 The BMW X3 M Competition also goes extra when it comes to stance, wearing fat and exclusive 21-inch rubber intended to maximize grip not just in a straight line, but also when negotiating any errant bend in the road. On dry pavement it accomplishes this task with alacrity, as the X3 feels entirely secure operating at speeds that would leave lesser SUVs discombobulated on the shoulder.
Pay To Play
How does any of the heaping helping of performance mentioned above subtract from the BMW X3 experience? A big part of what makes typically makes this SUV feel so special is its sense of balance, of being able to deliver thrills behind the wheel when required while still prioritizing comfort in nearly every driving situation. All of this is backed up by the sense of purpose inherent in the contours of its practical shape.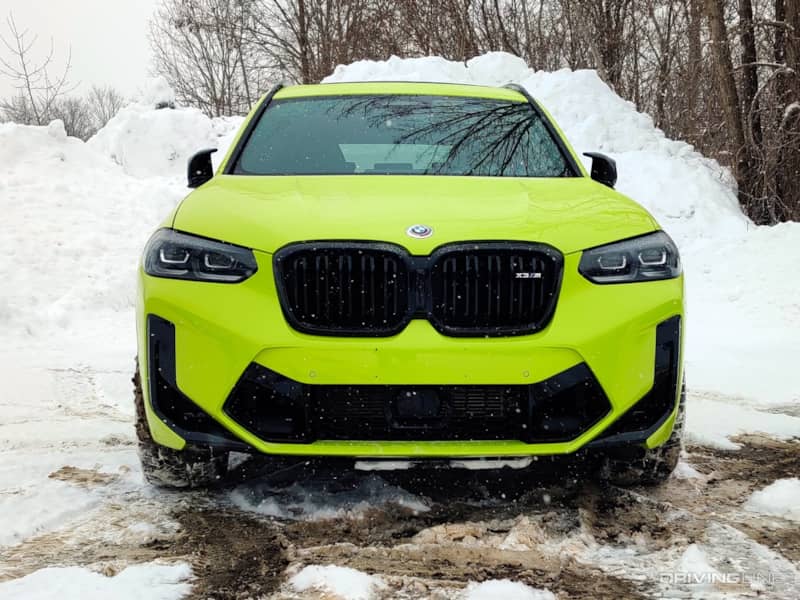 The X3 M Competition's sharpened reflexes and gym bunny drivetrain are at odds with several aspects of this mission statement, a fact that is made readily apparent the instant the nuclear power plant between the front fenders fires into life and begins to buzz and vibrate the steering wheel and pedal box at idle. This intrusion into the X3's calm cabin space is further underscored by the big wrestling boots masquerading as shock absorbers under the M Competition's chassis, dampers designed to back-flip over the top rope and stick the landing rather than tip-toe down rough roads. Combine that with its oversized, low-sidewall tires, and there's far less insulation between the BMW's passengers and the local topography, which can occasionally translate into a jarring ride.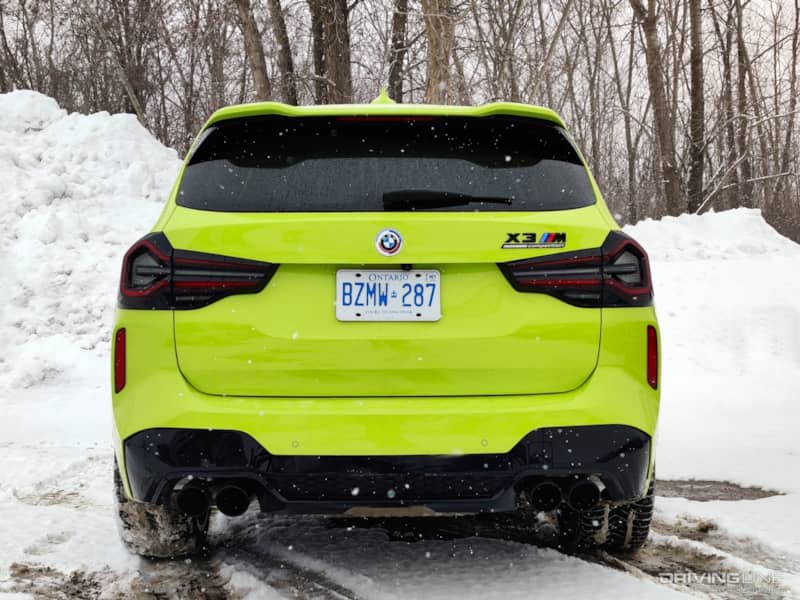 That ultra-wide rubber also impacts the ability of the X3 Competition to deal with slushy or snow-covered roads, giving the SUV a tendency to push to the outside edge at low speeds while transitioning to a full rear-end kick from its back-biased all-wheel drive setup under throttle. As long as drivers are aware of the BMW's handling parameters in the white stuff it's easy enough to maintain a steady course, but there's a learning curve about how much speed can be carried into sharper corner just after the plow's passed by (hint: it's slower than you think).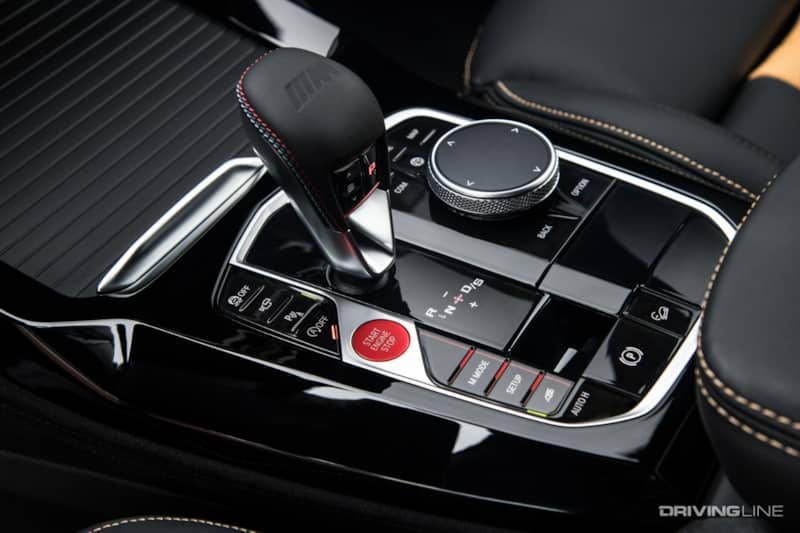 The digital details intended to further hone the X3 M Competition's capabilities can also get in the way of the common commute. The vehicle's eight-speed automatic offers three 'degrees' of shift quickness accessible via a button on the gear selector, a feature that's relatively opaque and completely unnecessary given that the BMW also provides several customizable drive modes. That same transmission also tends to hold gears longer than absolutely necessary, and often downshifts at highway speeds to grab the seventh cog ostensibly for reasons of performance, but with the unintended effect of murdering your fuel mileage. There's no 'Eco' mode available to shut off these shenanigans, and during a snap of cold weather I saw a fairly miserable 14-mpg in combined driving (which is 5-mpg below its EPA combined rating), the majority of which was spent cruising at 70 miles per hour.
Choices, Choices, Choices
The 2023 BMW X3 M Competition is an SUV that's living on the edge, and it's inviting you to be its roommate each and every time you slip behind the wheel. For some drivers that's an appealing prospect, as the M Competition's sales suggest that there's no shortage of people seeking a daily driver that doubles as a track-ready time attack champ.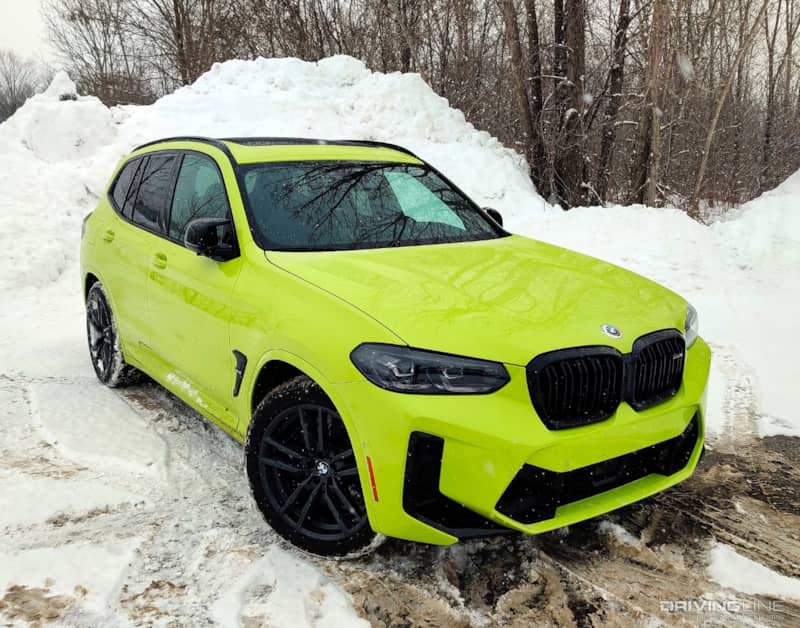 For the majority of customers, however, the X3 M Competition pit lane credentials (and even those of its less-endowed, but still over-the-top X3 M sibling) represent overkill of the finest vintage. Truth be told, the most spendable version of the X3's double-sided coin remains the M40i model, which alloys just enough power with a suspension tune that doesn't rattle the change in the cup holder (along with reasonably-sized tires and a lack of electronic drive mode complication). The M Competition certainly enhances the X3's firepower, but it dulls more than a few soft skills from its successful formula in the process, making it an upgrade that's aimed exclusively at the most hardcore sport-utility performance fans.