Road Test Review: The 2023 Ford F-250 Super Duty "Mini-Zilla" V8 Is A Towing Terror
Heavy-duty pickups have traditionally evolved at a slower pace than their half-ton siblings, at least when it comes to adopting the tech and feature developments that are often aimed at retail buyer rather than the commercial customers served by these task-focused trucks. In recent years, however, that boundary has increasingly been wiped out due to the cutthroat arms race being waged between GM, Ford, and Ram in the three-quarter and full-ton segment to snag the hefty profits generated by these mega-machines.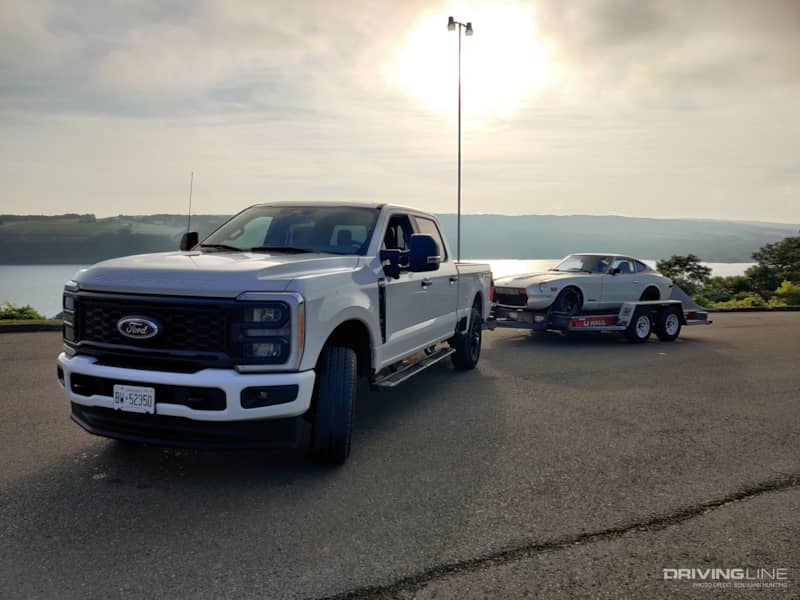 The end result has been a resurgence in development under the hood and in the cabin for many models, including Ford's Super Duty lineup which has been redesigned for the 2023 model year. Not only has its list of available drivetrains grown, but the F-250, F-350, and above now have access to the kind of driver assist features that have been digitally smoothing out the road ahead for F-150 customers for quite some time now (while adding a few business-centric twists of their own).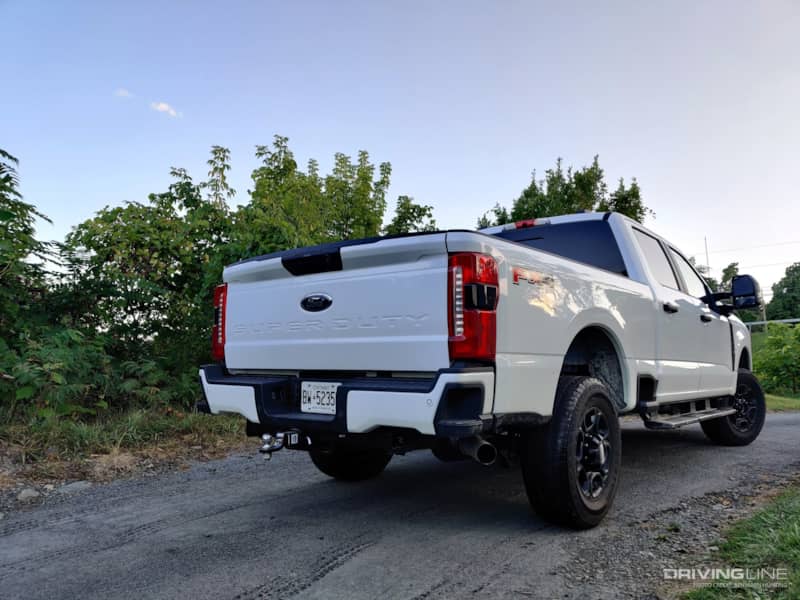 It's important to understand, however, that Super Duty trucks offer a broad range of trims and options that surpass even ultra-configurable half-tons when it comes to being a blank canvas for the needs of their owners.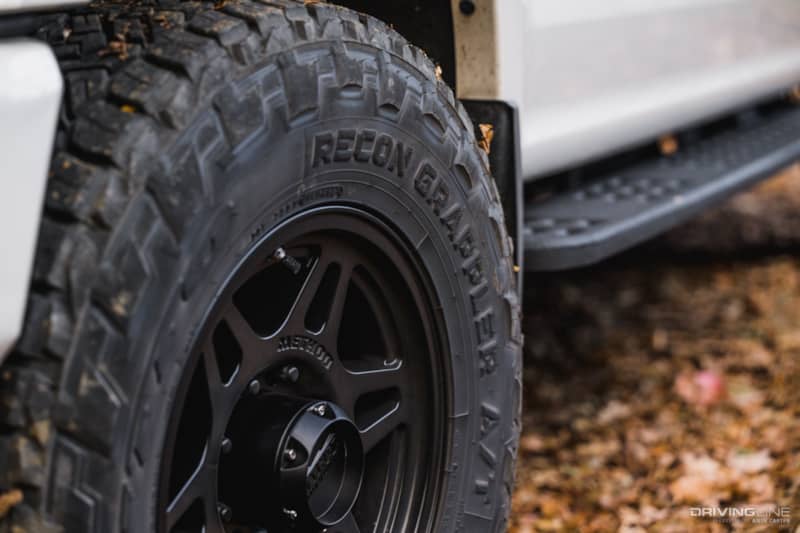 This means the ultra-high spec trucks that shine in showrooms are balanced out by stripped-down mules that are rarely seen in regular duty inventory.
Getting Back To Basics
It's the latter configuration that I snagged for an upcoming tow trip. It's rare in this business to come across a base model regardless of whether you're talking about an entry-level hatchback or a family SUV, but it's especially uncommon when it comes to pickups. There are simply so many potential trim and option combos out there that a modestly-equipped edition is an unlikely roll of the dice when the test fleet places its order.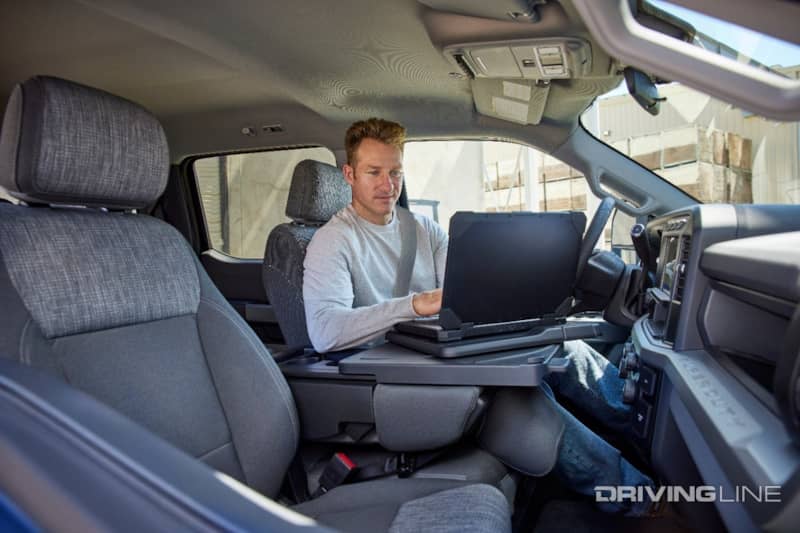 Still, the 2023 Ford F-250 XL in my care was as close as they come. This crew cab model, with its 6-and-3/4 foot box, featured practical options like the Pro Power Onboard generator, the FX4 Off-Road package, a tow technology package, and a spray-in bedliner, but nothing that could be construed as luxury. In fact, the only "upscale" aspect of the truck's feature set was the STX Appearance Package, which combined largely esthetic improvements (body color bumpers, LED lighting, 18-inch alloy rims) with automatic high beams and active safety gear (blind spot monitoring, emergency braking front and rear), and surprisingly, a front bench seat (with a folding center section that converts to a console).
Mini-Zilla Roar
All of the above, plus a few smaller supporting options, brought the price of the truck to just over $62,000. That's a fair chunk of change when considering just how bare bones the F-250 Super Duty truly is in terms of comfort gear. Cloth upholstery and hard plastics are the order of the day throughout the truck's (enormous) passenger compartment, which communicates that this vehicle is a tool, rather than a dual-purpose commuter. Even the infotainment screen squeaks by with a passing grade, its small size splitting in half while reversing to show both a top-down and backup camera view that made parsing the position of a tow ball as it approached a hitch a squint-heavy task.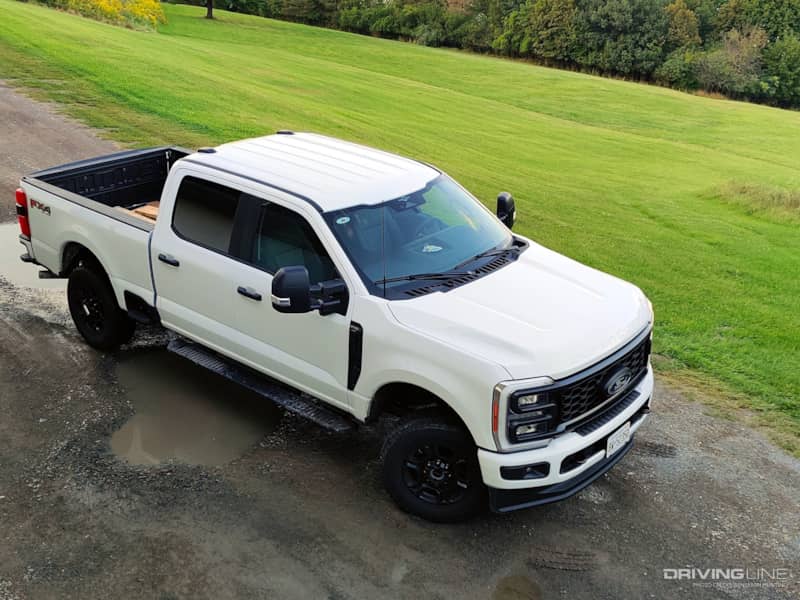 That being said, there's no questioning the sharpness of this particular tool's blade once it's pointed in the direction of whatever job needs to get done next. For me, that meant hauling my Datsun 400-miles to the race track and then 400 miles back again by way of whatever sketchy U-Haul auto transport trailer was available at my local outlet.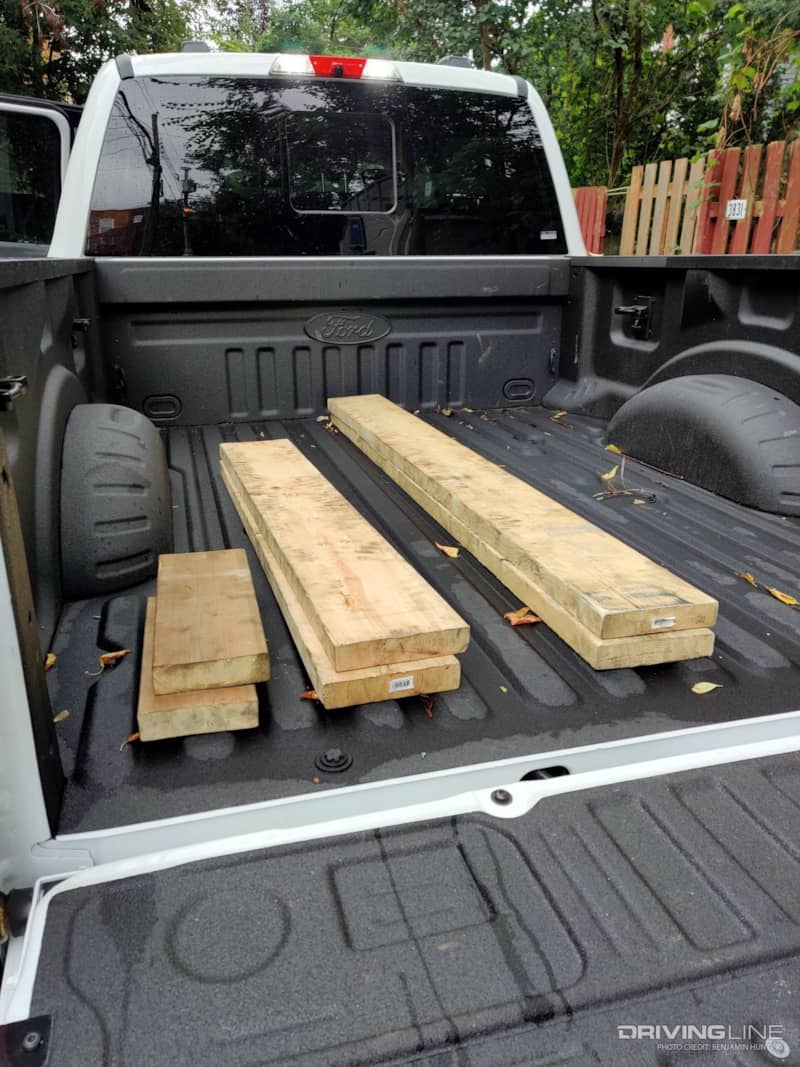 Towing is a particular strong point for the 2023 F-250, with four-wheel drive four-door models boasting 14,100 pounds of capacity when using a conventional (read: non-gooseneck) trailer. You'll want to look past the rating's sheer numbers for better insight into why the entry-level edition of the Super Duty is a much-improved rig for lugging around a load, as the key improvement is swapping out last year's 6.2L "Boss" V8 for a new 6.8L unit that borrows its design from the vaunted "Godzilla" engine that first appeared in 2020.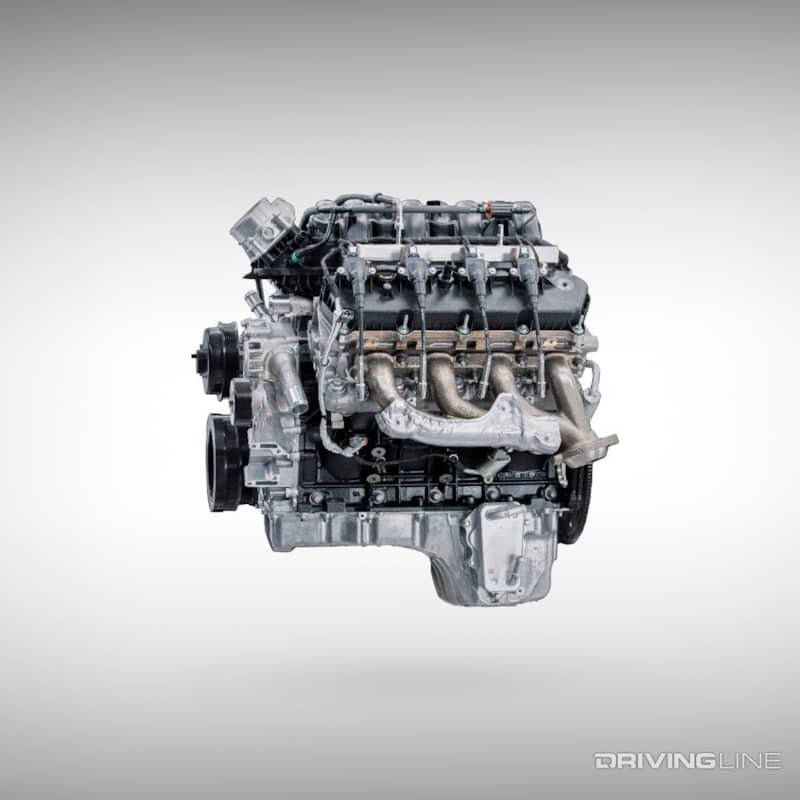 Dubbed the "mini-Zilla" by some, this engine is essentially a destroked version of the 7.3L eight-cylinder from which it derives its kaiju-inspired moniker. Rated at 405 hp and 445 lb-ft of torque, it's a clear upgrade over the 6.2 both by the numbers and in terms of how its output is delivered. The pushrod design breathes much easier when delivering its twist, which comes on at a much lower RPM and helps reduce heat and underhood drama while under load.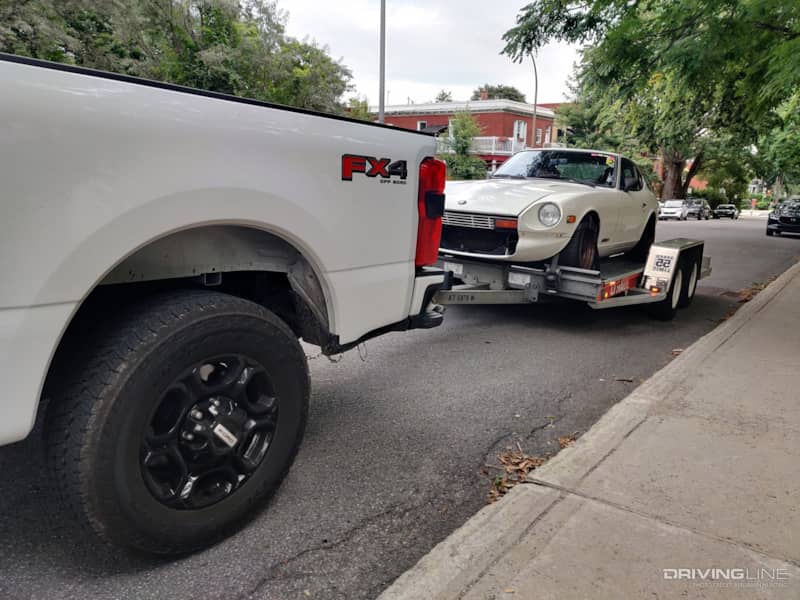 Also putting in important work is the 10-speed automatic transmission that is now standard with all gas versions of the F-250. Banishing the 6.2's six-speed design was an inspired decision, as it allows for more selective control over engine management, particularly when used in tow/haul mode.
Barely Breaking A Sweat
Taken together, the F-250 Super Duty's 6.8L and the additional cogs of its autobox are a compelling combination. Despite having to engage in several lengthy climbs on the way from Montreal to upstate New York's Watkins Glen International, the Ford remained a cool customer at all times, eating up mile after mile without a second thought given to the (apparently negligible) 4,500 pounds of trailer weight along for the ride.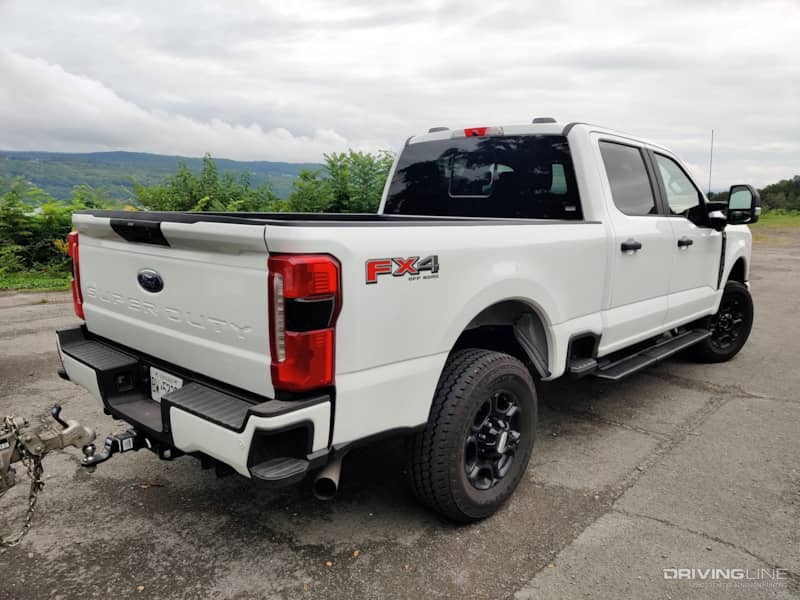 I was surprised by how much time the 10-speed spent in its highest gear, and even when dropping down a ratio or two engine speeds stayed below 2,000 rpm while traveling at a healthy 75 mph. No screaming revs when accelerating, no high temps on the dashboard, and certainly no indication that the mini-Zilla was struggling at any point. When moving off of the interstate, the towing logic built into the transmission was aggressive, but not annoying about using engine braking to maintain a steady downhill pace, at times selecting second gear on steeper drops to assist the vehicle's brakes. It's also worth noting that the truck turned in 12-mpg during the entire trip, which is a respectable figure for such an enormous, heavy vehicle tasked with towing.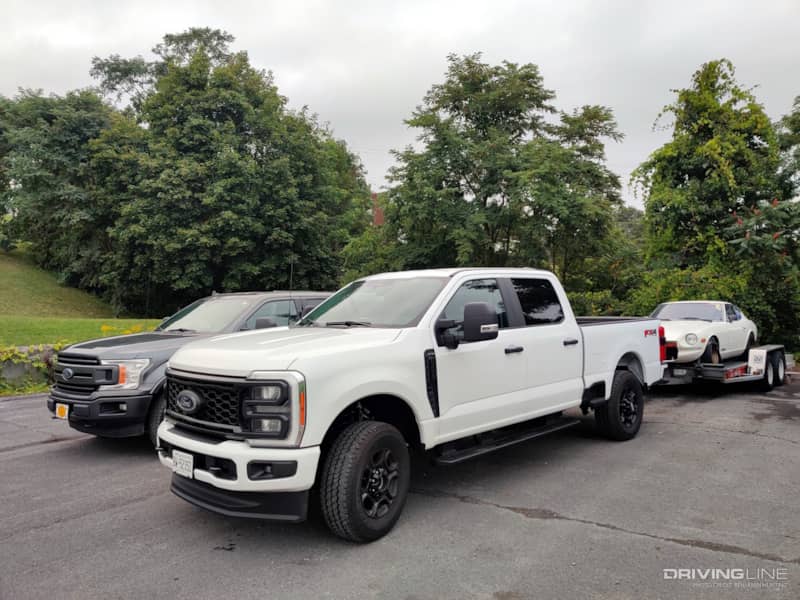 What was most impressive was how stable and unperturbed the Super Duty felt during our towing time together. There was rarely even a hint that the trailer was present, with the truck's handling uncompromised and its ride quality even improved by the tongue weight balancing out its stiff suspension system. This is in stark contrast to light-duty pickups, whose chassis are less forgiving when faced with a tongue-heavy trailer like those offered by U-Haul.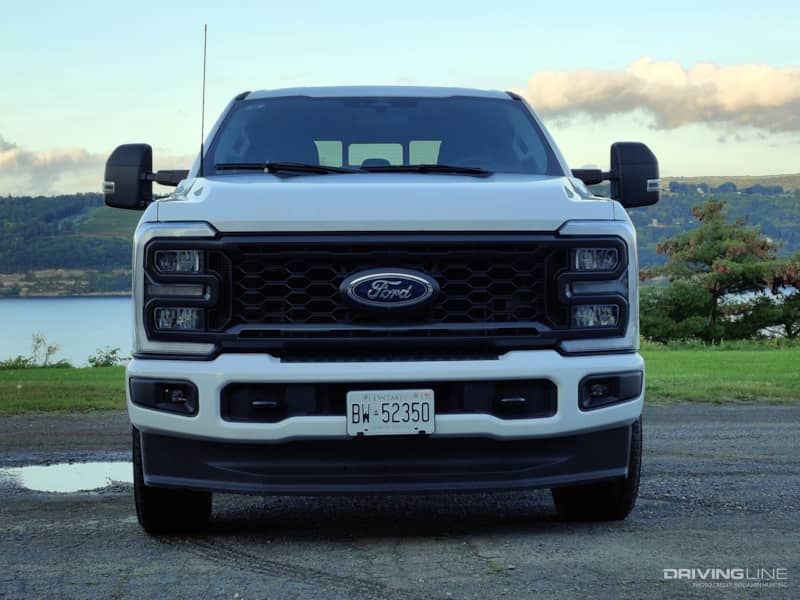 That's not to say everything was perfect. Ford's blind spot monitoring system requires drivers to configure the dimensions of each trailer in a unique profile, or it simply turns itself off, unlike some rigs out there that can automatically use those same sensors to detect the size of the load that's being towed. Despite its other advanced safety gear, the XL trim doesn't offer adaptive cruise control, either, which made stop-and-go traffic more of a workout.
Muscle Up
The 2023 Ford F-250 and its new 6.8L base engine makes a strong case sticking with gas when ordering your next Super Duty. A clear improvement over the previous entry-level V8, the F-250 is well-suited for a long list of tasks that don't require the supernatural grunt (and soaring cost) of either of the brand's turbodiesel engine options. It's also likely "enough" motor to forgo paying extra for the 7.3L Godzilla (which only becomes available on XLT trim-and-up Super Duty trucks).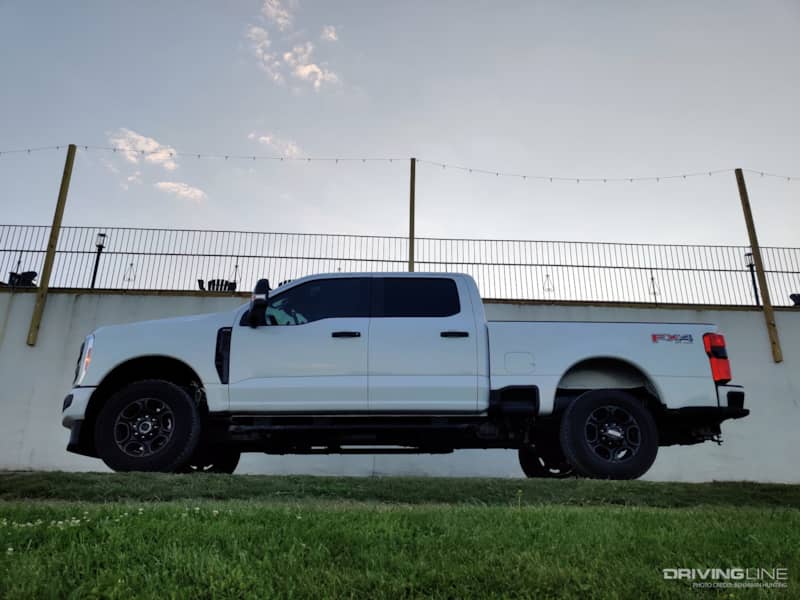 Keep in mind that even though the F-250's price tag might come close to that of a well-equipped half-ton, it won't feel nearly as plush on the inside, nor will it dazzle you with tech. That gear is out there, but you'll be paying a significant premium to snag it as compared to the F-150, given that most of a Super Duty's ask is invested into its drivetrain and platform. If that's a trade-off you're comfortable making—and if you're regularly facing down big jobs that half-ton trucks traditionally struggle with—the next-gen F-250 is a promising step up.