2020 Ford F-250 Tremor Review: Does Ford's Heavy-Duty Off-Road 4x4 Compete Against the Raptor and RAM Power Wagon?
The Raptor has been an amazing success story for Ford, with the rugged dune-bashing pickup projecting exactly the type of image many truck buyers are looking for (and backing it up with exceptional capability). Now in its second generation, the F-150-based Raptor has finally been joined by a legitimate off-road package for heavy duty pickup fans in the form of the F-250 Tremor.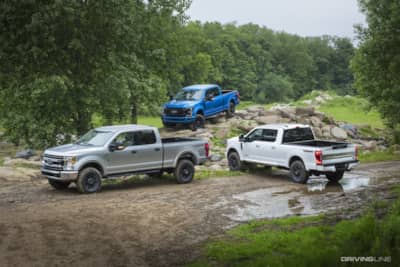 The 2020 Ford F-250 Tremor is the automaker's first foray into creating a modern three-quarter ton all-terrain monster. With only one direct rival—the Ram 2500 Power Wagon—and several less-focused equipment groups from Chevrolet (Z71) and GMC (AT4) also available, it's nearly open market for the Blue Oval.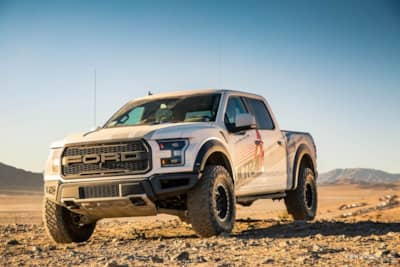 How does the F-250 Tremor stack up? And just how practical is it to select such a large, work-oriented model for pulling double duty on the trail, especially if you're regularly transitioning from urban to outback?
Bigger, But Not Everywhere
Comparing the Raptor and the Tremor might at first seem like a bit of a mismatch. After all, the former is based on the light-duty F-150, while the latter's Super Duty chassis is intended to serve class-above towing and hauling needs.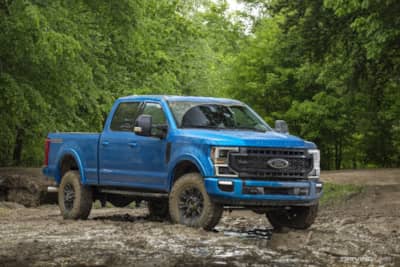 Get out the measuring tape, however, and you'll likely be surprised by just how big the Raptor really is. Although an equivalent four-door F-250 is a whopping 35 inches longer than the SuperCrew version of the Raptor, ignore those massive mirrors and it's actually 6 inches narrower, with a roofline that's only 4.5 inches taller.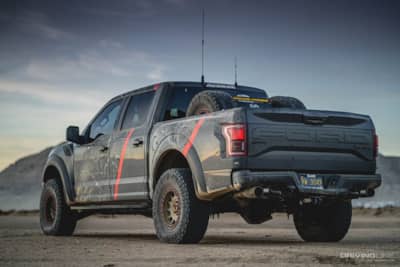 Then there's the fact that the Tremor package is available on any F-250, F-350, or F-450 with a single rear wheel axle and the 6.75-foot bed. Choose a single-cab F-250—which you can't do with the Raptor—and you're only half a foot longer. Credit goes to the dune basher's hyper-wide track and considerable suspension lift for pushing it close to its beefy sibling.
A Challenge In The City, A Challenger In The Rough
That long wheelbase might sound ungainly, and it definitely is. Around town the F-250 Tremor is a handful, requiring a fair amount of skill to thread through traffic combined with enormous luck in discovering a parking space that can accommodate its bulk.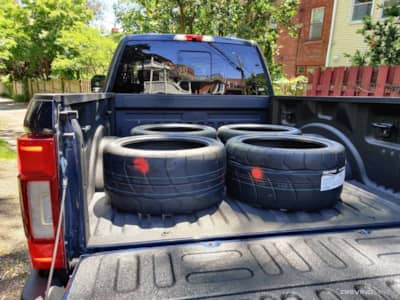 This is true of almost any HD pickup, of course, which are job focused, rather than commuter-oriented. Where the Tremor stands apart from most of its brethren is in the suspension department. The truck's two-inch lift (as measured at the front axle) is a combination of springs and tires (the latter are 35-inchers), with a 45-mm piston twin-tube shocks standing in for standard Super Duty fare. There's a thinner swaybar upfront to help with wheel articulation and leaf springs out back, with coils controlling the forward solid axle.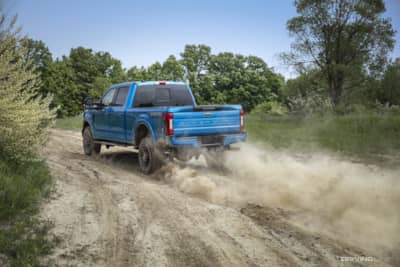 Although all of the above makes for a bouncy ride on rough pavement with occasionally vague steering at highway speeds, the setup helps the F-250 Tremor achieve 10.8 inches of total ground clearance. This is paired with approach (31.7 degrees) and departure (24.5 degrees) angles that are more than respectable for an off-road rig.
Throw in 33 inches of water fording capability and, of course, low-range four-wheel drive and the Ford is a brute that can force its way through most challenging terrain, albeit with a lack of grace similar to its urban clunkiness. Locking differentials and skid plate armoring make up the rest of the Tremor package's gear, along with Ford's drive modes that adjust throttle sensitivity, traction control, and transmission logic for the current situation.
Tremor Or Power Wagon?
How does all of that equipment stack up against the F-250 Tremor's closest competitor, the Ram 2500 Power Wagon? The Pentastar's long-standing entry onto the HD off-road scene adds almost 4 inches of extra ground clearance compared to the Ford, even with shorter sidewalls on its tires. It also provides electronic lockers both front and rear, and a front anti-swaybar that can be remotely disconnected to improve articulation over uneven ground.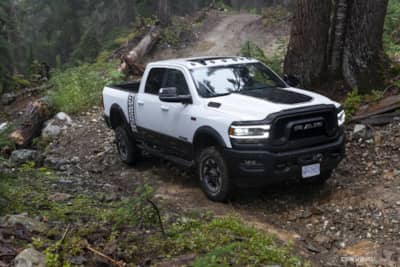 Despite offering 3 inches less river crossing capability compared to the Tremor, the Power Wagon delivers a few other standard goodies that its Dearborn-based foe does not, including a 12,000 pound Warn winch (optional on the Tremor) and a unique coil spring setup at all four corners that gives it a slight edge when it comes to daily driving smoothness.
Arguably, the Power Wagon is the more complete package when it comes to serious off-roading, or as serious as one can get when driving a truck as big as a house. It's also worth noting that the Ram's interior design—even if it can't be had in as fully-featured a trim as the F-250 Platinum—is much easier on the eyes, and feels more upscale than any other truck in its class.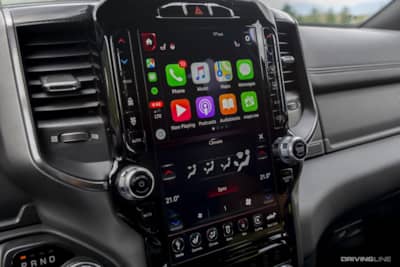 There's one area, however, where the Power Wagon falls short of the Tremor, and that's under the hood. The Ram 2500's standard 6.4-liter V8 is a good one, no doubt, with 410 hp and 429 lb-ft of torque on tap, but it's also the only engine option offered in the Power Wagon. The Tremor package, on the other hand, can be paired with either a 7.3-liter gas V8 that's good for 430 horses and 475 lb-ft of torque, or a 6.7-liter Power Stroke turbodiesel that churns out 475 horsepower and 1,050 lb-ft of torque, each matched with a 10-speed automatic transmission.
In testing out the turbodiesel it quickly becomes apparent that it easily schools the Ram's gasser both in a straight line (shooting to 60 mph in the 7 second range) and towing (18,100 lbs). Only the GMC Sierra 2500 AT4 challenges the Tremor for towing (again, thanks to its diesel availability), but it's nowhere near the same level of trail rig. Just keep in mind when you're booting around at full throttle in the Ford that you'll have to eventually brake 8,000 lbs of truck, and converting that kind of momentum into stasis is going to take 747-levels of runway.
All-Arounder
The 2020 Ford F-250 Tremor is an interesting entry into a heavy duty segment that has thus far focused far more on luxury than adventure. If you absolutely need to tow a massive trailer to the edge of civilization and then step off the pavement into the great unknown, the Tremor is perhaps your best option, especially if you're willing to pay more for the Power Stroke.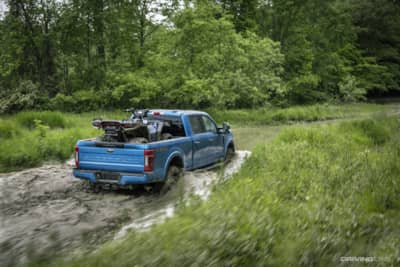 Then again, with its $10,000 premium it's not a casual decision to go turbodiesel over gas in the Tremor, putting the price floor at just over $62,000 (and potentially pushing it well past $80k with options). If sticking with the 7.3-liter motor is better for your wallet you'd do well to test drive the Power Wagon, too, as both three-quarter ton trucks are more comparable in terms of capability once you take the diesel Tremor's massive tow advantage out of the equation.
Curious about the history of Dodge's Power Wagon? Get up to speed with this in-depth look at America's oldest 4x4 pickup.