Seeing Red: A Timeless Truck for Toyota Fanboys
It wasn't until recently that I realized how much of an effect growing up in the '90s had on my taste in vehicles. As a kid, "Ironman" Ivan Stewart was at the top of my list of racing idols. The allure of this one man and his trusty Toyota dominating the competition year after year was something that stuck with me through my teenage years, and eventually led me to buy my first 4-wheel-drive Toyota truck in 2012.
After years of "build, play, break, repeat" every weekend, in the various off-road destinations of California, I was ready for something different. In 2015, I sold my late model Tacoma, complete with all the off-road fixins', and began my pursuit of the perfect '90s desert truck with modern guts. After a year of searching, I came across a rig that was almost too good to be true.
Finding the Perfect 1991 4WD Toyota Pickup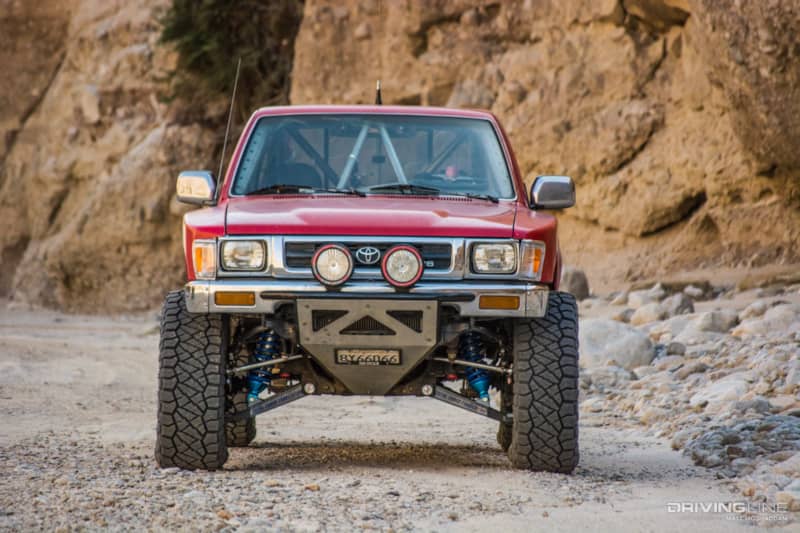 After responding to the Race-Dezert Classified ad and finding out the truck was just a quarter mile away from my office, I didn't waste any time getting down there to take a look. The first time I laid eyes on this truck, I knew it was the one I had been looking for. Beginning its life as a '91 4-wheel-drive Toyota Pickup, belonging to an elderly woman for many years, this truck then landed in the hands of Mike Sheehan, a fabricator at Richer Racing in Oceanside, California. When I headed down to meet Mike and see the truck, I noticed many of the more difficult parts of the build were already finished. Just one look and you could tell it was a truck that paid homage to the '80s and '90s desert race trucks, with a touch of modern luxury making it the perfect weekend warrior. Needless to say, I couldn't let somebody else have it, so we made a deal and I drove off with the truck that is today known simply as "Scarlett".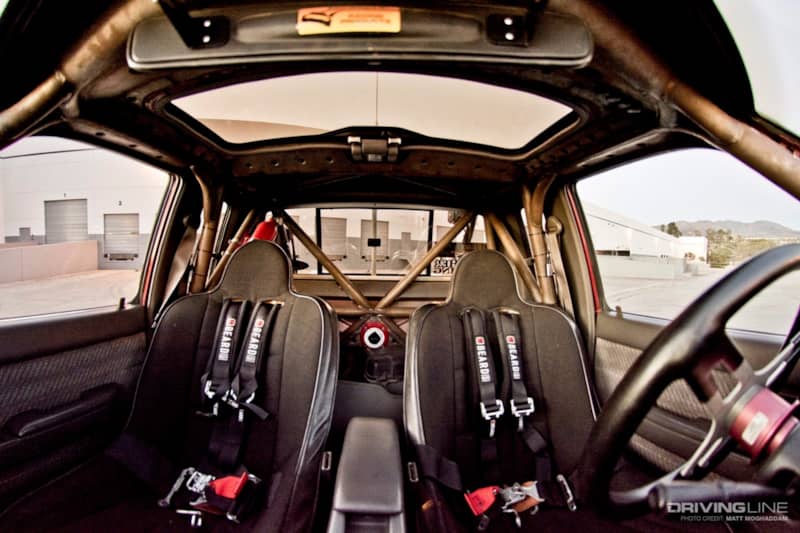 When I got the keys to Scarlett, she already had many upgrades I would want in a desert truck. The interior is tastefully caged, with 2-inch 4130 chromoly steel, gusseted and plated to the cab with the factory moonroof in mind. A pair of PRP suspension seats and Beard five-point harnesses keep you firmly in your seat. Behind the seats is plenty of storage for tool boxes, extra parts, a soft-cooler and a few other things I take on longer trips. Being HAM licensed, I was pleased to find a Kenwood HAM radio already installed and wired to a PCI Race Radios 4-link intercom, ready for both driver and passenger headsets. My favorite part about the interior of this truck is the fact that all the original equipment is still 100% functional. An aftermarket radio and subwoofer make listening to music great, the air conditioning and heater work flawlessly—something you don't often find in purpose-built trucks like this.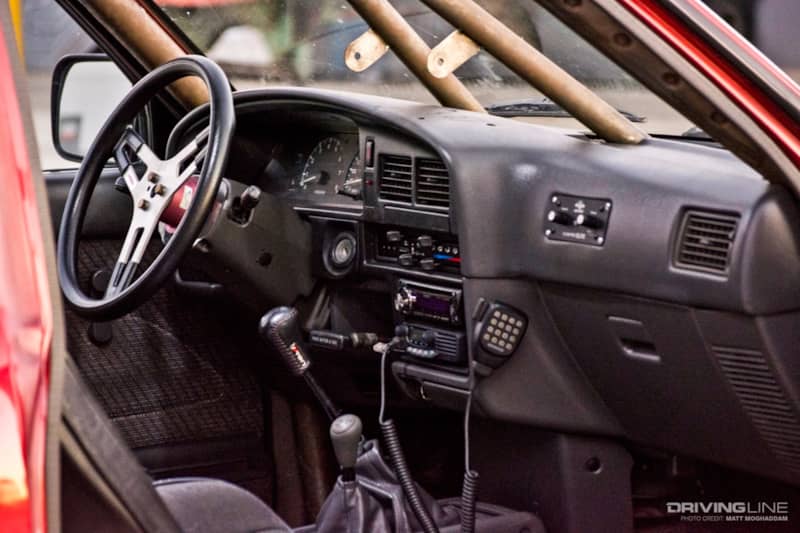 Improving Upon the Original Toyota Equipment
Scarlett was sporting a Total Chaos Fabrication Gen 1 Caddy long travel system, the weapon of choice for '90s Toyota desert trucks. Although effective and stout, the old torsion bar design is dated by the advancements in today's off-road suspension technology.
Wanting to keep the suspension in line with the guys who were building these trucks for desert racing since the beginning, I called up Total Chaos Fabrication to see what they had to modernize the front end of this truck with. A few weeks later, I installed their latest 4-wheel-drive long travel system, complete with boxed lower arms for added strength, a heimed steering upgrade and the beefiest idler arm on the market I could find for this truck. After ditching the torsion bars and smooth-body shocks, I installed a pair of King 2.5 inch coilover shocks up front. The adjustability and ease of maintenance that coilovers offer were too good to pass up. The next upgrade on the front-end will be King 2.5-inch bypass shocks, in addition to the coilovers, to help with extra dampening and shock tuning.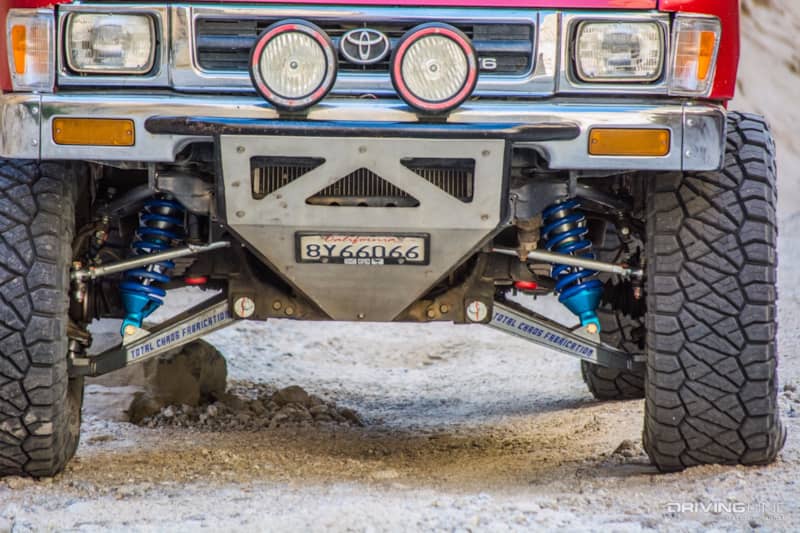 These days, unless you're rolling with a full blown 4-link rear suspension with trailing arms, coilovers and bypass shocks, you're behind the curve. But in the '90s, leaf springs were commonplace—even for race trucks, and the guys building them would make them work flawlessly in the harshest terrain. Currently, the rear suspension features a Deaver Spring F67 leaf-under-axle setup, and Bilstein 4-tube bypass shocks with piggyback reservoirs. I haven't changed anything on the rear end yet, but I'll soon be swapping the stock 8-inch Toyota rear axle housing for a bigger, stronger version from a first-generation Tundra, in addition to freshening up the existing suspension kit with new bypass shocks.
Action Where It Counts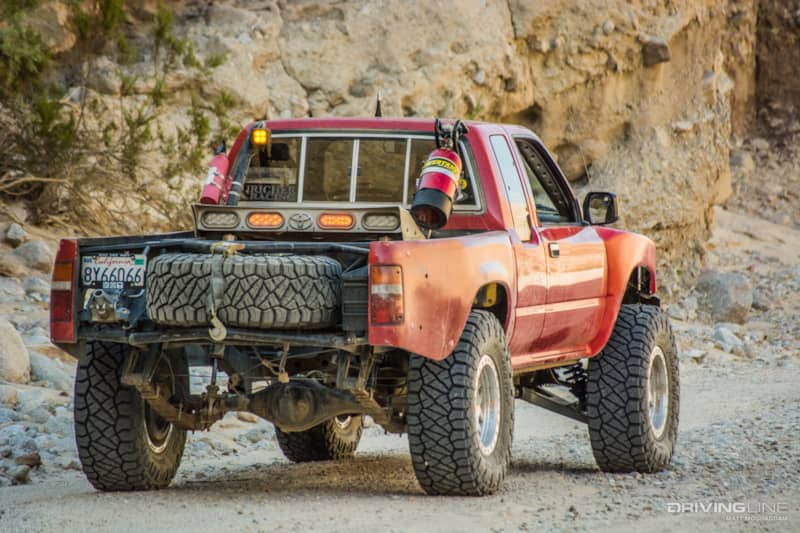 As far as physical attributes go, I think the biggest eye-catcher is Scarlett's 35-inch tires. Not large by truck standards, the size seems large on such a small truck. Thanks to the Hanneman Fiberglass front fenders and rear bedsides, the tires fit nice and snug under the truck—which isn't exactly tall to begin with.
I've always liked the look of a low truck with big tires—something about maximum traction while keeping the center of gravity low and stable has always been a preference of mine in the dirt. I swapped the 17-year-old tires it came with (no, that's not a typo) with a brand new set of 35x12.50R17 Nitto Ridge Grapplers wrapped around KMC Machete beadlock wheels. I really cannot say enough about this setup.
The Ridge Grapplers continue to impress me with their nimble, but predictable off-road characteristics, even at full street pressure. On the highway, they are the quietest and smoothest off-road tire I've ever had on any truck. But best of all, even after several torture tests in multiple kinds of terrain, they're holding their shape very well, without any chunking or tearing like I've experienced with other light truck tires. The KMC Machete wheels are a real crowd pleaser, and allow me to air down to get maximum traction for 4-wheel-drive days in the rocks.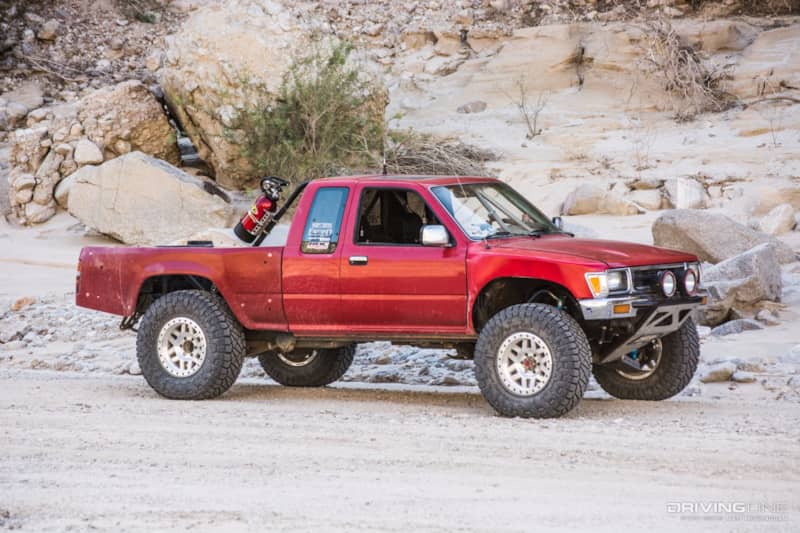 Speaking of airing down, one of my least favorite parts about off-roading used to be airing back up to hit the paved road home. Frantically looking for a gas station with a working air compressor, or waiting around to borrow a buddy's portable compressor after he's finished with it was never ideal and a huge waste of time. But all of that is a thing of the past, now that Powertank hooked me up with one of their 10lbs CO2 tank systems in Candy Red. This system, complete with a Power Flow II pressure regulator, aluminum mount and roll cage clamps, is the perfect solution for having fast, on-board air wherever I go. The Powertank can fill all 4 of my 35-inch Ridge Grapplers from 12psi to 35psi in under 4 minutes. In addition to the time it saves, it's also useful for running impact tools where my shop compressor can't reach.
Truly an innovative product, I recommend Powertank for anyone who's serious about off-roading in desolate areas. Stay tuned for a side-by-side video comparison of the Powertank vs the leading portable air compressors on the market, right here on Driving Line.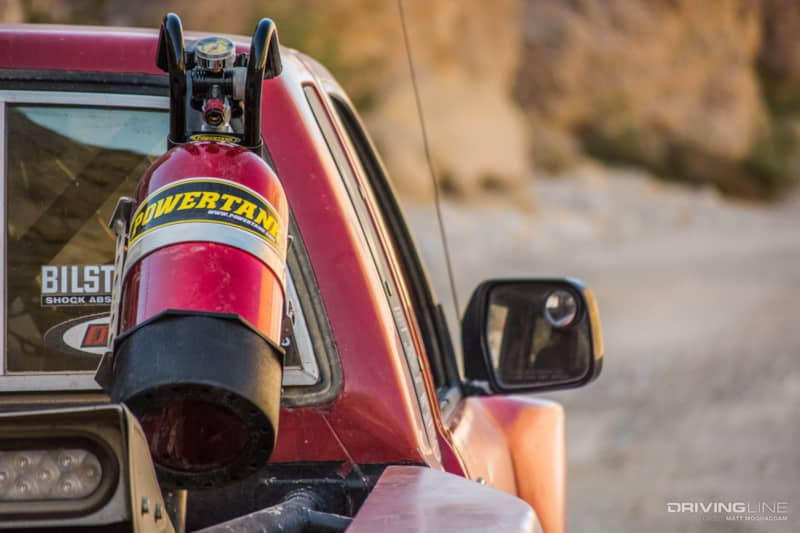 Still Needing More
Despite all the useful upgrades, Scarlett still isn't perfect. Knowledge of Toyota truck history can help illustrate my plans to get Scarlett as close to perfect in my eyes....
In the late '80s, Toyota developed a line of V6 engines to offer more performance in the Pickup and 4Runner. While a new engine from the leader in reliable trucks seemed promising, the 3.0L SOHC (single overhead cam) V6 known as the 3VZ-E quickly became Toyota's problem child. In addition to being just as slow as the trusty 22RE 4-cylinder, the 3VZ-E was a gas-guzzler no matter how conservatively you drove. Perhaps its biggest pitfall, was the 3VZ-E's propensity to blowing head gaskets under 100,000 miles. In fact, Toyota rolled out a recall campaign to address the persistent issue after years of constant warranty work to make them right, a campaign they are still running to this day. Even after the recall was performed, many have reported the same issue occurring again.
For this reason, the most popular "fix" to the 3.0L's poor dependability, lack of power and fuel inefficiency is to simply yank the engine out and replace it with the next generation Toyota truck's more powerful and reliable DOHC (double overhead cam) V6, named the 5VZ-FE.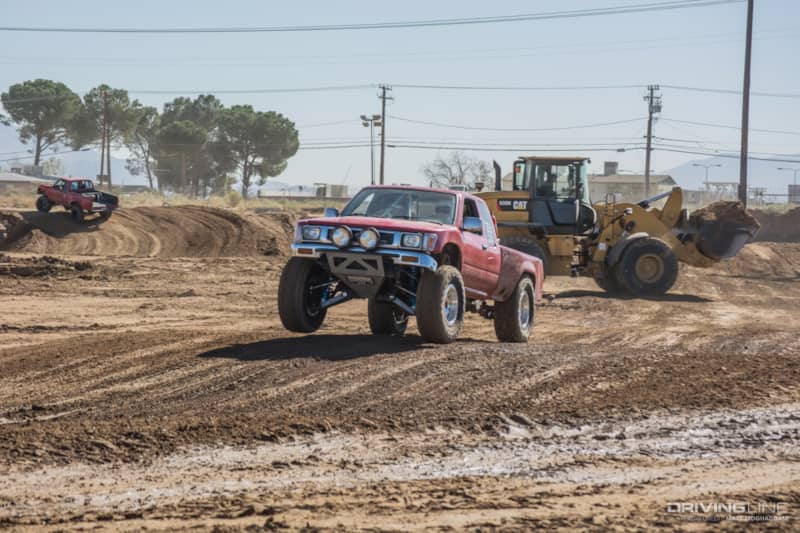 This is what's next for Scarlett. I have most of the parts ready to go to perform the swap, however, she hasn't let me down yet—even with over 230,000 original miles. The time will come soon enough to retire this old motor and set my sights on performance.
The swap itself is so easy—it's almost as if Toyota planned it this way. The 5VZ-FE Tacoma engine bolts up directly to the stock motor mounts, bellhousing, radiator and many other components of the older trucks. In fact, the only components needing modification are the wiring harness, exhaust, oil pan and hood.
It doesn't take much to double the 150 hp of the current engine. Adding a Magnuson supercharger with a URD 7th injector kit can put this motor into the 300 hp range, alongside proper tuning and supporting mods. Along with that, the R150 5-speed manual transmission could use a refresh, with a performance clutch as well.
All in due time...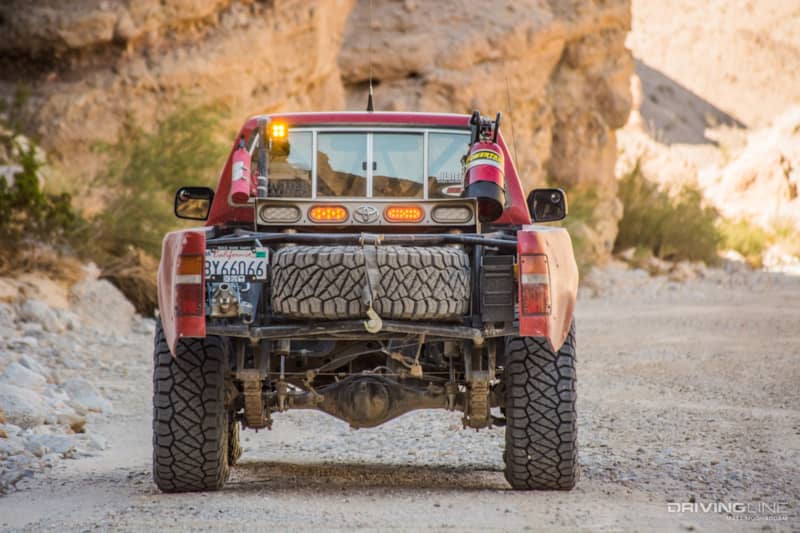 Building What's Worth It
At the end of the day, I bought this truck for its formidable off-road capabilities, added safety measures and to finally chase down my dream of owning a piece of functioning '90s truck memorabilia. Slowly building it up to its full potential, I'm giving her the time and attention she deserves.
What makes it all worth it is the looks I get when I roll into a truck meet. Standing apart from aisle-after-aisle of Raptors, Tacomas and 4Runners, a well-built, early-model rig is surprisingly refreshing—and that's the lasting impression I want to leave on people with this project. It's all about keeping the aesthetics of a classic Toyota, while having the chops to outperform a showroom model in the desert.
I'm confident that in the coming years, Scarlett will become the benchmark for classic Toyota desert trucks, bringing the nostalgic style of yesterday to the off-road technology of tomorrow.
What's in your garage? Share and comment below.