Sonic: Classically-Styled, Scratch-Built '56 Chevy Pickup
Story By John A Mata Jr.
Photos By
Danny Carrasco, of Chino Hills, California is a certified Tri-Five Chevy truck purist. Over the years, he's owned other types of classic vehicles but when it comes to pickups, he always comes right back to this specific model. While he didn't have a project heap sitting around for a new build, he figured he'd just start with a brand new '56 instead.
Yep, you read that correctly, and yes, it is absolutely possible. Well, it is if you contact Premier Street Rod out in Lake Havasu City, AZ—they produce full GM-licensed reproductions.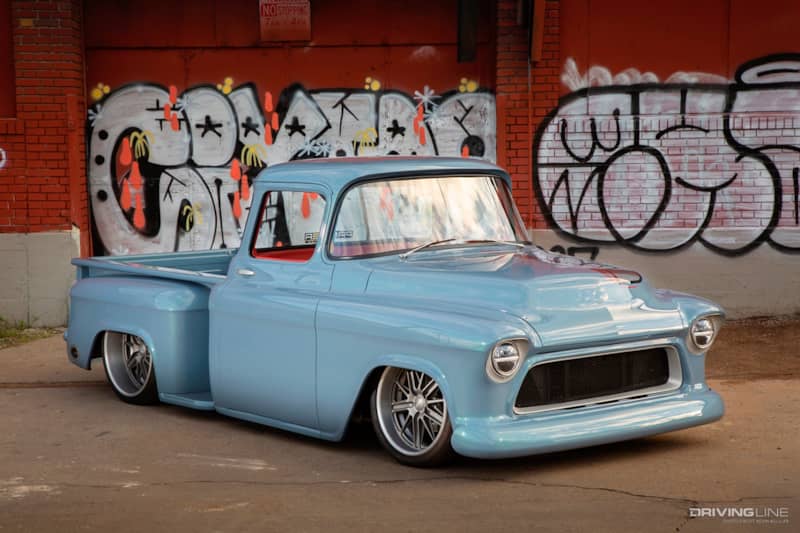 The Look
For this truck, Danny wanted it to take on a modern pro-touring feel that would be different from what he had seen presented in the industry. While this is a common ask, and what the vast majority of builders want for their own classic truck—getting there is challenging, which makes seeing how he achieved that sometimes-elusive feat is all the more inspirational.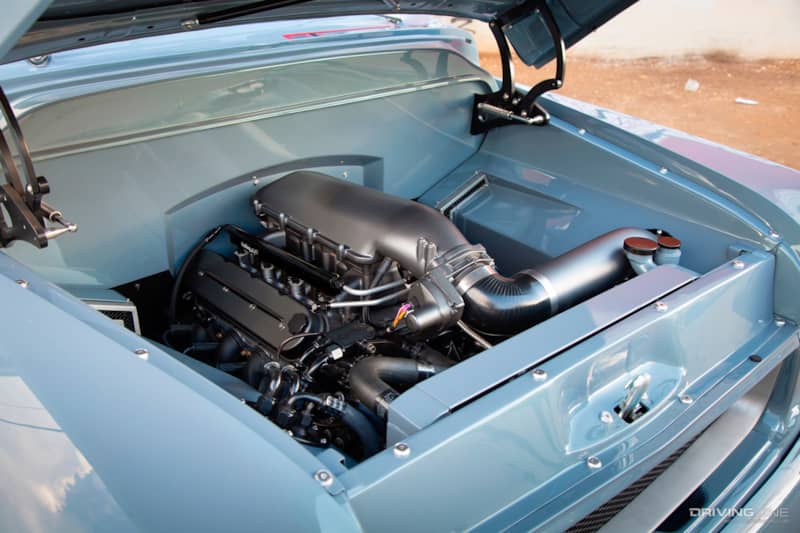 The Setup
To get the project started, Danny knew right at the jump that a full custom frame was in order. Running with a customized Total Cost Involved chassis was definitely the way to go to achieve the modern ride quality Danny was after. As far as the engine and drivetrain combo was concerned, the guys opted for a new GM LS3 crate engine and 4L75E transmission to get the truck moving in the right direction.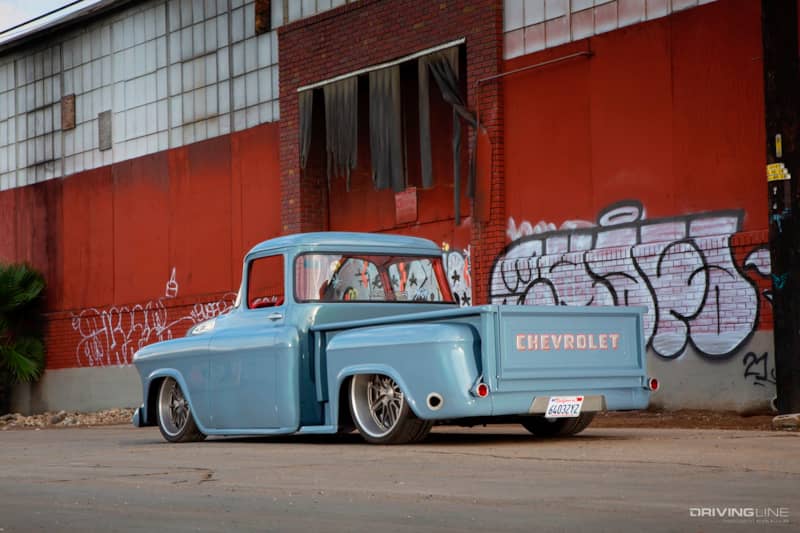 Legend Status
When it came time to piecing Premier's body kit systems together, a lot of subtle body modification also went into creating a look that gives off a streamlined elegance. The bed has been reworked, the turn signals have been incorporated into the LED headlight housings, the grille, the one-off rear roll pan and taillight brackets. These guys turn any vehicle, whether it's a car or truck, into a fairy tale story that soars to a higher level of legend status time after time.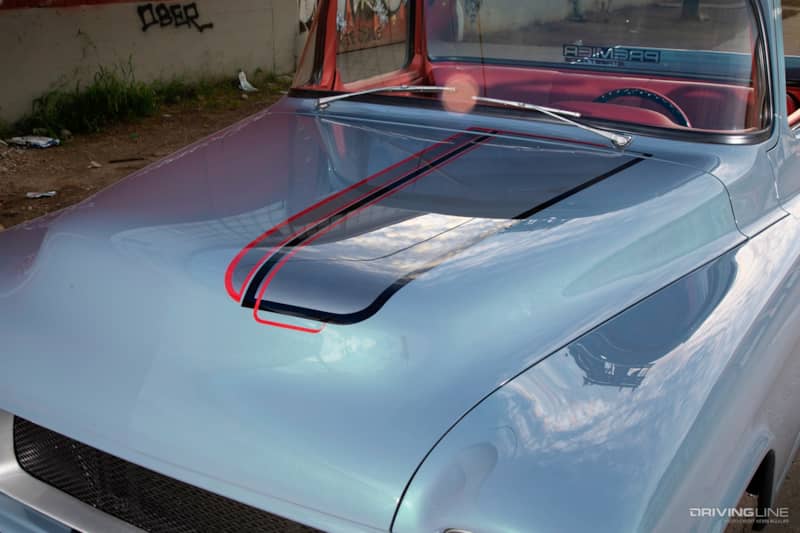 Candy Coating
To fully capitalize on the Premier's level of bodywork, Danny and the guys had put a big emphasis on paint selection and had been tossing ideas around for the better part of two months. It wasn't until a visit to a Honda dealership that he found a color that caught his eye. Taking a closer look, the paper on the window listed the paint color as Sonic Gray. That along with seeing the red interior accents sealed the deal on the decision-making.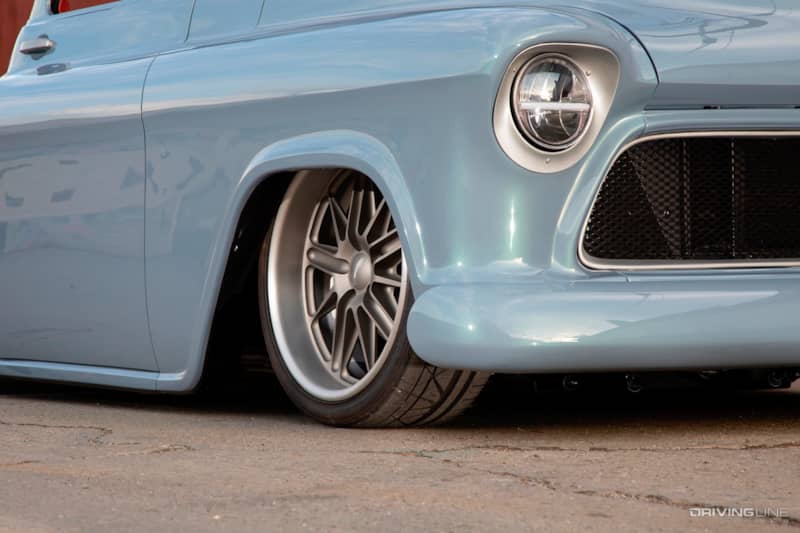 Rolling in Style
Finishing off the look of the exterior is the right set of rollers that not only compliment this ride but also help convey the pro touring theme. Wheels can make or break a build and helping this truck in the style department is a set of 20x8.5 and 22x10.5 Budnik G-Series Tungsten billet wheels that had brushed hoop and charcoal ceramic-coated centers. Helping to solidify the theme is a set of 245/35R20 285/30ZR22 Nitto Invo ultra-high performance tires that fit the look and staggered fitment of the build.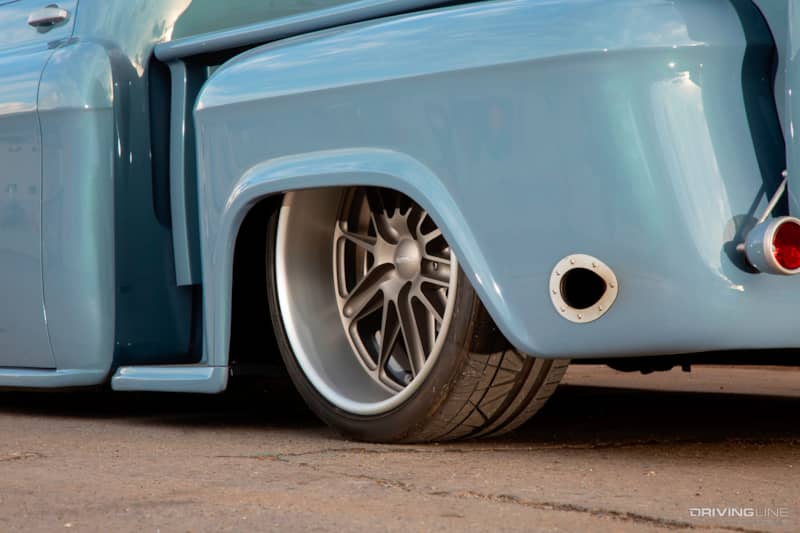 Plush and Lush
Sew Cal Rods, in Ontario, California was soon called upon to design the cab space to complement the spirit of this particular truck's character. The entire interior was machined and built using aluminum and plastic, and utilizes one-off door panel designs, plush Italian leather and a hidden magnetic mounting system to make servicing behind the panel a breeze to access.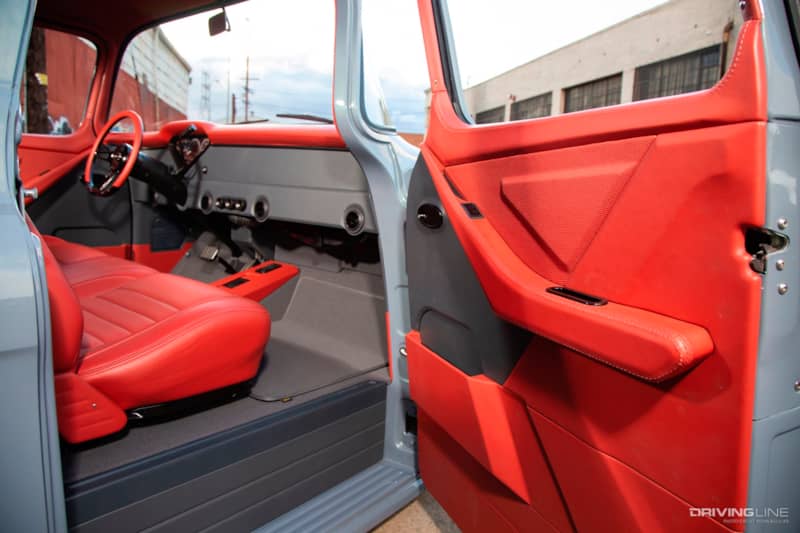 Other Sew Cal Rods' signature interior packages were also used to give the interior a seamless and cohesive appearance.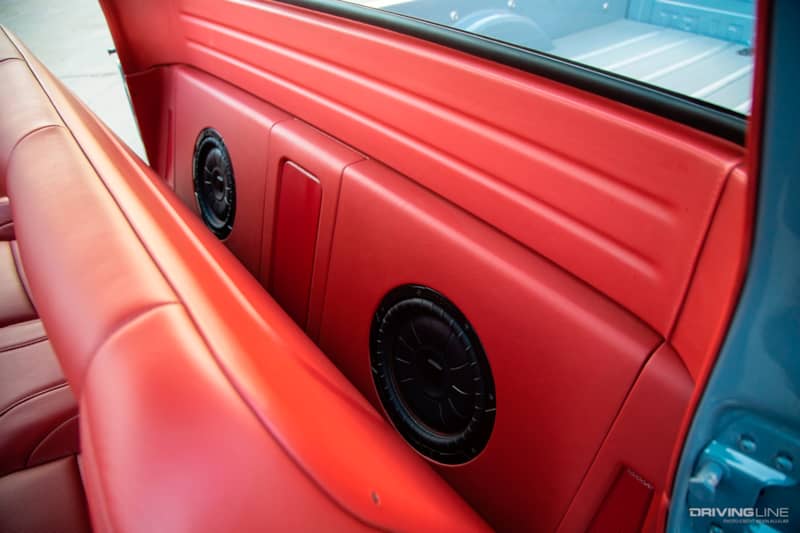 Instant Classic
In about years' time, Danny, along with the team at Premier Street Rod and other likeminded fabricators and artisans not only put a plan in place but also executed that plan and created a whole custom '56 Chevy pickup where one didn't even exist 12 months prior. While a true vintage, 65-year-old pickup with hundreds of thousands of miles on the odometer can one day look as good as this "brand new" version, it's no longer necessary to start a truck build with an old truck at its core. Premier Street Rod is helping get more of these classic Chevy trucks back on the road even if it means making them from scratch.