Spindle Heaven: Kibbetech Off-Road Adds Its Magic Touch To Project LokJaw
Kibbetech Off-road is known for building some pretty wild, 8-lug Pre-Runners. Initially hitting it big with its long-travel suspension systems, the Newbury Park, California company soon morphed into a full-on engineering and fabrication shop, and it's a place that now offers a host of top-of-the-line suspension, chassis and steering components. And that's on top of the elite-level fabrication Kibbetech has built its reputation on. The folks at Banks were so impressed with Kibbetech's track-record that they reached out to them for a vital piece in LokJaw's front suspension, hub, brake and steering equation: spindles.
In partnering with Wilwood Engineering, Kibbetech was able to modify a 5-lug Pro Spindle to incorporate Banks' desired hubs (8 on 180mm HD units from a late-model GM 2500/3500) and make them work in perfect harmony with Roadster Shop's upper and lower control arms. During the fabrication process, Kibbetech reinforced the spindles with added material, TIG-welded everything to perfection and even machined billet, keyed caliper brackets for added strength while braking. Below, we're getting up close and personal with their handiwork. Already self-proclaimed as being the home of the finest off-road fabrication and CNC machining, trust us, it's a declaration that fits.
Wilwood's Design, Tweaked In CAD
Starting with Wilwood's 5-lug Pro Spindle geometry, Kibbetech designed an 8-lug version of the piece in CAD. By integrating a factory late-model GM HD unit bearing/front hub assembly, the bolt pattern will also measure what a '11-newer GM 2500 or 3500 HD truck does (8 on 180mm). Construction of the spindle began with 1.75-inch thick plate and the front snout block was machined to feature a keyway for a billet-aluminum caliper bracket.
Neatly Concealed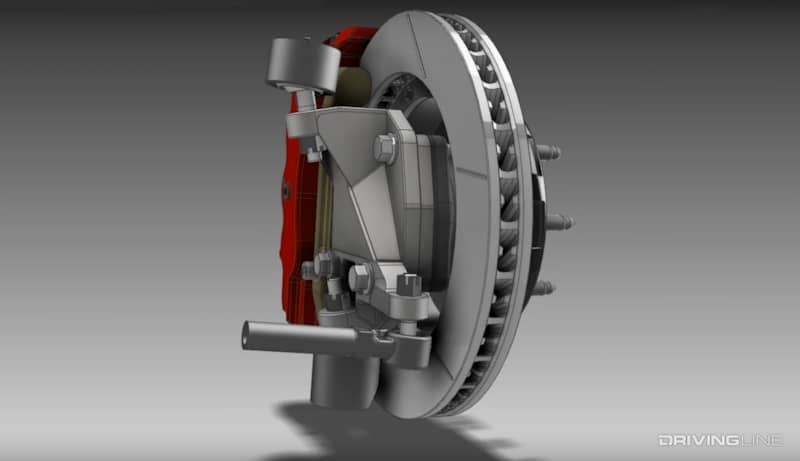 Unlike the massive off-road stuff Kibbetech is accustomed to building, the ball joint spread in Banks' application is 13-inches. This is in stark contrast to the company's typical spread of 20-inches or more. However, in addition to being extremely strong the overall package is fairly compact. Everything fits within the diameter of the massive 15-inch brake rotors that come in Wilwood's TX6R big brake kit.
A Master Of His Craft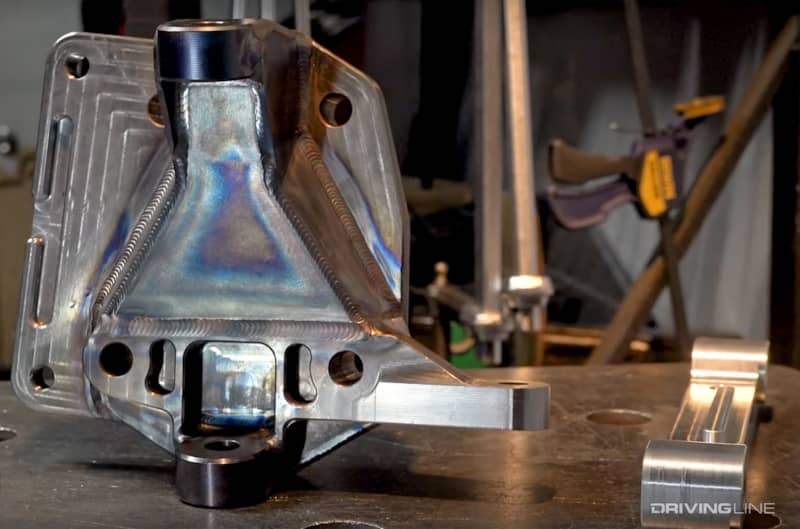 One look at the finished spindle and it's easy to see why Kibbetech is the go-to place for any custom fabrication work. These things have been TIG-welded to perfection, and by that we mean for both strength and looks. There is a reason Kibbetech's owner, Ryan Kibbe, gets tagged by many of the top fabricators in the vast world of welding…his work has become the yardstick for both aesthetics and durability.
Keyed Caliper Brackets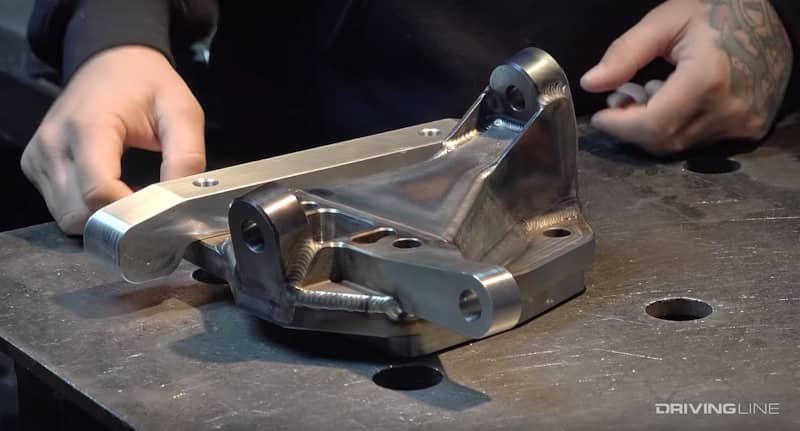 To eliminate twist during instances of hard braking, Kibbetech machined billet-aluminum caliper brackets with keyways cut into them. By being keyed to the spindle itself, the mounting bolts aren't on the hook as the sole means of support in standing up to spindle twist during braking. Thanks to the immense braking loads imposed by the Wilwood big brake kit, it's an added insurance measure that's more than welcome.
Tricky To Weld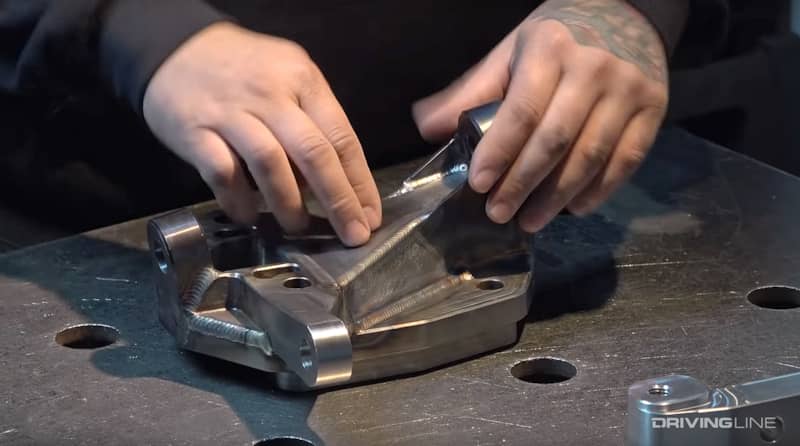 More complex in design than they might appear, Kibbetech built the custom spindles using varying material thicknesses. Everything from 1/8-inch thick plate to 1-inch thick plate made it into the design, and there is even one area (within the unit bearing bore) where just 0.020-inch thickness is employed. Extra material was added wherever possible to improve the overall strength of the spindle's design and it's obvious Kibbe took his time in joining everything together.
Clean, Efficient And Beautiful (TIG) Welds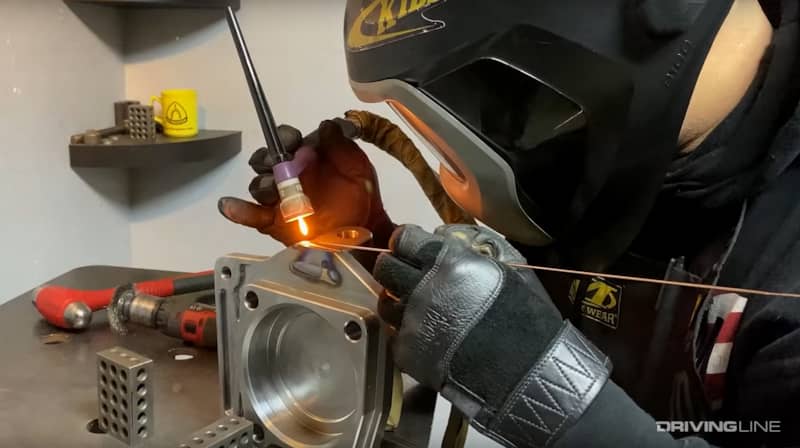 When you really like TIG-welding, you don't even own a MIG welder. In Ryan Kibbe's world, the realm of high-end pre-runner and trophy trucks, TIG is the only way to go. Sure it's time-consuming, requires next-level skills, calls for multi-tasking and plenty of patience to pull off welds that are both cosmetically pleasing and incredibly strong, but in the right hands the preciseness of TIG-welding is unbeatable.
Mated To The Roadster Shop Chassis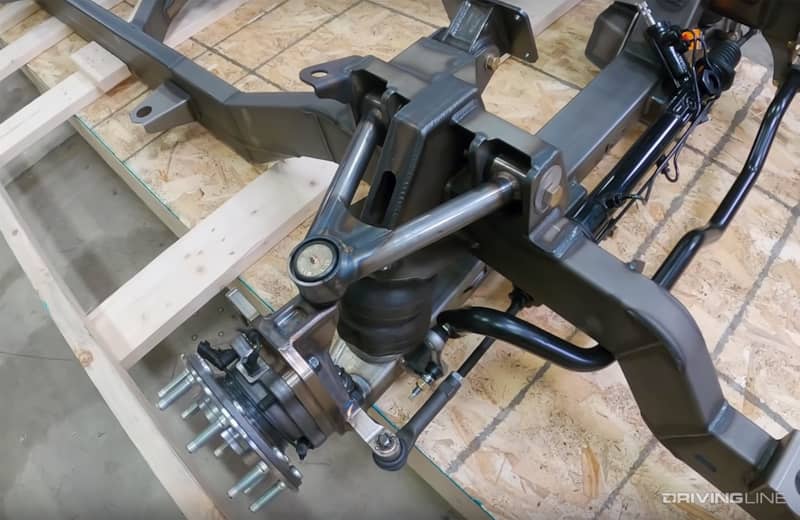 Kibbetech definitely pulled it off. The Newbury Park, California company developed an 8-lug (8 on 180mm) spindle using Wilwood's 5-lug Pro Spindle design and it looks killer. And with late-model, massive GM HD unit bearings and 15-inch Wilwood rotors bolted on Banks will soon find out if they perform as good as they look.