The Ultimate Foundation: Inside LokJaw's Custom Roadster Shop Chassis
Beyond the unique 8-lug, 9-inch rear-end and the heavily reinforced Allison transmission, Banks needed a chassis under Project LokJaw that could hold up to the blown Duramax V-8's grunt—and there was no way in hell they were going to leave that up to the original, 55-year-old frame. So after they'd spec'd out a bulletproof 9-inch at Strange Engineering's northern Illinois facility, the guys at Banks paid a visit to nearby Roadster Shop. Following a tour of the company's world-class chassis manufacturing plant, they sat down and hashed out a plan to get a solid foundation under their frame-laying, '66 C20 creation.
However, before any of the design could be set in stone, the C20 had to be trucked all the way across the country and 3D-scanned. Once that was done, everything was laid out in CAD and the chassis build got underway. Starting with one of its Spec Series chassis', Roadster Shop modified it to accommodate the Duramax/Allison combination, along with working with the project's suspension and axle suppliers to deliver as finished a product as possible. When Banks unboxed the chassis back in Azusa, even the brake lines had been ran. For more on that, as well as how Roadster Shop reinforced its chassis design to support Banks' heavy-duty powertrain, keep scrolling.
And in case you were wondering about any possible body work, don't worry. The same old '66 C20 body—in all its Patina glory—will go virtually untouched.
A Duramax And Allison-Prepped Chassis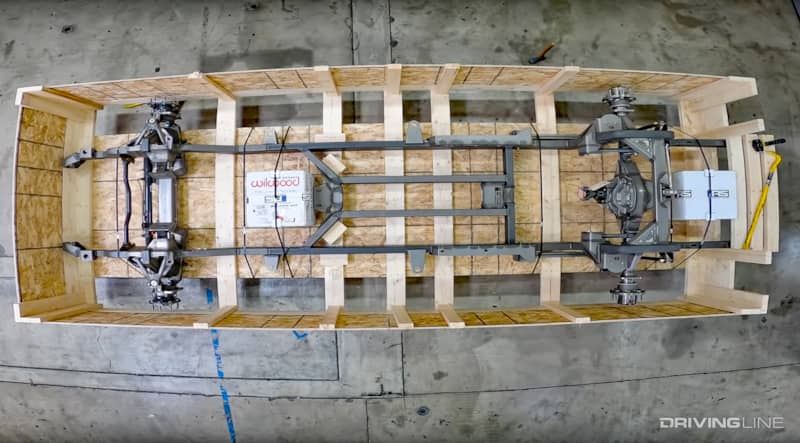 In Gale Banks' own words, "we're going to put a lot of twist in this chassis." So it goes without saying that LokJaw was in need of as rigid a frame as possible. In the original chassis consultation at Roadster Shop, all of the following was on the table: a thicker-wall center tube, a taller box profile, more lateral gusseting in between the different joining sections and less dampening on the motor mounts (without killing ride comfort or being forced to live with runaway NVH). In the end, the experts at Roadster Shop settled on a modified version of their Spec Series chassis platform for '60-'66 C10's. To date, this is the only chassis the company has spec'd out for a Duramax/Allison combo.
Tweaking A Proven Platform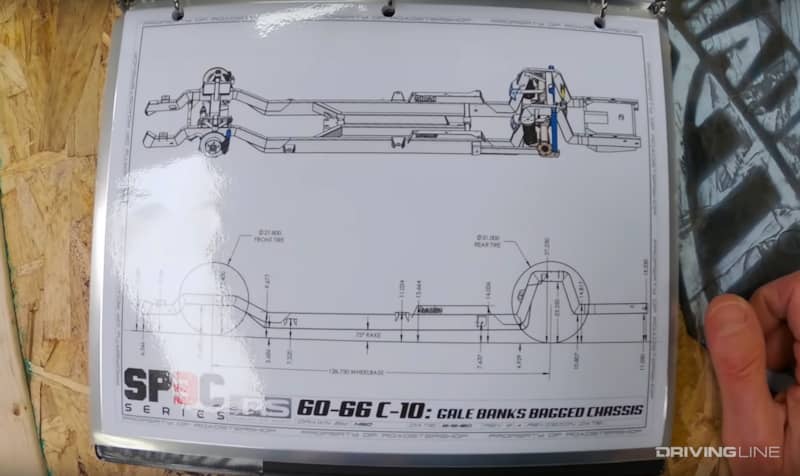 In using the Spec Series chassis as its template, the team at Roadster Shop didn't reinvent the wheel for Project LokJaw, but it did have to make several key alterations. In addition to reinforcing its frame, a list of packaging considerations had to be factored in. Among them were motor mount location, clearance for the 5-inch dual exhaust system and ensuring there would be ample space for the steering system. In the end, Roadster Shop was able to package the engine within their existing subframe design and tweaked everything just right in order to accommodate the track width Banks wanted, the custom motor mounts they'd chosen and with plenty of room left over for proper steering and exhaust system clearance.
Custom Transmission Mount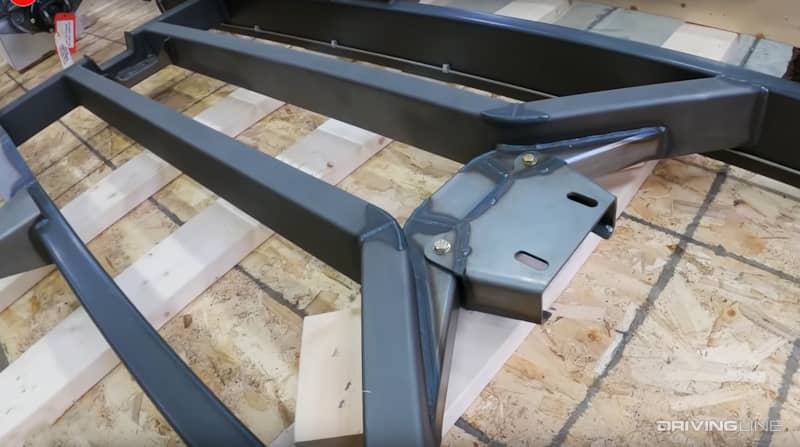 All frame sections, gussets and brackets were laser-cut in-house at Roadster Shop, and with one look at the center section of the frame you can tell it will be plenty rigid. The custom transmission mount ensures the Allison's tail housing will have all the support it needs. At the rear of the chassis, boxed sections and gusseting will help stabilize the 9-inch, along with a Watts link keeping it centered.
Made To Order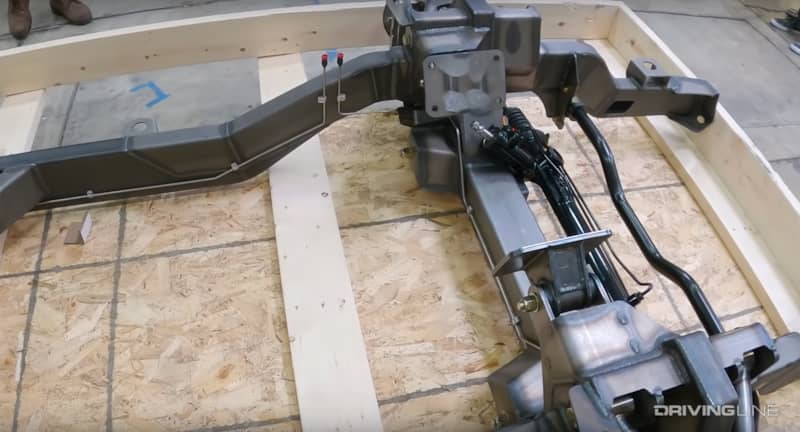 Up front, the guys at Roadster Shop were able to position the motor mounts at the lowest physical point before transmission pan clearance would become an issue with the truck slammed. Also notice that all brake lines have been run. Part of Roadster Shop's catalog includes the option of adding premade, pre-mounted brake lines, along with different levels of shocks and powder coating options. As you can see here by the presence of a raw steel frame, Banks opted for handling its chassis coating locally.
All The Right Parts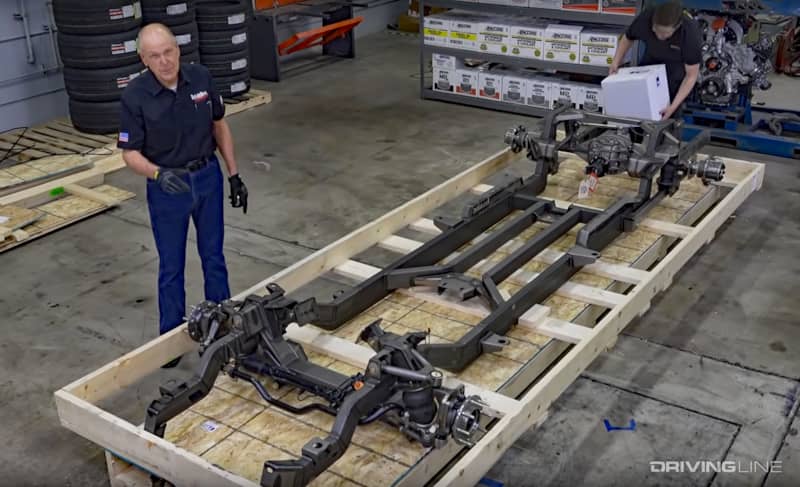 On top of building Banks a Spec Series C10 chassis on steroids, Roadster Shop designed and manufactured the upper and lower control arms, which utilize eccentric mounts to make the alignment process as simple as possible. Also notice that the Ridetech air springs and  Kibbetech fabricated knuckles are present here. You can spot the body mount locations as well, which will allow the original C20 sheet metal (or what's left of it) to bolt right on. The '66 body will be isolated from the Roadster Shop frame via rubber Energy Suspension mounts.
The Final Touch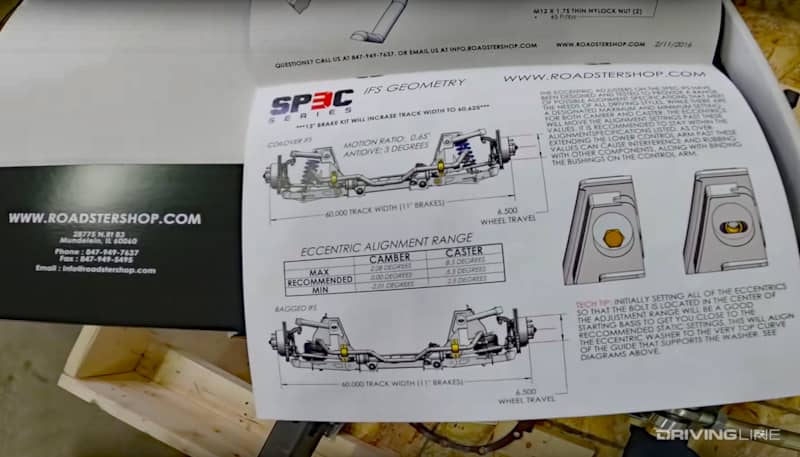 Not only did Roadster Shop undertake Banks' C20 project, but—like all the chassis' the company builds—it came with its own service manual, exclusive to this particular Spec Series chassis. Info on the upper and lower control arm assemblies, spindle to control arms, steering rack assembly, shock mounts, sway bar assembly, rear end assembly and even the details on the IFS geometry were included. You just don't see this level of thoroughness in the aftermarket anymore.
More From

Driving Line
Want to meet the nearly indestructible, 350-pound, billet-internal Allison the Roadster Shop chassis accommodates? Take a trip over to ATS Diesel with us here.