Talking With Tuerck
Ryan Tuerck has been competing in Formula Drift since the 2005 season and is one of the most recognized personalities and faces on the Formula Drift grid. This year has been a roller coaster of emotions for Tuerck, who experienced the lowest of lows when his competition car was totaled in a wreck in practice at the first event of the season, and the highest of highs with a win in New Jersey just three events after building a brand new competition car. We talked with Tuerck to get some perspective on this season and what he's been up to between competition rounds of Formula Drift. 
Driving Line: For those who might not be familiar with you, how would you describe Ryan Tuerck in one or two sentences?
Ryan Tuerck: Hmmm, who is Ryan Tuerck? Well I started my motorsport career on two-wheels racing motocross with my brothers for more than 10 years, then got into drifting for the last 15 years with some fun moments and some success in between. This year, I've been getting into some more road racing and off-road adventures, and you might even see my face on YouTube every now and then.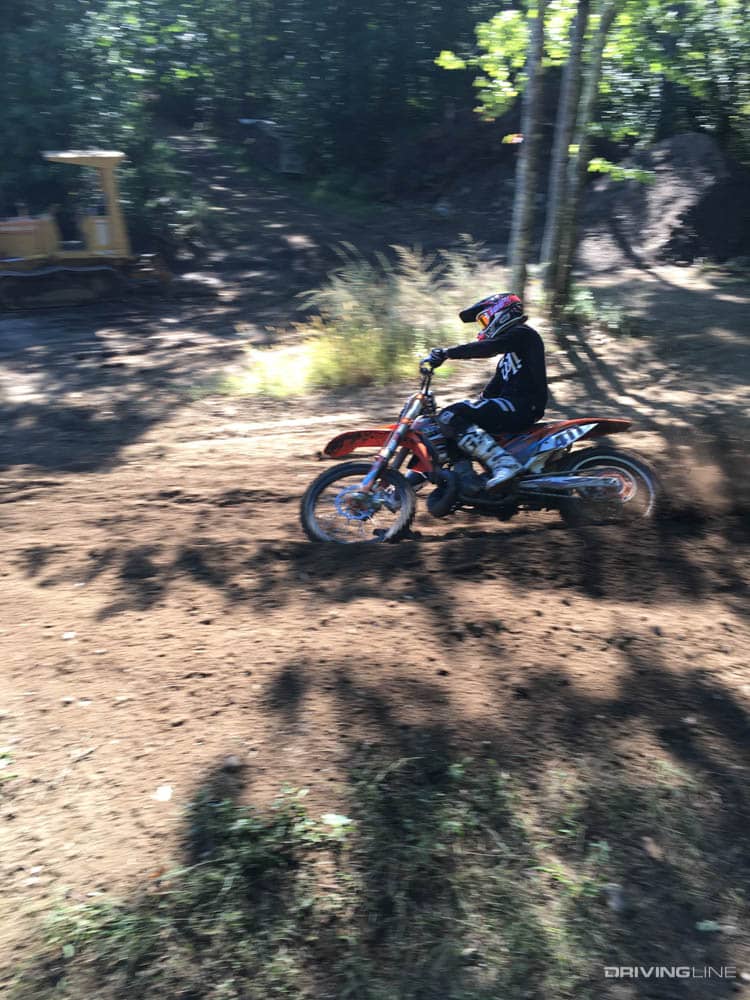 Early 2019 FD Season Challenges
DL: After a pretty bad wreck in Long Beach, you came back to build your backup car into your main competition car in 12 days. That car got you back on the podium just two events later, and a win three events later. How rewarding was that to see results so soon after replacing the chassis you competed in for the last 7 years?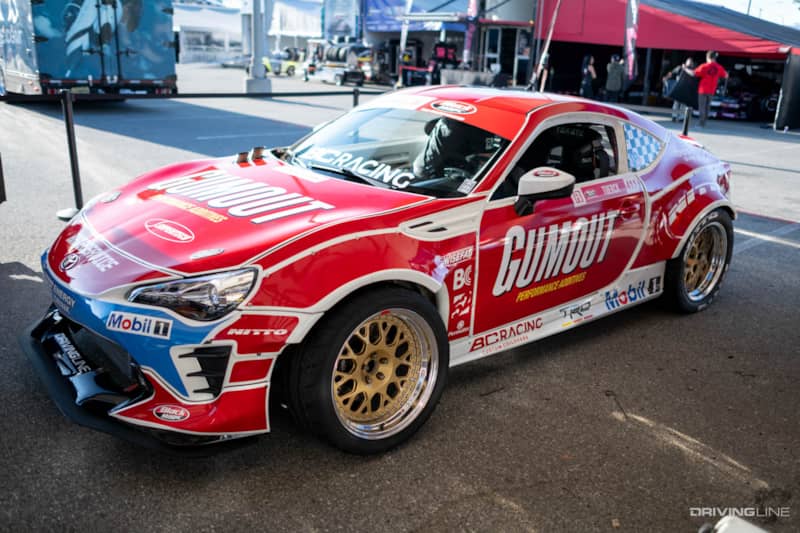 RT: Well it's been a pretty crazy ride this season, that's for sure. We have been driving that same chassis for 7 years, it was the oldest chassis on the grid at the start of the year. We were planning to retire it at the end of the year, but that plan changed a bit sooner than expected, unfortunately. Everyone on the team really came together and understood the urgency of the situation, it took a total team effort to build that car in the small timeframe we had. The guys on the team were supposed to have a 5-day break between events, but they all stayed at my house and started cranking on the car prep on Sunday after the crash. I flew in a second fabricator to help out my main fabricator Dominic since fabrication is one of the heaviest aspects of a new car build. I sustained a concussion in the crash, so I wasn't allowed to work on the new car very much and was relegated to calling to get parts and making sure the team had everything they needed to get the car finished in time.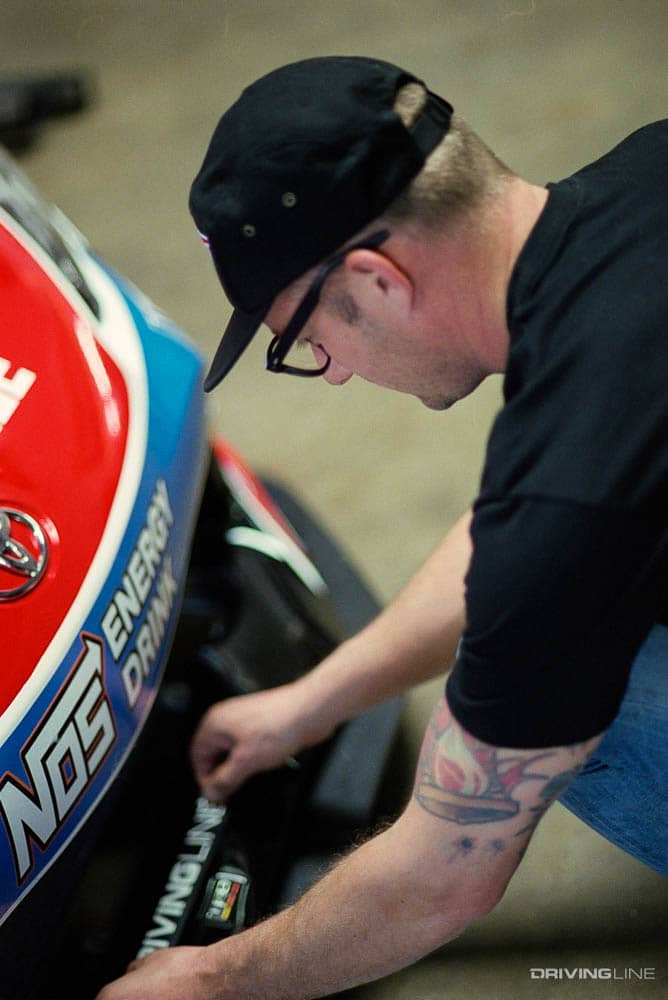 By the time I got to the next FD event Orlando, we had been going full throttle for two straight weekends. My brain didn't get much of a rest with everything that was going on, and I don't think I was fully prepared for the level of mental focus that is required for FD competition these days. I think that's part of why we got knocked out in Top 16. When we got to the next event in Atlanta, I was definitely rested and fully prepared. Once the rain started falling in the competition, we gained a lot of confidence because we knew we had so much grip from our Nitto NT555 G2 tires. In the end, we had a few of the judging calls go our way, and we went all the way to the final against Fredric Aasbo. We gave him a tough battle and he got the win, but the second-place finish felt like a win for us given all the hurdles we had to overcome.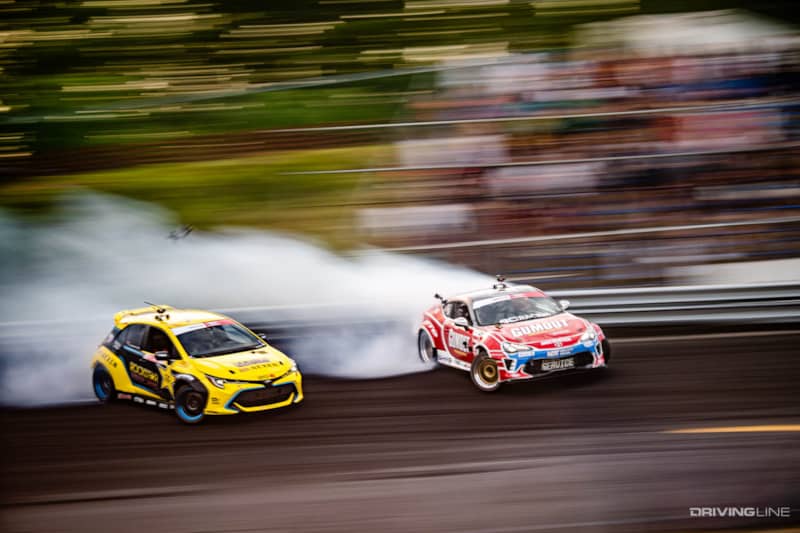 We followed that up with a win in New Jersey and it just felt amazing. The car felt like the best car I've driven in years, I felt like I was driving the best I have in years, and the whole team was just meshing well! It felt like there was no way we could lose that event, and I'm glad I could deliver that win to the team because they really busted their asses to get the car ready with such short notice after Long Beach. I'm really proud of them this season!
From Six to Four Cylinders and Back Again
DL: Since you had to convert your fun car into your competition car, you've been driving the Toyota Corolla hatchback that was built by Papadakis Racing at events like Gridlife. How different is that car to drive?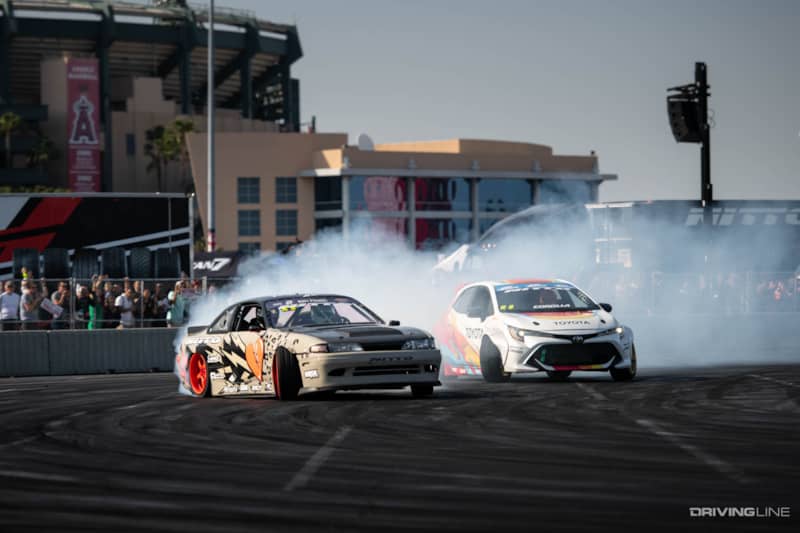 RT: Hopping into the Papadakis Built corolla was really cool. Toyota gave us the go-ahead to use that car as a demo vehicle since they understood the situation of not having a demo or fun car. Jumping in that car was very smooth, everything works really well and is very easy for the driver to operate. I can drive it as aggressively or as smoothly as I want to. It has around 600 horsepower, which is a little less power and boost than the FT86, but it's very easy to drive at the limit. Papadakis Racing is a world-class fabricator, and I'm just glad I was given the opportunity to drive that car for a few events this season.
Management Changes 
DL: Last season, you and your teammate Chris Forsberg aligned to run your programs at Race Service, which is a shop in Los Angeles, California. How different was it to run your own program and be responsible for your own car?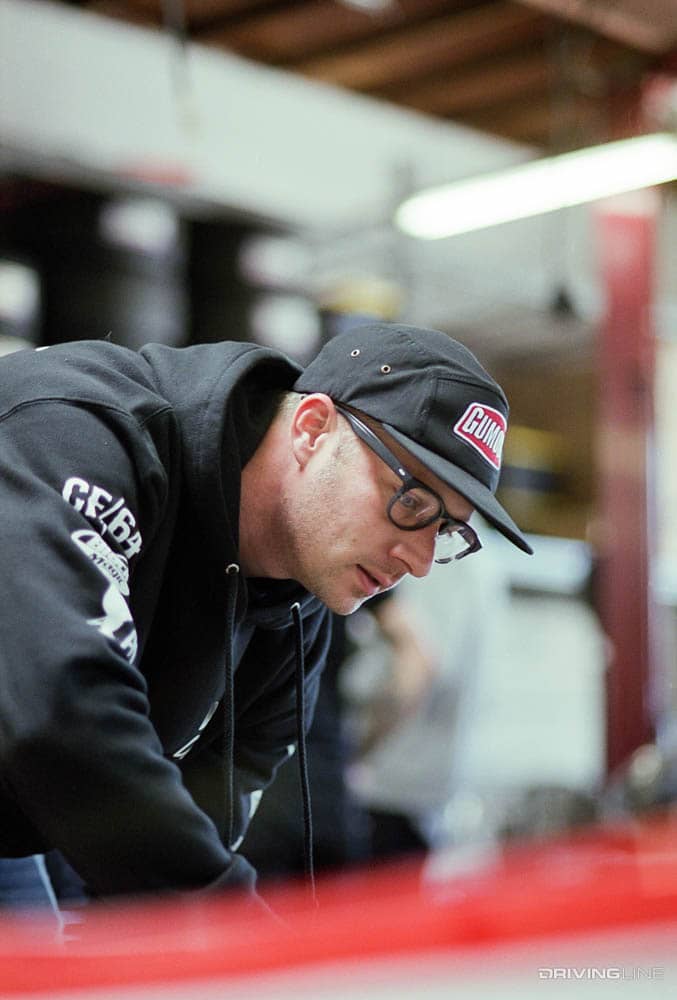 RT: Being the team owner and operator definitely has it's pros and cons. On one hand, it's nice to have control over everything but I'm also in charge of the budget so I get a lot more involved on where every dollar goes. It was a lot easier for me to understand where the money is being spent on the car and where we need to make improvements. I work very closely with the team to come up with the game plan and focus on how we can make the greatest influence on the car without spending too much money. I don't necessarily like working on the car, but I understand what it takes to succeed in Formula Drift, and I'm willing to spend on the parts on the car that will move the needle towards success. It makes me excited that I can be involved on this level and be able to go out and drive the car and meet or exceed the expectations that we set for ourselves, so that part is very rewarding for me!
Advice for Aspiring Drifters 
DL: You've been competing in Formula Drift since 2005. What would you tell an up-and-coming drift driver about what it takes to be successful and sustainable in Formula Drift over the last 14 years?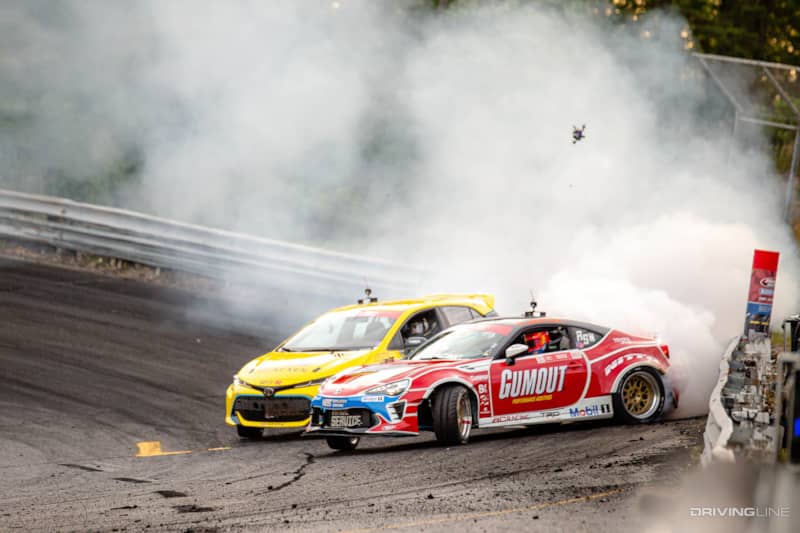 RT: I think one of the biggest values to take away is that you will need to put your head down and just work hard. It's a matter of cost, budget, and sacrifice… everything you have to do to get to Formula D is crazy, but once you get there, you have to work that much harder to be competitive and sustain a competitive Formula Drift level program. Once you get to the top level of competition, most people realize that their driving skill set is good, but your car will probably be lacking. Being competitive in Formula Drift means being able to focus on car setup and understanding how different setups and changes are likely to change or improve the setup of the car. The level of chassis setup and grip in Formula Drift is unreal these days, and I think most drivers coming up through the ranks underestimate that until they line-up for their first side-by-side practice lap alongside a car that has many years of development into it.
YouTube Shows 
DL: You've turned into somewhat of a YouTube star over the years, first with Tuerck'D, then with Drift Garage, and now with MotorTrend's "Drift This" show and the Gumout "Blackout" show. Is it hard for you to put on your Youtube persona?
RT: Filming was hard in the first few years, but after the first 2 seasons of Tuerck'd and then the first season of Drift Garage, I got a lot more comfortable in front of the camera. Not a lot of people realize that the whole camera crew on those shows were people that I had been working with for 7 or 8 years, so they help to bring out the more showman element of Ryan Tuerck in front of the camera. I feel like you're always your own worst critic, so after watching a few of the shows and analyzing them, I start to realize what it takes to put out a good video product but still feel like I'm being myself and having fun in front of the camera. In the end, I think that's the most important part. If you aren't having fun, then it comes off as being stiff, and nobody wants to watch that.
SoCal Transplant 
DL: You've been spending more time in Southern California since the race program is based out here now. What do you miss most about your home state of New Hampshire?
RT: I miss the summers in New Hampshire, and I miss having actual down time. There's so much going on in SoCal with the car industry that I feel like I'm working that much more but I'm not necessarily making more money. When I was living in New Hampshire, I had time to go to grassroots drifting events and ride dirt bikes with my brothers, that doesn't happen when I'm out in Southern California. I still haven't been to a single grassroots event in Socal here since I moved, and now that I'm down a car (because we converted the demo car to the competition car), I need to figure that out so I can actually drive at a local event when that time comes around instead of just watching from the sidelines. Hopefully I can get that solved over this next off season, because there's definitely no shortage of events here in SoCal!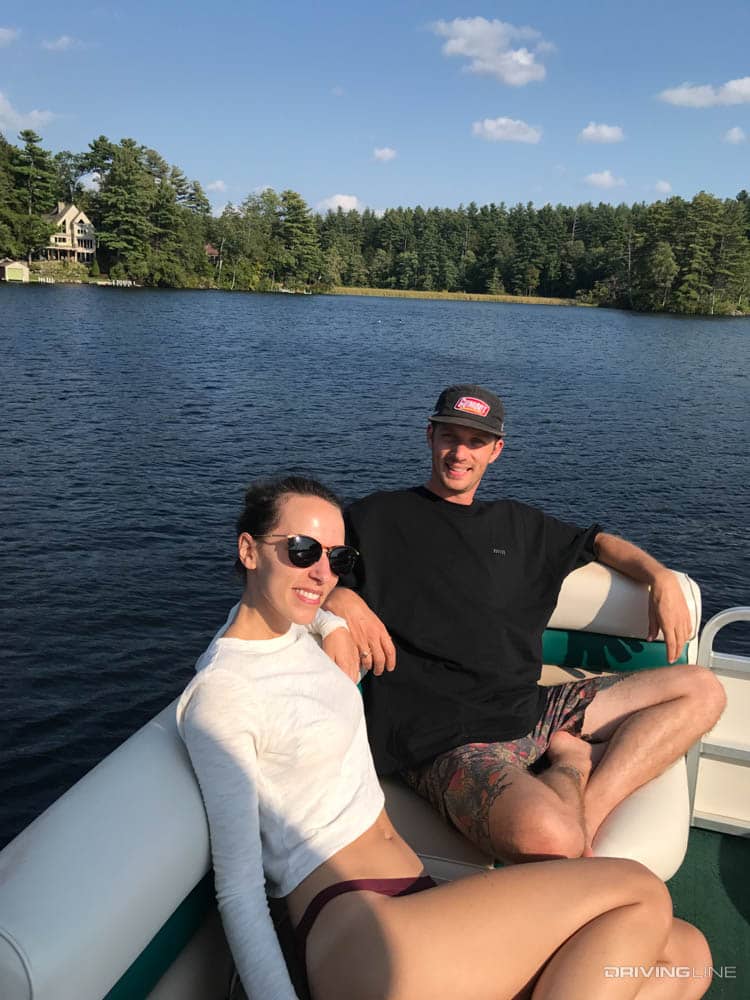 DL: What's next for you? Any big plans before the end of the year?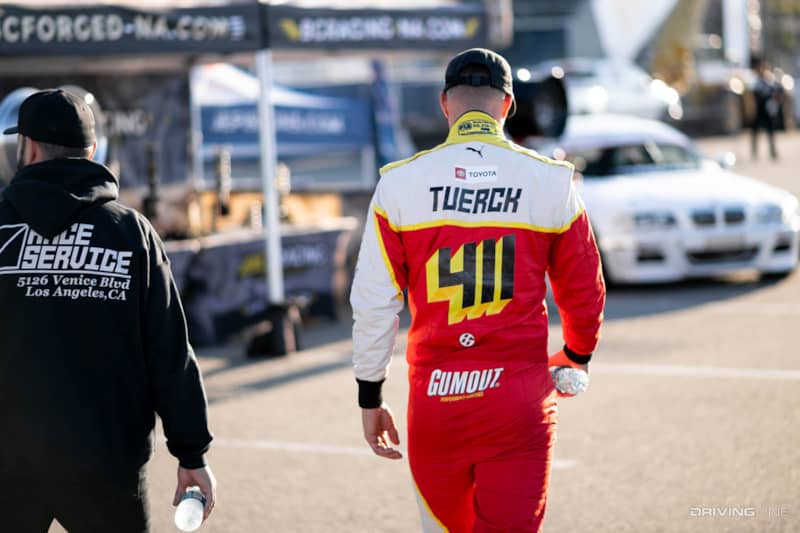 RT: The Motor Trend project I was working on with Chris Forsberg called "Drift This" is all wrapped up for the season, we're waiting to hear back if there's going to be a season 2. We just finished filming the final episode of our $25,000 Baja cars that we built for the GumOut BlackOut show, that was several months in the making. I think what's next for me is probably tearing down that Baja car and making that car into my new demo car in the off season.
To read more about Ryan Tuerck's tumultuous 2019 Formula Drift season, click here.