Ryan Tuerck Smashes Through Wall of Competition at Formula Drift New Jersey
2019 has been a season of highs and lows for Ryan Tuerck and several of the Nitto drivers. In Long Beach, Travis Reeder was denied the opportunity to compete in his Chevy Camaro EL1 Electric drift car, while Ryan Tuerck totaled the Toyota GT86 chassis he has been competing in since the 2012 drift season. In Orlando, Chelsea DeNofa rose to the podium while Vaughn Gittin Jr. recovered from a major crash in practice to finish in the Final 4, but Reeder's team chased mechanical gremlins in the Camaro EL1. Atlanta trended upwards for Tuerck as he took a second place podium finish and Reeder was finally was able to debut his Camaro EL1 drift car, but downward for Gittin Jr. and DeNofa as they both lost out in the Top 16 round. As each round on the Formula Drift schedule begins, the slate is wiped clean and each driver is given a fresh opportunity to dominate the competition.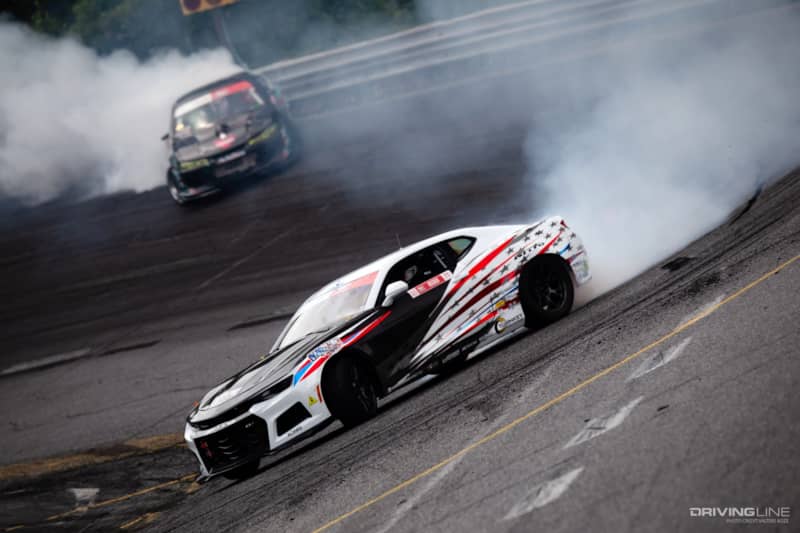 Qualifying
For the past several events, Formula Drift drivers have flirted with a perfect qualifying score. We've seen more 99-point runs in 2019 than in the previous several seasons combined, and it seemed impossible for any driver to perfect the perfect 100 point qualifying run that had only previously been achieved by Tanner Foust at Sonoma in 2007. Wall Speedway would prove to be that breakthru event as Justin Pawlak pushed his Roush Mustang to a perfect 100 point run, claiming the top qualifying position and permanent bragging rights in the pits. Fredric Aasbo, Daijiro Yoshihara, and Forrest Wang trailed close behind him with 98 point runs, but the distance between the top position and the rest of the field felt like an eternity due to the perfect score. Nitto Tire drivers Ryan Tuerck (Q9), Chelsea DeNofa (Q10), and Vaughn Gittin Jr. (Q11) had qualifying runs of 95 points / 95 points / 94 points respectively, showing just how tight the field is in that three points separate second place from ninth place on grid. Alex Heilbrunn (Q15 - 92 points) and Travis Reeder (Q31 - 81 points) also earned a score to take them to the Top 32 tandem battles, but the day would be Justin Pawlak's to soak in.
Tandems to die for
Top 32 tandems came and went smoothly for most of the Nitto Tire team. Tuerck was first to line up on the banked oval, taking out Dirk Stratton's Chevy Corvette in his first tandem battle. Travis Reeder was paired with 2017 Formula Drift champion Fredric Aasbo in the first round, and Aasbo would emerge victorious from that battle. Alex Heilbrunn would push Kazuya Taguchi to a "One More Time" battle before Taguchi took the victory, while Chelsea DeNofa would earn a fairly easy victory over "Rad" Dan Burkett when Burkett wrecked his Supra in the first turn of the first lap. In the final run of Top 32, Gittin Jr. would eliminate Dean Kearney's big horsepower Dodge Viper unanimously, setting up a Top 16 tandem bracket with three remaining Nitto Tire drivers.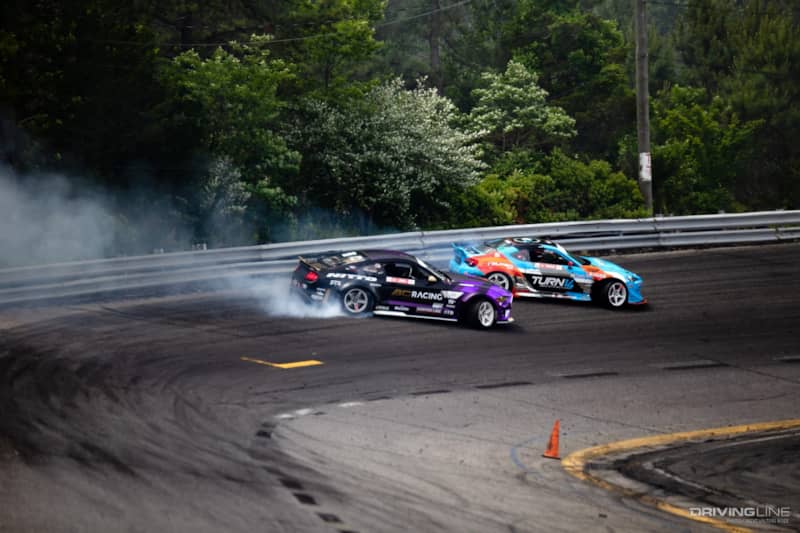 Tuerck would earn a unanimous victory in his Top 16 battle with longtime friend and three-time Formula Drift champion Chris Forsberg, while Gittin Jr. would need a "One More Time" battle with points leader Odi Bakchis before earning his ticket to the Top 8. Unfortunately, Chelsea DeNofa was controversially defeated by Piotr Wiecek in his Top 16 battle due to a car-to-car collision where DeNofa was deemed to be at fault for slowing too much during his transition in front of the crowd. Sliding into the Top 8, Tuerck ended Pawlak's chase for a perfect event by eliminating the top qualifier, while Gittin Jr. would need another "One More Time" battle against Ken Gushi before stamping his ticket to the Final 4.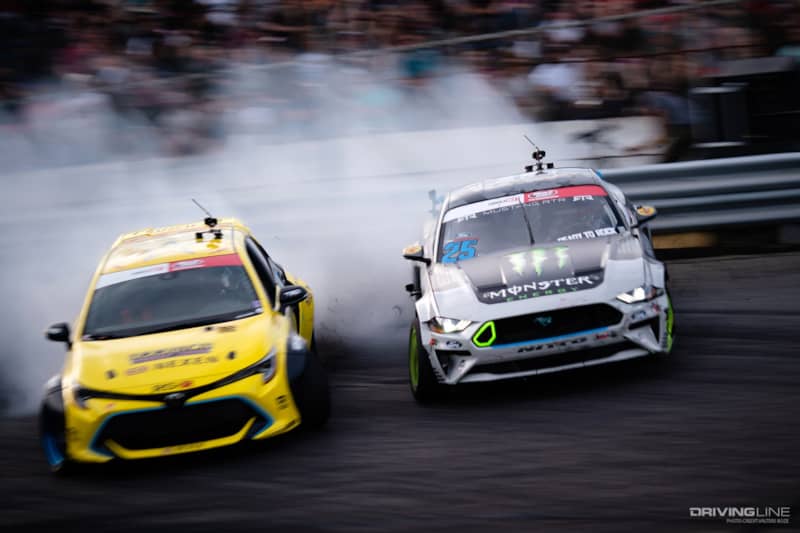 Tuerck continued his success, triumphing over defending two-time champion James Deane in his Final 4 battle, guaranteeing a second consecutive final round finish for Tuerck. On the other side of the bracket, in what will likely be one of the most talked about battles of the event, Gittin Jr. again pushed to a "One More Time" battle against Fredric Aasbo not once but twice, pushing to an event-high of 8 total OMT battles before a crash at the top of the bank ended his day.
Road Atlanta Rematch
In a rematch of the Atlanta final round, Tuerck and Aasbo would battle for the top rung of the podium. By getting to the final round, Aasbo had already guaranteed himself the championship lead in the season points standings, while Tuerck was looking to earn his first win in more than four seasons and avenge the loss in Atlanta. The first battle for the event win was too even to determine a winner, and the judges demand that the drivers push to a "One More Time" battle. At last, Tuerck earned the victory over Aasbo, eliminating the 2009/2014/2016 champion in the Top 16 (Forsberg), the defending 2017/2018 champion in the Top 4 (Deane), and the 2015 champion (Aasbo) in the final. Tuerck was quick to credit his team, his comfort behind the wheel, a well setup car, and the overall grip of his tires for the win. "These Nitto Tire NT555 G2s had the grip out there! We were able to surge on people all weekend, we were one of the fastest cars on track with grip, and we were able to send it and have a good time!" said Tuerck.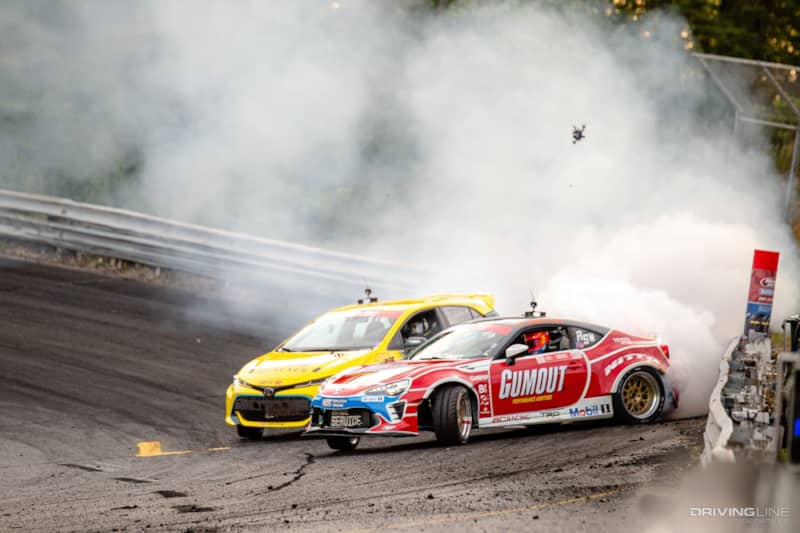 Tuerck moves into third place overall in the championship points standings at the halfway point, just 53 points behind Bakchis and 56 points behind current leader Aasbo. Gittin Jr. (8th place, 96 points behind Aasbo) and DeNofa (10th place, 123 points behind Aasbo) both are within striking distance for the championship. Heilbrunn sits in 17th place overall, and will look to make an impact on the second half of the season. Reeder sits in a three-way tie for 21st position, but leads the Rookie of the Year standings by 31 points.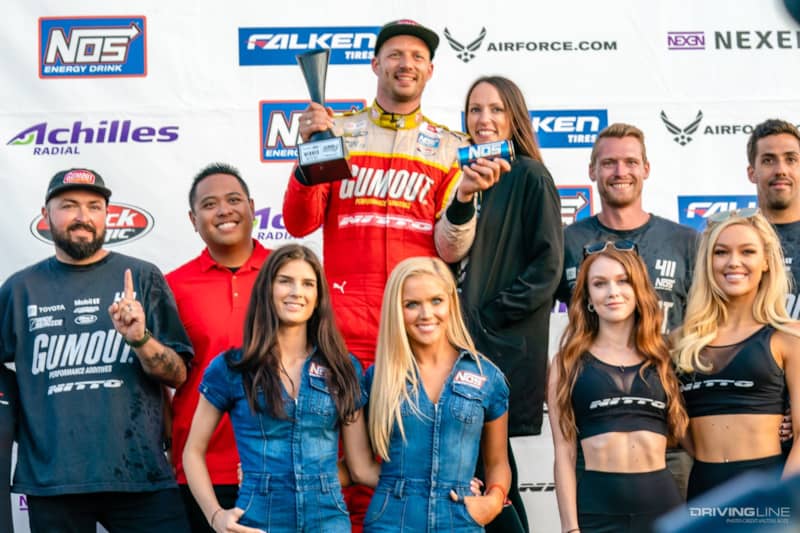 Can Ryan Tuerck overtake Fredric Aasbo and Odi Bakchis in the second half of the Formula Drift season to earn his first career championship? Stay tuned to Driving Line to find out!