Bevo-Inspired Jeep Gladiator
Many of the custom Jeep builds coming out of Off Road Evolution's shop in Fullerton, California are built for pure unadulterated function (maybe with a few touches of custom flair) when it comes to off-roading, overlanding and rock crawling. To them, it is what is underneath that counts, the exterior shells of their builds are usually understated. This was not to be the case with their latest project; a 2020 Jeep Gladiator JT Rubicon with both the exterior and interior living up to the quality and performance of what would lie underneath. And it all started with the paint color.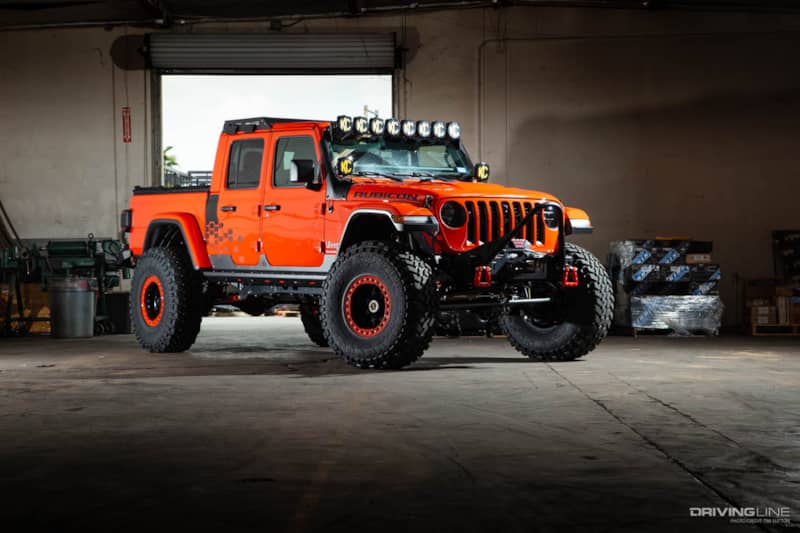 Longhorn Pride
Brad Beldon, hailing out of Texas, got in contact with Mel Wade and the guys at Off Road Evolution to build his new Jeep Gladiator that he could not only show-off, but take wheeling wherever he chose. He also wanted to honor the University of Texas at Austin and their official Longhorn mascot, Bevo. Just as synonymous with UT as Bevo, the long line of Texas Longhorns; is the burnt orange color. So, naturally, Brad had to order his new Jeep in Punk'n Orange (take note Jeep: Burnt Orange is way better a name for this color).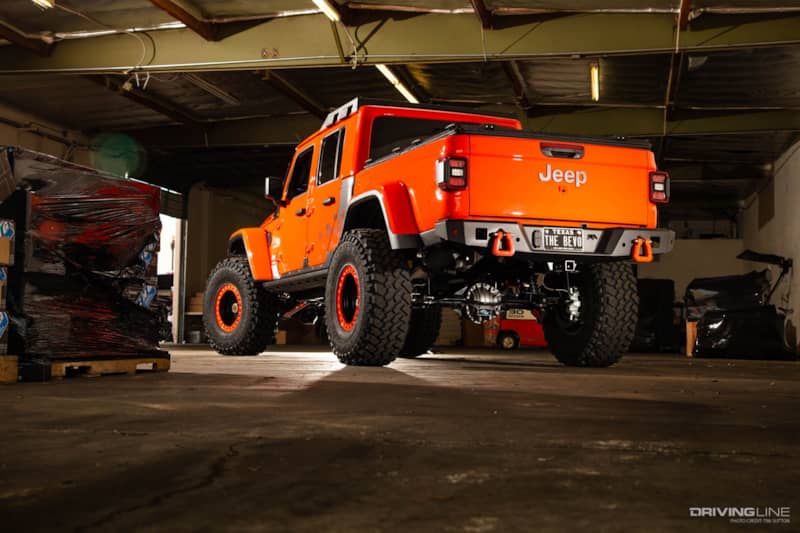 It was soon shipped over to Off Road Evolution, with the main objective of bringing together form and function. The functionality would come from the EVO Double Throwdown suspension and off-road accessories with some style coming from color-matching various components and upgrades to the interior of the Gladiator Rubicon.
Suspension Throwdown
Taking notes from one of the shop's prior Jeep Gladiator JT builds, the OG40; Mel looked to go all out when it came to the suspension setup on the Bevo Jeep. Starting out with the Rubicon model; the suspension was converted over to a coilover setup with EVO Manufacturing's Double Throwdown suspension that was color matched to the iconic orange.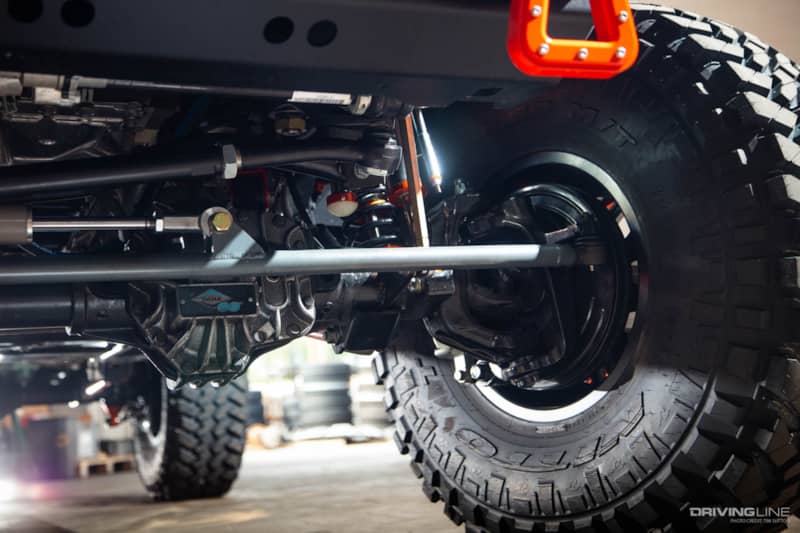 A long-arm setup was installed in the front for increased travel and articulation and short-arm kit was mated to the rear. The axles would be replaced with heavy-duty Ultimate Dana 60 axles with a full set of front and rear KING coilovers. The front setup consists of a pair of KING remote reservoir coilovers with a bypass shocks and air bumpstops with a set of remote reservoir coilovers bolted up to the rear of the truck. One critical aspect of the build was to ensure that all of the factory electronics still functioned with the new long travel custom suspension.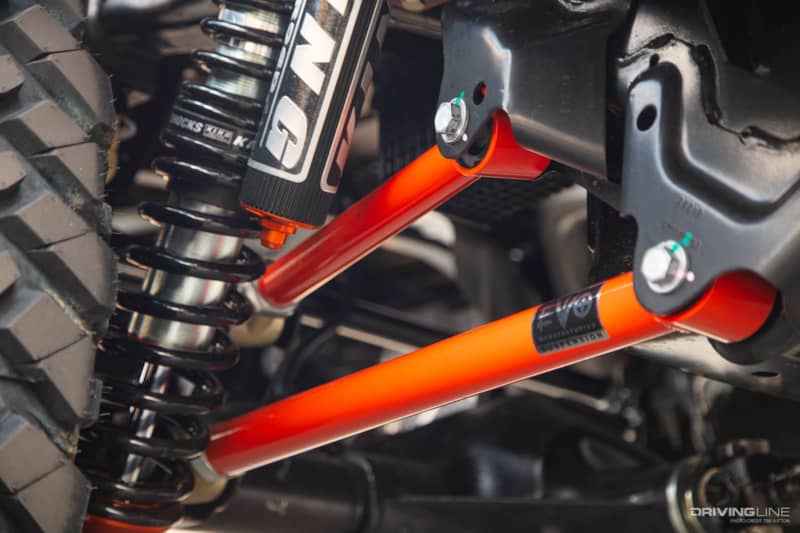 Fitting 40s
Planning with the knowledge that a set of 40s can easily find their way under the EVO inner fenders; a set of 40x12.50R17 of trail-ready, aggressive-looking Nitto Trail Grappler M/T tires wrapped around a set of 17x9-inch KMC Grenade Crawl wheels were mounted up. A PSC Big Bore steering setup helps keep the larger Nitto tires under control when the trails get tough.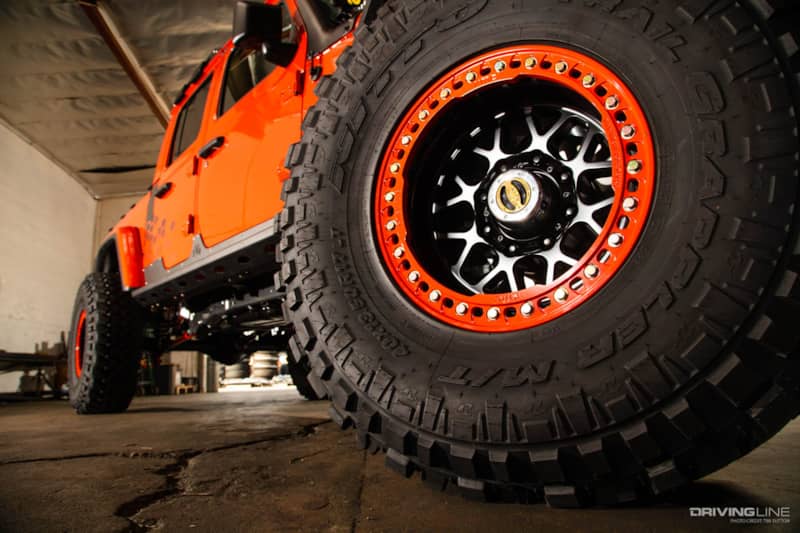 Tough Styling
The outside of the Jeep Gladiator had to compliment the upgraded suspension as well with plenty of protection and accessories to help Brad out on the trails. EVO Manufacturing is Off Road Evolution's product line and the rig was outfitted with their full buffet of rugged Jeep parts. An EVO Quarter Pounder front bumper, outfitted with a WARN Zeon 10S winch, was mounted up in front, with an ATP bumper bringing up the rear. An EVO half-roof rack sits behind a full row of KC HiLites Pro Six LED lights with a set of EVO rock sliders and DiamondBack bed cover finishing things off on the exterior.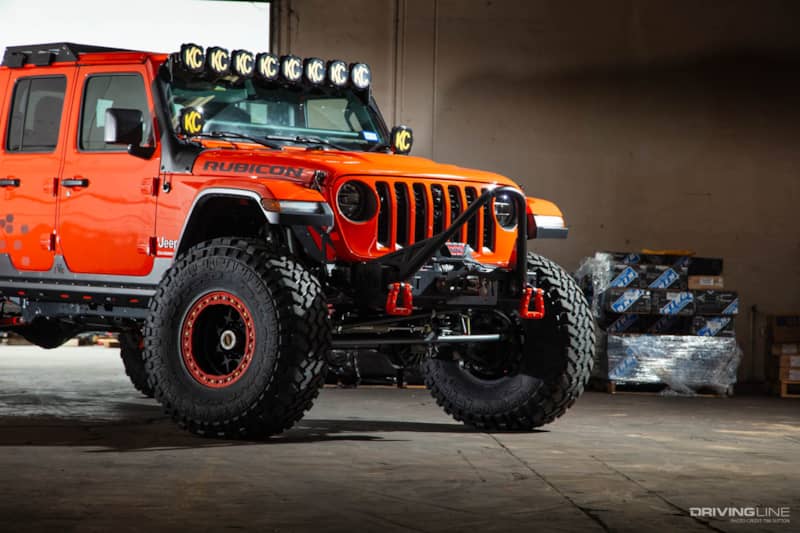 Bringing that clean, color matched style to the interior of the Jeep is a set of custom embroidered Roadwire leather seat covers with accented orange stitching that was also carried onto the steering wheel, console and door panels. A Rock Hard roll cage was added for safety along with Bartact orange paracord grab handles and orange anodized Agency 6 roof locks.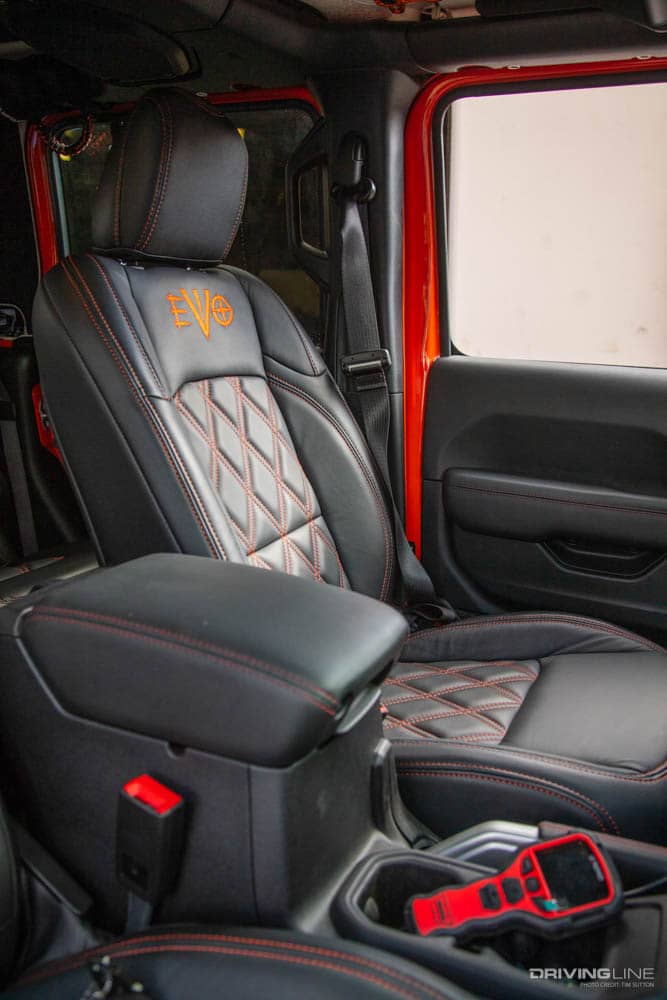 Iconic Tribute
Brad's intention was to pay tribute to the UT Longhorn's iconic mascot, and the new off-road Jeep was the perfect platform to live up to Bevo's tough heritage. Off Road Evolution brought together a winning combination of show-style and off-road functionality to this Jeep Gladiator Rubicon.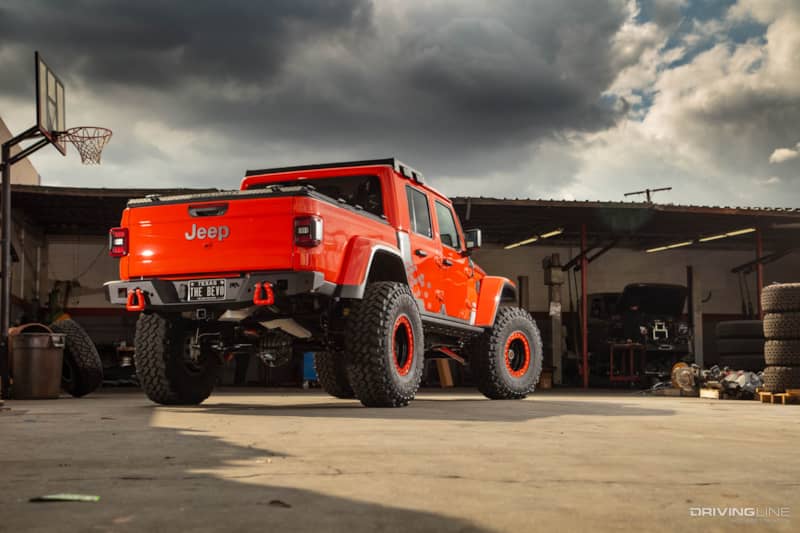 HARD FACTS
| | |
| --- | --- |
| VEHICLE | 2020 Jeep Gladiator JT Rubicon |
| OWNER/BUILDER | Brad Beldon/Off Road Evolution |
| ENGINE | 3.6L Pentastar V6 |
| FRONT SUSPENSION | Dana Ultimate 60 Axle, EVO Manufacturing Double Throwdown Coilover Suspension Long Arm Kit, KING Coilovers with Bypass & Remote Reservoir, Air Bumpstops, PSC Big Bore Steering |
| REAR SUSPENSION | Dana Ultimate 60 Axle, EVO Manufacturing Double Short Arm Kit, KING Coilovers |
| WHEELS | 17x9-inch KMC Grenade Crawl Wheels |
| TIRES | 40x13.50R17 Nitto Trail Grappler M/T |
| LIGHTS | KC HiLites Pro Six LED Lights |
| INTERIOR | Roadwire Leather Seat Covers, Rock Hard Roll Cage, Agency 6 Roof Locks, Bartact Grab Handles |
| BODY | Color-matched factory parts, EVO Manufacturing Inner Fenders, Diamond Back Bed Cover, Graphic Wrap |
| ACCESSORIES | Warn 10S Zeon Winch, EVO Manufacturing Quarter Pounder Front Bumper, EVO Roof Half Rack, EVO Rocksliders, ATP Rear Bumper |
Click here to see Off Road Evolution's first Gladiator build, OG40.