The Best Used Diesel Trucks for 20K
Building on our previous tips, tricks and buyer's guides for used diesel trucks, we're stepping up the budget this time to show you what's out there for $20,000. While 20-large won't get you into a brand new ¾-ton diesel, it can buy you a proven, durable, tow rig with a lot of life left in it. In this price range, we recommend an '06-'07 Chevrolet Silverado or GMC Sierra 2500 HD for the GM fan, an '07.5-'09 Ram 2500 for the steadfast Cummins advocate and a '99-'03 F-250 for the Blue Oval faithful. Each truck will likely have more than 120,000 miles on the clock, but will still be in good-to-excellent condition and ready for another decade of loyal service.
This article is geared toward prospective buyers looking for a turn-key truck that is ready-to-go and will require few repairs, upgrades or problem areas addressed before hitting the road. Due to four-door models being the most popular configurations built, bought and sold in the diesel pickup segment, this article also assumes you're on the hunt for a crew cab, four-wheel drive truck. The following tried and true models from the Big Three have been tested and validated by enthusiasts and working class folks for more than 10 years. Simply take your pick—you can't go wrong with any of them.
Up next, we'll show you how far 30K can take you into the used diesel segment.
2006-2007 Chevy/GMC Silverado/Sierra 2500 HD (120,000-190,000 Miles)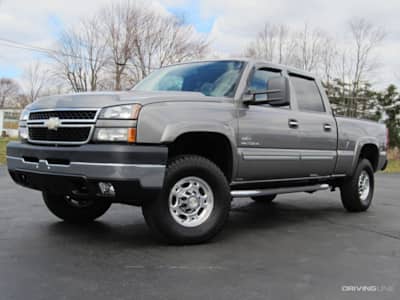 We've praised the '06-'07 GM HDs in the past for their stout powertrain—and we're not going to stop any time soon! The Duramax/Allison engine/transmission combo is unrivaled in terms of durability, efficiency and seamless operation and is perfect for anyone that plans to spend a lot of time hooked to a trailer. Granted, the lightweight classic body heavy-duty GMs don't exude the type of towing confidence a Super Duty or Ram from the same era do, but they're still more than capable of handling most jobs. Also, whether you're working or playing, the '06-'07 ¾-ton Silverados and Sierras provide superb ride comfort (for an HD pickup) thanks to their employment of independent front suspension (AAM 9.25 IFS). These trucks are pre-emissions-crunch, economical work horses with the ultra-reliable (and powerful) LBZ Duramax engine, the six-speed version of the Allison automatic and worth every penny. Unfortunately, everybody knows it…so expect to fork over all 20-grand for a clean one.
The Ultimate Duramax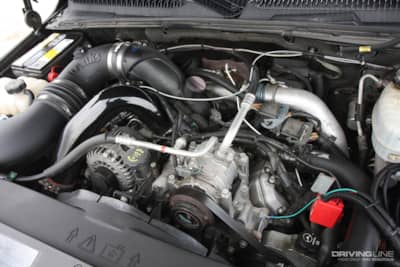 Long past the injector problems found on the LB7 ('01-'04) and after solving the overheating issues encountered by countless LLY owners ('04.5-'05.5), the LBZ was (and to many, still is) the quintessential Duramax. This is the last of the pre-DPF engines, the first 6.6L to be backed by a six-speed Allison transmission and it packs a 360hp, 650 lb-ft punch in bone-stock trim—more power than any Cummins-powered Ram or Power Stroke-equipped Ford could muster back in '06-'07. Due to their known reliability, plug-and-play performance capability and being DPF-free, the last of the classic body GMs bring top dollar in the used diesel truck market.
Six-Speed Allison 1000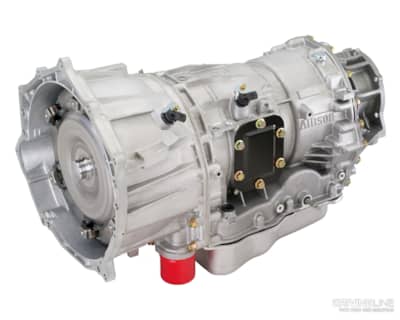 With a 1.26-inch diameter input shaft, 1.75-inch output shaft and a dry weight of 330 pounds, the commercial-duty Allison 1000 found behind the '06-'07 LBZ Duramax is fitted with some of the burliest components you'll find in a pickup truck transmission. On top of that, the electronically-controlled automatic is extremely smart. Through precise engine/transmission communication, shift energy management (SEM) ensures excessive torque isn't present during upshifts, which reduces operational heat and saves wear and tear on the clutches. If the Duramax in front of the Allison is left at the stock power level, the Allison can easily outlive the engine, which is truly saying something.
Highlights:
Arguably the most proven version of the 6.6L Duramax (LBZ)
360hp and 650 lb-ft, stock
Commercial-grade Allison 1000 automatic
Allison 1000 became a six-speed in '06
Factory TapShifter for manual gear selection
Pre-DPF era truck (less emissions-system-related problems)
18-22 mpg empty
Vast aftermarket support
Low-Points:
IFS and steering systems have several weak links (tie rods, pitman and idler arms, steering shaft)
Light curb weight (for an HD truck) hampers its stability with a heavier trailer in tow
No fuel supply pump (lift pump) from the factory (although this isn't a problem at the stock power level)
Allison transmission can be limped, damaged and killed rather quickly with aggressive aftermarket tuning in the mix
2007.5-2009 Ram 2500 (125,000-190,000 Miles)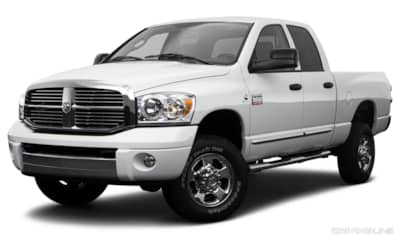 For the simple reason that it's not uncommon to pay more for an '07 5.9L than an '07.5-'09 6.7L, we'd opt for the last run of the third-gen body style with the bigger, torquier Cummins under the hood. Granted, you get a more complicated version of the industrial inline-six (thanks to EGR and its use of a DPF), but you avoid the SCR system that didn't debut aboard Ram ¾-ton and 1-ton trucks until '13, gain access to a six-speed automatic transmission and get a very effective exhaust brake. While we love recommending the simplicity of the 5.9L-powered trucks to readers for reliability purposes, those pre-'07.5 trucks aren't getting any younger. Unless you come across a smoking deal on an immaculate '03-'07 Ram, we would opt for the more powerful, more capable 6.7L Cummins in the '07.5-'09 rigs.
EGR Valve Failures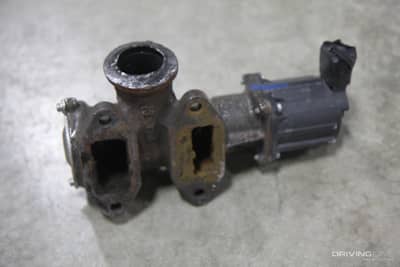 Failed sensors, moving parts gummed up with soot and carbon and check engine lights are all part of the headaches associated with emissions systems on '07.5-newer diesels. Among the 6.7L Cummins' most common emissions system-related failures is its EGR valve. The valve, which is electronically commanded via an actuator and mechanically actuated via a shaft, tends to seize in place from soot buildup. To be fair—and while it's a dirty and somewhat time-consuming job—Cummins does specify a 67,500-mile cleaning interval for the EGR valve. If this component is regularly cleaned, experiencing an EGR-related issue will be much less common.
Zero Lag & Factory Exhaust Brake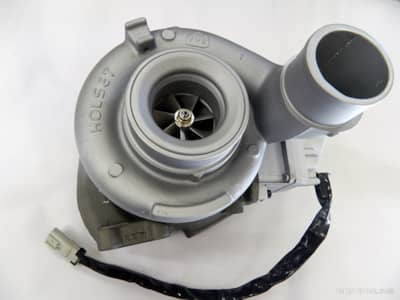 Thanks to the fast-reacting, variable geometry Holset HE351VE turbocharger aboard the 6.7L Cummins, '07.5-'09 Rams have great transient response and virtually zero turbo lag at any engine speed. On the braking side of the equation, the factory integrated exhaust brake (i.e. turbo brake)—with its 190 available braking horsepower—makes descending grades a much more comfortable experience.
Highlights:
Cummins!
350hp and 650 lb-ft, stock
Variable geometry turbocharger makes for instant transient response
Factory (and highly effective) exhaust brake
Factory-integrated trailer brake controller
Proven Bosch high-pressure common-rail injection system
Massive rear AAM 1150 axle
Vast aftermarket support
Low-Points:
68RFE automatic transmission is a weak link, especially if the truck is tuned
Emissions control components can be problematic (EGR, DPF)
Moveable parts of the variable geometry turbo (and its VGT actuator) can be unreliable due to soot and carbon buildup
Fuel economy is adequate at best (13-16 mpg empty) due to in-cylinder regeneration events consuming extra fuel
Common-rail injection system components can be pricey, but injectors usually last 200,000 miles
High-mile, tuned engines may pop the head gasket somewhere around 200,000 miles
1999-2003 Ford F-250 Super Duty (130,000-200,000 Miles)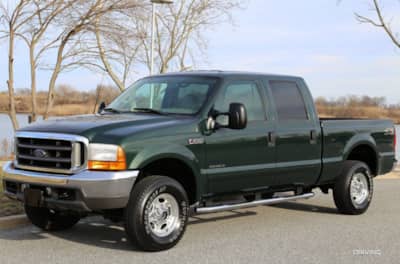 Finding a decent Ford in this price range is trickier than finding a GM or Ram. Reason being, the '03-'07 Super Dutys equipped with the 6.0L Power Stroke are plagued by problems both big and small, the '08-'10 trucks are nice but the 6.4L Power Stroke has a reputation for self-destructing at higher miles (and its engine-related repairs can be bank-breaking to fix) and while the '11-newer Blue Ovals have proven quite reliable to date, they're out of the 20K price range. Long story short—and provided you don't need your ¾-ton pickup to tow 15,000-plus pounds—we would recommend you hunt down a '99-'03 F-250 powered by the 7.3L Power Stroke. It won't be perfect, but you can get your hands on a decent '99-'03 Super Duty well under budget and then turn around and pump a few bucks into the truck to keep it road-worthy.
Ol' Reliable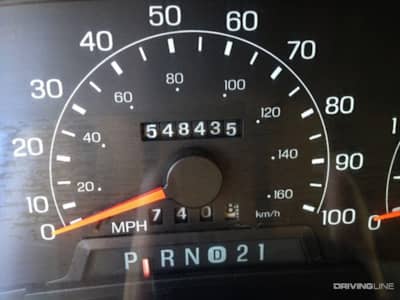 Built for both Ford and its own medium duty applications (namely box trucks and buses), the Navistar-manufactured 7.3L Power Stroke is pretty hard to kill in stock form. It doesn't produce anything close to the kind of power the new trucks leaving Detroit are churning out, but it will essentially perform any task you ask of it, day-in and day-out, without skipping a beat. In terms of reliability and durability, we'd rank the 7.3L second all-time, right behind the 5.9L Cummins 12-valve. If properly maintained, it's not uncommon to see odometers roll over 400,000 miles, and sometimes even half a million.
Still Kicking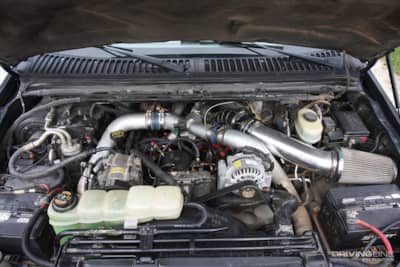 Today, the biggest problems facing the 7.3L Power Stroke are age-related: rusted oil pans, leaking oil dipstick adapters, leaky turbo up-pipes, dead glow plugs, tired injectors, failed UVCHs and worn out lift pumps. All are fairly common—but virtually none of them will land you on the side of the road, or even so much as throw a CEL. These engines were designed, manufactured, assembled and implemented when times were much much simpler (i.e. lower emissions standards and expected power figures) and that's reflected in just how long they tend to last.
Highlights:
A 400,000-mile life expectancy is not out of line with the 7.3L Power Stroke
Proven HEUI injection system (not the problematic system employed on the 6.0L)
No emissions system to speak of
With more than 1.7 million 7.3Ls built, replacement parts are plentiful and affordable
4R100 and ZF-6 transmission offerings were both sufficient at stock horespower and torque levels
Vast aftermarket support
Low-Points:
Camshaft position sensor failure can sideline a 7.3L out of the blue
Lazy power curve in stock form
HEUI injectors last approximately 200,000 miles before requiring a overhaul
Oil pans rust out
Oil dipstick adapter is guaranteed to leak eventually
Turbo up-pipes can leak
Infamous hard-starters in cold weather
Are you looking for something a little cheaper? We've outlined the best used diesel trucks for 10K as well!