The Big Fish Outfitter: A '76 Suburban Built to Tackle the Great Outdoors
Story By John A Mata Jr.
Photos By
Have you ever thought about booking a trip to Grand Island, Nebraska? If not, you should. What's there to do there, you ask? Well, one thing to keep in mind and contrary to what you may have heard, Grand Island is in fact not an island at all—but at least the fishing is good.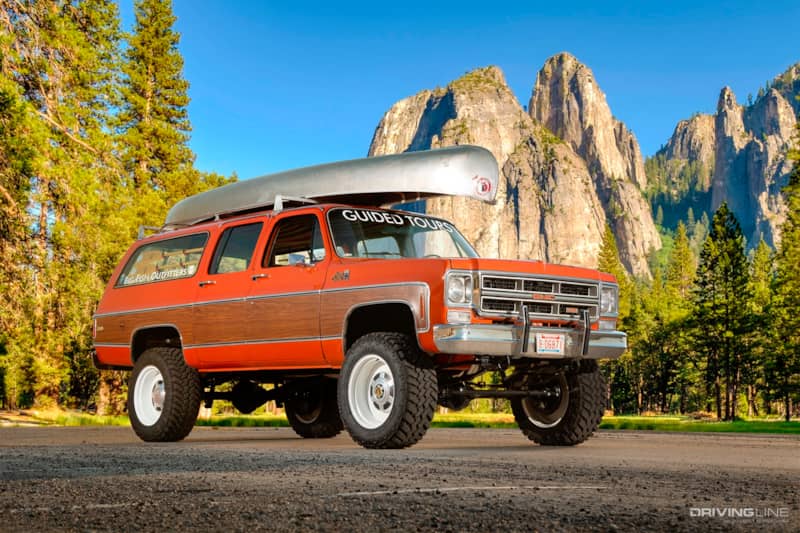 If you ever happen to find yourself in town and have a free day or two, be sure to look up Todd Carpenter of Big Fish Garage. While he isn't exactly a full time professional expedition tour giver, he could probably show you a couple of his favorite fishing holes, as well as something else he is interested in—his horde of GM trucks. If you've heard of Todd's extensive roster of classic GMC and Chevy pickups and utility vehicles before, then you know the exact extent of his collecting habit. From C10s to Suburbans like the one seen here, he's caught them all, and always seems to have a fresh one on the hook.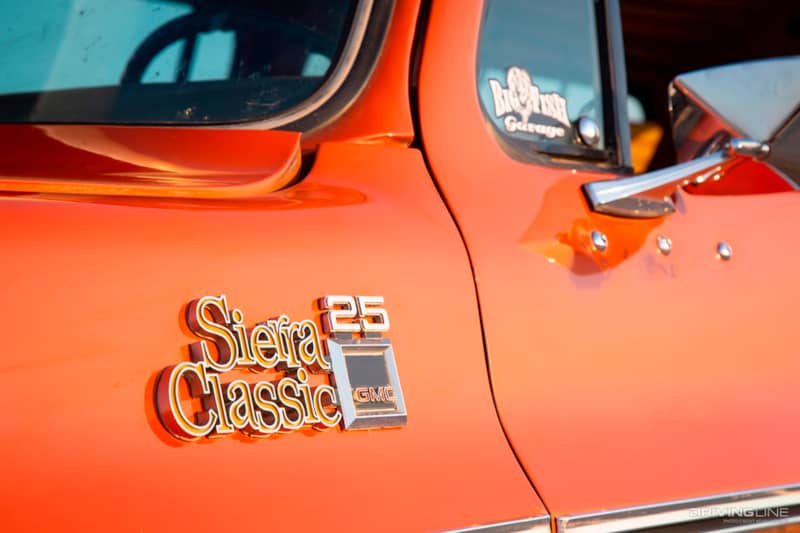 Troll Toll
Todd happened to come across this '76 'Burban while trolling eBay one day in 2014, and he instantly liked what he saw. "The wood grain paneling first caught my attention," he said. "And I also loved that it was a GMC. I asked my good friend Raece Paulsen what we could make of it, and his suggestion sold me on going forward the purchase."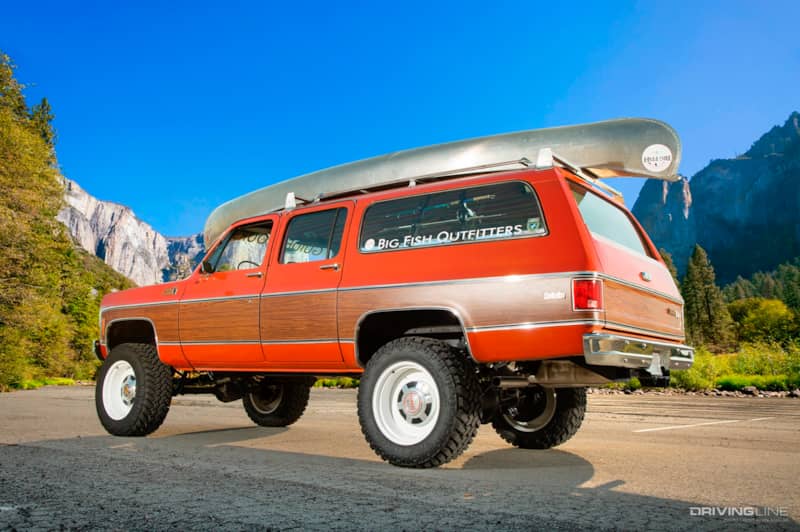 The idea was to turn the truck into an old school outfitter vehicle, which really was a great direction to take this build. This one really had the potential to harness everything Todd is passionate about when it comes to his vehicles, as well as one of his favorite pastimes. But first, he had to figure out the logistics of relocating the Suburban from its current resting place in Northern California back to the wide-open Nebraska plains.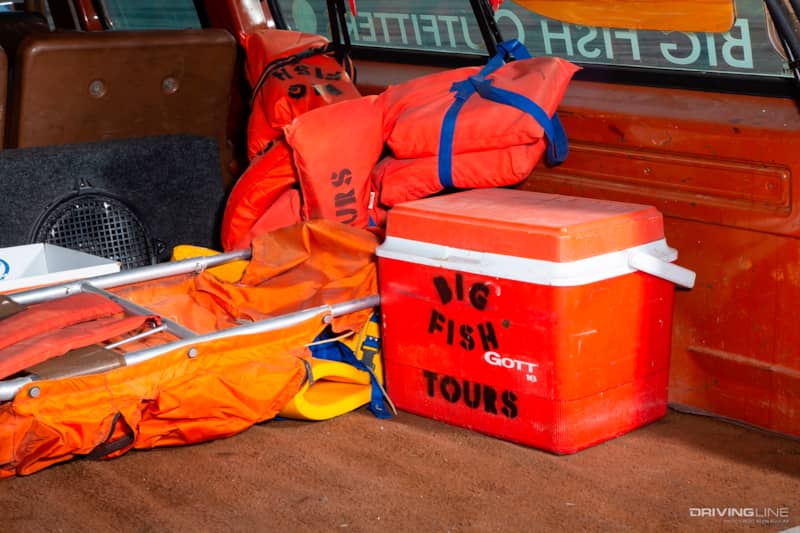 The Adventure Begins
The most practical method of transporting the GMC was to drive it back, which meant that Todd would have to trust the description of truck's condition in the eBay listing. Well, for the most part what he read is what he got, with only one small exception. "The trip was smooth for the most part," Todd said. "Except for the part when the engine blew when I was just 300 miles from home."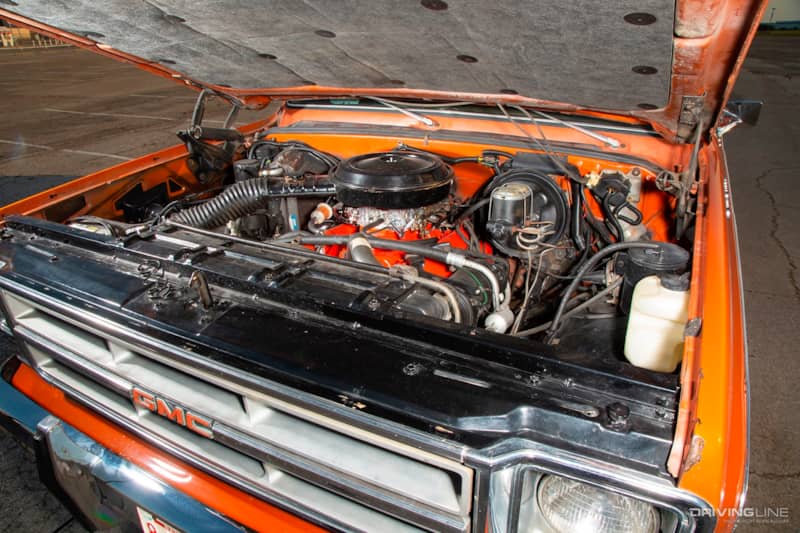 With that slight hiccup behind him, Todd enlisted the help of his pal Raece to assist with the engine rebuild. While they were at it, they took this opportunity to upgrade the big block 454 with a few performance products in the way of a fresh Edelbrock intake manifold and carb, as well as a new set of Hooker ceramic-coated headers and Flowmaster muffler. To proceed on that front, Kip's Transmission in Alda, NE prepared a TH400 unit to better serve the Suburban during its future expeditions.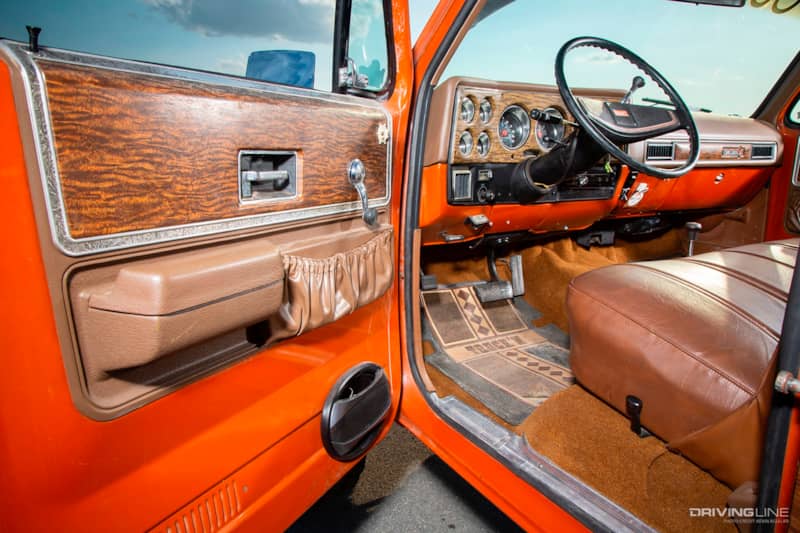 When Todd first started driving the GMC, he had it sitting on a lowered suspension, but after a while he figured the truck would be better suited with a much more aggressive setup. "It took awhile to realize that the Suburban would probably look and perform much more like a capable outfitter vehicle as a 4WD," Todd said. To capitalize on the transformation from 2WD, a NP203 transfer case was placed in along with a big hub Dana 44 front axle. The Suburban was also jacked up 4 inches with an all-spring Superlift setup.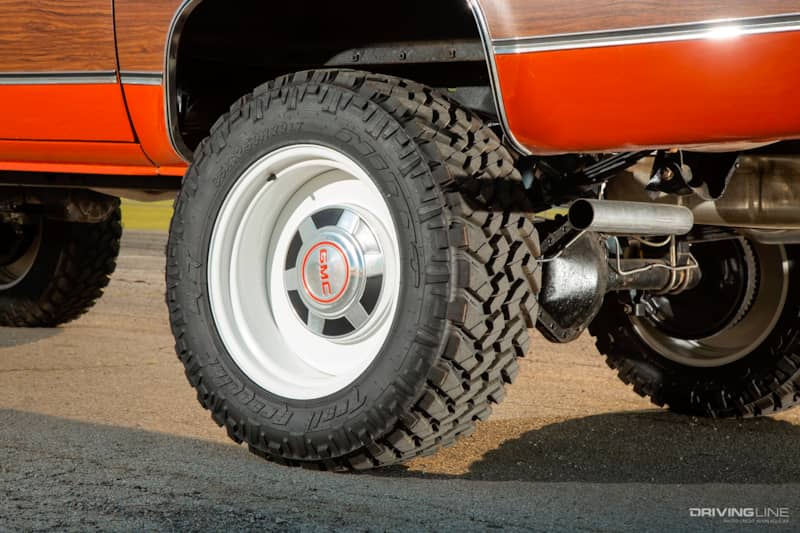 Quiet Aggression
To maximize the ground clearance of the lift, the Suburban was upgraded with set of 20x11 Detroit Steel D-Town wheels that were fitted with a set of old school dog dish hub caps. Completing the look here is the beefy 35x12.50R20LT Nitto Trail Grappler M/T tires, which definitely fit the new aggressive look of this beast. Not only do these tires look mean, they completely fulfill their off-road duties while creating substantially less on-road noise when compared to other similar tires. Altogether, this setup is perfect for traversing multiple terrains.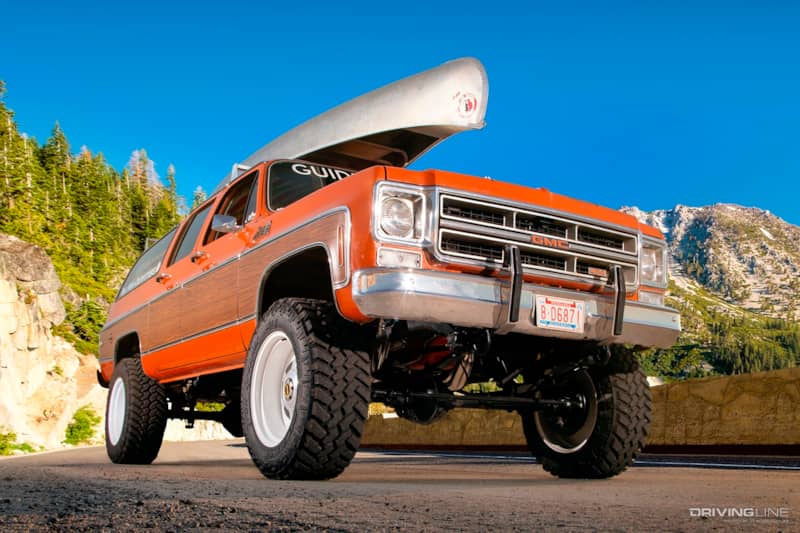 As far as the Suburban's exterior, Todd planned to leave well enough alone. Of course, he wasn't about to ditch the wood grain paneling, and that factory orange paint was just too cool to mess with. He did, however, add a roof rack for the ability to haul around an old school metal canoe that hopefully sees as much time in the water as it does in the air. "My whole approach to the build was to keep things clean and simple, so I didn't feel the need to do anything too drastic regarding the styling of the truck," Todd explained.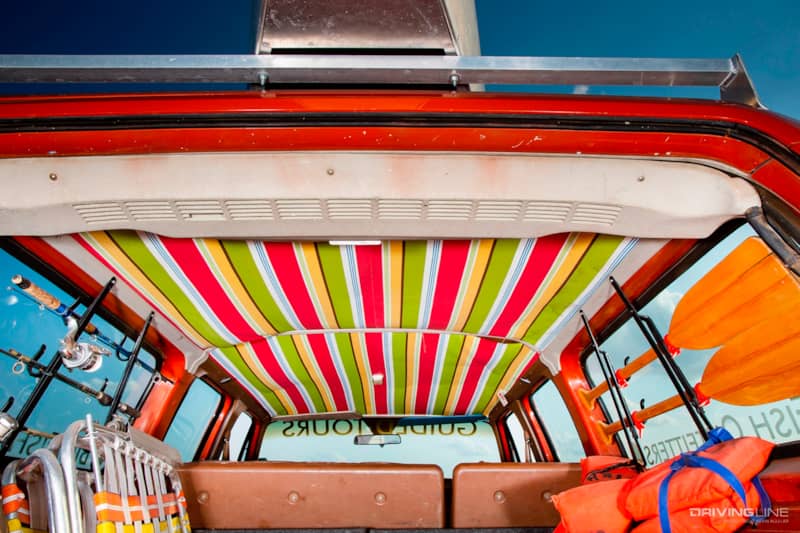 Cabin Space
That same method of maintaining the Suburban's original feel continued inside the cabin as well. The headliner material, a cheerfully vintage multi-color stripe pattern, it was in the vehicle when Todd purchased it and felt it deserved to stay. Todd also included racks to hold the paddles and fishing poles, which was done so more out of necessity than vanity. An outfitter rig like this should be expected to be well equipped with the right tools to make the most of the task at hand.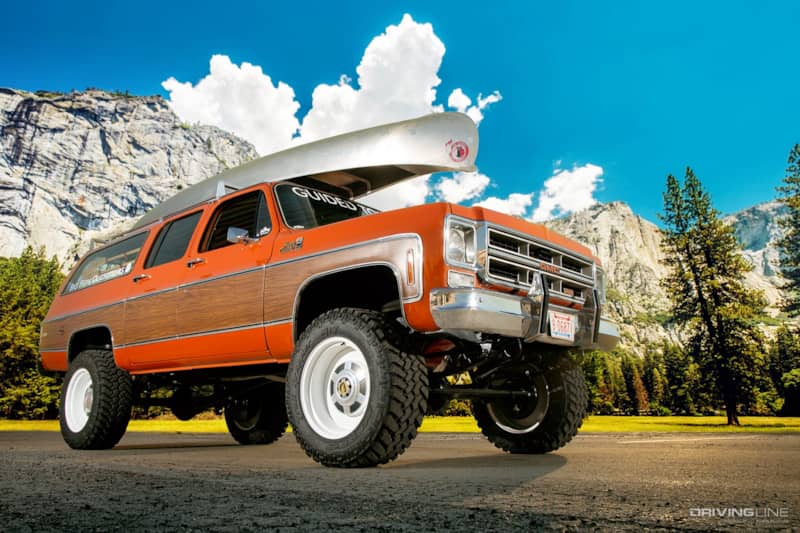 Tastefully Unrefined
While this might not be one of Todd's most extensive builds in his stable, it is definitely one of the coolest to have rolled out from the Big Fish Garage compound. There's a lot to be said of leaving a 46-year-old truck the hell alone for the most part and let it exist as a time capsule of a rig that it truly is. If you're searching for a guided tour through the back country or a whip around the show fields, this particular Suburban is right at home in both scenarios.