The Juice Is Loose: Hill's Hot Rods' Vision of the Perfect OBS Chevy 454 SS Pickup
It's rare that we see trucks built and kept by shop owners knowing how busy things can get with the flurry of customer jobs. Jason Hill of Hill's Hot Rods in Lubbock, TX, has been carving out hours, mostly on the weekends, to dedicate to his latest project—this orange '90 454 SS. He really hasn't had it long, but in the time, he's had with it, he buckled down and created the exact truck he wanted that never was officially released from GM. 
OBS Comeback
"I've been in this business for 28 years or so", Jason says. "In that time, we cut our teeth on sport trucks, so it's great to see them making a comeback. We always keep an eye out for clean CK trucks to build or refinish, and we actually ran across this particular pickup while driving down a local street." The truck was pretty dirty, was a hazy red color, and had incorrect wheels on it.
Serving Up the Orange
What Jason had in mind for the truck was to keep it looking as factory as possible, while giving it that old school sport truck look. He was also dead set on painting the truck orange—an option on the 454 SS that was never made available for some reason or another. "I've always said that GM should've done this truck in orange because back in the day, GM always had a performance model offered in orange paint except for this model truck."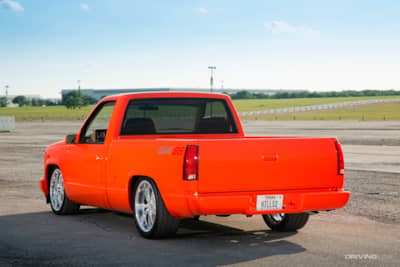 Static Dropped
To start, Jason made a call to Switch Suspension for everything he'd need to get the proper static drop ride height. That's right—this truck was built with a period correct theme in place, which meant no modern air ride components would be utilized to drop the truck. Instead, Jason kept the suspension overhaul old school, and ran with spindles and springs from McGaughy's, as well as a rear flip kit from Switch to get an approximate 4/6 that's been dialed in to give Jason just the right altitude he had in mind.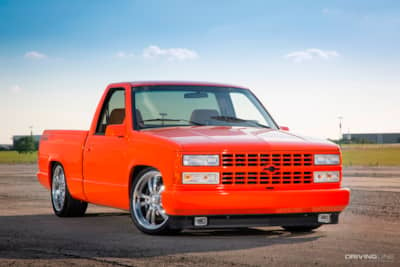 Sparkle and Grip
To capitalize on the truck's lower stance, a set of 20-inch Raceline Static wheels wrapped in 255/35R20 (front) and 305/35R20 (rear) Nitto NT555 G2 rubber seemed to make for a winning addition. Even better, the tires were designed to be stylish and perform when needed. With large tread blocks, the NT555 G2 tires have exceptional grip and even they evacuate water well with circumferential grooves. This gives Jason extra confidence that this truck can handle wet or dry conditions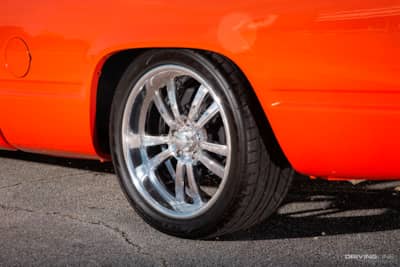 Getting Refreshed
Jason, along with the rest of the Hill's "crue" then got down on the truck's exterior surface to get it ready for that elusive orange paintjob. Before it was time to spray, however, a few fresh body parts from LMC had to be ordered first. The grille, insert, door handles, and headlights and taillights are all brand new, as is the front and rear bumpers that were cleaned up for a more streamlined appearance over stock.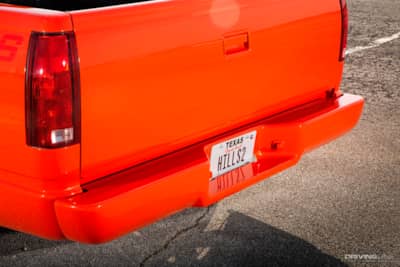 Spraying the Juice
After countless stops to the local O'Reilly's, the guys were finally getting somewhere. The time had come for Jason to finally load his paint gun with a shade of PPG orange that would suit his vision perfectly. "For protection reasons, the entire front end and other components were wrapped and polished by the guys at Distinguished Details in Lubbock. We didn't want all of our work to get ruined with annoying paint chips and dents from driving this thing around," Jason added.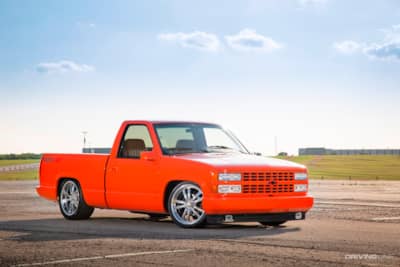 Around the Block
With the factory engine needing some major attention, Jason gave it a full-service overhaul, while adding fresh components to extend the life and performance of the 454ci engine. A custom exhaust system, headers, a new radiator, and so much more went into creating a bigger, better mill the truck has ever had under its hood.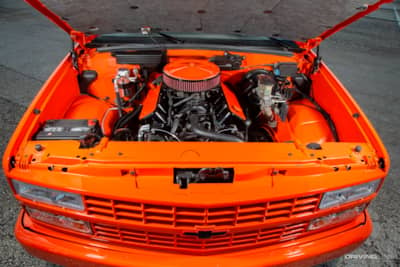 Time Warp
Next up on the chopping block was the interior, which was updated here and there without going totally overboard and spoiling the aesthetic Jason was trying to keep. The factory dash was dyed to match and a pair of original survivor seats with the original brown and tan upholstery were thrown into the cab since they were in too good of vintage condition to run with anything else.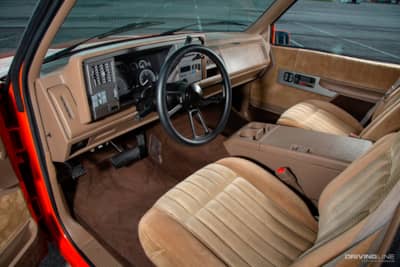 The Juice is Now Loose
In a matter of six months' worth of weekends, Jason wrapped up his latest OBS project with pride knowing that he has pulled off a feat that's not always easy to stick to. "Keeping things as 'factory' as we did had to be the hardest part of this build", he admits. "It also happens to be my favorite part about this project, so all the strategizing was well worth it. The look on people's face when they ask if GM ever made an orange 454 SS is priceless. We've been keeping tabs on how many times we've been asked, and the number is getting pretty high."