The Polar Bear: A Summit White Silverado Packing A 1,200HP Duramax
Beautiful yet violent, the polar bear is one of nature's fiercest predators. Turns out, it's not a bad nickname for an immaculate, classic body Chevy rocking a compound turbo'd, 1,200hp Duramax diesel either. Zack Barton's '06 Silverado 2500 HD could easily win best-in-show or put on a show at the track. His love for both the '01-'07 body style and the LBZ Duramax runs deep—something other Bow Tie diesel fans can easily understand. And it's because of this dual-phase affinity that he poured so much time and effort into the truck's every detail. From head to toe, this old-school Chevy build has been executed to perfection.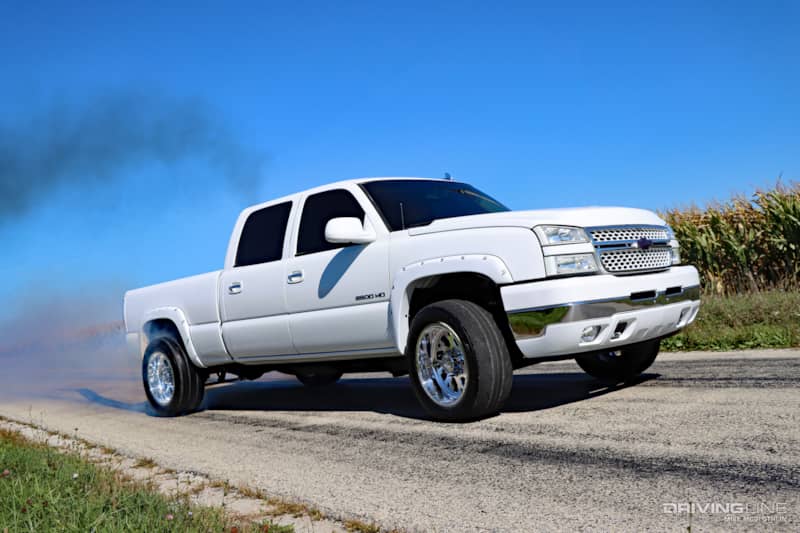 A diesel mechanic and shop owner by trade, Zack assembled the LBZ Duramax himself. Using some of the highest quality and strongest parts on the market, not only was he able to turn the 6.6L diesel V8 into a 1,200hp monster, but a reliable monster. It's a recipe that builds more than 1,800 lb-ft of torque, which called for a billet internal Allison transmission and a host of front-end mods, rear CalTracs and Nitto drag radials in order to hold down the fort in the traction department. Join us for an inside look at one of the cleanest (and most powerful) Duramax builds we've ever laid eyes on.
Impeccably Clean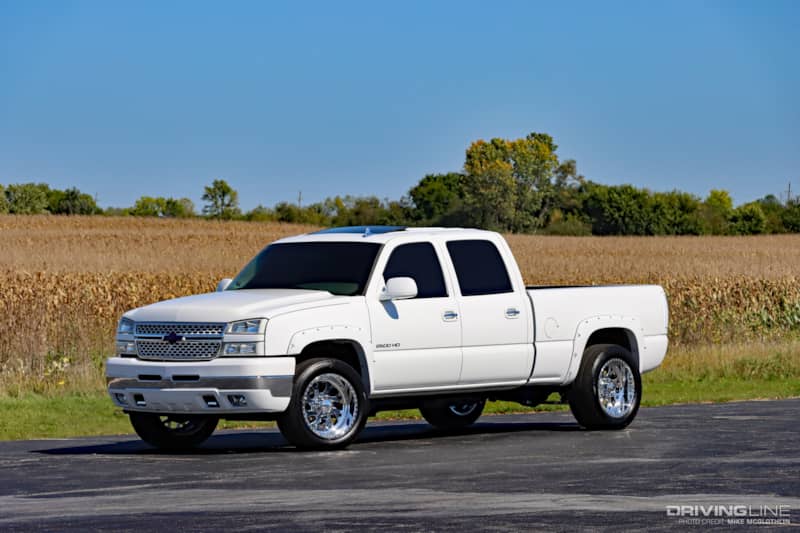 There are 170,000 miles on Zack Barton's Silverado, but you'd never know it thanks to top-notch paint love it's received from Nydam Auto Body. Under the hood, the built LBZ Duramax has racked up 5,000 miles so far. We first met Zack and his '06 Chevy at the 2023 Ultimate Callout Challenge. And while the truck didn't win an award at U.C.C., it probably should've. Trust us, they don't come any cleaner or more well put together than this in the diesel industry. At every corner of the truck, tremendous attention to detail is on display. From the scuff-free, custom powder coated intercooler piping to the spotless frame everything is bolted to, this HD Silverado is first-class in every way.
A Duramax That Means Business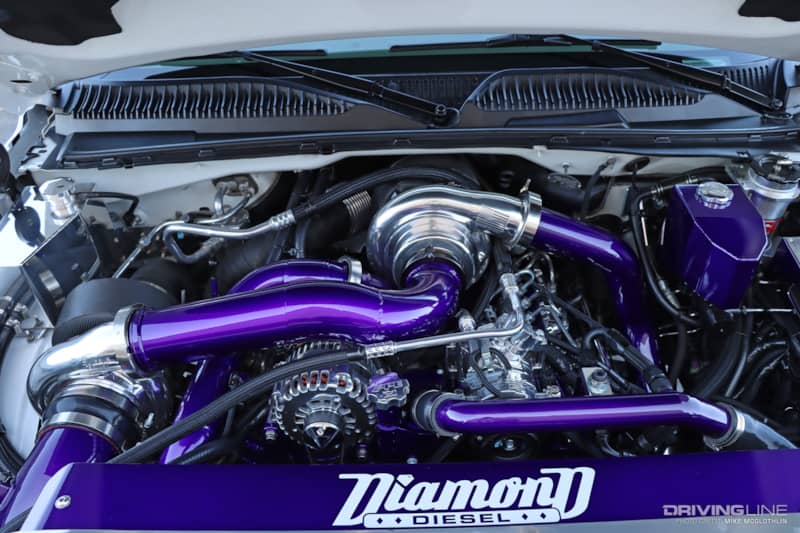 Assembled in-house at Diamond Diesel & Auto, Zack's LBZ is fortified in every possible manner. A Callies Durastar crankshaft is anchored in place thanks to a girdle, billet main caps and ARP main studs. The nitrided, 4340 crankshaft swings a set of Carrillo rods which are attached to fly-cut, Fingers oval bowl pistons, while an alternate firing order camshaft operates the valvetrain. The Stage 2 CNC-ported heads are fastened to the factory (albeit O-ringed) block by way of 14mm head studs. Countless parts were sourced from SoCal Diesel for the build, a household name in the Duramax world. Zack's educated guess on power is 1,200 hp…before the bottle gets turned on.
A Low-Pressure Charger That Hits The Mark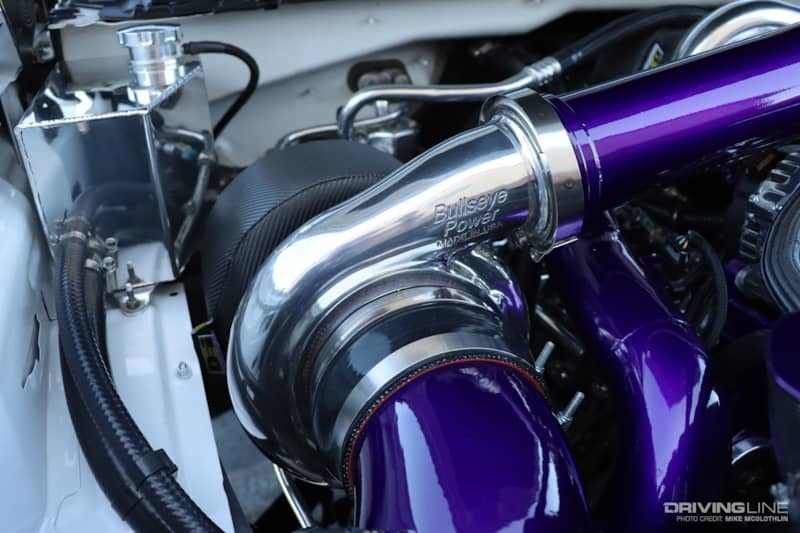 The LBZ engine's first gulp of air comes courtesy of an S400-based turbo from Bullseye Power. It sports an 83mm compressor wheel, and a 96mm turbine wheel inside a 1.32 A/R, T6 foot exhaust housing. A 4-inch downpipe routes exhaust gases through a 5-inch section of exhaust in route to the 5x7-inch carbon fiber OldSkool Fab stack in the bed. Zack fabricated all the piping in the compound arrangement himself, while nearby Powder Coating Creations handled the top-notch powder coat work. A turbo blanket, combined with DEI lava wrap being employed on all hot-side piping, helps keep the big, S483 atmosphere charger responsive.
The Billet 5-Blade In The Valley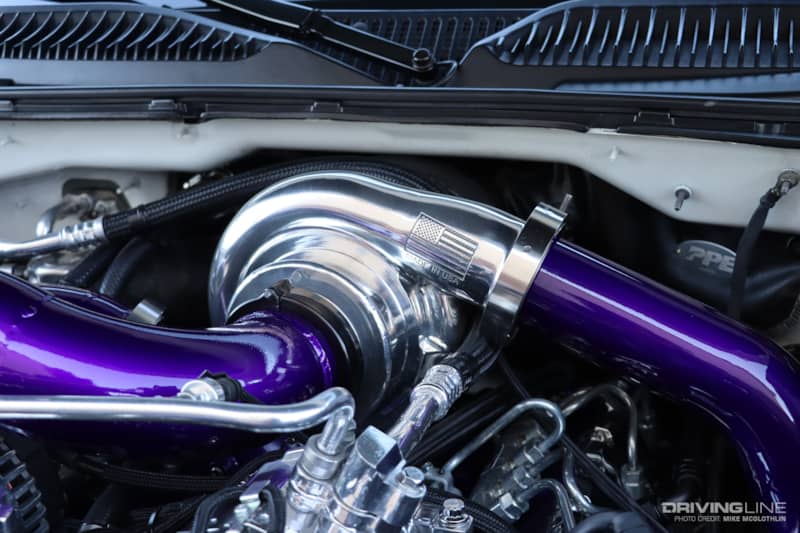 Near the factory location at the rear of the Duramax's lifter valley, you'll find an S400 from Stainless Diesel. This T4 turbo makes use of the company's proprietary, billet 5-blade compressor wheel technology, this one measuring 72mm at the inducer. An 87mm turbine wheel spins inside of a 1.10 A/R exhaust housing and the charger is linked to the engine though a set of up-pipes and exhaust manifolds from ProFab Performance. The S472 forces boost through a pinned PPE intercooler which, along with spot-on tuning and a Snow Performance water methanol injection system, keeps exhaust gas temperature (EGT) in check.
Four-Digit Fueling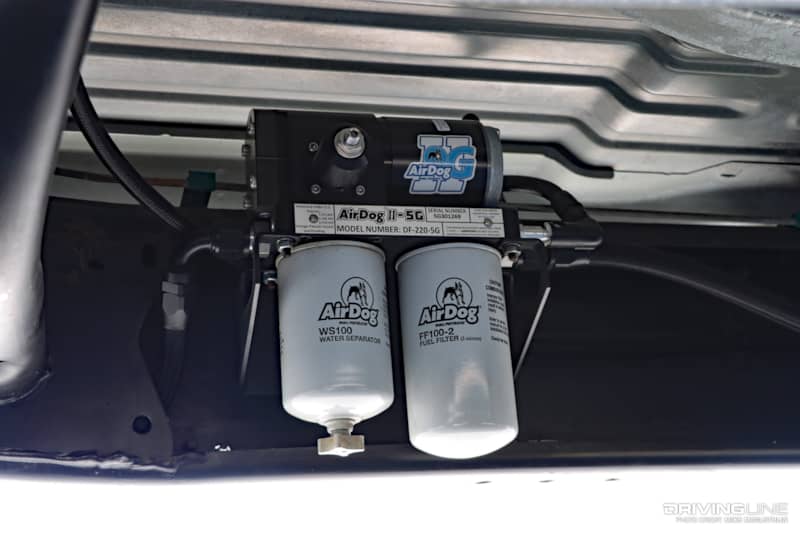 To get ample low-pressure fuel supply up to the high-pressure fuel pump, Zack enlisted the help of AirDog. One of the company's AirDog II-5G systems is in place along the truck's spotless driver side frame rail. It's capable of flowing a whopping 220-gph. A 14mm stroker CP3 high-pressure fuel pump from Exergy Performance sits in place of the factory unit on the engine and pressurizes as high as 26,000 psi. When called upon, a set of injectors (also from Exergy) equipped with 250-percent over nozzles carry out the in-cylinder fuel delivery. This fueling arrangement (along with the air provided by the compound turbos) is responsible for the truck's 1,200hp capability on fuel alone.
Overkill Allison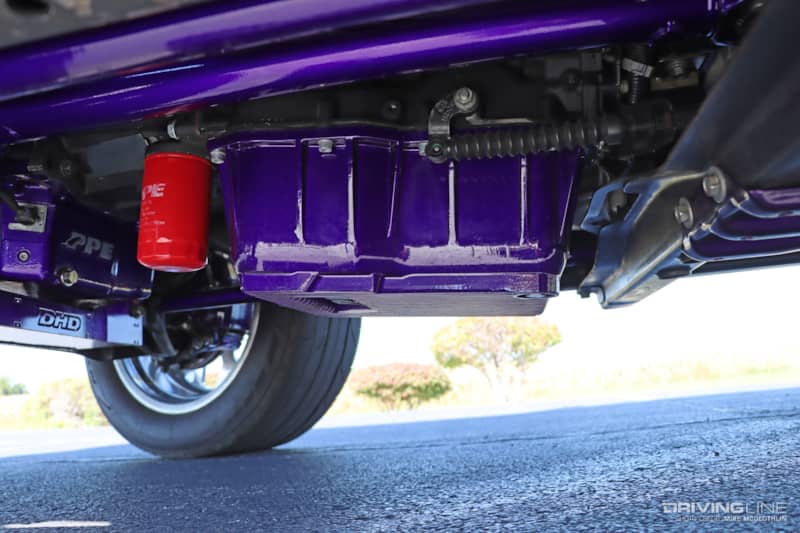 If your transmission can't handle what the engine is dishing out, your plans for power will never materialize. To make sure his Allison 1000 was up to the task of harnessing what the big fuel, compound turbo'd LBZ Duramax could produce, Zack invested in a Signature Series Allison from RevMax Converters. Rated for 1,500 hp, the six-speed automatic benefits from Raybestos GPZ frictions and Kolene steels, a performance valve body with select TransGo parts and a high-stall, billet front cover, triple-disc torque converter with a billet stator. For utmost strength, the input, intermediate and output shafts were all upgraded to billet pieces. A PPE deep pan ensures ATF temps stay cool.
Fortified IFS
In order to make boosted, four-wheel drive launches possible, every weak link in the AAM 9.25 IFS front-end has been addressed. Reinforcements include Kryptonite tie-rods, SS series center link, idler support, idler support frame gusset and death grip idler arm and pitman arm. Cognito Motorsports' upper control arms and sway bar end links, and a lower control arm bracket from Dirty Hooker Diesel provide further fortification. Other upgrades include a PSC Motorsports HD gear box, power steering pump and reservoir to go along with an LML hydroboost conversion. At every corner, a Fox 2.0 shock is employed. To keep axle wrap at bay out back, a set of CalTracs traction bars are bolted in place.
Drag Radials On 20's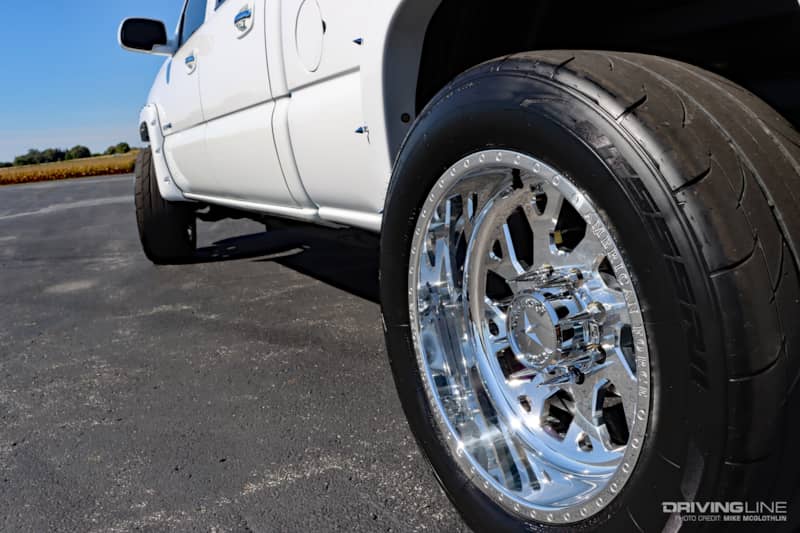 Putting power to the ground in style is what diesel performance is all about—and Zack's Chevrolet does that thanks to a choice set of wheels and the perfect tires. For ultimate grip, he went with the street-friendly NT555 RII drag radials from Nitto. The DOT-compliant rubber excels in competition but also enjoys surprising longevity on the street. The set aboard Zack's Silverado measure 305/50R20 (32-inch overall diameter and 12.3-inch width. For a bit of bling, the triple nickels are mounted on American Force Lucky SS wheels. The one-piece, polished units measure 20x10-inches.
A Race-Ready Interior—With Room For 4 Passengers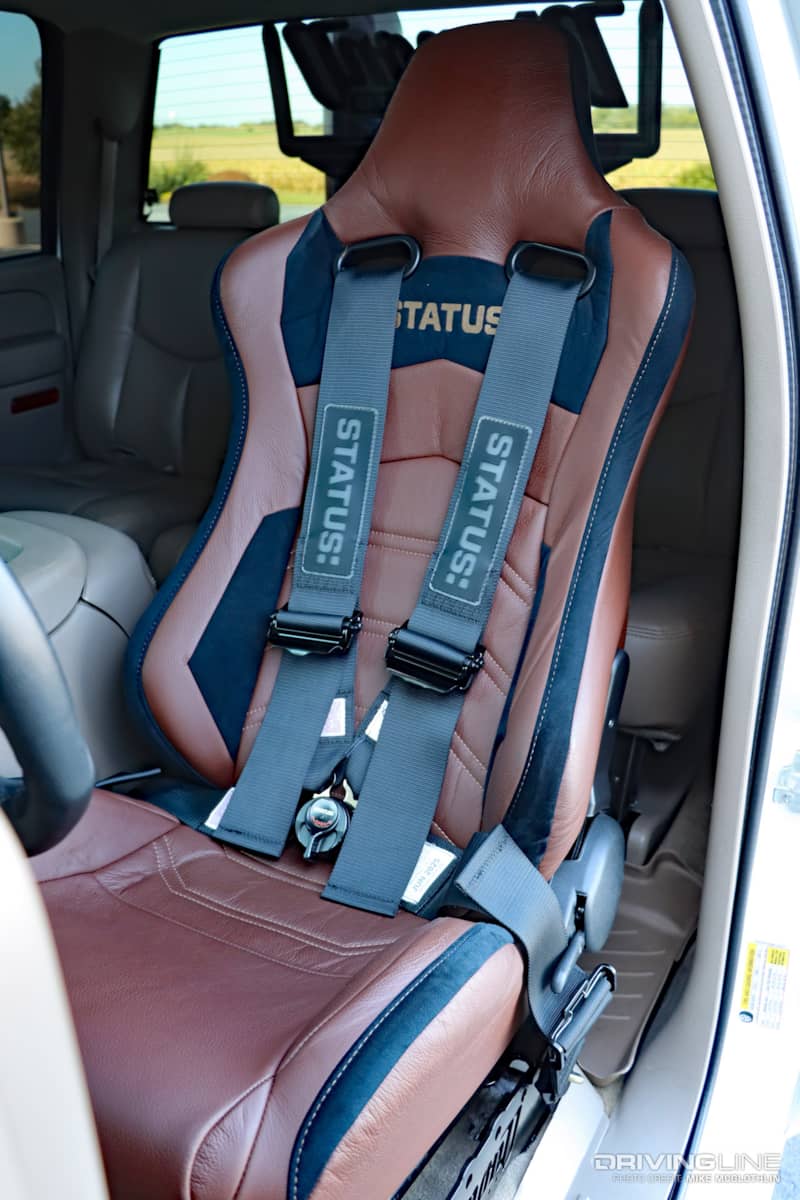 Within the cab, where a pristinely preserved factory interior exists, the front seats have been replaced with custom Touring units, complete with race harnesses, from Status Racing. As for further safety measures, Zack is apprehensive about adding a roll cage—even though he's well-aware of the fact that he'll need one at the track given the truck's horsepower level. Additional in-cab features include an AEM CD-5 data logger mounted in the factory dash, a DSP5 switch and the controller for the water-meth system.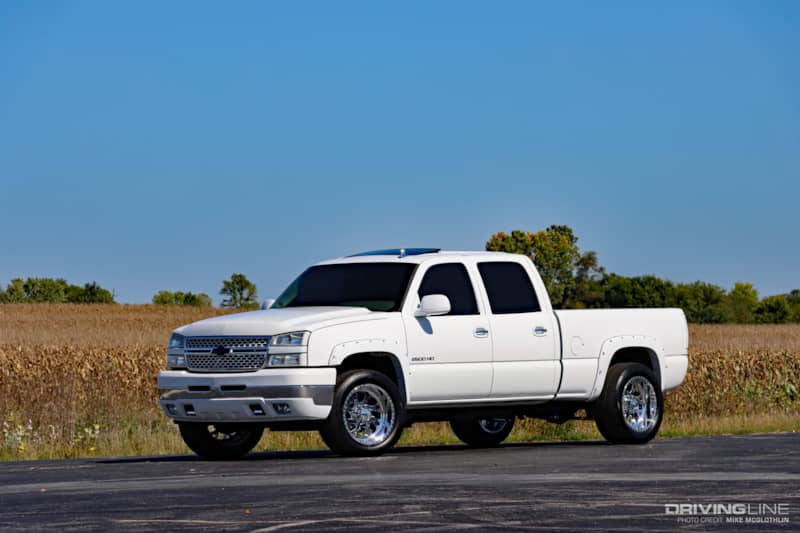 More From

Driving Line
If vintage diesels are more your thing, we've got that covered, too. Over the summer we may have found the cleanest first-gen Cummins in existence. Check it out right here.