The Ponderosa: Rtech Fabrications' New Top Dog Chevy Dually
Building a show truck is serious business. The competition between builders is constantly ramped up in an effort to be hailed as the best. But what happens when the only worthy adversary out there is your own previous build? Randall Robertson, owner and operator of Rtech Fabrications in Coeur d'Alene, Idaho, is faced with this challenge each year. And his latest masterpiece, nicknamed "The Ponderosa," might be impossible to defeat, even for him.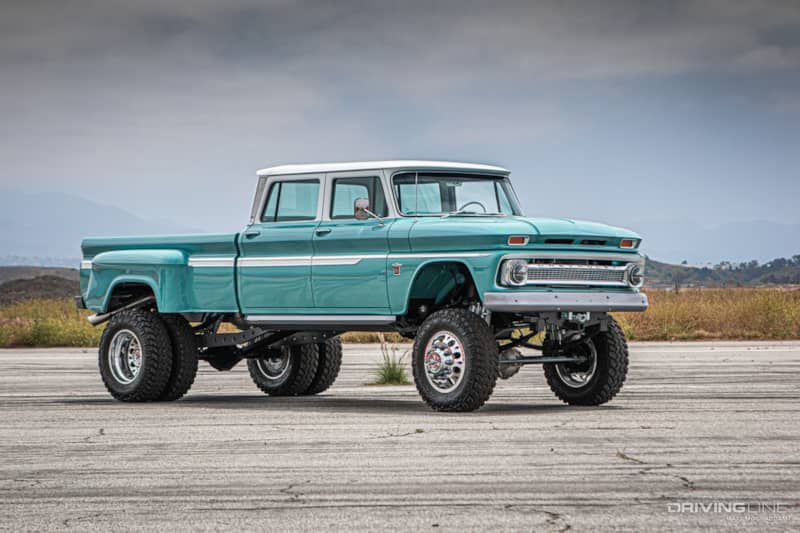 Known for creating some of the most unique and capable classic Chevrolet trucks in the world, Randall and his team are always coming up with new ideas to take their builds to the next level. Driving Line featured his show-winning, Cummins-powered K50, called "The Duke" during it's debut appearance at the SEMA show in 2017. After subsequent months filled with notable press and appearances at truck shows, The Duke helped Rtech Fabrications establish themselves as a world-class truck builder, and masters of their craft. But even in those days, Randall was already thinking two steps ahead, planning the build that would soon take the reigns as the top dog in Rtech's lineup.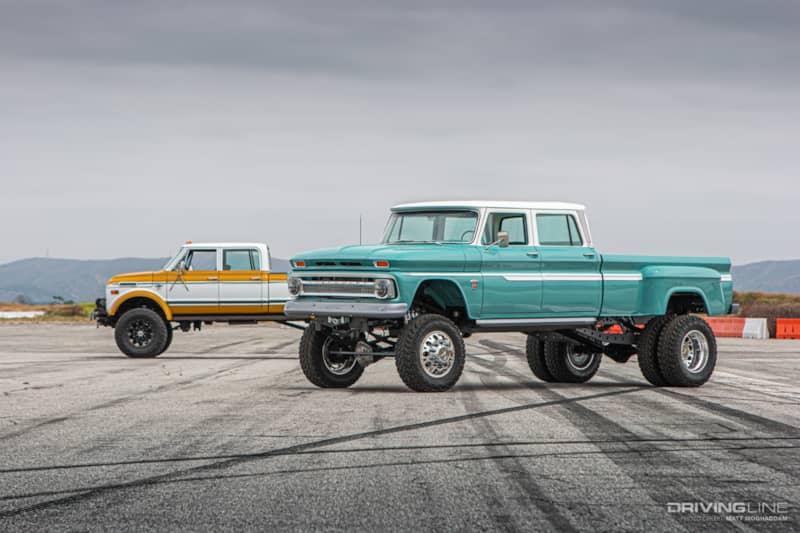 Enter The Ponderosa. This one-of-a-kind 1966 Chevrolet crew cab dually pickup is the culmination of Randall's design, fabrication and engineering experience. Rtech is no stranger to '62-'72 Chevy Pickups, and they are the leading shop for performing crew cab conversions on them, since the 4-door configuration was never offered in this generation of GM trucks. This larger-than-life classic dually is much more than a stretched cab on a lift kit. Randall worked round the clock to finish this build in time to make its debut at the Brother's Truck Show in Silverado, California earlier this summer, where it received the Brother's Choice award.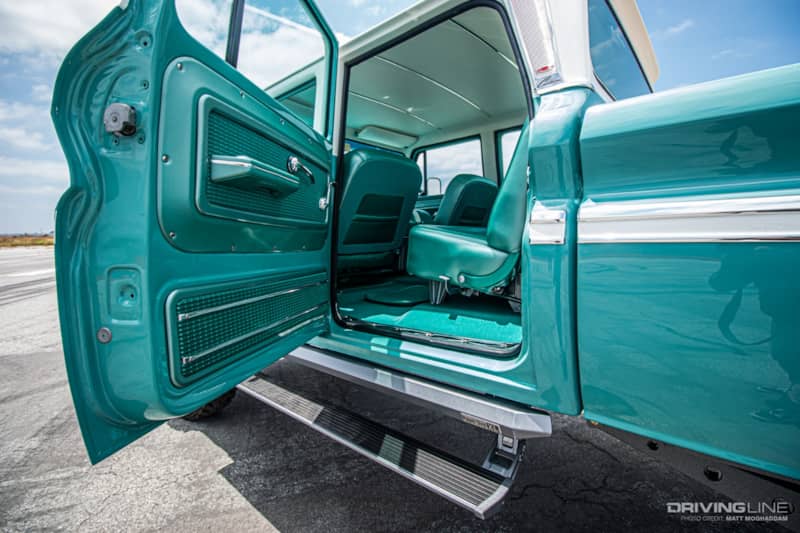 Beginning with the body, Randall gave the Ponderosa his signature crew cab treatment, which actually gave this truck an enormous amount of leg room in the back seat. A big back window pays homage to the classics, with a deluxe chrome finish for accent. Randall opted for a factory GM "Light Green" paint color, offset with white accents. The front and rear bumpers were finished with a silver paint job for a clean and unobtrusive look. Randall even took the time to hide a Warn winch in the front bumper, and added Offroad LED Light bars all around. From the Amp Research Powersteps to the precise 3/16-inch door gaps, every detail was accounted for.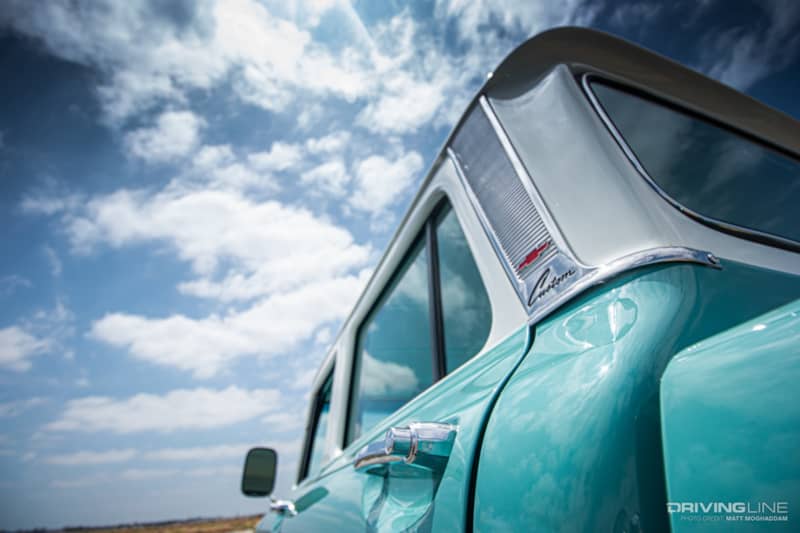 Underneath, the chassis started as a simple 1-ton frame, converted to accept the 4WD system. The front axle is a dually Dana 60, equipped with Warn heavy duty manual locking hubs. The rear end is a Dually Dana 70, beefy enough to take the weight of this behemoth. An Offroad Design front high-steer system was used to correct the drag link angle, running through a Redhead Steering box which allows the Ponderosa to handle easily down any road. Randall got a bit creative with custom built traction bars that are mounted to the frame and in between the rear leaf pack and on top of the axle housing. Randall installed 6-inch leaf spring packs, with custom built front and rear heavy duty shackles, which he designed. The truck runs on dual Bilstein 6100 series shocks with remote reservoirs at each corner, evenly distributing the ride.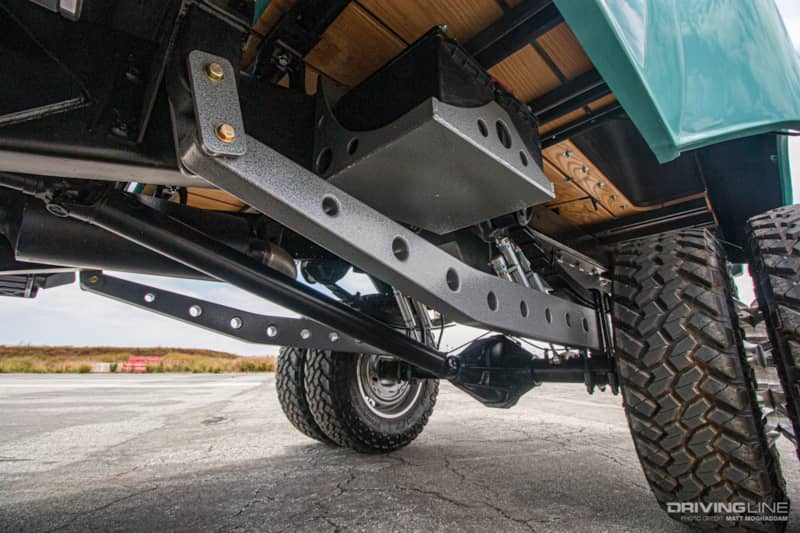 When it comes to wheel and tire choice, Randall never compromises. For a truck this big, that's built to drive and show, he knew he had to go with a setup that not only complimented the aesthetic nature of the build, but also could handle anything that can be thrown at it. Randall chose a set of 20-inch American Force dually wheels with a chrome finish, wrapped in 37x11.50R20 Nitto Trail Grapplers. The 11.5-inch wide Nittos were strategically chosen to allow the rear dually wheels to be used without the need for a spacer. Randall highly recommends Nitto tires for all of his customer builds after enjoying years of performance and longevity from his own trucks.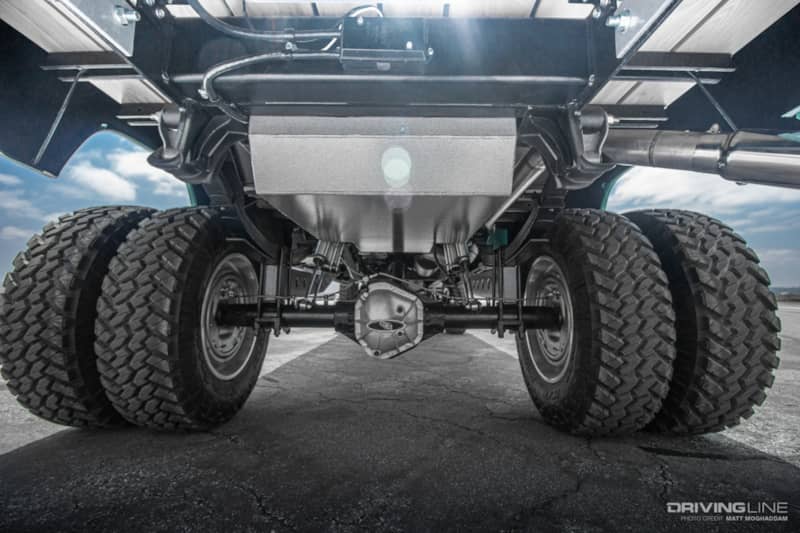 A closer look reveals stainless steel braided brake lines at the front and rear, a custom built 4-inch Flowmaster diesel exhaust system and a custom built gooseneck hitch. Randall opted for a custom built aluminum 60-gallon fuel cell, providing plenty of range for those long trips. A Fass lift pump system was installed to get the fuel to the front of the truck. In the bed is a custom made Bedwood brand bed wood finish, for a classic truck look. A matching interior keeps things clean with a classic feel, complete with custom handmade door panels, chrome molding and arm rest.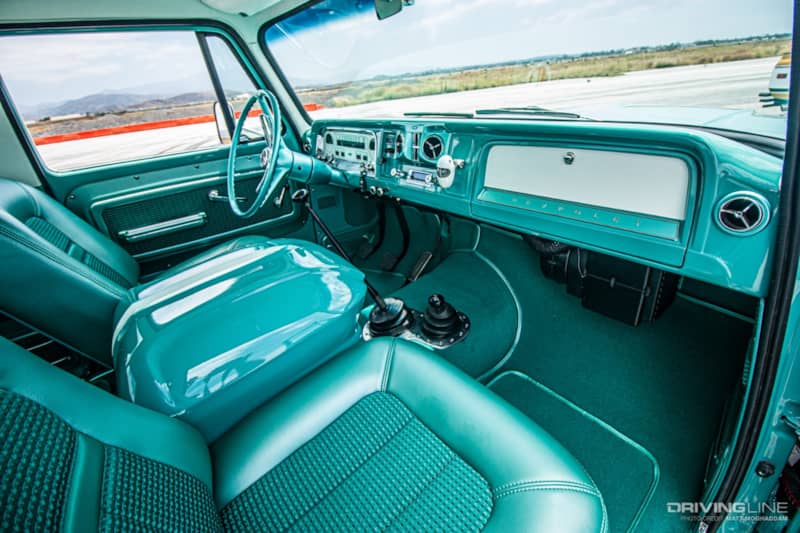 Under the hood is where the surprises start. Although Randall prides himself on being a dedicated GM fan through and through, his choice of power plants would make you think otherwise. Obviously, a turbo-diesel engine is a great choice for a build like this, but Randall has an affinity for the Cummins 12-valve 5.9L, and has spent much time developing a configuration to squeeze just over 550 horsepower from one in a reliable way. The word reliable is key here; anyone can turn up a 12-valve and make this kind of power, but doing so using the correct supporting modifications gives Randall the peace of mind to drive this truck across the country without thinking twice. It's this level of expertise and attention to detail that makes his customers trust Rtech Fabrications with their builds.
Randall may have outdone himself on the Ponderosa, taking his experience and design from The Duke and reimagining it. Over the next several months as the new truck goes on tour around the country, entering into numerous shows and making appearances at various events, Randall is already making significant headway into an even newer truck, while revamping The Duke into a version 2.0 we can't wait to see. But until that day comes, the Ponderosa will remain top dog in the Rtech Fabrications lineup, leading the way for custom classic 4x4 trucks around the world.
Don't forget to check out the Rtech-built truck that introduced us... The Duke.