Larger-Than-Life in Las Vegas: RTech Fabrications '72 K50 Blazer Shifts Our Reality
We were meeting somewhere near the SEMA Show. Randall Robertson, RTech Fabrications owner and design mastermind, was pulling up to me waiting at the curb in one of his latest builds, a 1972 K50 "Blazer" dubbed "The Bulldog." And while I'd seen a number of RTech Fabrications' builds in person before, I knew nothing could prepare me for the reality of just how big these vehicles are.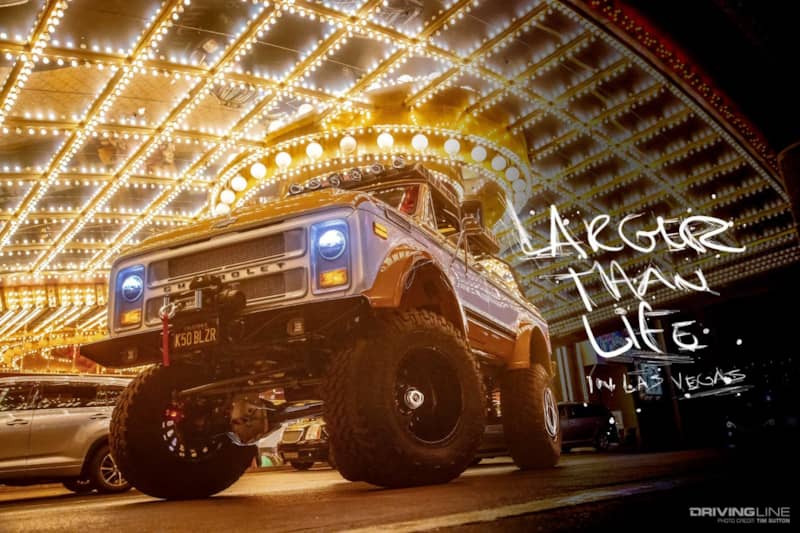 The Bulldog was no exception. Its monstrous size measures in at eight-and-a-half feet from tires to roof rack—heck, it's about six feet just to the hood. However, what made the biggest impression on me was The Bulldog's contagious, put-a-smile-on-your-face demeanor. And while I'm aware that gearheads like me get a lot more goofy about vehicles than everyone else, I don't think I'm overestimating this truck's personality. Upon seeing The Bulldog in person, if you're not appreciating the vehicle for all the design, engineering and craftsmanship that went into it, then you'll likely be imagining yourself behind the wheel, swimsuit and sunglasses on, driving to your favorite lakeside beach to enjoy on a warm summer day.
Yep, it's this truck's personality that beckons to enthusiasts and non-enthusiasts alike. "When people see an RTech build for the first time, they're just blown away," explains Randall. "They beeline over to it with an approving grin on their face." He also notes a common sentiment from women that, "I don't normally get into this stuff, but I love THIS." So, I don't think my impressions on this warm November evening outside The Westgate Hotel in Las Vegas are too far different than those of everyone else.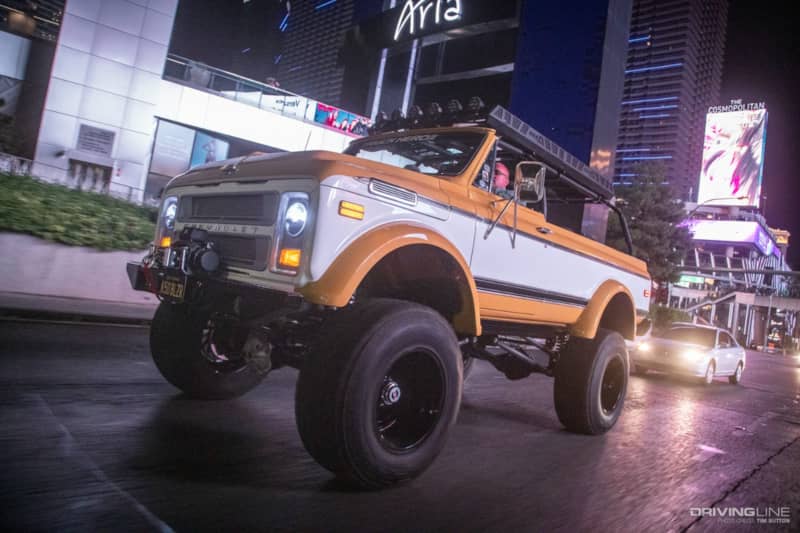 "Hop in, let's take a drive around Vegas," said Randall. I've been looking at parked cars all week during the annual SEMA Show, getting funneled through crowds and was beginning to glaze over at even the most spectacular builds. I could think of nothing more perfect than getting an impression of this car driving and being out in the world, "Goshdarnnit, you don't have to ask me twice," I said.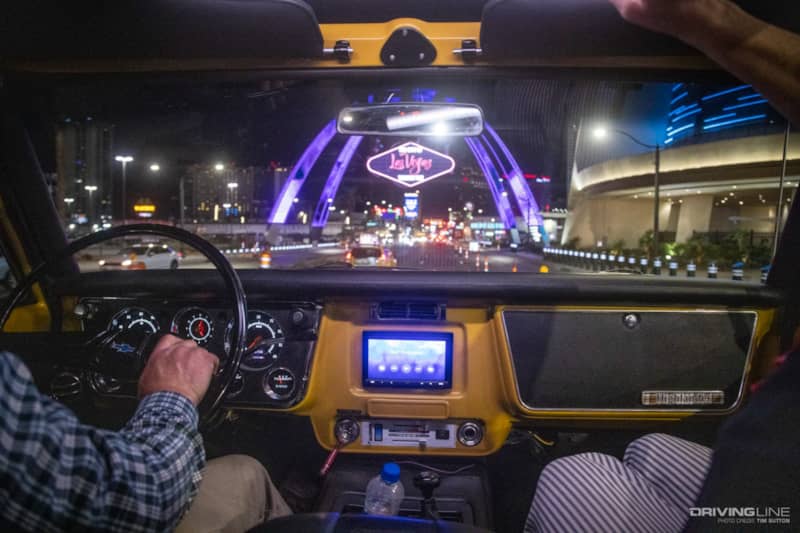 Reaching above my head for the door handle, I wonder what kind of gymnastics I'll have to do to get inside this beast. As it turns out, that's a detail Randall's already considered. Illuminated AMP Research XL Running Boards gently appeared as I opened the door and took a couple big steps up. The interior sent me reminiscing lakeside again—with its yellow plaid Highlander theme, a throwback to a trim offered by Chevy once upon a time. He's used this interior theme before and by gosh it works. And while auto journalists rarely mention the carpet, this one doesn't look any different, but it's made out of high-end marine grade materials for UV protection and the durability to fare well off-road and still look great.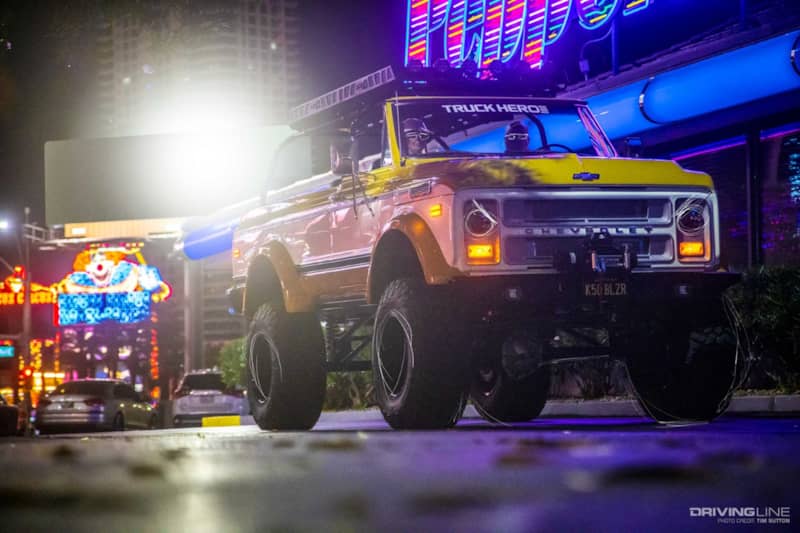 Details.
It turns out that attention to details is kinda a thing for Randall. From hours of block sanding before paint to finding ways to keep as many original parts as possible when it comes to the body styling. "One of my design mottos is I don't want you to notice one particular thing, but rather the vehicle as a whole." Which makes me think about the first time I met Randall, with the reveal of The Duke in 2017. It was also in Vegas at SEMA and when I was confronted with it front and center in the Nitto booth I was blown away. The truck almost looked like something I could've seen in a Chevy showroom if I were around in the '60s—just a lot, lot bigger. It wasn't until I'd taken it all in and had come in for a closer inspection that the attention to detail started to hit me. Everything was thought out. Everything was perfect for a truck like this. "If any one area calls too much attention to itself," says Randall, "I think that I've failed as a designer." And from The Duke, to The Ponderosa and now on to The Bulldog, Randall shows his consistency in living up to those words.
By now we've turned onto Las Vegas Boulevard and are garnering attention from the tourists walking by at every stop light. "Ah dude, look!" yells a fella to his buddies otherwise consumed by their foot-long margaritas. That kind of attention takes some getting used to, but at least in The Bulldog your sheer height above it all provides a level of privacy that otherwise wouldn't exist in a roofless car.
"Your builds are at the same time similar but each so unique to themselves. How do you keep one-upping yourself?" I asked. Randall chuckles. It's a question that I think he likes answering, even if it does haunt him a bit. "When I raise the bar it affects me, because I have to continue one-upping myself on the next ones," he says.
"Speaking of 'next ones', how'd this one come to life?" He recalls, "I'd already started early designs on a Blazer. After The Duke showed at SEMA somebody photoshopped it into a Blazer and that circled around on social media. Ramiro Rodriquez, a customer I've done multiple builds for, saw it and said 'I have to it. And I want one before you build one for yourself!'" I don't blame him. If you're going to own such a memorable custom and you can afford the endless hours of skilled work that it takes to make something like this from scratch… I'd want the first one, too.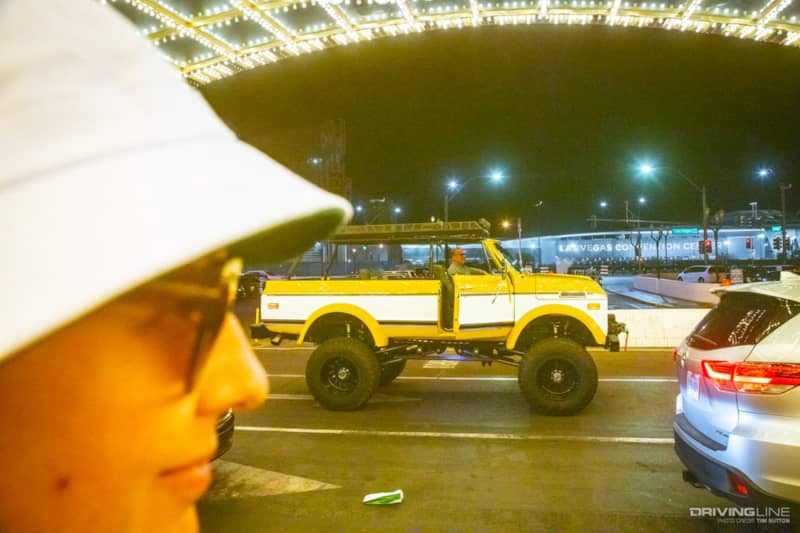 Finding a clearing in the Friday night Strip traffic, Randall puts his foot in it. Like prior RTech builds featured in Driving Line's pages, The Bulldog is powered by a turbo-diesel 12-valve Cummins 5.9L engine. Las Vegas on a Friday night doesn't provide long distances of open road, but this Cummins is ready to give us what it's got. And it's got a lot. I'm briefly glued to the back of my seat—bursting out in giggles, as only a pull of G's can induce. Slowing down, my giggles turn to laughter at just how absurd it is that SO, MUCH, FUN was lurking behind the hood of this beast!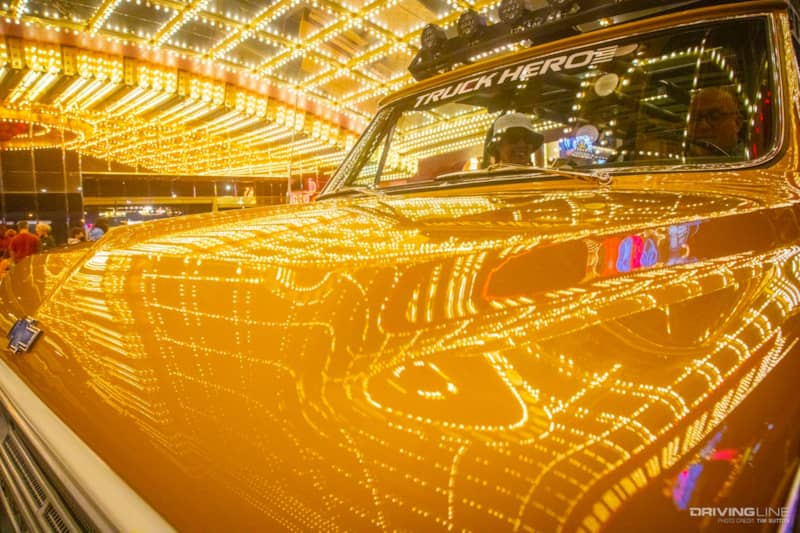 The 5.9L Cummins has long been Randall's powerplant of choice, but he continues to evolve how they build it. "My goal for RTech vehicles is that they're used, really driven," Randall says with passion. "So, with the engines, reliability and power are key." RTech's most recent innovation being working magic on the injection pump, raising its standard to match the other modified components in the engine. Randall estimates it's unlocked an additional 100hp—bringing the total output near 650hp. "It's probably the cheapest horsepower and torque you can build," says Randall. "The Cummins isn't in all of our stuff, but pretty near.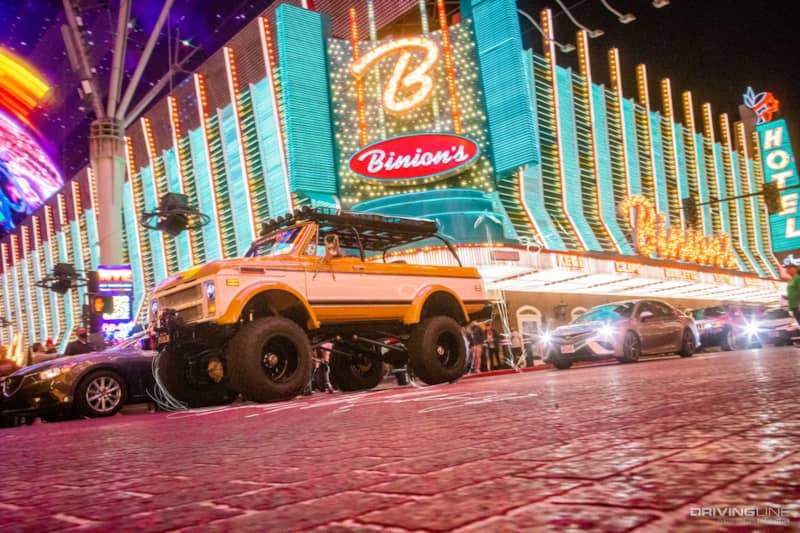 "The Bulldog was the beginning of a lot of things we're now doing on all of our trucks," notes Randall. "We've refined our 4-link suspension. Lots of upgrades. We now have such a system that there's not too much room for making things any more perfect." They've long made their own suspensions. "Because what aftermarket parts can you get for a 2-ton truck that provides the level of performance required?"
By the time we'd gotten to the older part of the Strip, I figured it was about time to get out and have another good look at this truck from the outside. To take it all in. The grand entrance of Circus-Circus was beckoning us—it's covered with enough twinkling lights to make you forget you may have driven all night to get here. They make the yellow paint reflect like a mirror.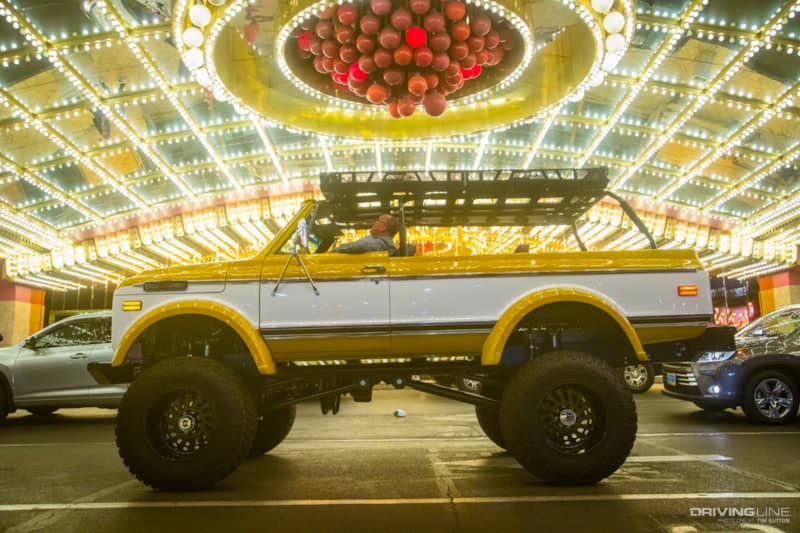 Getting out of the car, onlookers were (again) pointing towards us and talking excitedly to whoever was next to them. And it finally hit me—what made The Bulldog so inconceivably likeable. It's huge, but it doesn't come off as a monster truck. This is no grotesquely out-of-proportion custom of the like that sometimes make an appearance at the SEMA Show. No. The Bulldog, while massive, is perfectly proportioned. I remember Randall's design motto and realized that it applies not just to the car details but the entire car itself.
"I like using 50-series frames because you don't have to worry about not having a strong enough platform to really use it, or having too much torque for the frame," explains Randall.
"I designed the body so it would be long enough to have a safe wheelbase. The bed is literally an 8-foot bed with a 50-series front. The only actual Blazer part is the bit just on top of the windshield." While lots of factors go into design decisions, what Randall executes on happens to always be right on target.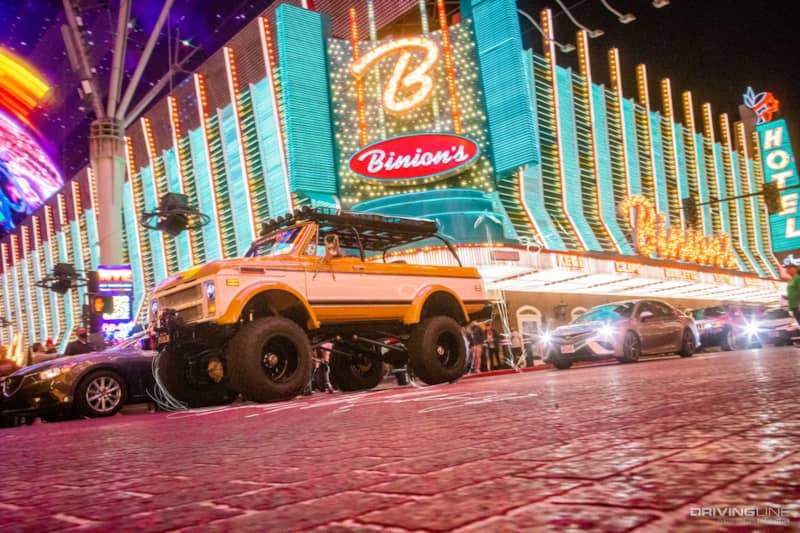 "You've got to run '40s because its what's needed proportionately." These 40x15.50R20 Nitto Trail Grapplers mounted on 20x13.5 American Force wheels do the job of not only looking the part but making me wish we were driving way past the Strip for some desert off-roading—to really experience everything this truck was meant to do.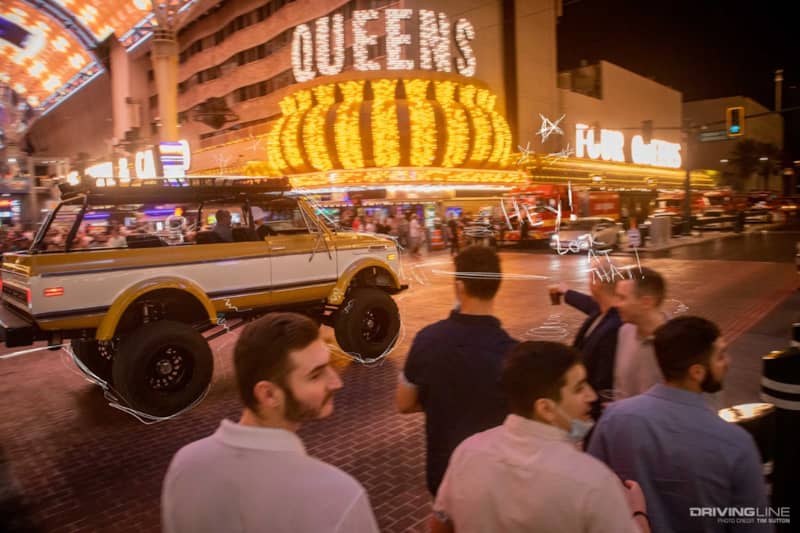 But for now, we're buzzing past more gawkers that don't even seem to be noticing the supercar behind us, the one that was also in town for SEMA. I'm certain I'll never ride in something quite so larger-than-life down the Strip again—unless perhaps RTech builds continue to find new ways for raising the bar.
We're nearing full circle for the night and I ask, "What's next?" RTech has expanded from a small operation to one where Randall spends most of his time overseeing operations. While there are a number of builds he excitedly talks about, among them is a '53 Chevy. Which just so happens to merge into my home turf era of vehicles. As we talk about all things "classic" Randall lets it sneak out that he'd love to do a build of something older. "Something from the '20s through the '40s," he says. "It requires a massive amount of craftsmanship because everything has to be made from scratch."
"That sounds like just the thing to keep raising the bar with," I said wearing a mischievous grin. "We'll have to see," he replied. But if that glint in his eye says anything, I'd better start figuring out what to do for the next shoot.
BUILD SPECS: '72 K50 CUSTOM 'BLAZER'
| | |
| --- | --- |
| Owner: | Ramiro Rodriquez |
| Builder: | RTech Fabrications |
| Engine: | 12-valve 5.9L Cummins with custom 4" exhaust |
| Drivetrain: | 47RH transmission, NP205 transfer case, custom driveshafts, Dana 60 front with Yukon locker, 14-bolt rear with Yukon locker and 4:11 gears |
| Suspension & Chassis: | 2½-ton K50 chassis, custom 4-link front and rear with 16-inch-travel F-O-A 2.5" coilovers, Currie universal sway bar, Redhead Steering gears |
| Wheels & Tires: | 20x13.5 American Force, 40x15.50R20 Nitto Trail Grapplers  |
| Exterior: | customized A.R.E. rack, Lusid GM ochre & white paint, Offroad LED headlights |
| Interior: | custom seats and floor, OE console, Classic Instruments gauges |