The Ultimate Homebuilt High-Boy, Part 1: Piece by Piece
When Steve Burris traded in his Mustang restoration hobby for fixing up old trucks, he never imagined it would take him here. A 1973 F-250 resting on a Super Duty frame, axles and suspension — all propelled by a 7.3L Power Stroke. With a newfound affinity for bringing rust-plagued, Midwestern '73-'77 Ford High-Boys back from the dead, he's all but made it a second full-time job breathing new life into these classic pieces of Americana.
From unearthing the original, dilapidated crew cab body, to sourcing parts from 10 different donor trucks and handling his own auto body, fabrication and electrical work, Steve's '73 truck is a true rags-to-riches automotive story. This three-part series attempts to chronicle the truck's six-month journey from start to finish, and we cordially invite you to watch Steve's homebuilt High-Boy come together, piece by piece.
The (Not-So-Perfect) Barn Find
Finding a crew cab F-250 from this vintage is fairly rare these days, so Steve jumped at the chance to buy this '73 cab-and-chassis F-250 when the opportunity presented itself. The truck was local, and its body appeared to be worthy of salvaging; he picked it up for a little more than a grand.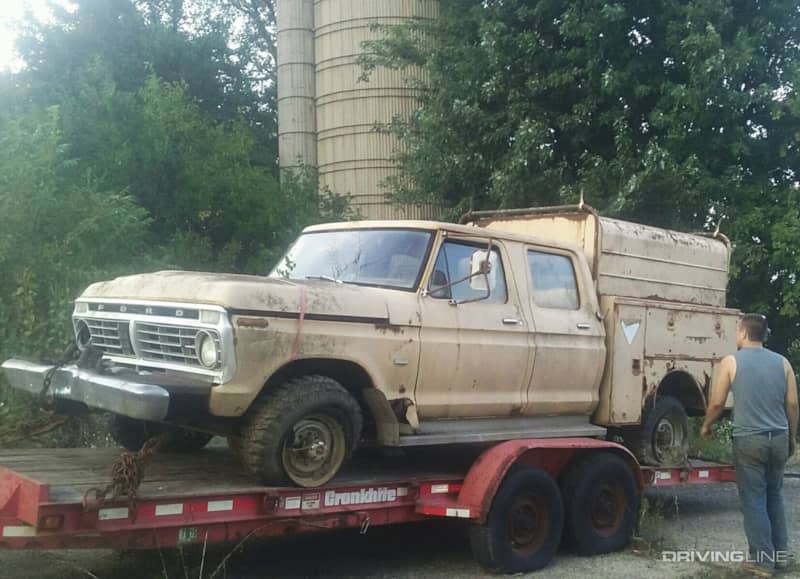 Beyond Repair
While Steve knew he could repair or replace most of the cab's sheetmetal, the floor had all but deteriorated.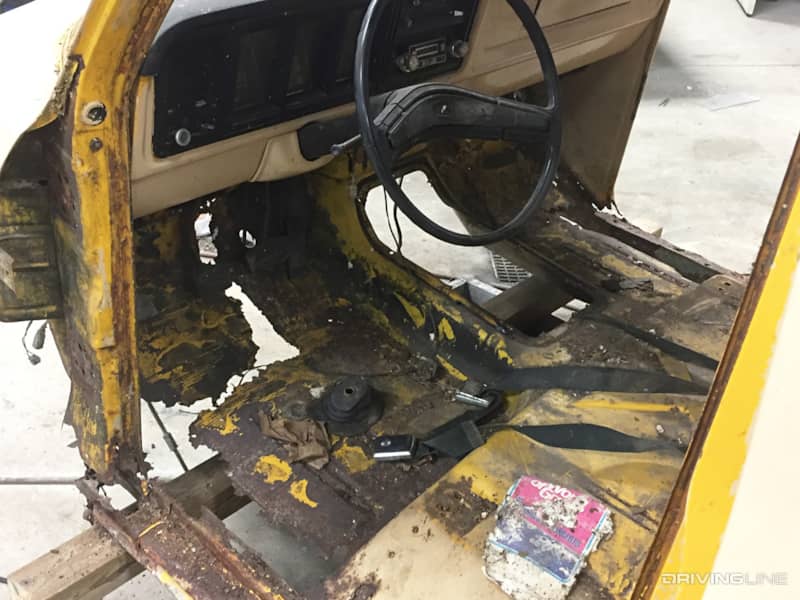 "It looked like Swiss cheese," he told us, but it didn't stop him from purchasing the truck. A self-taught fabricator, Steve had no problem with the prospect of having to build a new floor. As for the original frame, axles and suspension? They were salvageable, but Steve didn't want them. From the outset of the project, his goal was to set a High-Boy body on a Super Duty chassis. And with plans to also install a modern diesel engine under the hood, he knew that heavier-duty axles and leaf springs would make the most sense.
'73 Power Stroke
Already having helped swap a 5.9L Cummins into a High-Boy, Steve was looking to change things up a bit with his own project.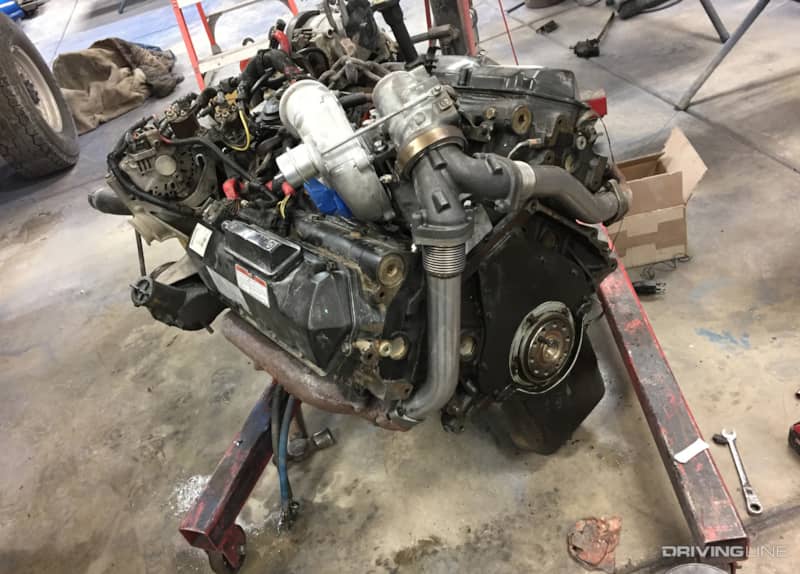 "After we built my son's Cummins truck (a '77 F-250 Custom) last winter, I knew I wanted to do a diesel swap, but I wanted to do something different," he said. "Then I realized I loved all the 7.3 liters I'd owned and had always had really good luck with them." So the plan to shy away from the popular Cummins swap in favor of another venerable diesel mill, the 7.3L Power Stroke, was put into action. He would source the 7.3L engine you see above from a late '99 Super Duty, along with a '99 model year four-wheel-drive version of the ZF-6 manual transmission (complete with the manually-shifted NV271 transfer case).
One-Off Floorboard
Once Steve had decided on a powerplant and transmission, his vision for the new floorboard became clear.
Because the transmission tunnel on the floorboard of a ZF-6-equipped Super Duty would best accommodate the ZF-6 he planned to use, a floorboard was sourced from yet another donor Super Duty. However, because the Super Duty flooring didn't feature the rise needed to locate the rear seats where he wanted them, only the front portion of the floor is a genuine Super Duty piece. The rear half (pictured above) was completely fabricated by Steve.
Factory Sheetmetal
Before Steve went to town on the floorboard, he turned his attention to A-pillar repair. Instead of fabricating his own A-pillars, questionable areas were replaced in sections using pieces from rust-free, Southwestern donor trucks (like what's shown here).
Steve told us the process was time-consuming, but totally worth it, being that all repairs were performed using factory sheetmetal. In fact, other than the aforementioned floor of the cab, no aftermarket sheetmetal has been added to the truck.
Super Duty Firewall
Although Steve set out to keep the High-Boy body as original as possible, he eventually came to the conclusion that exceptions had to be made. Due to parts availability, time constraints and convenience, it simply made the most sense to stick with '99-'03 components in key areas.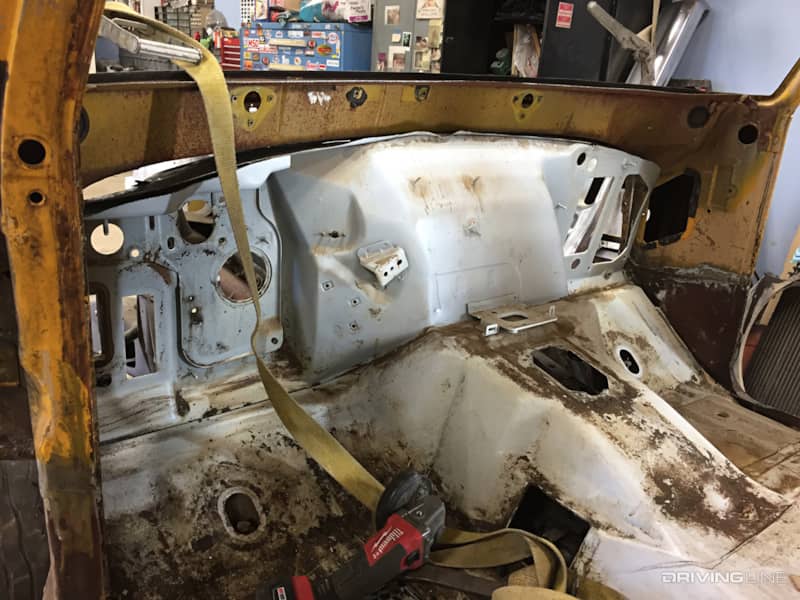 Case in point, instead of trying to track down a good core firewall (or fabricate his own) and then modify it to accept pass-through items such as the clutch pedal and hydroboost brake components, he used one out of a Super Duty. As you'll see later, Steve had the same frame of mind when it came to the truck's electronics.
'79 Bed
Because transforming High-Boys into modernized, diesel-powered work horses is just a hobby for Steve, he stuck very close to budget on this project.
"I did a lot of wheeling and dealing on stuff to break even," he recalled. "For example, the bed was a barter item, the cab came from Joe (a good friend), the front doors came from Facebook, the front clip was found on Craigslist, and on and on."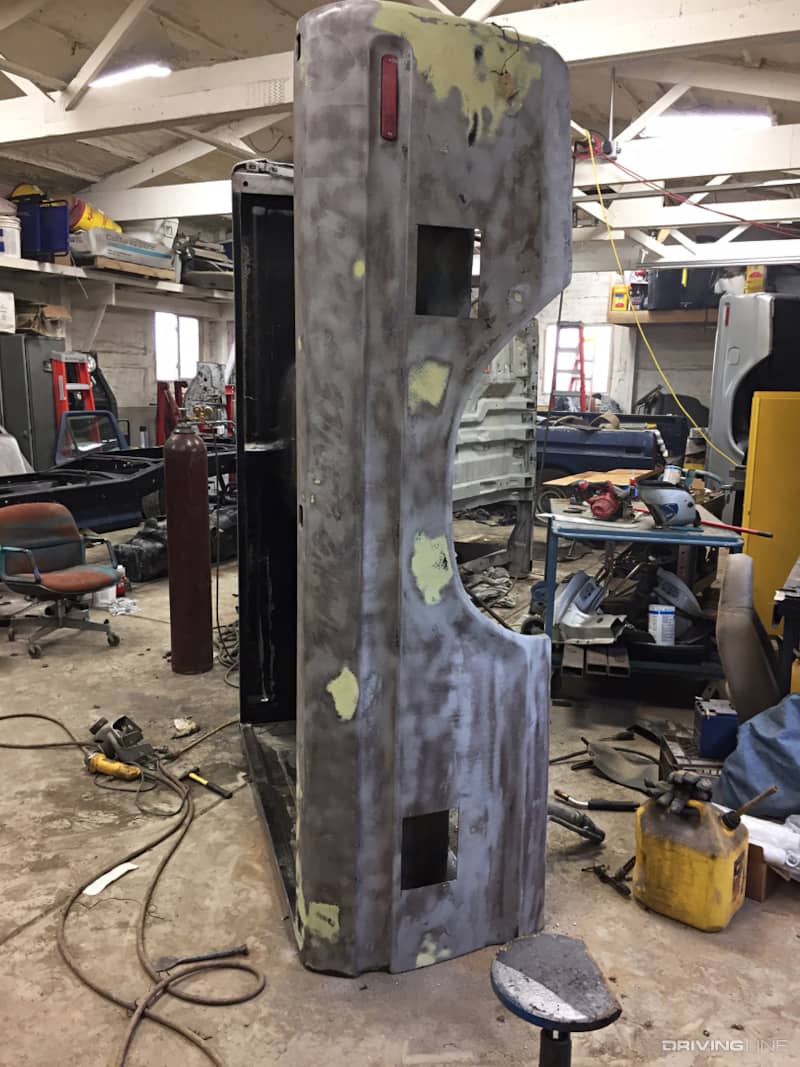 The bed, actually from a post-High-Boy generation truck, came off a local sled puller's '79 F-250 and was chosen due to how easily it could be secured to the Super Duty frame (a '73 bed was too narrow).
"The '79 bed wasn't planned, but it worked," Steve explained. In the photo below, you can see the bed being glass-bead media-blasted, which happened almost immediately after it was delivered.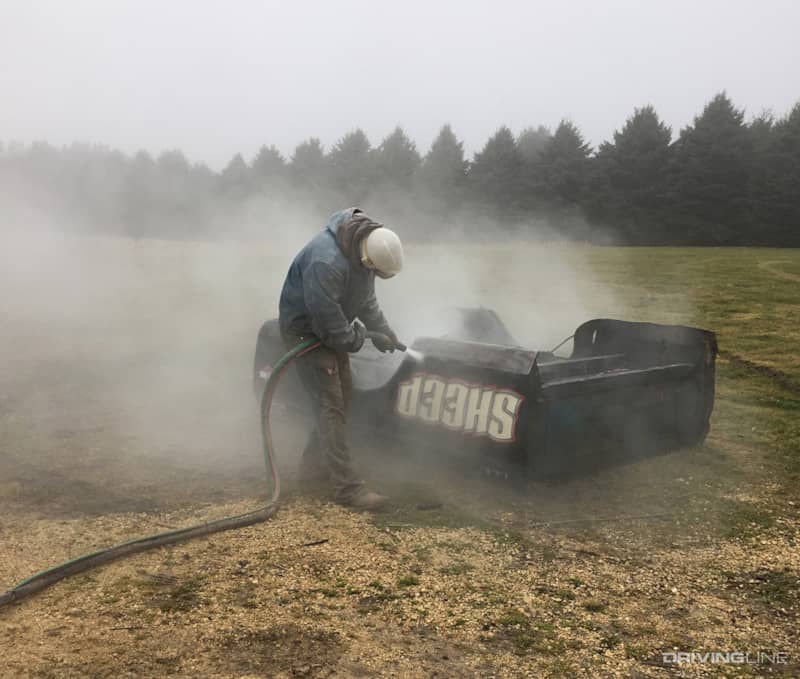 Cutting the Frame
With the entire project being based on a '99 model year Super Duty frame originally intended for an extended cab, long bed configuration, Steve had no choice but to extend the frame 8 inches in order to accommodate the crew cab.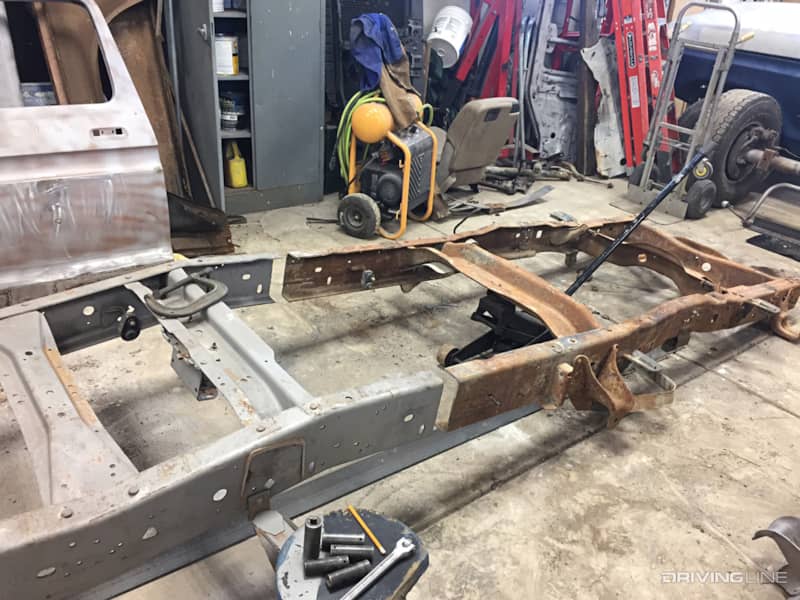 In turn, the added section of frame required another 8 inches be added to the driveline. The extra length can be found in the rear shaft of the truck's two-piece driveshaft, which Steve had custom built, locally.
Gloss Black Frame, Axles and Suspension
After glass-bead media-blasting the entire frame and then hitting it with several coats of gloss black paint, it came out looking like this.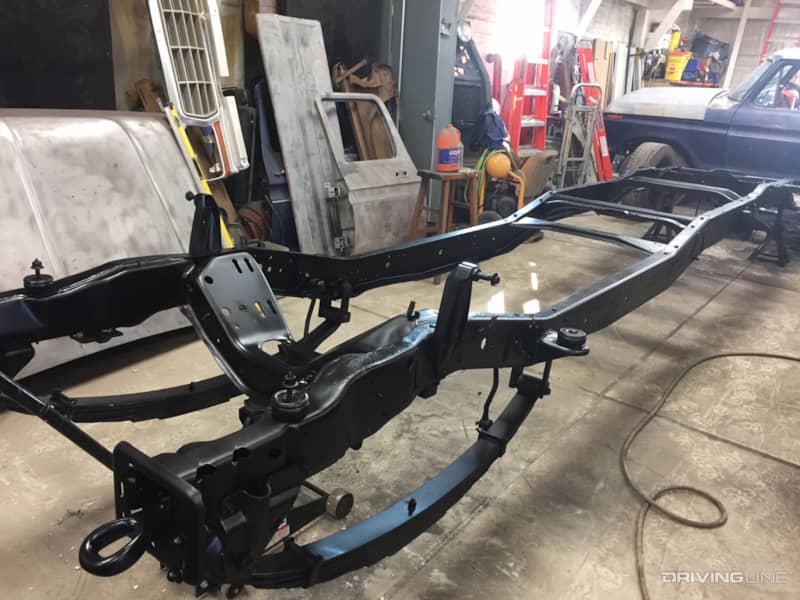 The front Dana 50 and rear Sterling 10.5 axles would receive the same treatment. The front leaf springs came courtesy of a 4-inch Superlift Suspension system, with the added ride height being required in order to clear the 37x12.50R17 Nitto Trail Grapplers Steve planned to run.
Make sure you tune in for Part 2, where we tackle the truck's bondo, primer and paint, along with the engine and transmission fitment.