The Ultimate Homebuilt High-Boy, Part 3: Ready to Hit the Road
After six months of piecing together the perfect truck, it was finally time for Steve Burris to send his High-Boy creation down the road for the first time. As you would expect, with its frame, axles, brakes, suspension and powertrain all coming from Super Duty donors, the truck feels as sure-footed and stable as a '99-'03 ¾-ton Ford. But, judging by all the attention it receives, it's the vintage body lines that attract all the attention. Steve's one-of-a-kind '73 invokes dropped jaws, waves from perfect strangers and the proverbial thumbs up everywhere it goes — not to mention that the truck has an uncanny ability to slow down oncoming traffic.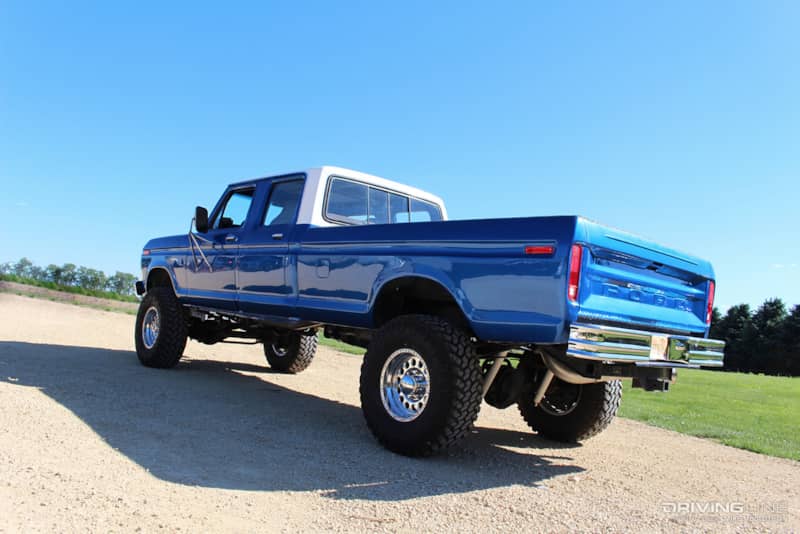 Despite all the time, labor and money Steve has invested in this beauty, you would be hard-pressed to ever find it parked at a car show. No, sir... Now that it's finally mobile, Steve is out enjoying it. Whether it's being used for work, play, commuting or towing a trailer, it's getting driven.
For the final installment, we take a close look at the final product and attempt to highlight Steve's remarkable ability to integrate modern day power and creature comforts into one of America's most recognizable, time-honored classics.
Luxury Seating, Crank Windows
With crank windows and a power leather driver seat, who says you can't blend modern era creature comforts with old-school functionality?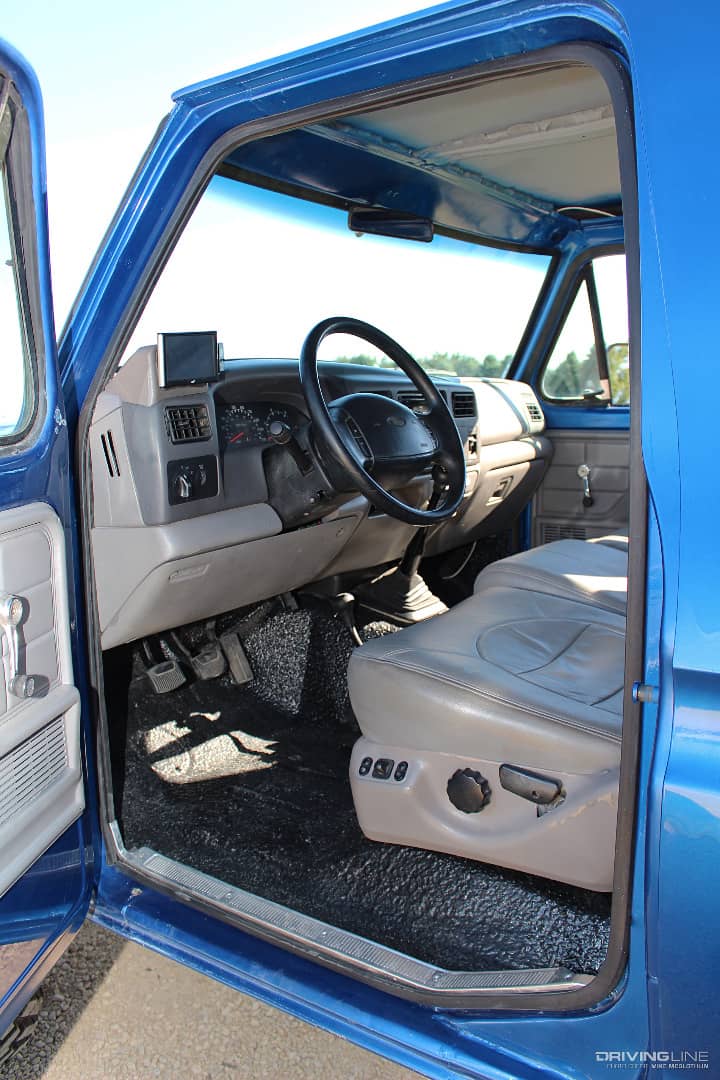 For improved ride quality, Steve sourced both the 40/20/40 front and rear bench seats from a '99 Lariat model Super Duty. The only item of unfinished business in the cab is the truck's lack of a head liner.
Like a Glove
While not exactly shoehorned into place, the 7.3L Power Stroke is snuggly nestled under the hood.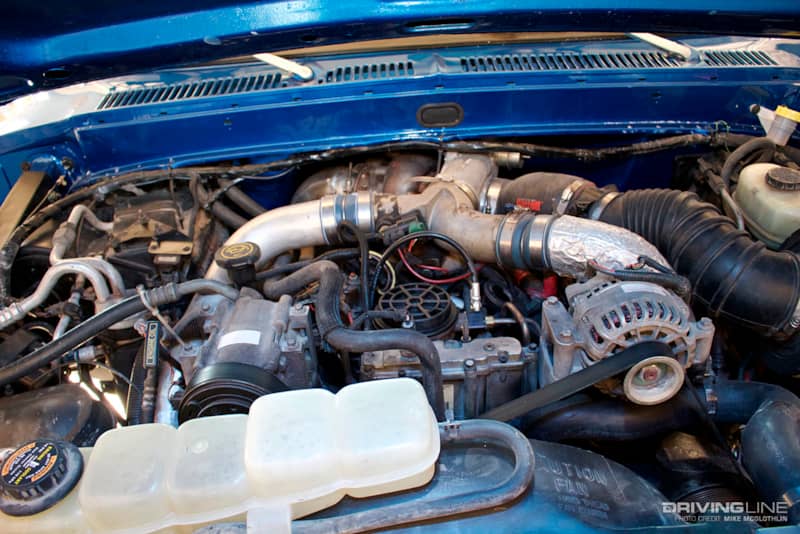 The Super Duty degas bottle was retained, the factory turbo was replaced (with the popular aftermarket Garrett GTP38R) and a fuel rail crossover from Riffraff Diesel Performance resides in the lifter valley (which keeps the fuel rails in the heads free of air and fuel supply pressure consistent).
Hand-Shaker & South Bend Clutch
The nearly bulletproof ZF-6 manual transmission provides six forward speeds and a granny low First gear.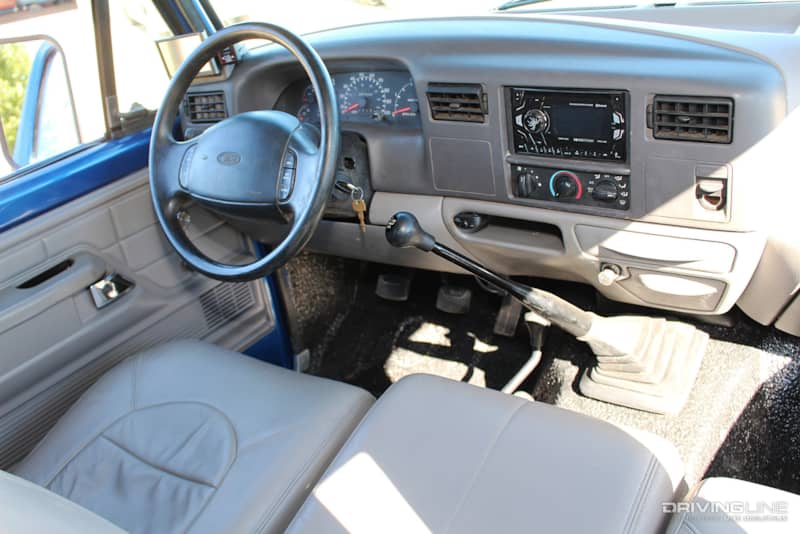 With plans to add more than 100 extra horsepower to the 7.3L via programmer, the factory dual mass flywheel clutch was upgraded to a dual disc, single mass flywheel unit from South Bend Clutch. The South Bend unit features a 3,250-pound plate load rating and is capable of handling 650 hp and 1,300 lb-ft of torque. Needless to say, neither the clutch nor the transmission should ever be an issue on this truck.
Married Transfer Case
A far cry from what you'd find in an original High-Boy — no divorced transfer case exists on this F-250.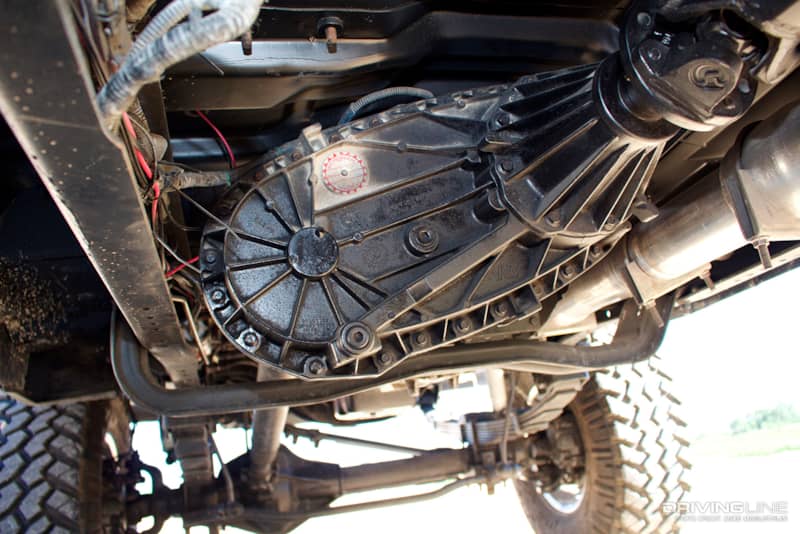 Instead, a manually shifted NV271 is married to the tail housing of the ZF-6 transmission. Like a lot of other aspects of the build, it only made sense to stick with the transfer case that originally came with the ZF-6 rather than attempt to reinvent the wheel.
The Business End
Paralleling the two-piece drive shaft is a 5-inch diameter exhaust system from Diamond Eye Performance (specifically designed for the 7.3L Power Stroke).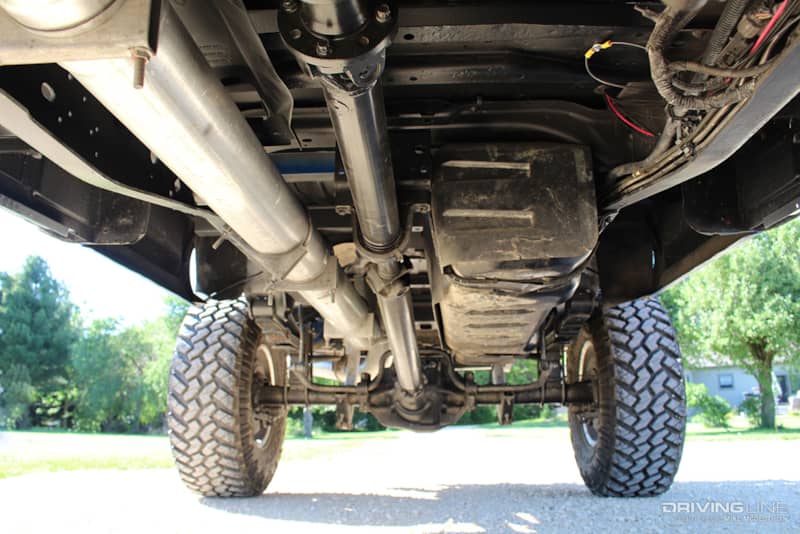 The exhaust incorporates a 4-inch downpipe and is void of a muffler, which allows the ball bearing GTP38R turbo to do plenty of talking (or rather, whistling). Also notice the fuel tank, which is a 38-gallon unit robbed off a Super Duty donor truck that should provide a range of at least 550 to 600 miles between fill-ups.
Super Duty Suspension
Thanks to the Super Duty axles (a Dana 50 up front and a 10.5 Sterling in the rear), larger (four-way disc) brakes and unit bearings are now utilized.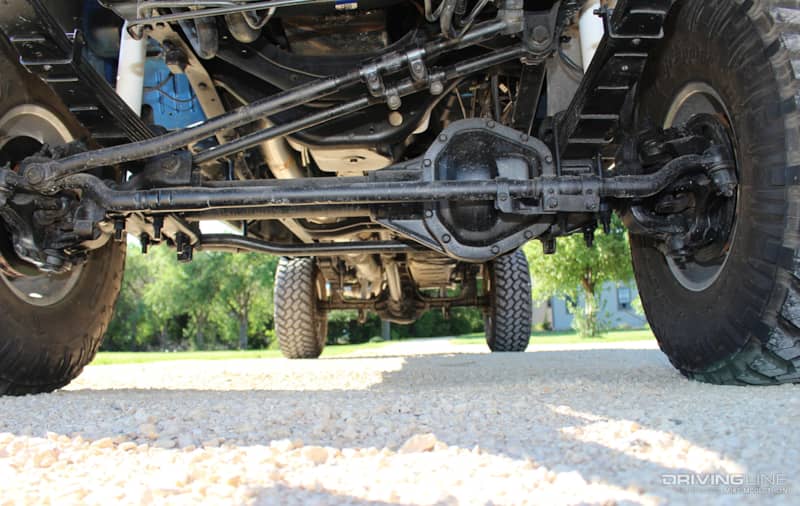 And, gone for good are the original 2.25-inch wide leaf springs in favor of 3-inch Super Duty units from Superlift Suspension. The extra leafs in each pack provide 4 inches of lift up front, while 3-inch rear blocks give the truck its leveled stance.
New Shoes
What a difference wheels and tires make!

Steve's tread of choice was a set of 37x12.50R17 Nitto Trail Grapplers. To keep the front bumper tucked in as close to the truck as possible, frame horns were sourced off a '79 and welded to the ends of the Super Duty front frame rails. The grille was originally bolted to a '74 model.
37s & Rockcrushers Pay Tribute
Steve's choice to run 37-inch tires (perhaps) pays homage to the fact that, provided they were narrow enough, 37-inch tread could be run with zero clearance issues on a factory height High-Boy.
Topping things off is a set of polished aluminum, 17x9-inch Rockcrushers from Raceline Wheels.
That Extra Kick
To give the 7.3L Power Stroke an additional boost in the power department, a Hydra Chip from Power Hungry Performance was installed (right) along with a gauge monitor from Edge Products (left).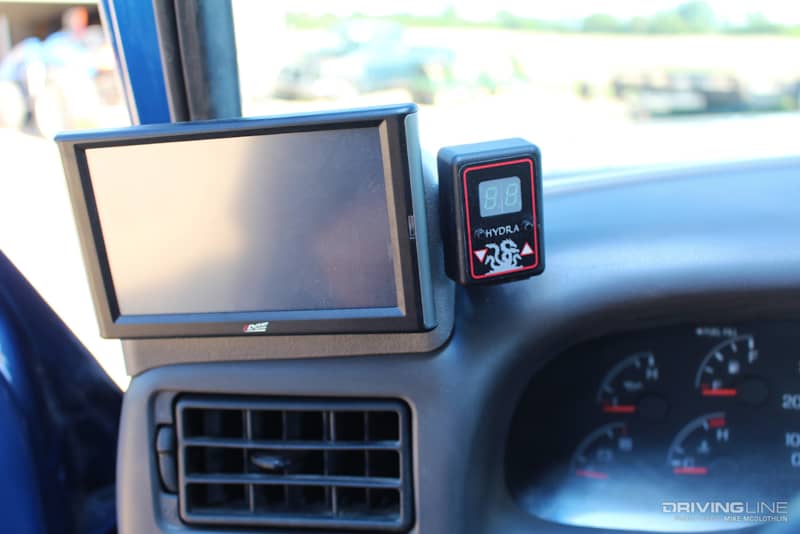 Thanks to the Hydra Chip, various custom tuning files are available on the fly, with the potential to add as much as 140 hp to the mix.
Eye Magnet
If the flawless paint, aggressive look or beefy axles don't get your attention, the distinct rattle from the 7.3L Power Stroke will. Every time Steve leaves the driveway, his '73 is an eye magnet.
Take it from us — the type of attention it receives is well-deserved. This modern-day High-Boy is a prime example of how rewarding the restoration process can be, as well as how worthwhile it is to think outside the box.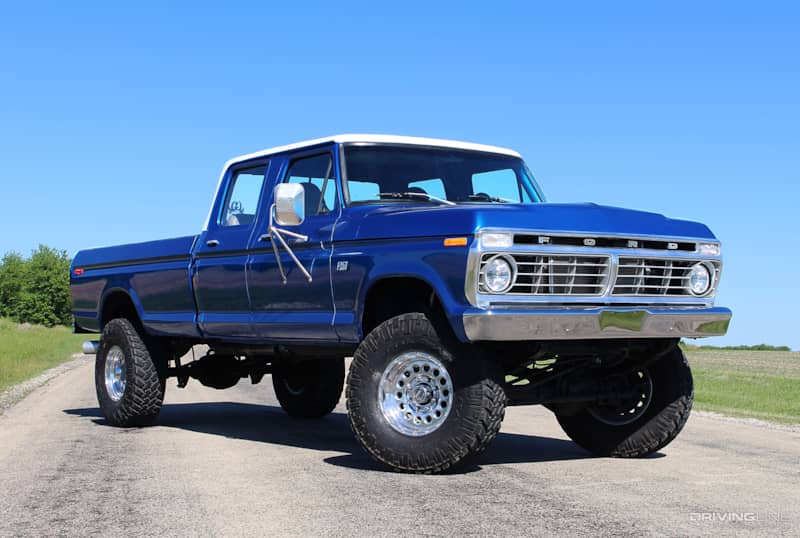 Even though Steve used to restore Mustangs and sell them, he doesn't plan to do the same with this one-off creation. Instead, he plans to keep it and drive it for the foreseeable future.
Don't forget to check out Part 1 and Part 2 of the series if you missed them!