The Ultra JK: Erik Miller's 2016 Jeep Wrangler Build on 42's
Two-time King of the Hammers champion Erik Miller is well known for pushing vehicles to the absolute limit off-road. While most people know the Miller name from Ultra4 Racing, the Maryland native has been building off-road rigs long before KOH even existed. In fact, at 17-years-old, Miller had already made a name for himself in the off-road world with his first Jeep Wrangler TJ project even making the cover of Jp Magazine. Fast forward years later, and the now married father of two is still building head-turning Jeeps.
A very vocal champion of solid axles, it's no surprise that Miller would stick with the Jeep Wrangler platform for his latest build. The goal with his 2016 JK was to craft a Jeep capable of serious trail wheeling, while retaining enough practicality and comfort to haul his family. Of course, there are plenty of cookie-cutter ways to build a four-door JK. But, for someone who builds his own race chassis, cookie-cutter wasn't an option.
We recently caught up with Miller enjoying some downtime with his wife and kids at Daytona Beach, Florida. There, we got to take a look at just what happens when an Ultra4 racer decides they need a family wheeler.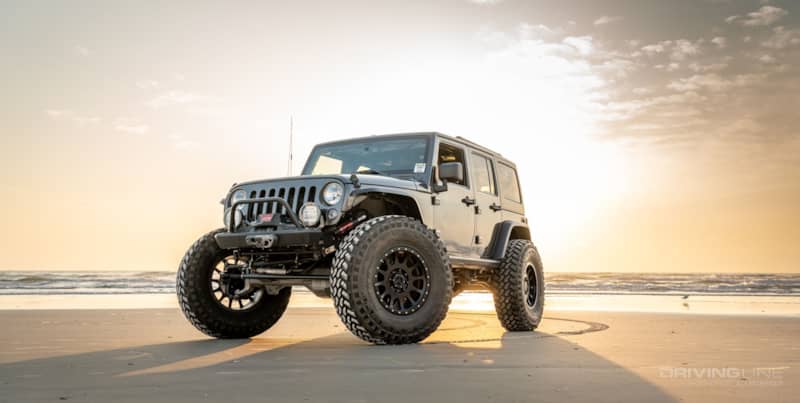 Miller Trax
When it comes to knowing exactly what you need to build a solid axle to survive off-road, Miller has more experience than most. It's one of reasons he decided to start offering his own complete axle upgrade for the JK platform. Working with Spidertrax and Artec Industries, he created a bolt-in axle package that would be lighter than your traditional 1-ton axle swap and fit with race-proven components.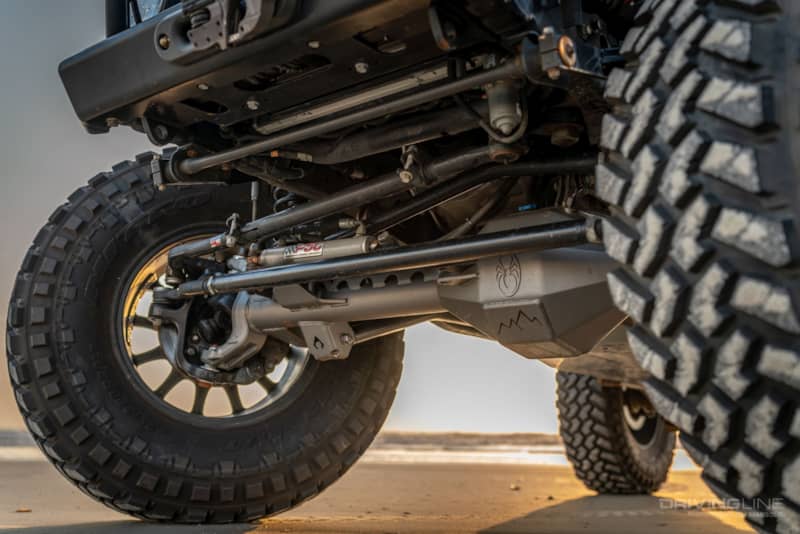 Clearance King
Up front, an Artec truss is used to reinforce the fabricated housing and provide a secure place for the Rock Krawler long arms to mount. Using a Spidertrax 9-inch high-pinion third member, the driveline stays tucked nicely out of harm's way. Inside of the housing you'll find 5.43 gears, a Yukon Grizzly Locker, and Spidertrax 35-spline 300M chromoly axleshafts which lead to a set of Warn lock-out hubs.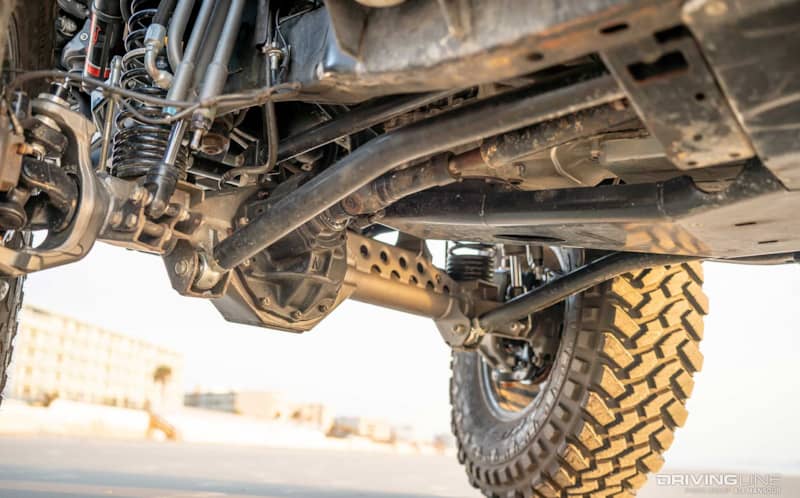 Rock Fox
The base of Miller's suspension system is a 3.5 Rock Krawler Adventure Series long arm. To get the most performance and travel out of the kit, Miller worked with Fox to create a custom set of external-bypass 2.5 series shocks. This creates 12-inches of usable wheel travel that allows Miller to crawl and haul on the trail in comfort. Closing out the engine compartment are Artec inner fenders.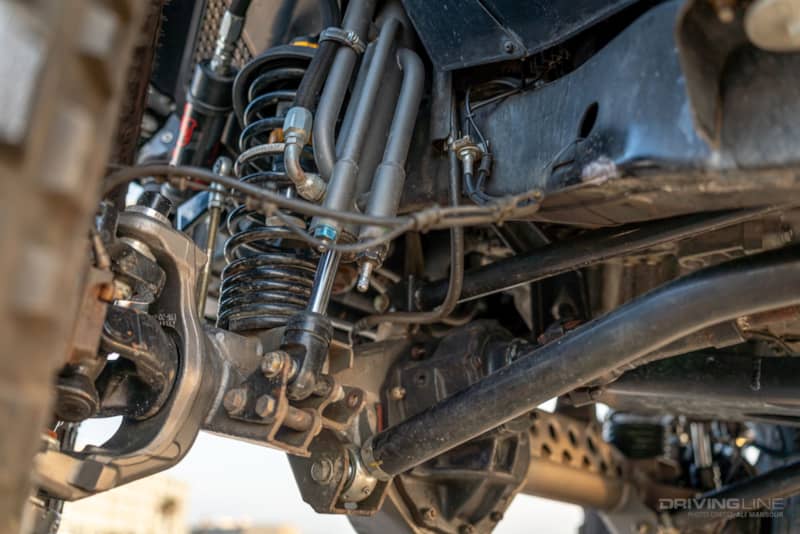 On The Skids
To try and keep the Jeep feeling nimble on the trail and not overtax the factory 3.6L V6 engine, Miller made a point to look for aluminum protection products over steel. To ensure his Jeep's undercarriage would stay protected, Miller upgraded to a set of Artec's underbelly skidplates. Like the Savvy Off-Road sliders, the Artec protection is comprised of aluminum and has seen plenty of use off-road.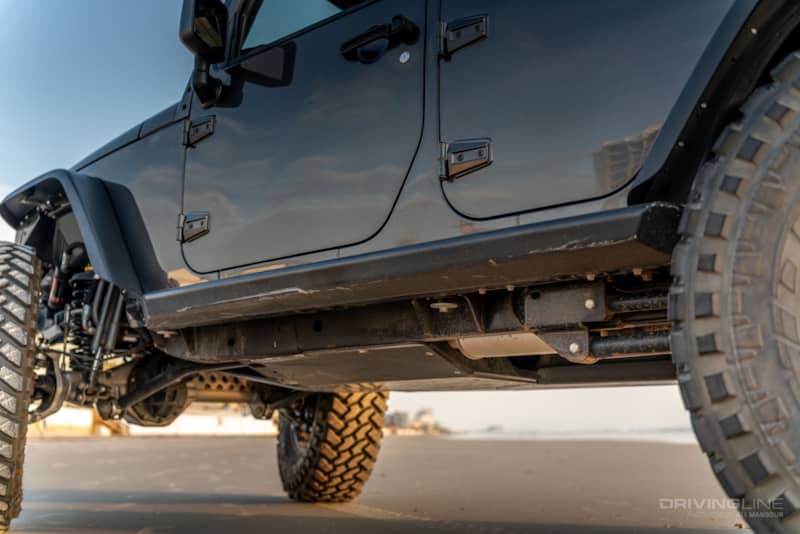 Rock'n Rear
Out back, the Miller Motorsports axle uses a Spidertrax low-pinion 9-inch third member, which is paired with a competition series 35-spline ARB Air Locker. To keep the body roll in check, the JK has front and rear sway bars from PAC Racing Springs. The tail end of the exhaust you see is part of the MagnaFlow Rock Crawler exhaust system that comes with loop delete.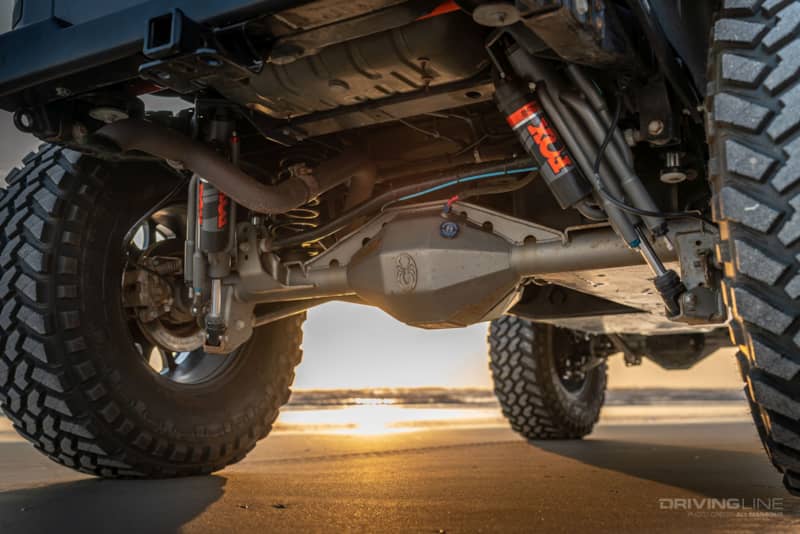 The Grappler Method
Maybe the most deceiving thing about this Jeep is just how massive the tires are. This is a 42x13.50R20 Nitto Trail Grappler mounted on a 20-inch Method 305 series wheel. Nitto is one of the few tire companies that make true-to-size tires, and we can attest that these Grapplers are in fact huge. However, with the long wheelbase of the JK, they don't look very out of place. Miller is very accustomed to the Trail Grappler as he's been running the 40x13.50R17 version on his Ultra4 race car for years.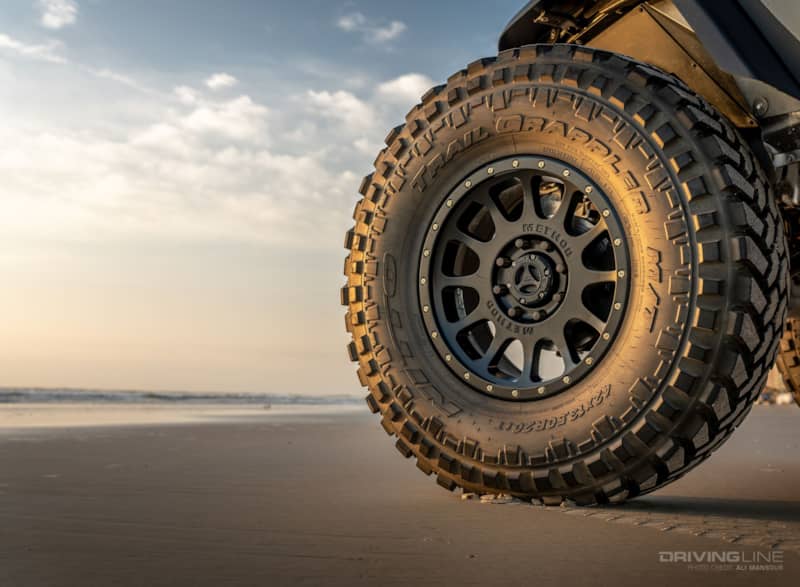 Chop and Bump
Increasing the Jeep's approach angle and providing a home for the Warn ZEON 10-S Platinum winch and ARB Intensity lights is a Savvy LHT front bumper. Helping to ensure his electrical lighting and winch needs are met is an Optima H6 Battery.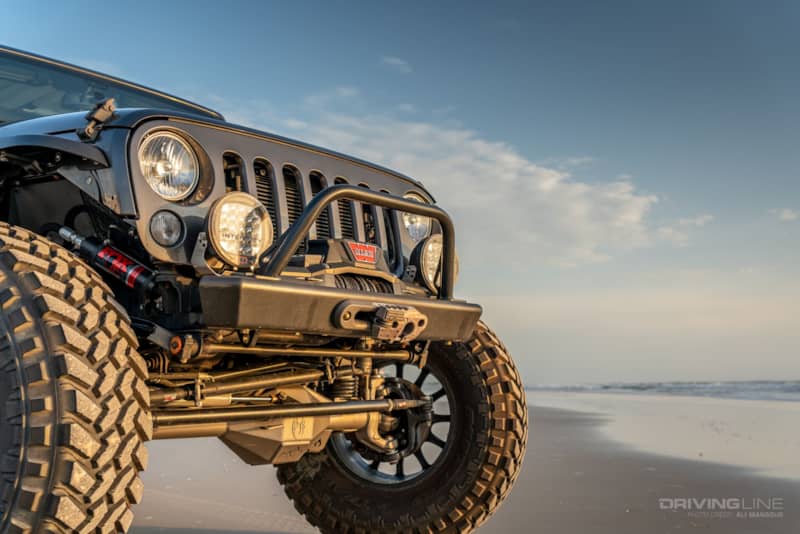 Savvy Too
Like the front, Miller is running the aluminum Savvy rear bumper that chops 3 inches off of the back of the Jeep. Though Miller no longer runs a spare, the Rusty's Off-Road Products tailgate reinforcement and tire carrier still remains. The roof rack comes from Tera Flex.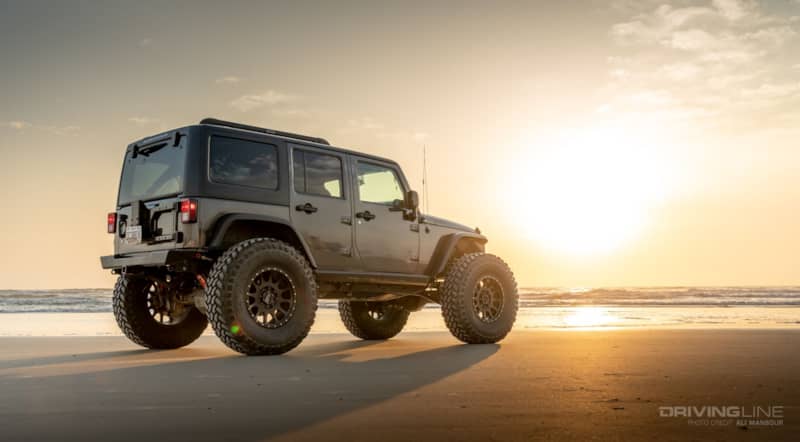 Steering Smart
Moving 42-inch-tall tires on the trail is no easy task. Making it easier is a full PSC Motorsports hydraulic-assist steering system. This setup works with Steer Smarts links and Reid Racing knuckles.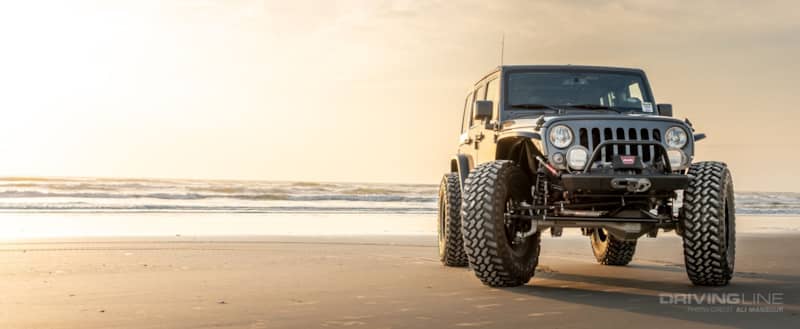 Flexible Fun
Helping to make such a low lift and large tire combo possible are high-clearance fenders from MCE. Given Millers family wagon was full of beach gear, we didn't take any interior shots. However, it's worth noting that it is equipped with a 15-pound Powertank, ARB Twin air compressor and remote tank, in addition to an ARB Fridge.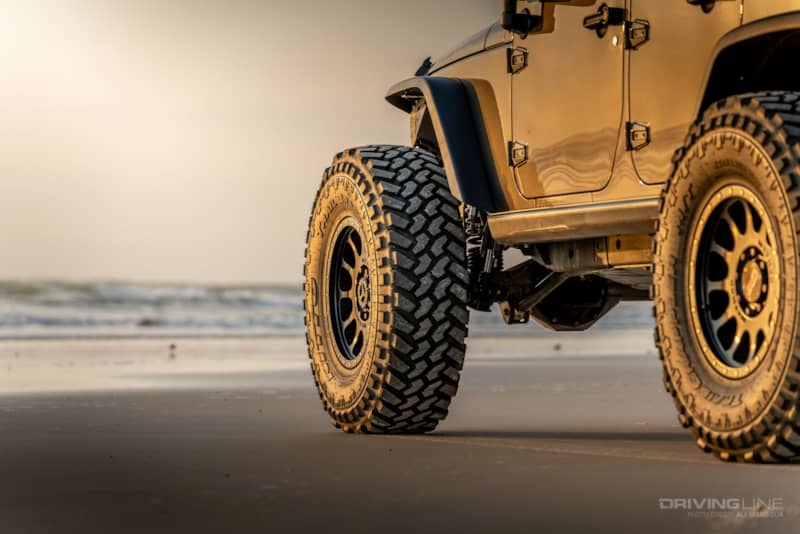 More From

Driving Line
Learn more about the Miller Motorsports axles HERE.