This Is Happening: The Pro Touring 1968 Camaro of Your Dreams
Back in the '60s and '70s, when the car in these photos was a young driver doing the daily commute on 14-inch bias-ply rubber, there were the Street Freaks. Wild stances, chromed engines emerging from hood cut-outs, polished mag wheels and multi-hued lacquer jobs that would embarrass a '70s van were all part and parcel of the Street Freak movement. They looked racy, for their time, though in truth many were more show than go.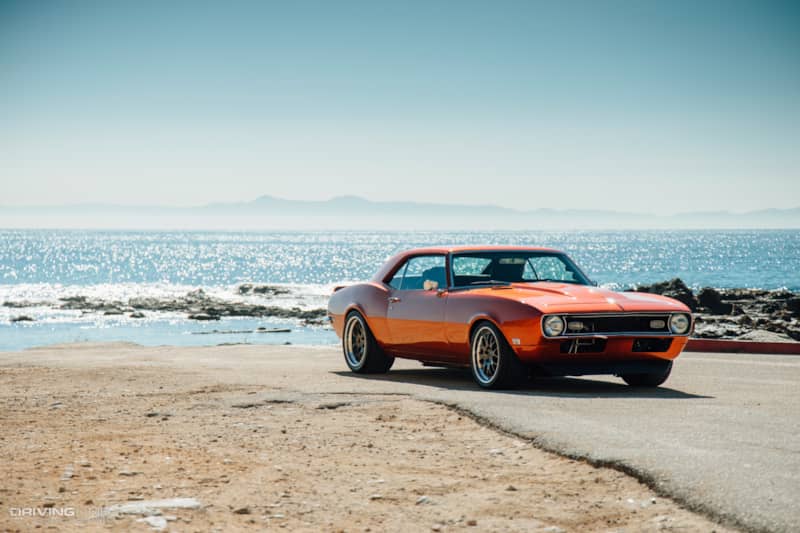 Later in the '70s, when gas had shot to a buck a gallon if you could afford to wait on line for hours at the pump, it was all about turbocharging and IMSA flares — using technology to get eight-cylinder power from a Six and widening the wheels and tires for carrying more speed into the turns. Functionality over aesthetics, some may argue, and in many cases the technology wasn't ready for primetime, but it represented a dramatic turn away from what came previously.
Pro Street arrived early in the '80s: an emulation of the popular Pro Stock racing categories seen around the country, Pro Street featured stock body shapes (save for the hood clearance needed to fit the biggest V8 engine possible, which often hid under a raised scoop) with the widest- possible tires under a fabricated back end. Look beyond the pastel color schemes, pop-art striping and grey tweed interiors that they all seemed to wear, and discover that lateral Gs and cornering prowess were out the window: the bicycle-thin front tires were there only to steer.
Each of these trends from the bad old days sought to provide something that Detroit lacked. Street Freaks sought to substitute style for sameness; the IMSA-flare era and Pro Street both restored the cornering and straight-line oomph, respectively, that new cars then lacked.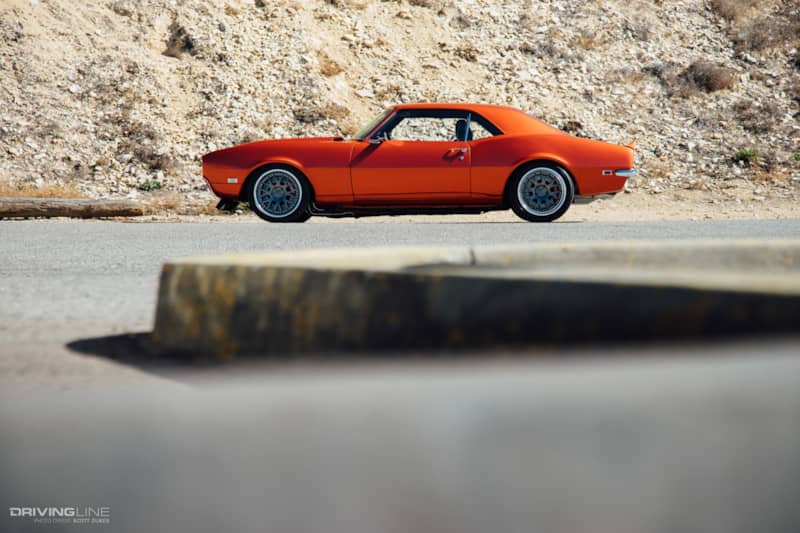 But a funny thing started happening in the mid-1990s: New cars got good again. All of the rough edges and deficiencies had been engineered out of them. The advent of computers aided engineers working on every aspect of a car, from chassis structure to suspension architecture to tire compounds; the technology that was briefly embraced in the late '70s/early '80s had finally flowered, and the results were palpable. Power had been returning slowly since the early 1980s, bit by bit, but with a pair of 400 hp sports cars on tap in the early '90s (Corvette ZR1 and Dodge Viper), Japan was wringing 300 hp out of V6s, and even the venerable small-block Chevy V8 was a 275 hp fuel-injected powerhouse.
This new breed of car was plenty quick, rode well, got decent gas mileage (six-speed LT1s regularly knocked down mid-20s on the highway), offered modern levels of comfort (i.e., air conditioning that didn't make the engine puke if you idled for more than 10 seconds in the summer, a stereo that you could actually hear) and would corner and brake like race cars of yore. It was a perfect balance, and ultimately did everything well. Power, comfort, technology... all had been democratized and made available to the average Joe with a hot foot and a checkbook.
With that kind of technical prowess under the skin, enthusiasts turned toward the skin itself. Why not, rodders reasoned, accept modern levels of power, comfort, efficiency and fun... all in a vintage-style package? Why suffer the plastics and anonymity (and monthly payment) of a modern car when older shapes have a style and a feel that can't be replicated in a modern environment? Thus was the Pro Touring movement born, circa 1993, from a GM engineer and named by the editor of Hot Rod magazine: a modern car, with all of its power and comfort and balance and engineering know-how, stuffed into a shell that was never engineered to accept it, all in the name of drivability at any level a driver chooses.
Loafing around town? No problem: the engine wouldn't load up or threaten to overheat. Banzai run to Vegas for the weekend? Arrive in comfort, thanks to modern accouterments in interior comfort and suspension--and with decent gas mileage, you'd have a couple of extra bucks in your pocket for the tables. Want to hit the local autocross, road course or drag strip? Drive in, set your tire pressures, go play and drive home again. Pro Touring stresses functionality over filigree. The substance often is so impressive, it becomes beautiful in and of itself. It took a while for it to usurp Pro Street in the minds of America, and now occupies the same space as Mister Mister and Furbys in the nation's collective nostalgia, but now that it's here, the Pro Touring epoch has yet to be superseded. It may never be.
And here we enter the 1968 Camaro owned by Dan Lau of Hermosa Beach, California. Dan, rushing headlong toward 40 years old, learned to tinker with cars on his dad's garage-bound '57 T-Bird, and later had a '72 Pontiac LeMans ("It's basically a GTO," he says) as his high-school beater, but it was the first-generation Camaro that really peaked his interest.
"I wanted a Pro Street Camaro then," he recalls. "Slicks in back, skinnies up front and a big air scoop on the hood. Pro Street was in when I was a kid." As seen above times, tastes and trends changed... but Dan's dream of owning a first-generation Camaro did not. Calling it a "bucket list thing," it took California-based Dan two years of scouring the internet to find a worthy car. In Boston. Yeah, figure that one out.
"Initially, I wanted a '69 Camaro, the same one that everyone wants," Dan explains. "So, on the advice of some friends and car guys who told me that the best place to find cars of value are on forums, I joined the pro-touring.com forum and checked there every day for a year. I came across this '68 Camaro for sale out of Boston. The second owners were a father-and-son dup who ran a body shop, and they fixed all of the body issues. They set it up as a drag car, but the third owner, who I bought it from, made the changes necessary to make it a Pro Touring-style car. The driveline, suspension, wheels and tires and the stance were all in place, and he'd put the first layer of Plymouth Prowler Orange paint on."
A Boston-based friend sent some snapshots to show Dan what he was getting in to, but even then he wasn't quite prepared.
"It never looks as good in person as the pictures make it seem," Dan says. "I thought that it was about 70 percent done... that I just had to do the interior and some finishing touches. Turns out it was closer to 30 percent done." Caveat emptor, and all that.
One thing he did do was thumbnail a build strategy with Starlite Rod and Kustom in nearby Torrance, California.
"Jack Fields, the owner of the shop, was very helpful giving guidance as far as what to look for and look out for," Dan tells us. "He treated me like a valued customer before I ever spent a dollar with him. Laying out the groundwork before the car ever showed up gave me confidence, and so I shipped it directly to Starlite and work began."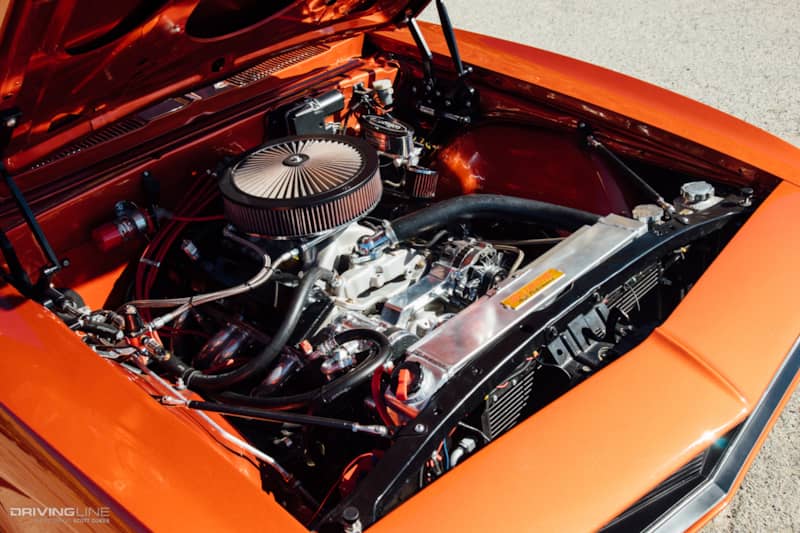 The driveline goodies remained: a 525 hp, 383-cube stroker Chevy small-block with 10.5:1 compression, Brodix aluminum heads and Holley Dominator throttle-body fuel-injection supplied motivation.
"An LS engine doesn't sound like an old car," Dan says. "You can't get that lopey sound, and while the LS is designed to rev, to my mind, it just doesn't sound like a hot rod." A Borg-Warner T56 six-speed pirated from a fourth-generation Camaro (chosen because it would fit in the stock transmission tunnel without cutting or relieving) was fortified with a Centerforce clutch and a Hurst short shifter; the built Moser Tru-Trac 9-inch was filled with 3.80 gears. DynaTech ceramic-coated long-tube headers blow into a stainless Magnaflow 2 1/2-inch exhaust with X-crossover pipe for additional scavenging and maximum power. A set of bolt-in subframe connectors help eliminate the twist that anything with unit-body construction is famous for. But no roll cage: even a bar behind the front seats was closer to the racecar aesthetic than Dan wanted to go.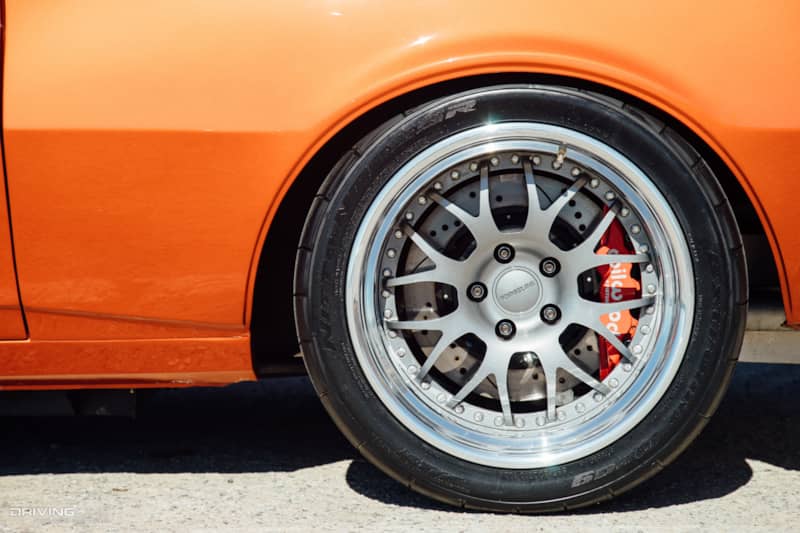 It took some finesse (and a set of minitubs) to fit the 18-inch Forgeline WC3 three-piece wheels (and 255/35 and 335/30 Nittos) beneath the stock sheetmetal folds: StrongArm tubular control arms and RideTech adjustable coil-over suspension in front, with a Ride Tech four-link and adjustable coilovers. Peeking out from behind the open Forgeline spokes are red Wilwood calipers: six pistons in front and four arrears, grabbing a 14-inch quartet of Aero6 vented and cross-drilled rotors.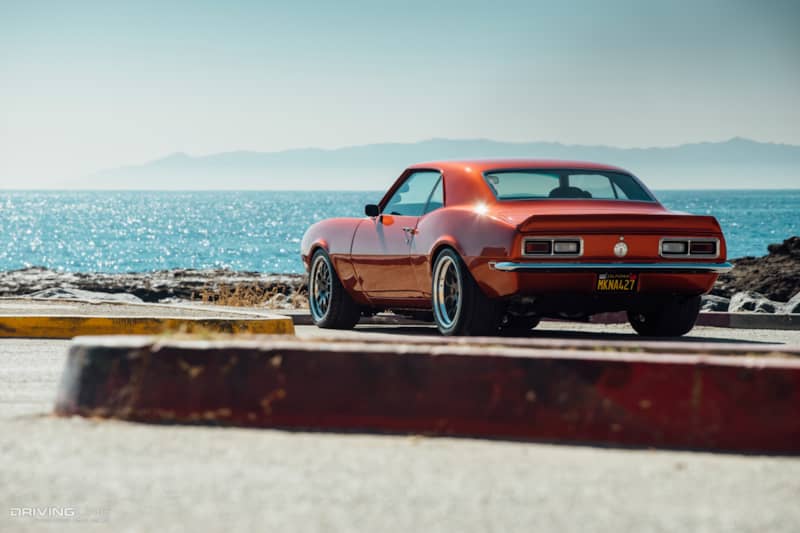 The body, previously painted a quick coat of Prowler Orange (a color named for the aluminum-bodied Plymouth street-rod that wore it from the factory), was finished with additional color and gloss coats and buffed to a yard-deep shine. Really, it's the best of all worlds: it's a factory color, so repairing the inevitable chip will be far easier than with a custom mix and it's a modern take on a color that was very much in vogue in the heat of the performance-car wars of the late '60s. It sums up the intent of the rest of the car, really: vintage style with a new-school flair. Door jambs and the engine bay got the same treatment and you could roll a ball-bearing down the shutlines, they're that straight. And all-new trim was installed, all of which is available from catalogs online 24/7.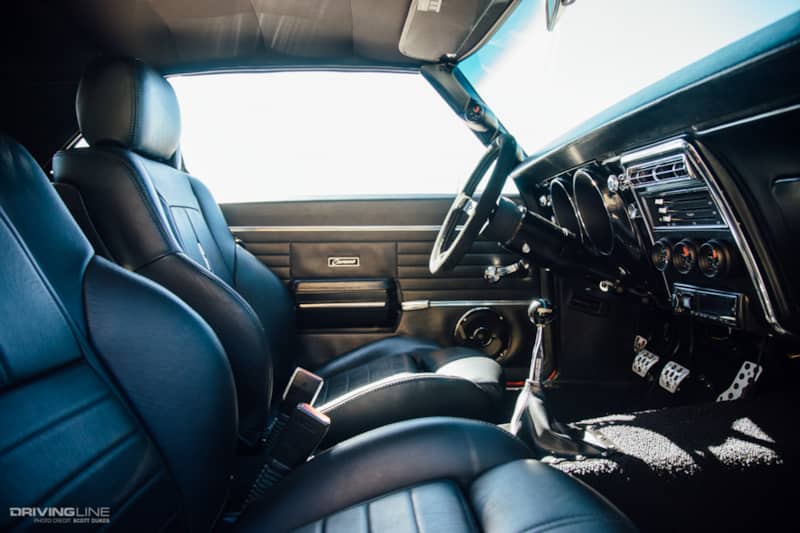 Ah, but what of the cockpit? Many a hot car is let down by an unlivable work environment, but make no mistake that great care was exercised here. The basics look stock: the instrument panel, the door panels, the dimensions are all as Chevy imagined them. Yet nothing could be further from the truth. Starlite worked with Chuy's Auto Interiors in Carson, California, adding thickly-bolstered multi-adjustable power seats from a BMW M3 E92 convertible, integrating a three-point harness (a damned sight safer than the factory-stock lap belts these cars came with when new), and re-covered in leather — but in a pattern that matched the factory 1968 Deluxe interior, right down to the Camaro logo in the middle of the seats. An alcantara-covered Sparco three-point steering wheel lives on an IDIDIT tilt steering column. New carpet and a new headliner were all part of the bargain.
The Hurst short-throw shifter is topped with a black ball, and has only an industrial-looking plaque around the leather boot rather than a giant space-eating console. The gauges are all by AutoMeter: speedometer and tach in the two central nacelles, with engine temp and oil pressure integrated into the A-pillar. Dan calls the selection of the gauges the toughest choice he had to make on the whole car:
"I went back and forth on the gauges a lot," he told us. "I feel like what stands out in a hot rod are the gauges — they set the tone for the rest of the car. I haven't seen a gauge layout on a '68 Camaro that mimics what I have here, and I thought AutoMeter had a good look and reputation. The shop and I went back and forth for three or four months on what to put where."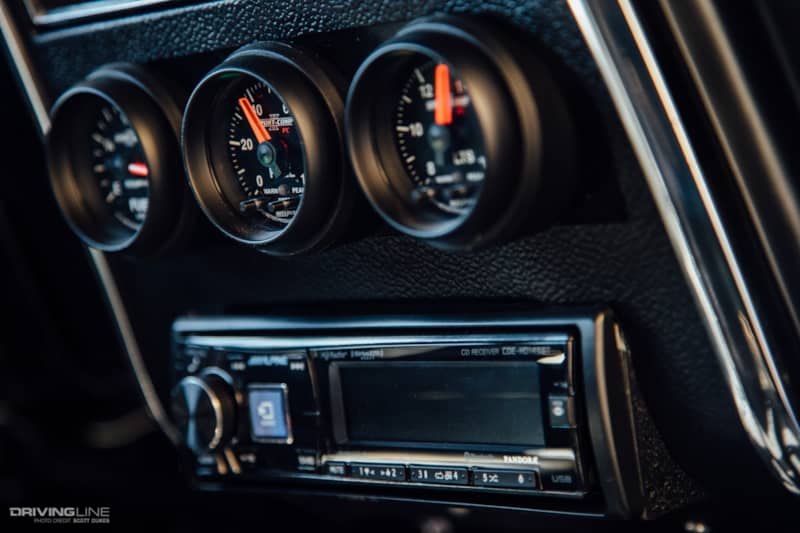 Dan also points out some subtleties: a brace of engine functions live where the radio once did, while the Alpine head unit in turn has been moved to where the ashtray once lived. The rest of the stereo includes JBL 6 1/2-inch front speakers and 6x9 rear speakers, boosted by a Kicker 8-inch amplified subwoofer; between the quality interior materials and the low revs on the open road, Dan will have no problem hearing his favorite tunes as he cruises. To combat the summer sun, a Vintage Air climate-control system works through factory-style slide lever controls.
We asked Dan what one thing he would change, if he could, in this intensive nine-month build; he thought long enough that we almost hung up because we thought our phone connection died. Finally:
"The only thing I'd change... I'd put in an LS7 427 motor." Wait a minute. All this talk about the 383 having the right sound, and he's willing to swap up to an LS7?
"Well... first, the 427 is iconic, and I always wanted one, but going with a traditional big-block makes the car too nose-heavy and not drivable, even with all of the suspension modifications. So it would have to be a small-block LS7 engine. Also," he adds, "my daughter was born on 4/27." Fair enough.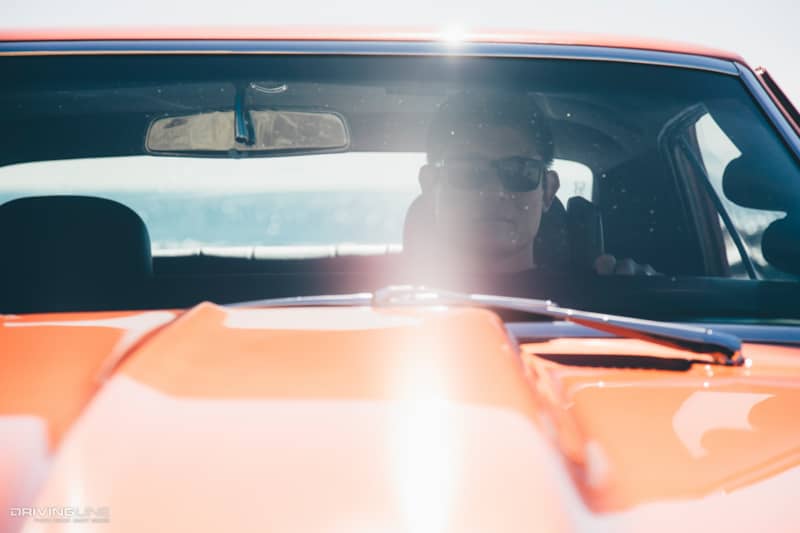 As for what makes Dan happiest about the result seen on these pages, he "can't pinpoint a single thing. In a lot of ways, I hand-selected all of it. I happened to fall across a good canvas and then treated everything with so much care and detail; I was very specific. The overall presentation of the car: the stance is perfect, wheel size is perfect, the interior is plush, it rides well, the gauge work is beautiful and it's very tasteful. It'll still be cool in 10 years."
SPECS
1968 Chevy Camaro
OWNER: Dan Lau
HOMETOWN: Hermosa Beach, CA
ENGINE: 383 cubic inch Stroker built by AES Engine Specialties; Brodix heads, roller camshaft and lifters; Holley Dominator throttle body fuel injection; MSD ignition; vintage Air Front Runner serpentine belt drive; Dynatech ceramic coated, long tube headers; Magnaflow stainless steel exhaust system; Ricks stainless steel fuel injection gas tank w/ integrated fuel pump; stainless steel hard fuel lines; Optima battery
DRIVETRAIN: Tremec T-56 6-speed transmission; Hurst short shifter; hydraulic clutch pedal; Centerforce clutch; Moser 9" Trutrac rear end with 3.80 gears
SUSPENSION AND CHASSIS: StrongArm tubular control arms/Ride Tech adjustable coilovers (front)/Ride Tech 4-Link with adjustable coilovers (rear); Ride Tech Tru Turn system
WHEELS & TIRES: 18x9" (front)/18x12" (rear) Forgeline WC3 three-piece wheels; Nitto NT555 265/35R18 (front) & NT555R 355/30R18 (rear) tires
BRAKES: Wilwood AER06 14" vented/slotted disc brakes with 6 piston front/4 piston rear calipers and master cylinder
EXTERIOR: Plymouth Prowler Orange paint; HID headlights with high beams; LED taillights
INTERIOR: Custom leather interior with new carpet, headliner, trim and OEM dash pad; IDIDIT tilt steering column; Sparco steering wheel; Modo Innovation racing pedals; AutoMeter Sport Comp II LED backlit digital gagues; Anvil Auto pillar gauge mount and Sport Comp II digital gauges; Vintage Air air conditioning with OEM a/c controls; Alpine stereo; JBL 6 ½" front speakers/ 6x9" rear speakers; Kicker 8" subwoofer; custom leather BMW E92 M3 seats by Factory Deluxe Interior and custom leather rear seats with Morris seat belts
See more photos of the gorgeous Camaro in the gallery below.
(Photos: Scott Dukes)