Thunder Truck: A '73 Jeep J2000 Rich With History [VIDEO]
If you're a 'wheeling enthusiast, you've likely accepted that your 4x4 is going to get damaged off-road. This doesn't mean it has to look like a crushed can driving down the road, but one has to concede that trail scars are part of the 'wheeling experience. This is especially true if you like navigating your rig through challenging rock trails. Harris Wells, aka BBG, is a veteran off-roader that understands the collateral damage often associated with hitting the dirt.
Before moving to the J2000 you see here, Harris owned a heavily modified Jeep Wrangler Unlimited Rubicon JK. While the JK had taken him everywhere he wanted to go, it was something that he felt he had to be more cautious with on the trail. Once he sold the JK, he was looking for a rig that could fill the 4x4 void in his life, but also double as a useful work truck around the house. That's where the 1973 classic Jeep pickup comes into the picture.
Knowing that long-time automotive journalist John Cappa was looking to move on from his old J2000 magazine project, Harris jumped at the opportunity to get the pickup. However, it wasn't quite in the built condition that you see it here today. In fact, the truck had just been rolled a few months before Harris picked it up. The old and less desirable OE Dana 44 still resided up front, along with 4-inch-lift leaf springs. Rockcrawler it was not, but Harris likes projects and the J2000 seemed like a good fit.
With the help of Godde Welding out of Rosamond, California, Harris was able to breathe new life into a well-used truck. We caught up with Harris as he was enjoying some trail riding in Moab, Utah, during the 52nd annual Easter Jeep Safari. While Harris gives you a breakdown of the truck in his own words in the video above, we're diving further into the details in the article below.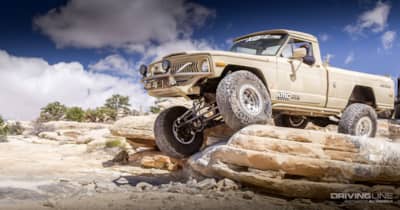 V8 Power
Powering the truck is the original AMC 360ci V8, which has been fit with a Holley Pro-Jection 2D kit. Other engine upgrades include a K&N air filter, DUI distributor and Powermaster alternator. The V8 is backed by the stock T-18 transmission, which thanks to a 6.32:1 first gear, gives it plenty of 'crawling power. The tower you see arched over the engine is for the coilovers and is tied into the front bumper.
The original Dana 44 axle was replaced with a stronger open-knuckle Dana 44. A custom high steer setup helps make navigating the trails a bit easier, and although the front differential is currently open, it will soon be served with a new traction aid.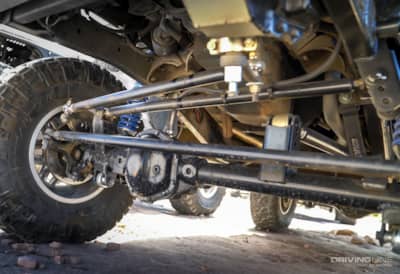 Modern Touches
To achieve more suspension travel, the leaf-springs were plucked in exchange for a custom 3-link with King 2.0 coilovers. These EVO-spec shocks were dialed in to keep the ride height low, while netting over a foot of suspension travel. Kartek limit straps were added to ensure the 1350 Tom Wood's driveshaft doesn't over extend.
Out back, you'll find a Ford 9-inch rear axle with a Detroit Locker and 4.10 gears packaged in the low-pinion third member. The stock rear springs still reside over the axle, but the shackles have been flipped to get a few inches of lift. Feeding the rear axle is a Dana 20 transfer case that's been upgraded with a 32-spline rear output from Advance Adapters. As is the case with the front, a Tom Wood's rear 'shaft fit with 1350 U-joints splits off the gear-drive T-case.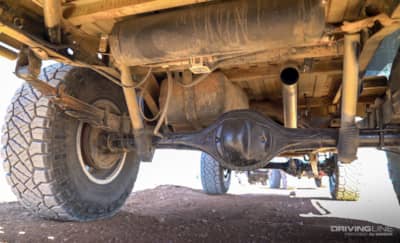 Comfort Preservation
Inside, the J2000 remains largely stock. The T-18 shifter rests next to an NRG Innovations steering wheel, which knocks down a bit of size compared to the original. The stock seats have been swapped out for some low back PRP Premier Series that add comfort and free up room.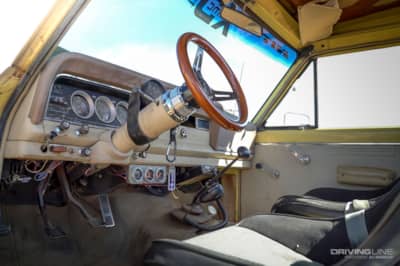 Experienced Grappler
A good experience with a product can be just as memorable as a bad one. With years of trouble-free service from Nitto tires, opting for a set of Ridge Grapplers on the J-truck was a no brainer for Harris. Given the fenders had already been served with a gracious amount of trimming, fitting the 37x12.50R17 hybrid all-terrain tires with a low amount of lift was fairly easy. To ensure the tires stay in place at low air pressures off-road, they were paired with a 17-inch KMC Machete beadlock wheels.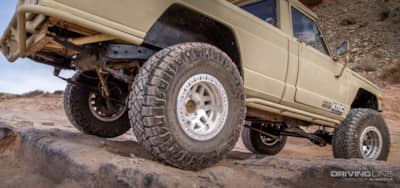 In addition to crafting the custom front suspension, Godde Welding was tasked with building a high-clearance front bumper. Using 1.75-inch, 0.120-wall DOM tubing, the Godde crew were able to build something with proper frontend protection, as well as land a home for the high-speed workhorse that is the Warn M8274-50 winch.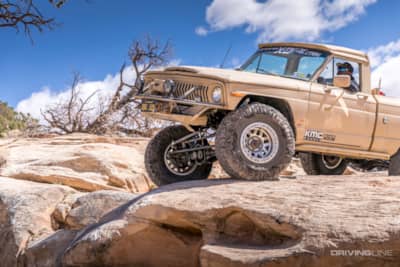 The short-bed truck was also outfitted with a custom DOM tubing rear bumper, which trimmed a bit off the back to increase the departure angle. Inside the bed rest is a tool box that keeps the relocated Optima Battery out of harm's way. Under the bed, there's an Air Zenith compressor hooked to a 15-gallon tank to make airing up at the end of the trail a quick affair. In case the gas-hog runs a bit low on fuel, a pair of RotopaX cans are attached to the tool box.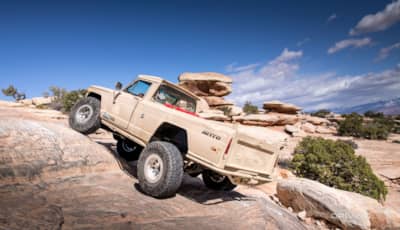 Trail Proven
A low lift height with a sizable tire is always a great combination. With a stable 120-inch wheelbase and 4,200-pound approximate weight, this classic pickup is incredibly capable off-road. While the previous owner may have gotten the truck started off on the right foot with proper rocker guards, fuel injection and a rear-axle upgrade, Harris did a great job of taking the build to the next level.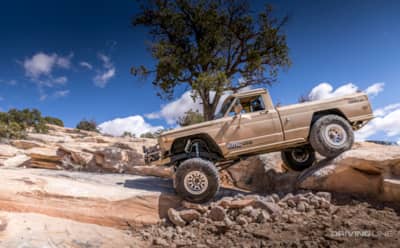 (Additional photos courtesy of Will Griffin.)
Hard Facts
| | |
| --- | --- |
| VEHICLE | 1973 Jeep J2000 Townside |
| ENGINE | AMC 360 V8 |
| TRANSMISSION | T-18 four-speed manual |
| TRANSFER CASE | Dana 20 |
| FRONT AXLE  | Open-knuckle Dana 44, open, 4.10 gears |
| REAR AXLE | Ford 9-inch, Detroit Locker, 4.10 gears |
| SUSPENSION (F/R) | Custom 3-link with track bar front, King 2.0 coilovers/stock leafs, shackle flip, Rancho 7000 shocks |
| TIRES | 37x12.50R17 Nitto Ridge Grappler |
| WHEELS | 17x9 KMC XD229 Machete Crawl beadlock |
| MISC | Tom Wood's driveshafts, Warn M8274-50 winch, custom 1.75-in, 0.120 wall bumpers and sliders (primary tubing), RotopaX |
Be sure to check out more shots of the truck in the gallery below! 
Want more rockcrawling action in your life? Check out our coverage of the 52nd Annual Easter Jeep Safari!