Tokyo Auto Salon 2018: The First Look
Walking out of the cold, sunny morning and into the 11 halls of displays and booths at Tokyo Auto Salon is slightly overwhelming, to put it lightly. Each hall stretches out as a sea teeming with paint, flashing lights and visitors below the entrance stairs, while the sounds of race videos and booth DJ's sweep in on all sides. We're not at SEMA anymore, this is Tokyo Auto Salon—Japan's equivalent major industry car event.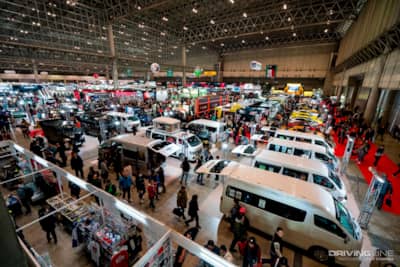 Once down in the mix of things, one begins to notice how Tokyo Auto Salon is a land of extremes. Be it the freshly debuted Subaru Viziv STI Concept, a Jeep flexing on 40" Nitto Mud Grapplers, a Lamborghini drenched in crystals, or a Lotus kitted-out in dry carbon fiber from stem-to-stern, there's full commitment everywhere.
The gallery above serves as just a taste test to whet the appetite, but rest assured there is much more (and more in-depth) coverage from Tokyo Auto Salon on the way!