Torque Management: The Best Automatic Transmissions for Diesel Trucks
Behind every great diesel engine, there's a strong transmission—or at least, there needs to be. While modern diesel pickups can easily produce 1,000 lb-ft of torque or more with the right modifications, finding a transmission to harness (and then survive) that much twist can be a tall order. After you factor in the added stress of running larger wheels and tires, and the average weight of a crew cab diesel truck tipping the scales at roughly 7,500 pounds, it doesn't take long for a factory transmission to fail when subjected to four-digit torque numbers.
Over the years, we've seen all kinds of transmission failures, including smoked torque converters, burned up clutches, center sections ripped out of flex plates, cracked planetaries and broken input and intermediate shafts. In order to eliminate all of these failure points, aftermarket companies came up with vastly improved (triple disc) torque converters, better clutch materials and flex plates, planetaries and shafts made from exotic, high-strength steels.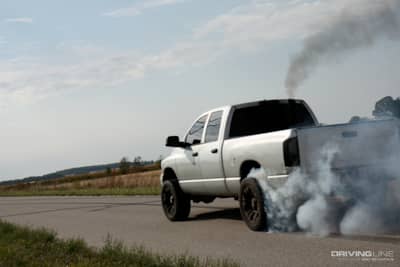 But what's the best automatic transmission for your truck? Read on to see which ones we recommend for your specific brand.
E4OD/4R100 Four-Speed: 1994.5-2003 Fords
Aside from a few subtle differences, the E4OD and 4R100 transmissions found behind the 7.3L Power Stroke are very similar. In stock form, this four-speed automatic can bite the dust before the 300hp, 600 lb-ft of torque mark, which isn't a difficult number to achieve. The most notable builders in the E4OD/4R100 world are Brian's Truck Shop (better known as BTS) and John Wood Automotive. The unit shown below is a Street Performance E4OD from John Wood Automotive.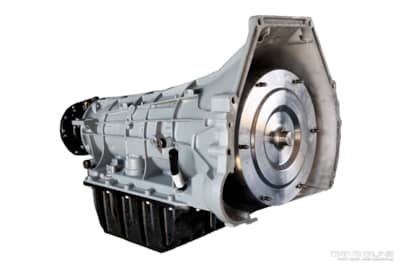 It features a triple-disc torque converter (built by TCS Performance to John Wood's specifications), 300M billet-steel input shaft, cryogenically treated intermediate and output shafts, 4340 billet-steel Overdrive planetary, factory-spec'd BorgWarner clutches with increased clutch count thanks to custom-machined pressure plates and a custom-tailored valvebody. A slew of proprietary tricks are also performed in order to make the transmission live in the 500 to 800hp range (i.e. 1,000 to 1,500 lb-ft of torque).
If you plan to push your 7.3L past the 300 to 350-rwhp mark for any considerable amount of time, it behooves you to look into a complete build.
Quick-Shifting
Chris Buhidar's triple-turbo'd, 5.9L Cummins powered '00 F-350 sends 1,500hp through a BTS 4R100. Shifts are set and commanded via a stand alone controller from Powertrain Control Solutions (PCS). It's been said that the E4OD/4R100 transmission is the quickest-shifting transmission in the diesel segment. Whether that's true or not, Chris' 6,150-pound Ford has stormed through the quarter-mile in 9-seconds flat at an incredible 152 mph.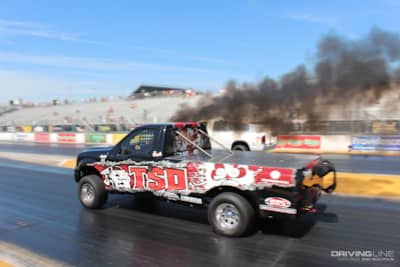 Beyond this truck, the 4R100 is preferred by many other drag racers, as we've seen it mounted behind a host of other Cummins and even Duramax mills.
Five-Speed TorqShift: 2003-2010 Fords
Straight from the factory, Ford's 5R110 TorqShift was a stout piece of hardware. While the '08-'10 version of this five-speed automatic (found behind the 6.4L Power Stroke) proved to be a tad stronger, the early version was still capable of handling 1,000 lb-ft of torque. However, if you have goals of pushing past the 550hp to 600hp range with your '03-'10 Super Duty, the stock slushbox will be on borrowed time.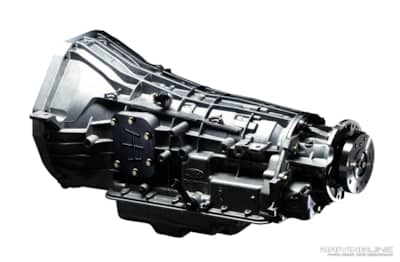 Elite 5R110
Designed for 6.0L or 6.4L Power Strokes dishing out 800-rwhp or more, Elite Diesel Engineering gets our vote for building a tough-as-nails 5R110. The company's Stage 5 build entails a Diesel Performance Converters 13-inch, triple disc torque converter, billet-steel input, intermediate and output shafts, along with a billet-steel Overdrive planetary and Low/Reverse hub. The icing on the cake is an extra capacity, deep transmission pan from Mag-Hytec.
We have yet to see one of these transmissions fail, other than one occasion where a 1,000-rwhp, 9,000-pound truck began to hop at wide-open throttle.
Six-Speed TorqShift: '11-present Fords
Like the 5R110 that preceded it, Ford's 6R140 six-speed TorqShift is one tough customer as well. While it's been rumored that the "140" portion of the transmission's name refers to its ability to handle up to 1,400 lb-ft of torque, we've yet to see any live at that level for a prolonged period of time. Midwest Diesel & Auto offers both street and competition versions of this slushbox.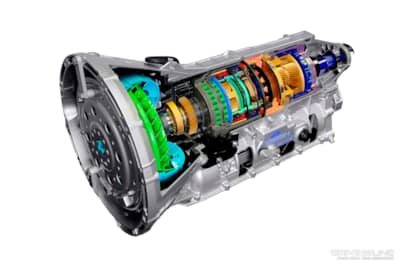 Increased clutch count, improved clutch material and a new solenoid body are par for the course in both of its transmission offerings, while competition units come with a brand new transmission pump and an optional Precision Industries torque converter.
Allison 1000: 2001-present Chevy and GMC's
Without a doubt, the Allison 1000 was a game changer in the heavy duty pickup segment. When it debuted on '01 model year GM trucks behind the 6.6L Duramax (and 8.1L big block), it marked the first time a medium-duty, commercial grade transmission was offered in any ¾-ton or 1-ton truck. In this transmission, you'll find the largest input and output shafts of any of the Big Three's transmission offerings (1.26 inch and 1.75-inch diameters, respectively).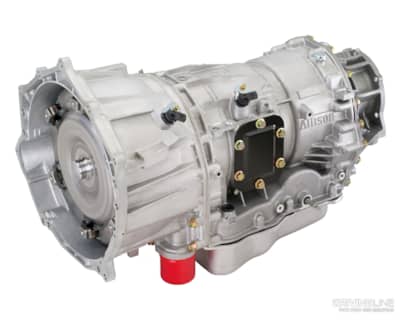 The Allison 1000 was offered as a five-speed from '01-'05, but gained a gear starting in '06. While the Allison can potentially last a million miles when coping with the factory power rating of a Duramax, anytime 100hp or more is added to the equation its lifespan can be shortened, considerably.
Built Allison Options
Arguably, no other company has as much research and development time on the Allison 1000 as SunCoast Converters. From mild to wild, it offers rebuild kits, triple disc torque converters and complete, race-ready transmissions. The company's GMax-6 kits (for six-speed Allisons, GMax-5 kits for five-speed versions) are extremely popular in 500 to 800hp builds, and these systems entail proprietary Alto and Raybestos frictions, redesigned apply pistons and a custom apply plate.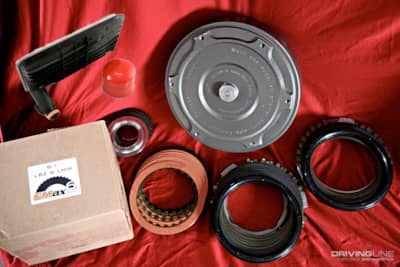 Other noteworthy builders of reliable and/or competition-ready Allison transmissions are Inglewood Transmission, Goerend Transmission and No Zone Diesel.
Turbo 400: Old Tech That Still Works
Although it is known much better in the gas world, the TH400 three-speed can still be found behind some highly modified diesels. Wade Moody's Flo-Pro-sponsored rail benefits from one built by Rossler Transmissions (and modified by David Gates at NGM Diesel) with a non-lockup torque converter from ProTorque Converters. The TH400-equipped dragster turns out high 6-second quarter-mile passes in 200 mph territory.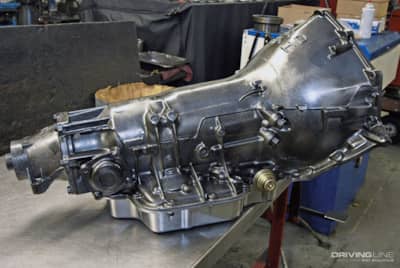 46RH/47RH/47RE/48RE Four-Speed: 1991.5-2007 Rams
The four-speed automatics found behind the 5.9L Cummins are some of the most commonly modified transmissions in the diesel segment. The reason for this is due to the immense popularity of modifying the Cummins engine (more so than with any other engine in the pickup segment) and the fact that these transmissions are the least adept at handling added horsepower and torque. The factory torque converter is known for its inefficiency and will slip over time, the stock valve body simply does not supply enough line pressure and the input shaft becomes a weak link as early as the 400hp mark.
Companies like Goerend Transmission, SunCoast and Firepunk Diesel offer heavy-duty rebuild kits or full-on transmission builds which address those issues and much more. Whether you use your truck to tow, daily drive or drag race, they can build the perfect transmission for your specific needs.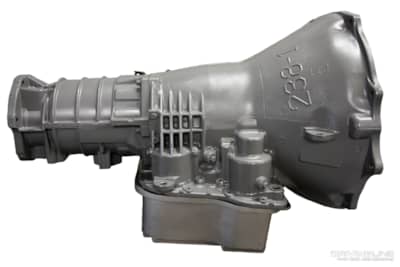 68RFE Six-Speed: 2007.5-present Rams
Without a doubt, the 68RFE behind the 6.7L Cummins has been rather disappointing in both stock and aftermarket form. Even though it's been out for 8 years, very few companies have been able to make this state-of-the-art six-speed live at higher horsepower. The 68RFE's laundry list of failure points include the transmission pump not producing enough line pressure, an exploding Low/Reverse sprag, a weak Overdrive drum and several valvebody issues. Even with these problem areas addressed in the current aftermarket units, a '07.5-current Ram making 700hp or more is still considered by most to be on borrowed time if driven hard.
Recently, we've started to hear good things about the Signature 850 transmission (rated to handle 850hp) from RevMax Converters, which could potentially be one of the only worthwhile "built" 68RFE's on the market.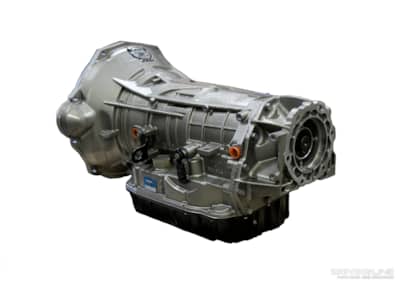 Torque Converter Technology
There is no equal to a well designed, precision built torque converter, and in a high torque diesel application it's imperative. Large custom lock-up clutches, billet stators, furnace-brazed internals, and additional damping springs can be found in today's aftermarket, triple disc converters in order to get them to both perform and survive. In the aftermarket, torque converter stall speed is of great importance as well and it needs to be matched with the engine's turbocharger(s). Trucks with slight turbo upgrades or small compound turbo arrangements typically require a lower stall speed than stock, while large single turbo, high-rpm or competition-only engines are usually paired with a higher stall converter. A cutaway of aFe Power's F3 converter is shown below.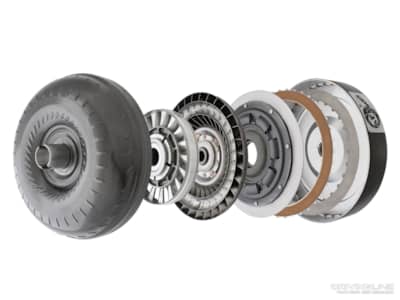 TCM Tuning
With today's automatic transmissions being as technologically advanced as they are, transmission control module (TCM) tuning is more important than ever. As a general rule of thumb, well-rounded TCM tuning increases line pressure to firm up shift points, improves torque converter lockup (when the converter couples to the engine), minimizes de-fueling, reduces turbo lag, lowers exhaust gas temperatures and makes for a more drivable (fun) truck.