Triples, Compounds and Massive Singles: The Wildest Turbo Combinations
3,000hp engines, triple-digit boost and the ultimate display of power. None of it would be possible without the cutting edge turbo technology that exists in today's diesel landscape. On everything from Super Stock pullers to quarter-mile-killers, and nitrous-fed dyno slayers to insane street trucks,  Be it for all-out horsepower, affordability, class rules or personal preference, triples, compounds and massive single turbo arrangements all have their place in the high-end diesel engine hierarchy. Below, we've catalogued five extreme examples of each turbocharger configuration, how it works and why it performs so well in its intended application.
Fasten your seatbelts—this lesson in forced induction is brought to you by some of the most powerful machines in diesel motorsports.
Triples
Triples = More Cost-Effective?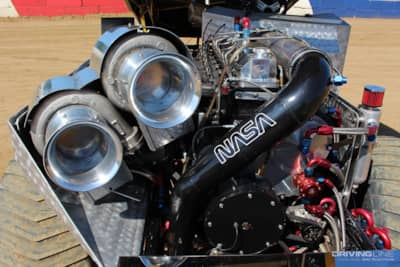 Believe it or not, triple-turbo arrangements in the Super Stock truck pulling world are more about reliability and affordability than they are about overall horsepower. Sure, three turbos can be more advantageous than two for all-out power production, but in a two-stage configuration the use of three chargers provides for two turbos to act as one large atmospheric unit. This allows the two low-pressure turbos to effectively share the workload and doesn't necessarily require them to be equipped with exotic components such as ball bearing center sections in order to keep them alive. The result is less wear-and-tear on the atmosphere chargers and a lower overall cost for this type of triple-turbo system.
130 PSI of Boost, 5,000 RPM and 3,000HP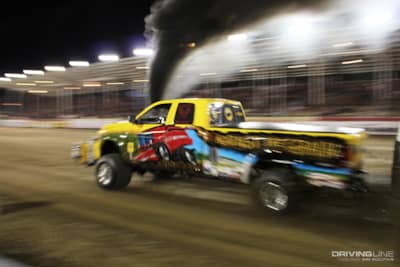 On Cody Hastings' 12-valve Cummins-powered, four-wheel drive Super Stock '10 Ram coined "Against the Grain," you'll find two Holset HC5A-derived chargers built by Columbus Diesel Supply out front and a third Holset-based, CDS-built turbo (albeit with a ball-bearing center cartridge) bolted to a T6 foot Steed Speed exhaust manifold—a common setup for this particular class of vehicle. A Haisley Machine Super B engine consisting of a concrete-filled, sleeved and deck-plated 6.7L Cummins block survives the 130 psi worth of boost Hastings' turbos turn out while storming down the track at 5,000 rpm. At full song, this particular Super B Cummins belts out an estimated 3,000hp.
Matt Clemons' "Alter Ego" Super Stock Puller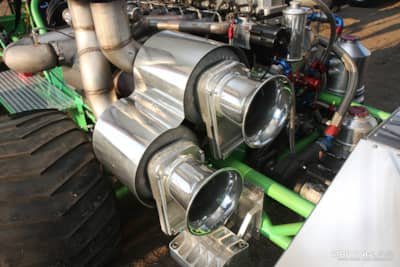 The center drive Super Stock Chevrolet owned and driven by Matt Clemons is another example of what a triple-turbo'd Haisley Machine Super B Cummins is capable of. Thanks to a similar two-into-one turbo arrangement, Clemons' engine produces north of 2,700hp and spins as fast as 6,000 rpm. The two-stage system makes use of two HC5A Holsets out front (with compressor wheel inducers measuring 99mm) and a 105mm ball-bearing unit from Columbus Diesel Supply attached at the exhaust manifold. Combined boost checks in at an incredible 150 psi and elaborate water injection and water-to-air intercooler systems combine to keep exhaust gas and intake temperatures from skyrocketing. To prevent the high-dollar manifold charger from ever overspeeding, a wastegate bleeds off extra drive pressure by dumping into the rear hood stack.
Compounds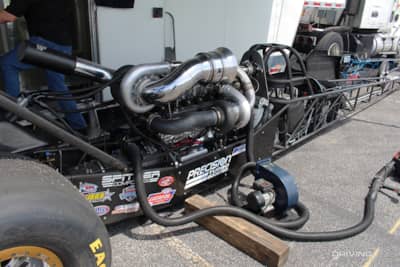 When it comes to the fastest of the fast in diesel performance, the buck stops with the Scheid Diesel dragster. The 300-inch Spitzer chassis'd, Cummins-powered rail has been a mainstay in diesel motorsports for more than a decade, and throughout that time its engine combination has undergone a slew of changes. However, there was never a time when the engine wasn't saddled with a set of compound turbochargers. The last time we talked shop with the folks at Scheid, the dragster was sporting an 88mm Garrett-based charger from Precision Turbo & Engine as the manifold/high-pressure unit and a massive Holset HX82 with a 114mm compressor wheel inducer as the atmosphere/low-pressure unit. Thanks to a 66mm wastegate, combined boost on the Scheid rail is limited to 140 psi, yet the engine produces in the neighborhood of 2,500hp.
Bottom 6s & 225+ MPH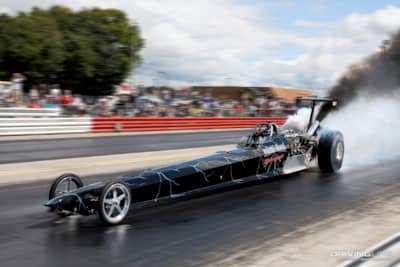 So what has all this horsepower done for the Scheid rail? It's allowed them to reach a top speed of 226 mph in the quarter-mile (a diesel record). It's provided them a best E.T. of 6.31 seconds (also a diesel record), and it's also allowed them to go rounds in the NHRA's Top Dragster class on occasion. Perhaps most importantly, its constant presence at major national events has put modern diesel performance on display out in front of the masses on a regular basis.
Power Stroke Dragster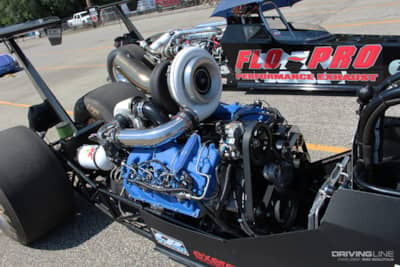 Breaking away from all the Cummins power plants, we bring you the Power-Stroke-equipped rail campaigned by Snyder Performance Engineering. A custom compound turbo arrangement combines a massive, BorgWarner S500 frame turbo with a 96mm compressor wheel inducer and an S475 together—a duo that's capable of building 150 psi of boost. Using a 6.7L Ford Power Stroke as the car's foundation for power, the block was filled and the cylinders fitted with Carrillo rods and Mahle-based/SPE-massaged pistons, along with a custom grind camshaft from Colt Cams. 
8s With Ease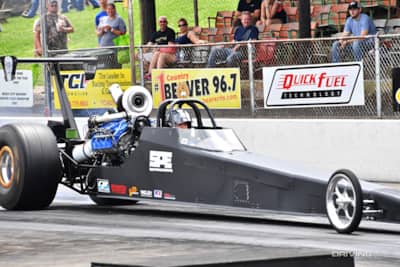 Tipping the scales at 2,490 pounds, so far Snyder has been able to effortlessly pilot the dragster into the 8s. To date, the S596 over S475 compound arrangement has carried the rail through to a best quarter-mile of 8.43 seconds at 170 mph, despite a very easy launch. Still, the dragster's 8.43 makes it the second quickest Power Stroke-powered vehicle in existence, at least in terms of drag racing. Better yet, just 850rwhp was needed to achieve that 8.43-second pass. With plenty of fuel and a two-stage Nitrous Express system yet to be fully utilized, 7-second potential would be understatement for this Ford-powered hot-rod.
Big Single
Wes Kusilek's Cummins-Killing Duramax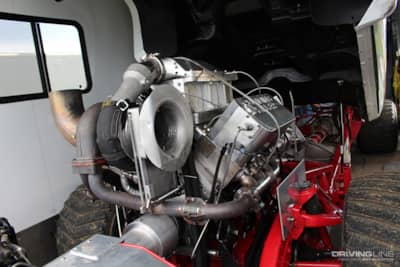 Instead of opting for compounds or a two-stage triple-turbo arrangement for his Super Stock pulling engine, Wes Kusilek and the Cummins Killer team rely on a big single to get the job done. A very big single. In fact, it's the same charger you'll find on a lot of Pro Stock tractors, the 3,000hp+ show-stoppers of the tractor world. Instead of feeding 680 cubic inches and six cylinders, Kusilek's turbo feeds 460 cubes and two additional cylinders. Holset-based and built by Columbus Diesel Supply, the husky charger features a compressor wheel with a mammoth-sized, 5.25-inch diameter inducer (133mm)!
6,000+ RPM, 100+ PSI Boost, 2,600HP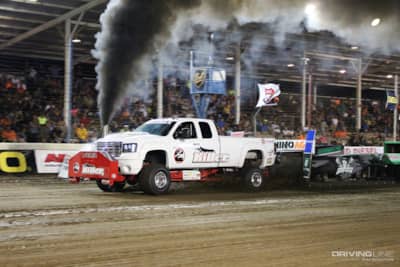 Once the Wagler Competition Products DX460 Duramax is throttled up to full song (it spins as high as 6,500 rpm), the giant Pro Stock charger turns 90,000 rpm and more than 100 psi of boost is produced. In conjunction with a wild common-rail injection system that employs five high-pressure CP3 pumps, Kusilek's engine made 2,570hp and 2,854 lb-ft of torque aboard the engine dyno in 2016. While these power figures may put him a few hundred ponies shy of the Super Stock class's front runners, on the right track and in the right conditions, Kusilek's GMC—one of the lone Duramax-powered GMs competing in the Super Stock field—can hang with the best in the business.
Contributing Photographer: Amy Snyder of Snyder Performance Engineering
These turbos are crazy, but have you ever wondered how much your stock turbo can take? We found out!